Amish Outdoors Poly Furniture
Looking for patio furniture that's comfortable, durable, stylish and comfortable? Look no further than Amish Outdoors for high-quality pieces that last. The Amish craftsmanship, poly material, and stainless steel fasteners ensure high-quality pieces that will last.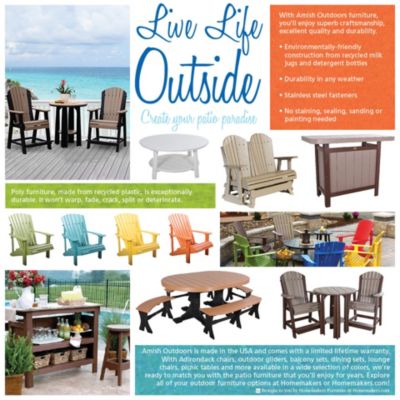 What is poly lumber?
Poly—also known as HDPE—is a plastic lumber made from recycled materials like milk jugs and detergent bottles. Not only is poly lumber eco-friendly, it's extremely durable. When used in outdoor furniture, poly lumber is given UV color protection for fade-resistant pieces. It is also commonly used for outdoor decking, molding and trim.
Poly furniture benefits
Eco-friendly construction from 100% recycled materials
Won't warp, crack, or split
UV protection and uniform color throughout for fade-resistant pieces
Easy to clean and maintain
No staining, sealing, sanding or painting needed
Custom color options available
Amish Outdoors furniture is proudly made in the USA and comes with a limited lifetime warranty. We carry Adirondack chairs, dining sets, picnic tables and more. Our poly furniture is available in a variety of colors, so you can find the right fit for your space. Enjoy your patio furniture for years to come with Amish Outdoor furniture from Homemakers.