How to Choose the Right Area Rug for Your Home
Not sure how to choose an area rug for your space? Homemakers is here to help! We offer thousands of gorgeous rugs to suit your unique needs and tastes. We even carry a large selection of outdoor rugs for your deck and patio. Learn how to pick the best area rug with our rug buying guide below.
Already know what kind of rug you're looking for? Shop online today or visit our rug gallery at our Urbandale showroom. With our standing rug racks, you can easily view all of our area rugs to find the perfect fit.
What Size Area Rug Do I Need?
---
Small Area Rugs
Small rugs are a great option for a mudroom, kid's bedroom or compact apartment spaces. If you have a small living room, try placing a 4' x 6' area rug under your coffee table. This will fill the negative space in the room and add some personal style. Be careful not to go too small, though. One of the most common home decor mistakes is buying a rug too small for your space.
Medium Area Rugs
Mid-sized rugs are ideal for most bedrooms, living rooms and dining spaces. Don't dwell on the size of your room too much. Instead, think about the furniture configuration in your room. A stylish 5' X 8' rug can easily fit under the foot of your bed or placed under the front legs of your living room furniture. If you're shopping for a round dining room rug, make sure you leave at least 24 inches of extra room around the table to pull out chairs.
Large Area Rugs
Add comfort and style to even the most spacious rooms with a large area rug. Measuring for a large dining area rug? Make sure all chair legs can fit on the rug with room to spare. That way, your chair won't catch on the rug edge when standing up. For large bedrooms, try a rug that extends 18-24 inches past the foot of your bed. A large area rug can be a smart investment to add style while protecting your floors.
Runner Rugs
Hallways are the most traveled areas of your home. Add style and protection to these common spaces with one of our runner rugs. Their long, thin shape makes them perfect for narrow spaces. But, don't think runner rugs are limited to hallways! They can also be placed in a narrow bathroom, a kitchen, or at the foot of your bed.
Doormats
Give your guests a warm welcome when you place a fun doormat rug outside your home's entryway. Both versatile and durable, they're designed to withstand any weather. Doormats make a great home accent that you can switch out with the season. They're also a great way to add personality to an apartment front door.
How to Measure for an Area Rug
---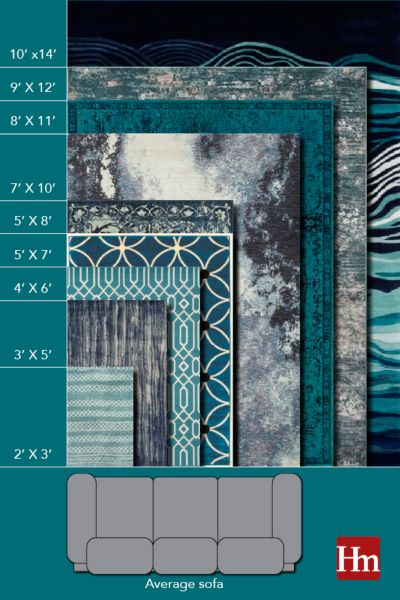 How to Measure for an Area Rug
Use masking or painter's tape on the floor to mark the space your rug will fill. This will give you an accurate visualization of your rug size and help you organize sofas, end tables, ottomans or other home décor in the room.
Living Room Rug Placement
Choose an area rug large enough so that the front legs of your furniture rest on the rug. Leave an equal amount of flooring (at least four inches) around each side of the rug for a balanced look. Your rug should run parallel to the longest wall or the largest piece of furniture.
Dining Room Rug Placement
When placing a rug beneath your dining table, choose a rug shape that matches the shape of your tabletop. The rug should extend at least 18 to 24 inches beyond the table to allow room for chairs to slide out.
Bedroom Rug Placement
When placing a rug under your bed, ensure the rug extends about 30 inches on each side. Either place the front legs of the nightstand on the rug or place the rug a few inches away from the nightstand.
Hallway Rug Placement
Enhance your hallway with a runner rug! Measure the width of your hall to find the perfect runner size. Ideally, you should leave 6 inches of floor showing on each side of the rug.
It is the customer's responsibility to ensure the furniture will fit into the space. If it doesn't fit, it's subject to our standard, 30-day return policy.
What Are the Best Rug Materials?
---

Polypropylene Area Rugs
This machine-woven fiber offers both comfort and value. Polypropylene rugs are soft, resistant and strong. This material is durable and can be UV stabalized for fade-resistance, making it great for indoor/outdoor rugs.

Wool Area Rugs
Anchor your space with a soft, luxurious wool rug. Popularly used in heirloom-quality pieces, wool rugs have a natural ability to repel water and resist crushing. Plus, they're hypoallergenic, absorb sounds and feel amazing beneath your feet. Wool rugs are often hand woven and feature intricate patterns.

Polyester Area Rugs
Polyester rugs are a budget-friendly option that doesn't sacrifice style or comfort. They're an affordable option and come in a variety of styles and colors. Polyester is relatively stain resistant, making it a great choice for dining rooms or kitchens. It can also be an eco-friendly material, as many companies are now creating polyester with materials like recycled plastic and repurposed fibers.

Nylon Rugs
When it comes to high-traffic areas in your home, durability is a must. Nylon is a synthetic fiber that produces minimal shedding and resists wear. Solution-dyed nylon rugs are also stain-resistant. Nylon rugs can come in a variety of textures, with low to high loops.
What Are Common Rug Styles?
---
Traditional Area Rugs
Inspired by English and French styles of the 18th and 19th centuries, traditional rug designs are known for their warmth and elegance. The timeless style features intricate patterns, rich colors and luxurious fabrics. The result? A lavish focal point you'll love.
Contemporary Area Rugs
Contemporary style is fluid and always changing, as it relies on the trends of the moment. As of now, contemporary rug designs are all about geometric form, monochromatic palettes and abstract patterns. The modern styling creates a sleek and minimalistic look in your space.
Casual Area Rugs
Our casual area rugs are designed with your comfort in mind. That's why they include soft fabrics, soothing color palettes and simple patterns. Their versatile styling will look fantastic in any room of your home.
Transitional Area Rugs
Transitional style is the best of both worlds. These rugs feature a fusion of traditional, contemporary and casual styling. They draw on the best elements of each style, bringing together understated patterns, neutral colors, clean lines and luxurious fabrics.
Do I Need to Use a Rug Pad?
---
Benefits of Using a Rug Pad
Safety: Prevent your rug from shifting underfoot with a rug pad. This will decrease the risk of slipping, especially in high traffic areas.
Cleanliness: Accidents happen, from tracking in dirt to spilling a drink. A rug pad helps protect your floor from damage while trapping dirt particles for easy cleaning.
Prevent Wear: Constant shifting between floor and rug causes damage and wear. Secure the two with a rug pad to increase the life of both.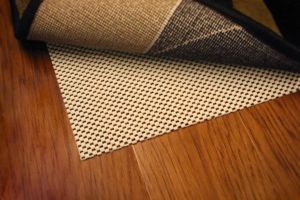 How thick of a rug pad do I need?
A thin, non-skid rug pad is important for high-traffic areas like living rooms and hallways, as thin rug pads pose less of a tripping hazard. When choosing a rug pad for less-trafficed areas—like a dining room or living room—look for a balance between grip and comfort. The extra rug pad density will add cushion and protection. Larger rugs are typically heavy enough to stay put without a non-skid pad. A thicker rug pad is ideal to add plush comfort and add protection to your floors.