How to Choose the Right Area Rug for Every Room in Your Home
Not sure how to arrange furniture around an area rug? The size and shape you choose can really anchor a room. Good thing we have everything you need to know to pick the right area rug for every room in your home! We have thousands of beautiful rugs to choose from so if you already know which rug you're looking for, shop below to take your home to the next level.
Design Tip: When measuring for the proper area rug size, use painter's tape to help mark the space your rug will fill. This will give you an accurate visualization of the area rug placement and size so you can complement your furniture perfectly.
Common Rug Sizes
---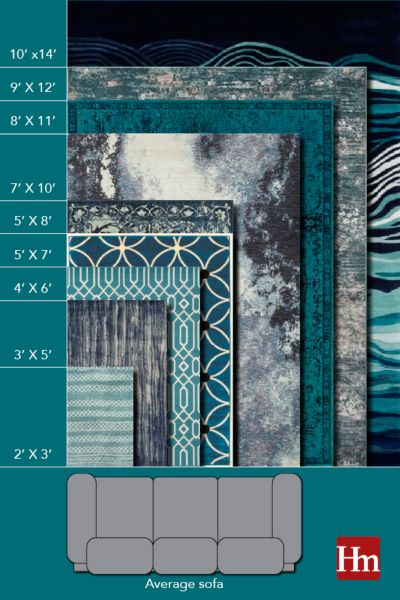 These standard area rug sizes are the most common sizes available to shop. Rug sizes are important because they can make a room feel larger, cozier or pull together an area. You don't want a rug that's too big or too small for a space because it can take away from the overall look and function of the rug.
Design tip: If you're unsure about choosing between two rug sizes, opting for the larger rug is always a safe choice!
Area Rug Placement Tips
Living Room Rug Placement
As a rule of thumb, your area rug should be roughly the size of your seating area. This helps define the space. Leave at least 18-24 inches of flooring exposed beyond the edges of the rug to keep open space for walking and define the living room space. The rug should run parallel to the longest wall or longest piece of furniture.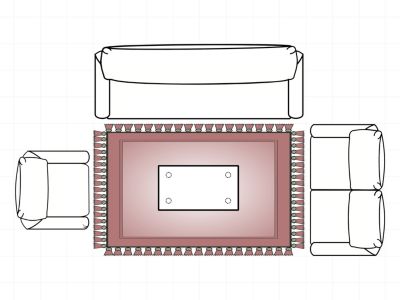 No Legs On
For rug placement in small living rooms (or for smaller budgets), choose a five or six-foot area rug. The front of the rug should sit right in front of your furniture legs. If you have a coffee table, make sure that the rug is large enough to accommodate 12-24 inches between your table and seating, giving you plenty of leg space.
Common Rug Sizes:
Front Legs On
A larger living room can handle a larger rug. This works great to give your living room a sense of community because the rug anchors the space. The front legs of your furniture should sit on the outer edges of the rug, just a few inches in.
Common Rug Sizes: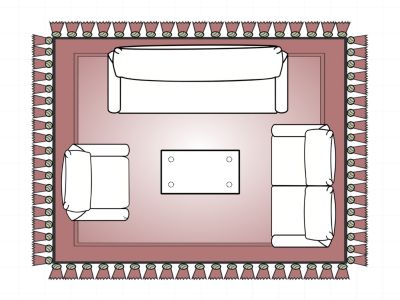 All Legs On
An open concept living room, or a basement is great for this kind of rug arrangement because you can use a large area rug to make the space feel cozy and unified. The key to an "all legs on" layout is making sure you still have a few inches of space beyond your furniture, so you have leg room and space for your coffee table or ottoman. You'll want to take measurements of your space to make sure that you're getting an area rug large enough to fit all of your furniture fully on it.
Common Rug Sizes:
Bedroom Rug Placement
A rug can provide a focal point for your bedroom and create a soft landing for your feet. Bedroom rug placement depends a lot on your bed size. Make sure that your rug extends about 30 inches on either side of your bed.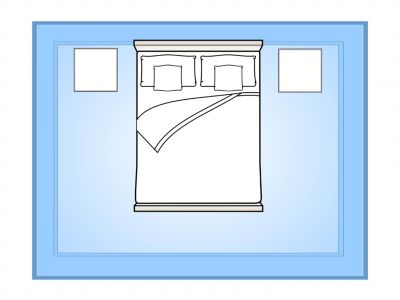 All Furniture On
This bedroom rug placement is ideal for larger rooms and bedrooms with hardwood floors. The large rug warms up the space and ties the room together. You'll want a rug that's large enough to fit your bed and both nightstands on it with a little bit of space on either side.
Common Rug Sizes:
Just the Bed On
Placing only your bed on an area rug is ideal for smaller spaces or those who like to show off their flooring. It still adds comfort without taking up too much space. Place the rug horizontally under the bottom two thirds of your bed, leaving a few inches of space in front of your nightstands.
Common Rug Sizes: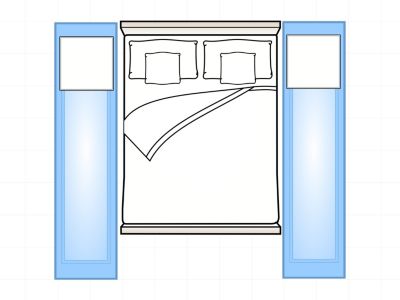 Sides of the Bed
Place runner rugs on either side of your bed to create the look of a 9' X 12' rug without the cost. This rug placement adds balance and achieves the look of a large rug for a fraction of the price.
Common Rug Sizes:
Dining Room Rug Placement
A rug is a stylish way to protect your flooring in your dining room. You can choose to match or contrast the table shape, depending on the look you want. Just make sure that whatever rug you choose, it extends at least 18-24 inches beyond your chairs for pulling chairs away from the table.
Match the Table Shape, Rectangle
Rectangular dining tables work well centered over rectangular rugs. This reinforces the silhouette of the table and accents the shape of the room.
Common Rug Sizes: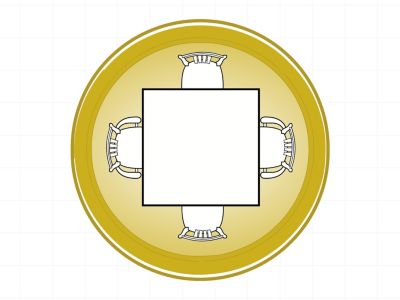 Contrast the Table Shape
If you're going for a bold or playful design concept, contrast your table shape with your rug shape. Place a round table on a square rug or a square table on a round rug. This creates an unexpected look that will really make a statement in your dining space.
Common Rug Sizes: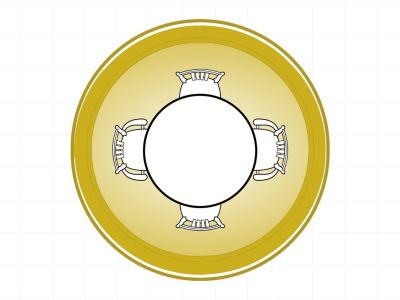 Match the Table Shape, Round
Similar to a rectangular table and rug, a round table with a round rug creates a cohesive look where both shapes match. If you want a rug that will match the shape of your dining table, opt for a round table on a round rug. The balance will flow nicely in your dining room.
Common Rug Sizes:
Do I Need to Use a Rug Pad?
Yes! In most situations, you'll want a rug pad under your rug. If you're not sure about it, the benefits should help you decide whether or not your rug needs a rug pad.
---
Benefits of Using a Rug Pad
Safety: Prevent your rug from shifting underfoot with a rug pad. This will decrease the risk of slipping, especially in high traffic areas.
Cleanliness: Accidents happen, from tracking in dirt to spilling a drink. A rug pad helps protect your floor from damage while trapping dirt particles for easy cleaning.
Prevent Wear: Constant shifting between floor and rug causes damage and wear. Secure the two with a rug pad to increase the life of both.
Added Thickness: A thin, non-skid rug pad is good for high-traffic areas like living rooms and hallways because they pose less of a tripping hazard. For less trafficked areas, look for a balance between grip and comfort. A thicker rug pad will add plush comfort and protection to your floors.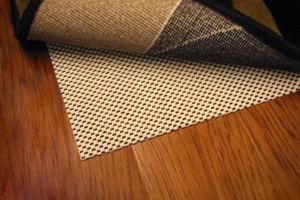 Shop our great selection of area rugs in-store at our showroom in Urbandale! We have a variety of sizes, colors, patterns and styles to choose from. Our rug racks make shopping for rugs easy!