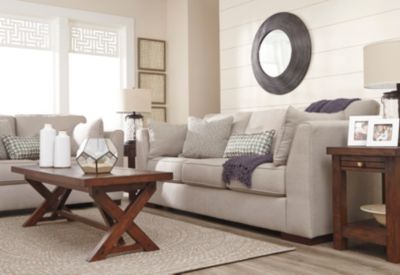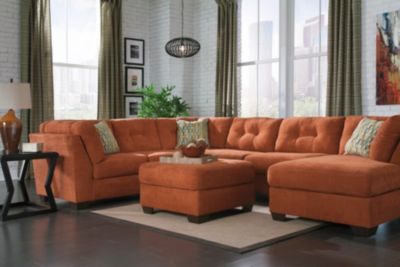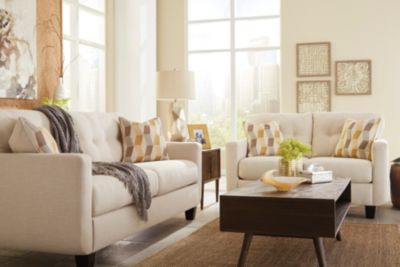 Ashley Furniture
Find affordable, quality home furnishings from Ashley Furniture.
Founded in 1945 in Chicago, Ashley Furniture grew quickly after merging with Arcadia Furniture, a Wisconsin-based furniture manufacturer. In 1982, Ashley moved the corporate headquarters to Arcadia, Wisconsin, where it is still located today.
Ashley continued to expand into dining and bedroom furniture and became an international company in the 1980s. Today more than 6,000 retail outlets in 123 countries carry Ashley furniture, making it a well-known brand all over the world.
Always on the forefront of cutting-edge engineering and style, Ashley designers travel the world to discover the best in new trends and materials. Every piece is tested in state-of-the-art labs to ensure durability, appearance and performance. Streamlined production and rigorous quality control standards ensure that every piece is made and handled with care and designed to last.
––– FUN FACT –––

Ashley operates the world's largest upholstery plant in Mississippi.
Beyond furniture production, Ashley is an active community participant through several nonprofit endeavors. Ashley's Angels is a non-profit organization that supplies children in need with food, clothing and blankets. Hope to Dream is an in-store program that donates beds to children who need them. Ashley for Arts is an initiative that raises money for nonprofits by hosting an annual festival of arts, music, entertainment and exercise. Ashley is also a continued supporter of St. Jude Children's Research Hospital and the Mayo Foundation for Medical Research, to name just two medical organizations. In addition to nonprofit efforts, Ashley maintains a commitment to environmental stewardship by using repurposed materials and supplies. Ashley also offers scholarships and grants to support students going into the fields of engineering and manufacturing.
For more than 70 years, Ashley Furniture has produced world-class pieces for your home. What began as a small sales organization in the heart of the U.S. has grown to become a global name in furniture production. It is still a family-owned and operated company which means the core values of hard work and continuous improvement still guide leadership today.
–––––––––––––––––––––––––––––––––––––––––––––––––––– SHOP ASHLEY FURNITURE BY CATEGORY ––––––––––––––––––––––––––––––––––––––––––––––––––––