Bernhardt Furniture Company
More Than A Century of Style
For more than 130 years, Bernhardt has led the way in leather and upholstered furniture. Founded by John Bernhardt in in Lenoir, North Carolina in 1889, Bernhardt is still family-owned and operated. The company started off selling oak bedroom and living room furniture. It quickly gained a reputation for craftsmanship and rich wood finishes.
In the 1950's, Bernhardt turned to upholstered furniture. Sophisticated design became a hallmark of the company. By the 1990's, Bernhardt was a recognizable name in high-fashion furniture.
Four generations later, Bernhardt is still operating in North Carolina. Nine facilities and more than 1,500 employees produce high-quality furniture that is shipped all over the world. Bernhardt has since expanded from residential furniture to crafting pieces for businesses and hotels.
Bernhardt is also dedicated to fostering new talent. The company partners with a globally known design program to sponsor up-and-coming designers.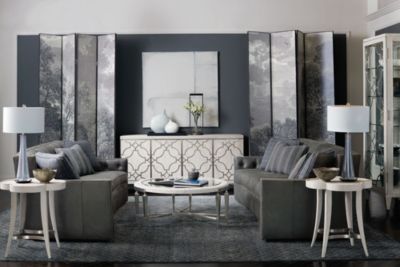 Quality & Craftsmanship
Bernhardt has made a name for itself as a leading producer of luxurious furniture. Rich leathers, chic fabrics, classic style and bold design are all hallmarks of Bernhardt furniture. At Homemakers, we feature Bernhardt in Hm Now, a curated collection of designer-inspired furniture.
Bernhardt blends modern technology with the traditional techniques first used by the founder. Ethically sourced bone, German silver and gold and silver leaf are just a few examples of the rich materials you'll find in Bernhardt furniture. Bernhardt employees still use handcrafting for certain techniques.
What began as a homegrown shop for oak furniture has grown to become a leader in top-quality furniture. Furniture from Bernhardt is the best in luxurious style and is sure to last for generations to come.