August 23, 2023
2023 Iowa State Fair Recap
Urbandale, IA - Homemakers Furniture is proud to announce its Grandstand sponsorship of the 2023 Iowa State Fair Concert Series for the third year in a row. Homemakers has been a Grand Champion and Grandstand Sponsor of the Iowa State Fair since 2021. During that time, Homemakers continues to improve their booth and offer fairgoers something different each year.
"The Iowa State Fair has been an essential part of Iowa history since 1854. We are excited to be a part of this Iowa tradition for the third year in a row. Having a presence at the Iowa State Fair gives us the opportunity to connect with people from different parts of Iowa and the United States. Homemakers knows the impact that this event has on the people that attend by making life-long memories," said President, Dave Merschman.
During the 2023 Iowa State Fair, Homemakers had the second largest booth in the William C. Knapp Varied Industries Building at the fairgrounds, booth #465. Homemakers had various special offers that will entice fairgoers from enter-to-win sweepstakes, a reward card offering, and a large selection of featured products.
One of the featured products at the Homemakers booth, the Jonathan Louis Collette Estate Sofa. This curved sofa with a green hue will give a pop of color to any space.
A large portion of the Homemakers booth was dedicated to showcasing Purple mattresses and pillows. This was the second year in a row that Homemakers had featured Purple in their state fair booth. Pictured is one of the Purple mattresses that was at the booth. Homemakers has offered the Purple line to customers since 2021.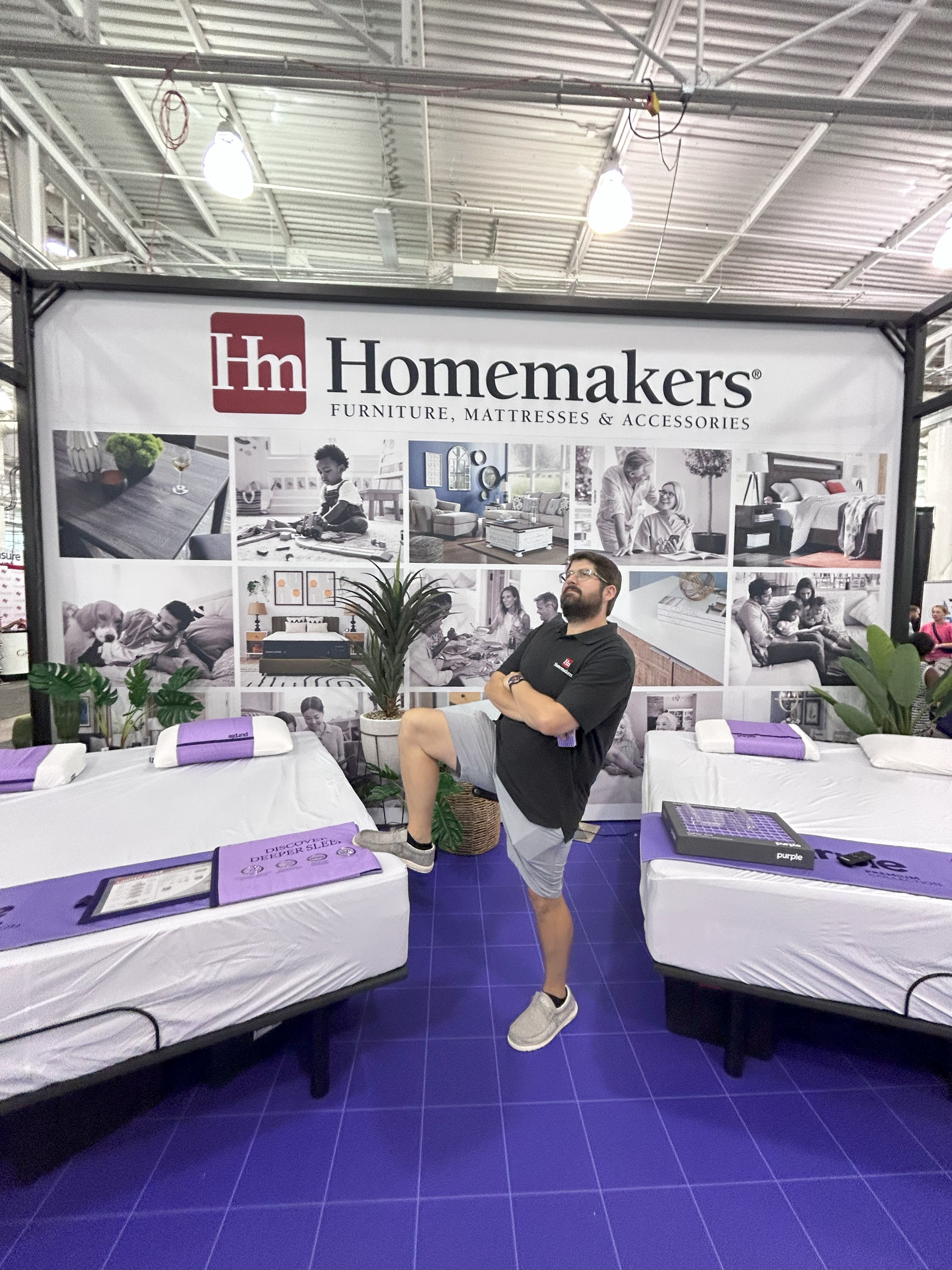 Pictured is one of the outdoor sectionals that will be at the Homemakers booth. This contemporary gray and brown sectional will be one of the highlighted products at the booth this year.
"Each year, we strive to bring something new to our booth at the Iowa State Fair. This year will be no different! We're excited for fairgoers to experience the excitement at our booth with several special offers and to see the fabulous new products that will be on display," said Assistant Vice President, Jason Merschman.