June 28, 2021
How to Navigate Furniture Sales and Deals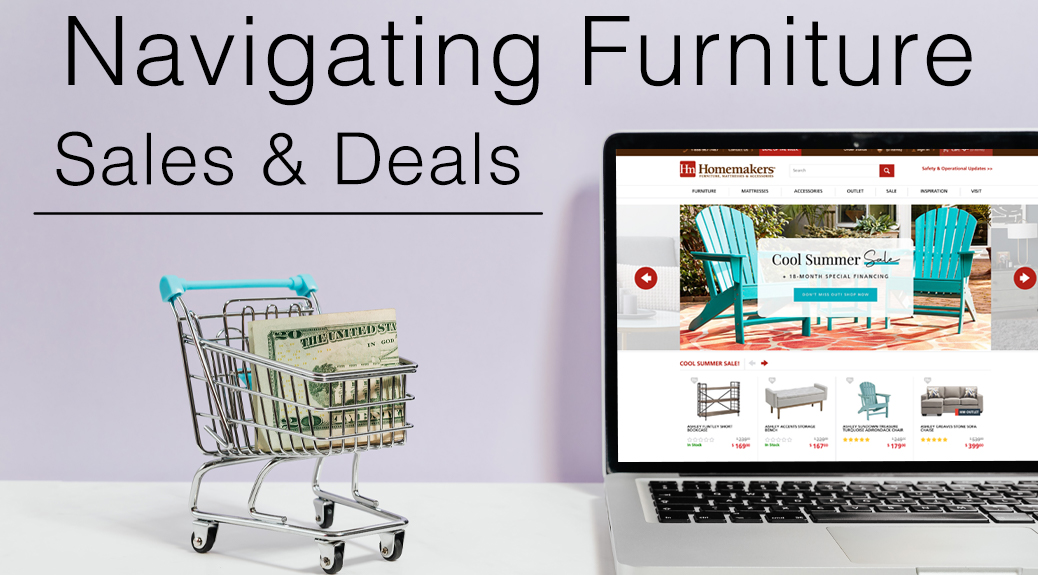 If you find furniture shopping overwhelming, you aren't alone. Not only can it be expensive, but choosing the right pieces is incredibly important to making your home look just the way you want. Balancing affordability, style, and comfort all at once can be tough. That's where furniture sales and deals come into play! Worry less about the price tag and instead spend your time and energy focusing on choosing pieces that make you happy. Here's everything you need to know to get the best price possible while shopping.
Types of Sales and Deals
Holiday Sales
Holidays are almost always a good time to shop for furniture. This is when many of the year's biggest discounts can be found, as retailers aggressively compete to entice prospective customers with unbelievable deals. The only downside is that stock can sell in the blink of an eye, so jump on a deal while you can!
Holidays to mark in your calendar:
Presidents Day
Memorial Day
4th of July
Labor Day
Black Friday/Cyber Monday
Christmas/New Year's
While every retailer runs their annual holiday sales a bit differently, these dates are good to look out for. Keep in mind that even though these sales are scheduled around a specific holiday, the sale itself likely lasts for several days.
Coupons and Promo Codes
Some retailers choose to give out coupons and promo codes that can be entered online or taken in-store to get a discount from the listed price. These codes are often distributed via physical mailing lists, as special rewards for customer loyalty, and through targeted emails.
At Homemakers, we strive to offer the best prices and value to all of our customers. Almost everything we sell is priced below the suggested retail price, meaning you don't need coupons or promo codes to save!
Budget-Friendly Sections
To help guide customers to the affordable pieces they're looking for, many retailers have specific budget-friendly sections. Stay on the lookout for this; getting to shop a section filled only with budget-friendly furniture makes the whole experience way easier!
Our Good, Better, Best system lets you find the at-a-glance information you need while shopping. Anything with the "Good" label will be an affordable, budget-friendly piece that still doesn't sacrifice on style. We also have the Hm Outlet, our store-within-a-store that serves as your one-stop shop for affordable furniture.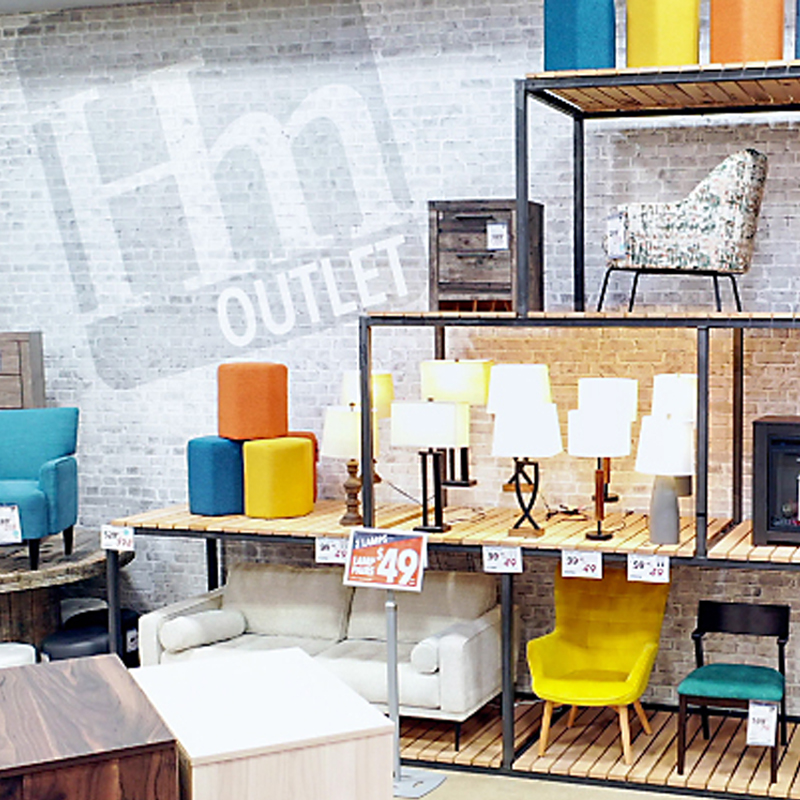 Clearance
When retailers need to make room for new products, the old ones often end up in clearance. For you, this means huge discounts! While you usually can't plan for a specific piece to go on sale in clearance, some of the best budget-friendly furniture you'll ever find will be here. Inventory changes often and stock goes fast, so keep a close eye out and check-in frequently to score unbeatable deals!
The Homemakers in-store clearance center features up to 300 ever-changing pieces every day across many of our most popular categories. Items in our clearance center come from recent returns, manufacturer or buyer drops, special order mistakes and cancellations, defects, and inventory changes.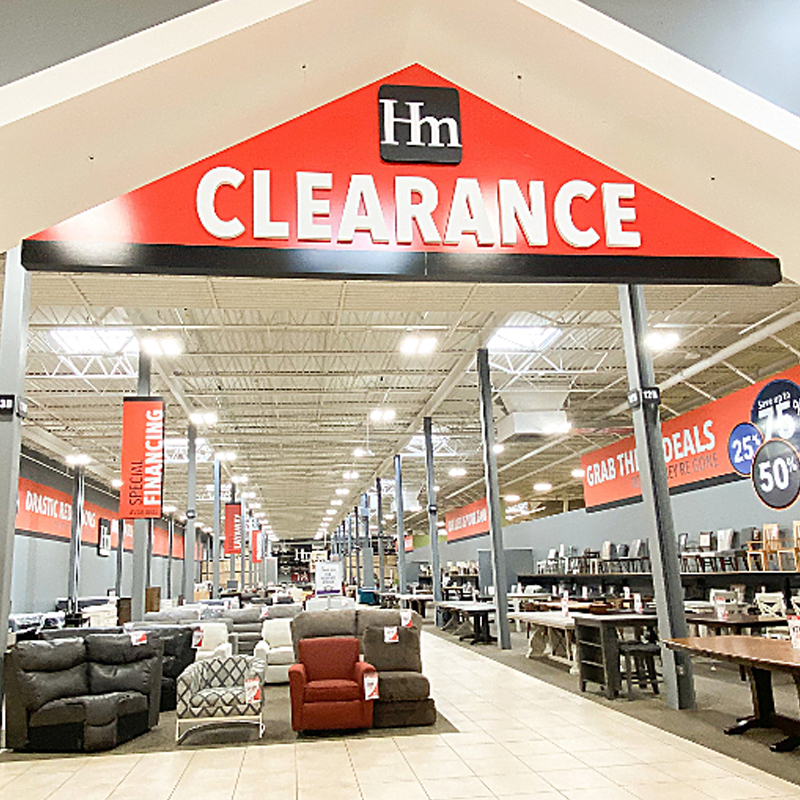 Determine the Total Price and Value
Our first instinct while shopping is to look right to the listed price of an item. After all, that's what we're going to be paying! However, it's important to take other aspects of your purchase into account to ensure you're getting the best value possible.
Pick-Up and Delivery
Buying furniture is rarely a grab-and-go affair. As much as we wish teleporting your furniture into your home was a thing, the technology isn't quite there yet. Transporting your purchase can be an additional expense you should take into consideration. Some retailers choose to charge separately for shipping and delivery, while others include it with your purchase.
Pay close attention to pricing here – many retailers that offer free shipping on all orders inflate the base product price to make up for that loss.
Every retailer offers different methods and pricing for shipping and delivery. However, methods generally fall into one of three categories. Here are your options to get your new furniture home:
Pick up in-store: A great option if you have the means to DIY.

Pros: Free, often no need to schedule ahead of time
Cons: Requires a vehicle capable of transporting large furniture
Standard Shipping: Get your furniture from point A to point B.

Pros: Usually less expensive than in-home delivery (sometimes is free!), let the delivery team worry about transport
Cons: Some retailers may charge an additional fee, still need to bring the furniture inside and possibly assemble it yourself
In-Home Delivery: Let the pros bring your furniture into your home, and sometimes even assemble it

Pros: Don't have to pick up or bring inside. Sometimes, the delivery team will even assemble for you!
Cons: Often the most expensive option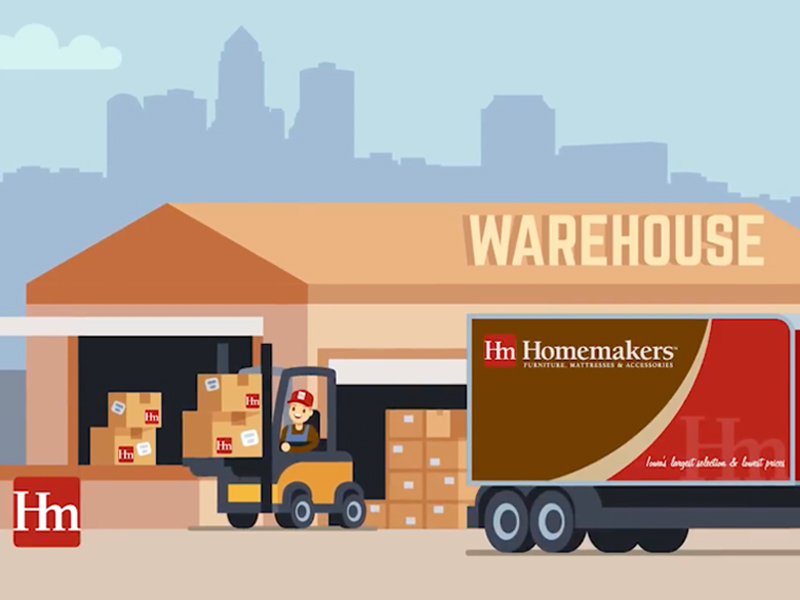 At Homemakers, we offer free in-store pick up, as well as free state-wide shipping for orders over $499 throughout the state of Iowa. Out-of-state orders and in-home delivery are available for an additional fee. Learn more about our delivery options!
Financing
Furniture has the potential to be a major expense. A living room set, a dining room set, a bedroom set… it all adds up. If you're in the process of furnishing an entire home, financing is a good option to avoid the burden of paying for everything all at once.
Many retailers promote long-term and 0% financing offers. Stay on the lookout for those to lower your monthly bill and avoid paying unnecessary interest.
Financing furniture requires applying for credit, meaning this isn't a decision to make lightly. Many retailers,

including Homemakers

, have a dedicated financing department with trained professionals there to guide you through the process and answer all your questions.
Warranty + Protection Plan
If you're buying new furniture, you likely hope it will last for the long haul. But there's no need to hope it will when you can know it will.
When checking out with your new furniture, you'll usually be presented with an option to add a protection plan to your purchase. While every plan is different, they typically protect against any defects or accidental damage that might occur. This can give you much-needed peace of mind and will be a huge help in case something does go wrong.
Many retailers have multiple levels of protection plans – including Homemakers. Most purchases you make when you shop Homemakers will come with a one-year warranty against manufacturer's defects. If you want a longer warranty, we offer the Guardsman furniture protection plan to protect your purchase for years to come!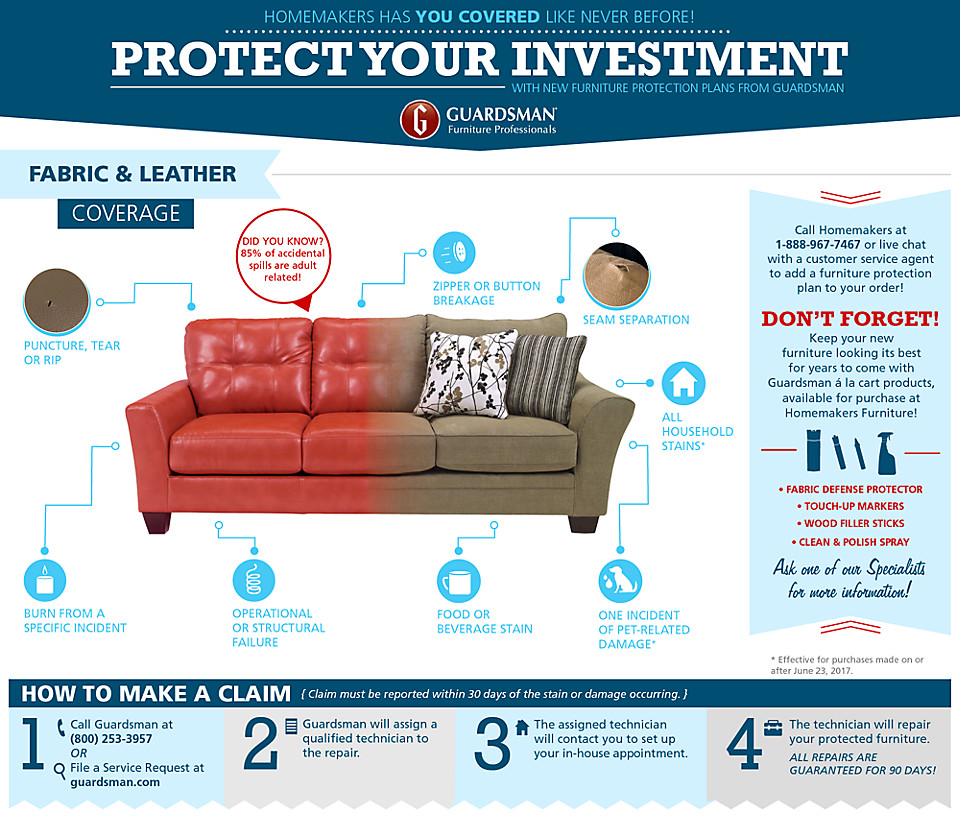 Budget-Saving Tips:
Saving while furniture shopping isn't just about knowing the deals and sales to look out for. Going in with a solid game-plan will pay off big.
Here are some tips to get you started:
Be patient: Odds are you won't start looking for furniture at the same time all the best deals are on. Waiting it out a few weeks or months for those deals to come around is worth it, trust us.
Don't buy everything at once: If you're looking to furnish an entire home, there's no rule that says you must buy everything at once. Going room by room or even piece by piece lets you take advantage of special deals as they become available and eases the burden on your wallet. Just be sure to keep shipping and delivery costs in mind.
Expand your style: A consistent interior design style is a great starting point to produce a uniform look throughout your home, but getting creative and mixing-and-matching styles opens a whole world of possibilities, helping you save in the process. Check our guide on

How to Combine Interior Design Styles

for a how-to breakdown!
For more tips and tricks, see our guide on the Do's and Don'ts of Furniture Shopping!
More Ways to Save When You Shop Homemakers
Current Ad
Shop our current ad to get access to a huge variety of unbeatable deals and promotions. From discounts on trending products to incredible financing offers, our ever-changing ad is sure to have something for you. Shop our current ad!
Deal of the Week
Every week, we feature a special deal on one of our hottest products. You never know what will be next, so be sure to check in weekly so you don't miss out on the savings!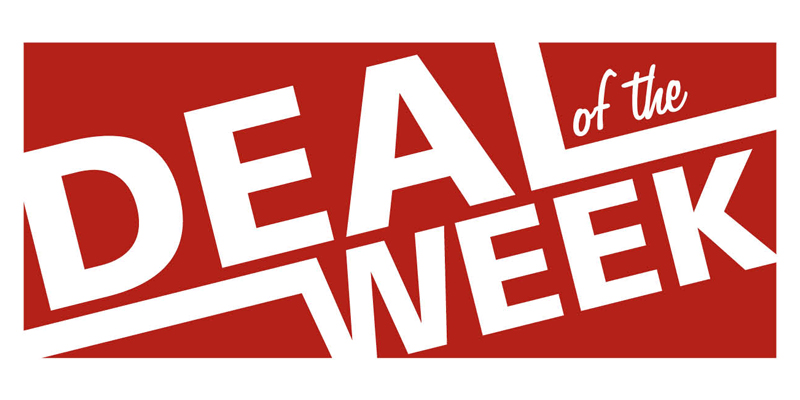 Crazy HOT Deals
We also offer a changing rotation of Crazy HOT Deals. These limited-time offerings bring you can't-miss discounts on top brands. Many of our Crazy HOT Deals are offered online, but some are exclusive to in-store, so be sure to stop by to check them out!

Sign-Up for our Email List
Ensure you never miss out on savings by signing up for our email list. Get exclusive deals delivered right to your inbox, plus learn about new products trending at Homemakers!
Furniture shopping doesn't need to be a stressful and expensive experience. If you go in with a plan, you can furnish your home just the way you want without breaking the bank. Knowing the proper strategies and what furniture sales and deals to look out for will put you in a great spot to make your house a home on a budget.