March 10, 2023
2023 Patio Best Sellers
With summer almost here you are probably ready for sunny days. Get ready for watching the kids play outside while you sit and enjoy your outdoor oasis. We have gathered out best patio collections and these are some of the top sellers. So, whether you need a patio refresh or just want to add a few items to spruce up your space we have you covered.
Our best seller is Ashley Beachcroft. This collection has the most options and is perfect for any backyard. The furniture is made with a rust-proof aluminum frame and all-weather resin wicker. The cushions are easy to clean and weather resistant. The Beachcroft collection has a driftwood-inspired design and is the most versatile.
The collection has many options for furniture including sets and individual pieces. Our most popular options would be the three-piece outdoor sectional, swivel lounge chair and the five-piece fire pit set.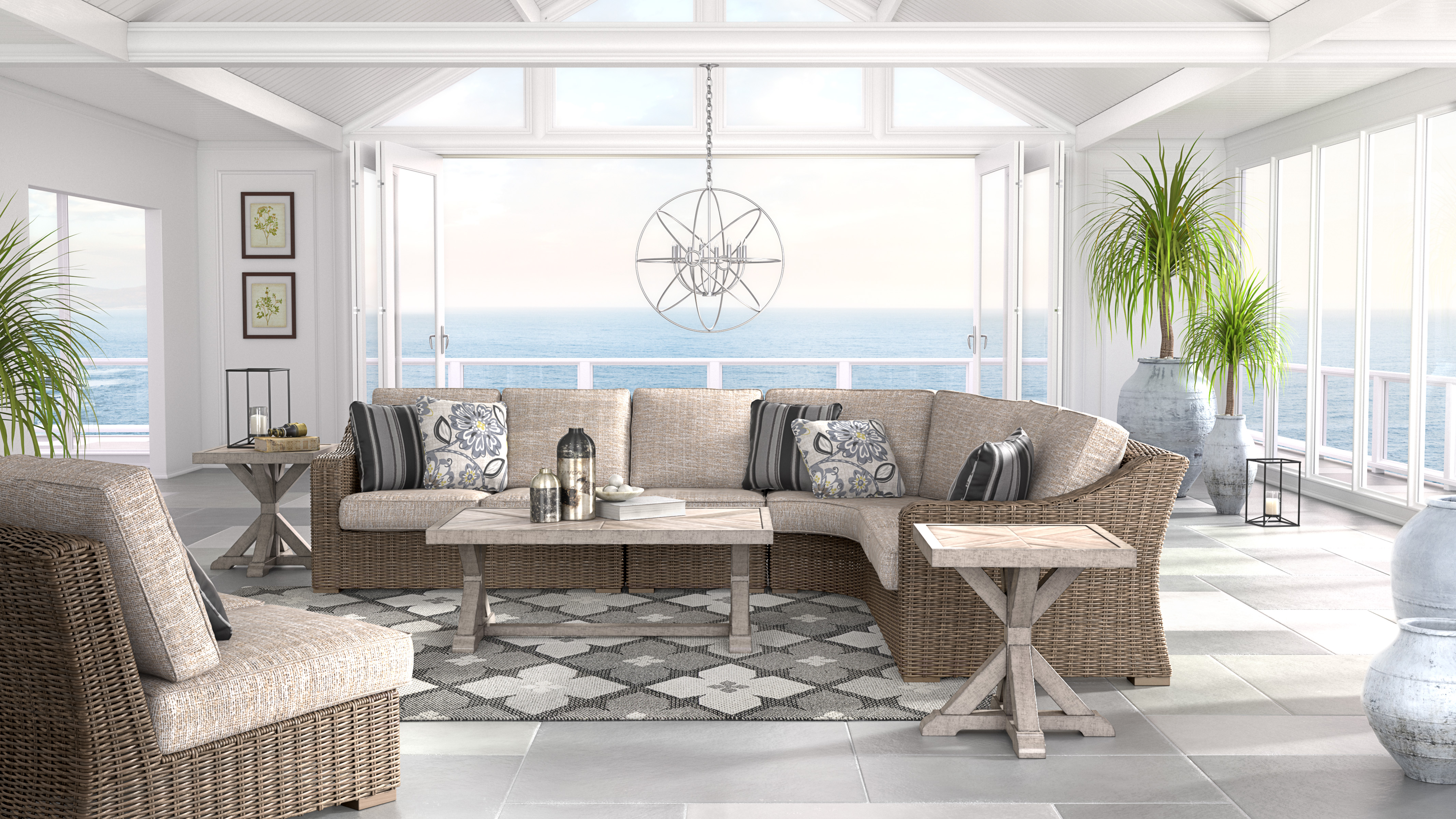 Ashley Beachcroft 3-piece Sectional
Shop the Beachcroft Collection
Just like Beachcroft, the Ashley Paradise Trail has the most options for your backyard space. The furniture is made of durable aluminum that mimics wood. Every piece is designed for any weather conditions. It's a great option for something a little darker than the Beachcroft. It's also perfect for enjoying a nice lemonade in your backyard.
This collection also features a lot of options. The most popular being the loveseat with pillows, fire pit bar table and four stools, and the five-piece fire pit set.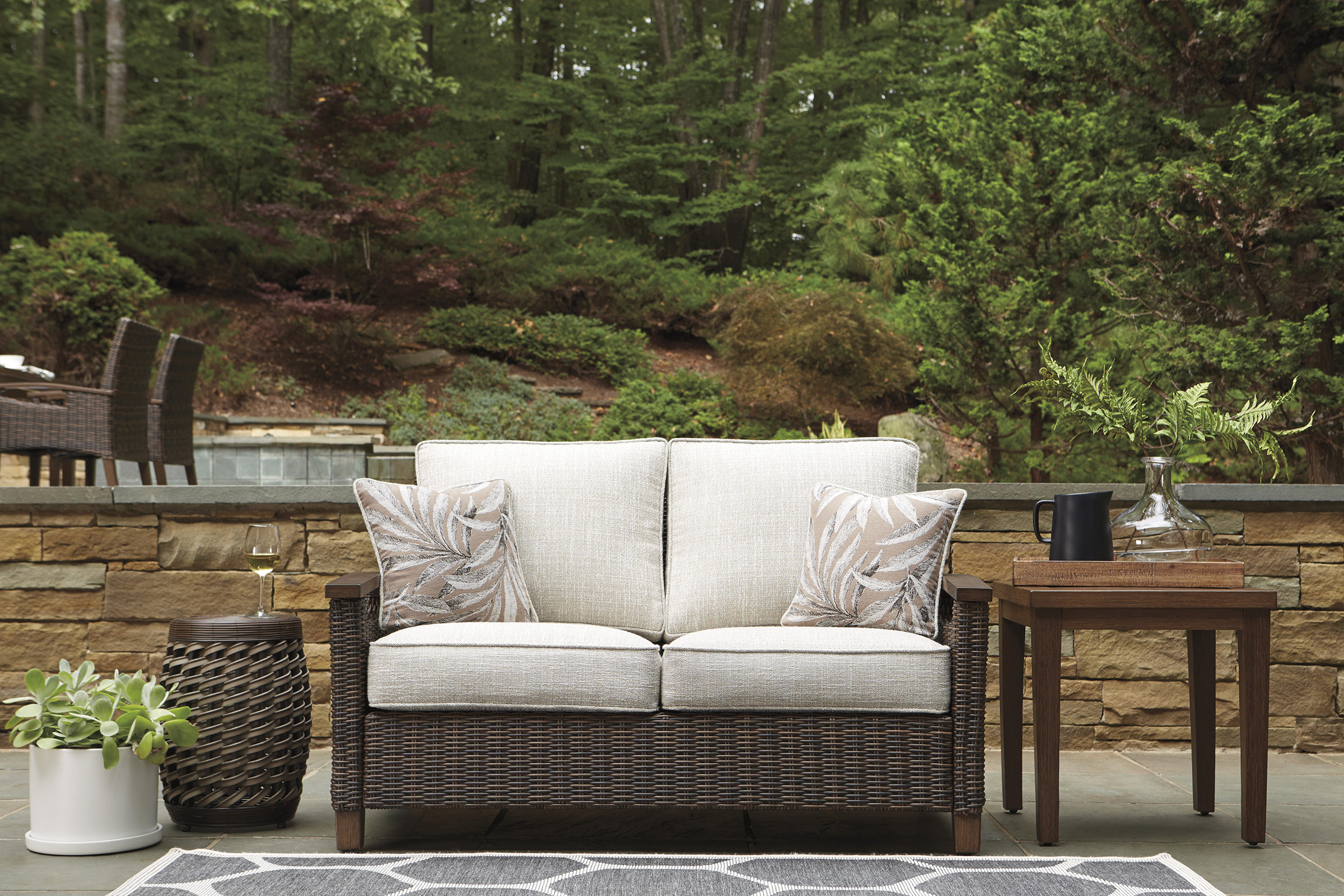 Ashley Paradise Trail Loveseat
Shop the Paradise Trail Collection
For a lighter outdoor space, the Ashley Clare View is perfect. Featuring a five-step finishing process the eucalyptus wood frame makes it durable in any weather. The cushions are super comfortable and are made of a high performance Nuvella fabric. This collection could be great for a smaller space like an apartment balcony. It's also helps lighten up your patio.
Our favorite pieces would be the Loveseat, sofa, and lounge chair. They have great options for your space.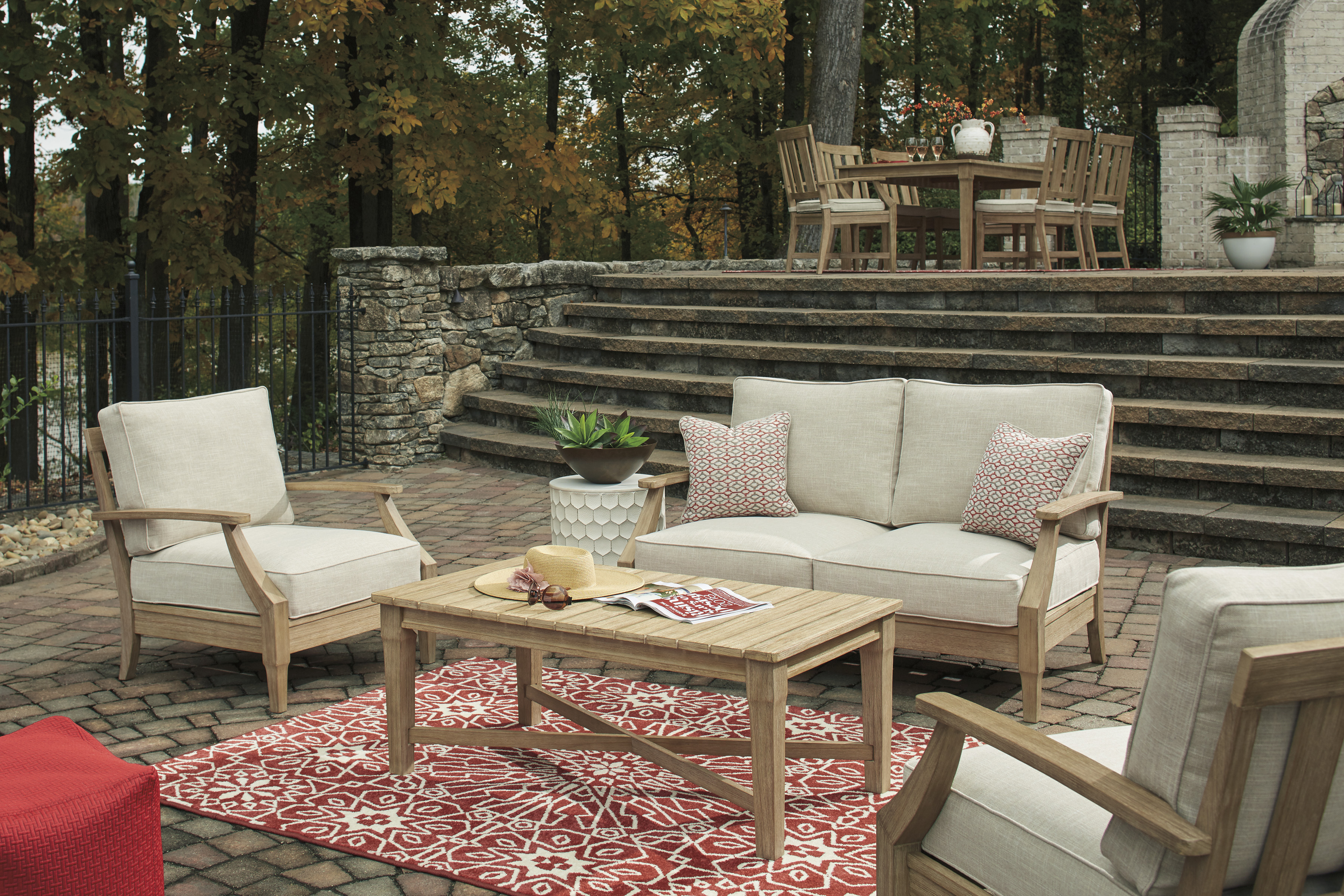 Shop the Clare View Collection
is
$799.00
, was
SRP: $1299.00
You save: $500.00
is
$349.00
, was
SRP: $539.00
You save: $190.00
The Ashley Elite Park stands out with its furniture. The resin wicker over the aluminum frame is perfect for all weather conditions. The gray cushions are thick and wrapped in Nuvella high-performance fabric. This collection is great for anyone wanting a different color than brown. It's easy to mix and match with any color.
This collection also has a lot of options for furniture. Including the six-piece dining set, the swivel chair, and the sofa.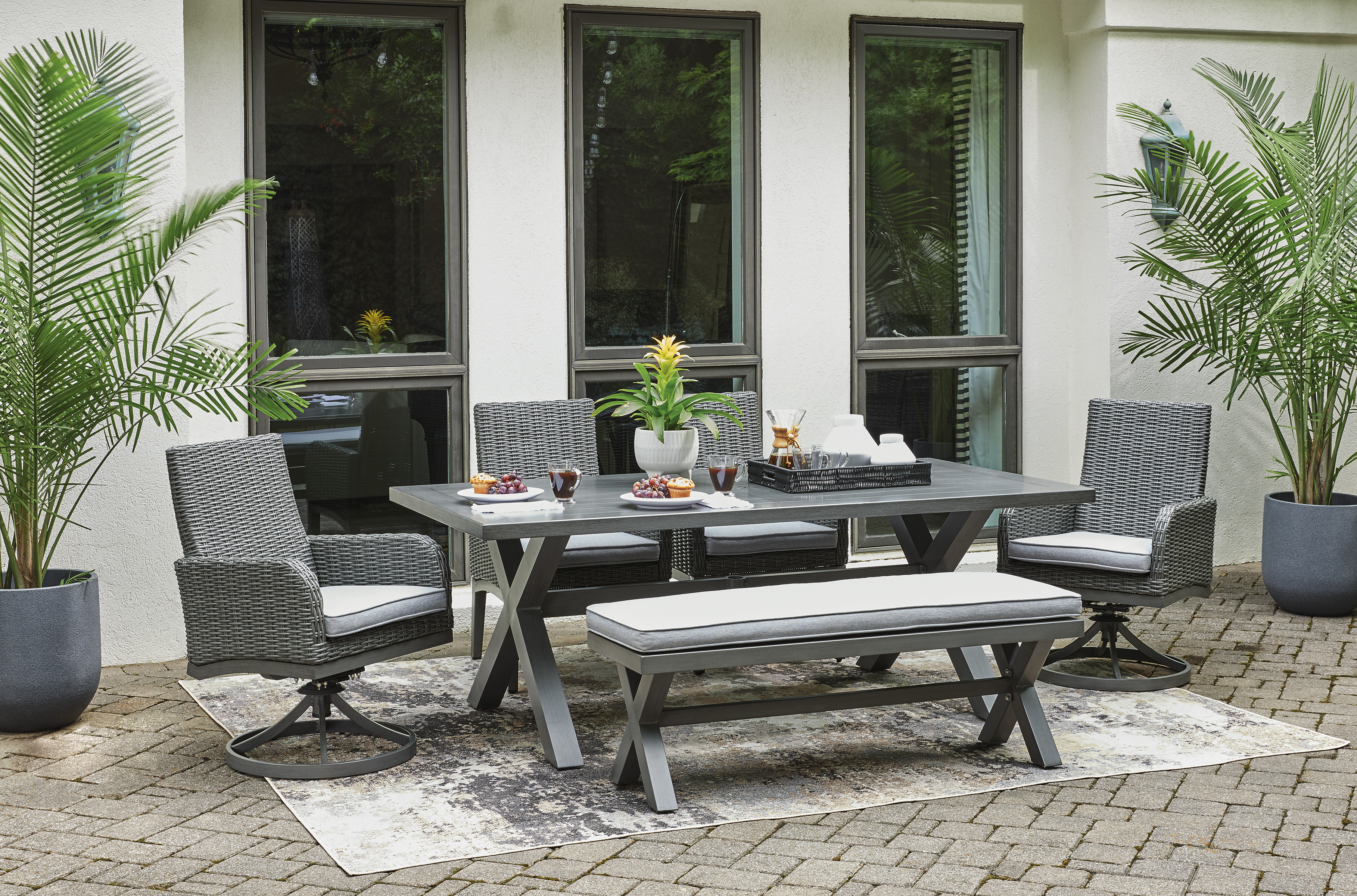 Ashley Elite Park 6-Piece Dining Set
Shop the Elite Park Collection
Add a splash of color to your patio area with the Ashley Grasson Lane. The blue cushions and darker base will stand out in your outdoor space. This collection features a durable rust-resistant aluminum frame, all weather construction and high-performance fabric.
With lots of great seating options we suggest the lounge chair, the sofa or loveseat. Then you can add any kind of table.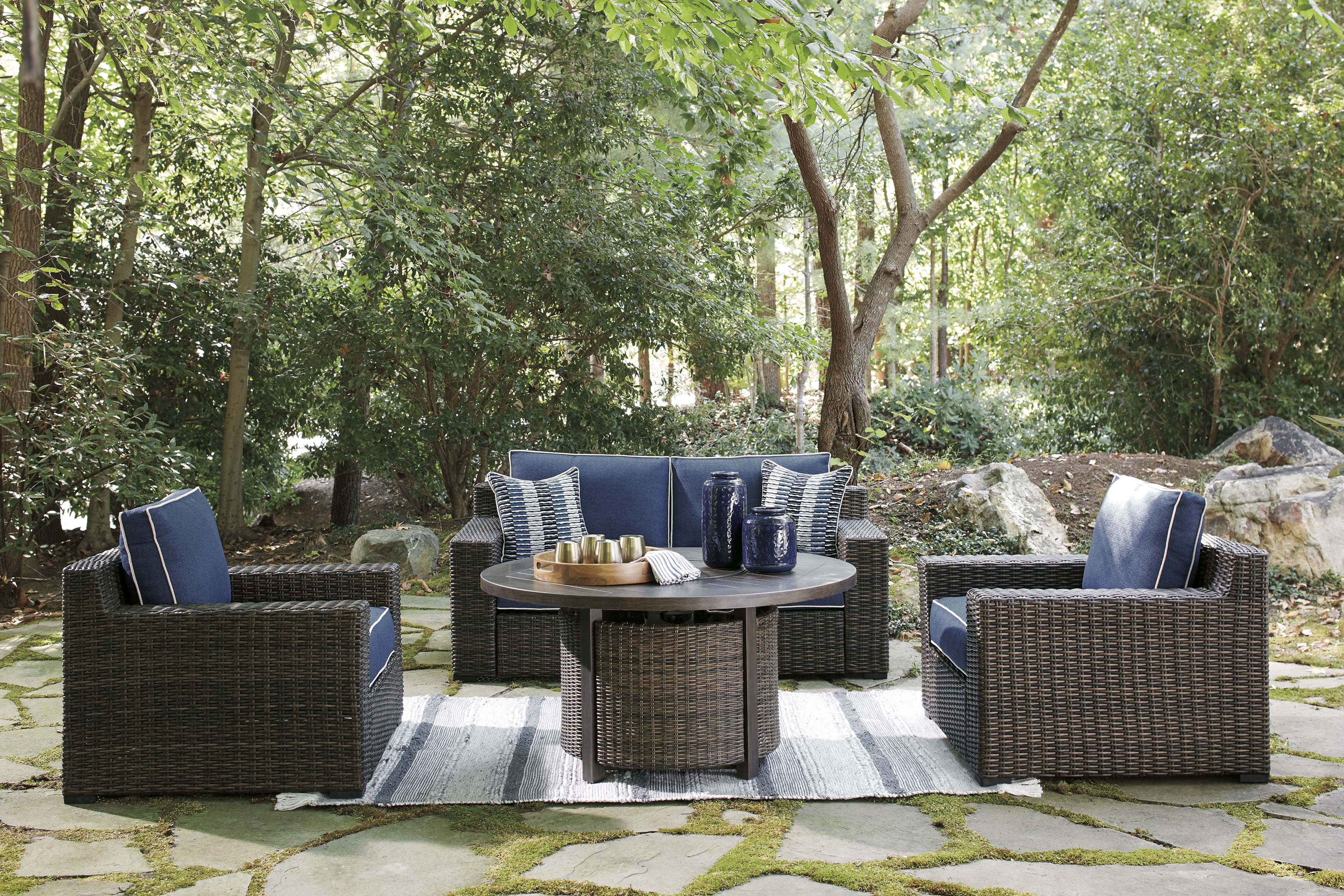 Ashley Grasson Lane Lounge Chair
Shop the Ashley Grasson Lane Collection
Ideas + Advice
November 16, 2023
At its core, Organic Modern interior design celebrates the marriage between the contemporary and the organic. It integrates natural elements such as wood, stone, and plant life into modern spaces, creating an environment that feels fresh, natural, and inviting. Characterized by soft curves, raw natural materials and open spaces.
Read more

about "Organic Modern Style for Every Budget"