Canadel Furniture
Customize your space with chic dining and home bar furniture.
A Leader in Heirloom Furniture
Canadel has grown from modest beginnings since its founding in 1982 in Quebec, Canada. Guy Deveault started out working on the floor of his father's furniture factory. He and his brother transformed Canadel into the global leader it is today. Thirty years later, Canadel is still family-owned.
The company has grown to become a leading producer of dining room and home bar furniture. Along the way, it earned a reputation for integrity and quality work.
Canadel has also taken steps to reduce its environmental impact during production. This includes recycling dyes and paints, using recycled packaging and purchasing locally.
Quality, Custom Style
Canadel is a leader in custom furniture. Customers can work with our sales specialists to choose from more than 50 wood finishes and more than a dozen upholstery options. This is your chance to show off your unique style!
Every piece of Canadel furniture is made in North America. Each piece is assembled by hand using solid birch wood from North American forests.
Stop by today and meet with one of our experienced sales specialists. From chic dining sets to home bar necessities, there are plenty of options at Homemakers.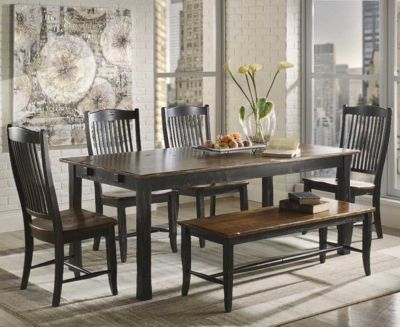 Shop Heirloom Furniture at Homemakers
Shop Homemakers' Amish Heirloom Furniture Gallery! Fill your home with high-quality, handcrafted Amish furniture and enjoy pieces that will last for generations to come. Customize your heirloom-quality piece at our design center and select from a wide variety of finishes, styles and hardware options. Looking to see the finishes in person? Visit our Urbandale showroom today!
Amish Heirloom Furniture | Homemakers
Discover quality, hand-crafted furniture at Homemakers' Amish Heirlooms Gallery! Explore the timeless traditions and custom options you love most about heirloom furniture. This area of our Urbandale showroom highlights the brands Daniel's Amish, Canadel, Oakwood Industries and Palettes by Winesburg.


Customize your own heirloom-quality masterpiece with the innovative design center in our dining department. Design the ultimate dining room set, then visit our newly remodeled bedroom gallery for even more custom furniture. You're sure to create a unique, long-lasting piece your family will enjoy for generations.