An Outdoor Escape to Call Your Own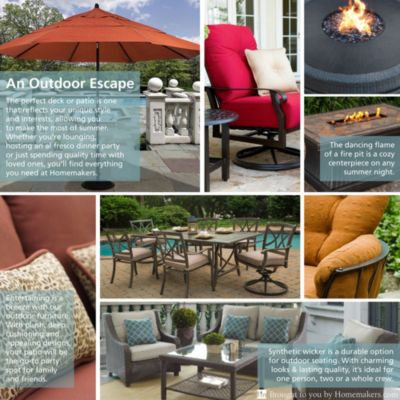 Outdoor furniture that sets the scene
The perfect deck or patio is one that reflects your unique style and interests, allowing you to make the most of summer. Whether you're lounging, hosting an al fresco dinner party or just spending quality time with loved ones, you'll find everything you need at Homemakers.
The dancing flame of an outdoor fire pit is a cozy centerpiece on any summer night.
Entertaining is a breeze with our outdoor seating. With plush deep cushioning and appealing designs, your patio will be the go-to party spot for family and friends.
Synthetic wicker furniture, like Erwin and Sons' patio furniture, is a durable option for outdoor seating. With charming looks and lasting quality, it's ideal for one person, two or a whole crew.
Explore our full selection of patio and outdoor furniture online!