In-Home Design Services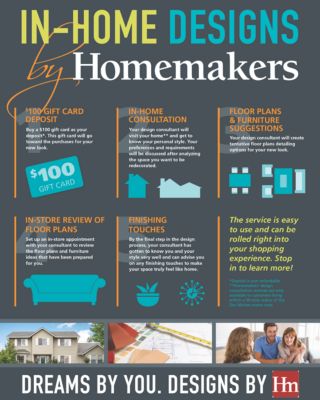 Interior Design Consultations
Do you find yourself wishing you had a painless way to explore your personal style? Are you looking to update your home, but you don't know how to fit such a big project into your busy schedule? Homemakers' knowledgeable team of design consultants will take the guesswork and stress out of the equation!Whether you want to update a room or completely redecorate your home, Homemakers' design consultants are happy to help. Stop in to learn more about what we can do for you!
The Process is Simple!
$100 DepositBuy a $100 gift card as your deposit*. This gift card will go toward the purchases for your new look.
In-Home ConsultationYour design consultant will visit your home** and get to know your personal style. Your preferences and requirements will be discussed after analyzing the space you want to be redecorated.
Floor Plans & Furniture SuggestionsYour design consultant will create tentative floor plans detailing options for your new look.
In-Store Review of Floor PlansSet up an in-store appointment with your consultant to review the floor plans and furniture ideas that have been prepared for you.
Finishing TouchesBy the final step in the design process, your consultant has gotten to know you and your style very well and can advise you on any finishing touches to make your space truly feel like home.
If you have a question for Homemakers Design Consultants, please email us at DesignConsultants@Homemakers.com
*Deposit is non-refundable. **Homemakers' design consultation services are only available to customers living within a 50-mile radius of the Des Moines metro area.