Ekornes Stressless Furniture Infographic
Discover what makes Ekornes' exquisite pieces stand above the rest when it comes to innovative ergonomic comfort with contemporary style.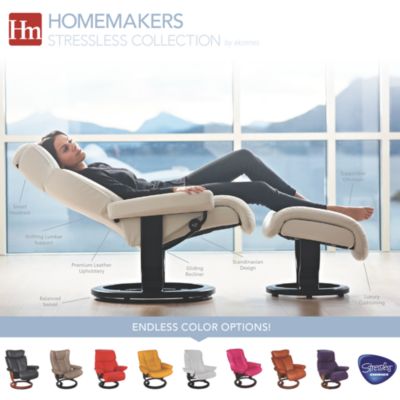 Ergonomic Secrets of the Stressless Collection
Experience redefined ergonomic comfort with Ekornes furniture. Below, we explain the innovative Stressless features that create an unparalleled relaxation experience.
SMART HEADREST: For a seat that interprets your body's movement, Ekornes built a smart headrest that lifts and lies flat to maintain accurate neck curvature every time you move.
SHIFTING LUMBAR SUPPORT: The innovative lumbar Plus system has springs that actually press forward as you recline and sink back as you rise. These automatic adjustments offer correct lumbar support in any position.
PREMIUM LEATHER UPHOLSTERY: Only top-grain leather is used with our Ekornes pieces. The leather is purchased from select tanneries and thoroughly inspected to ensure you receive the highest-quality furniture.
BALANCED SWIVEL: Unlike most reclining swivels with only one base stem, Ekornes uses two stems to create a more stable swivel. The elegant circular swivel base also enhances sturdiness and durability, so you experience effortless 360-degree rotation that remains smooth and balanced the entire way around.
GLIDING RECLINER: A smart Stressless glide system responds to your body weight as you press back and automatically adjusts to your positioning, no buttons or levers required.
SCANDINAVIAN DESIGN: The sleek, contemporary design is a flawless combination of beauty, comfort and functionality. Graceful curves, choice materials and innovative construction define Ekornes' fine furniture, which is acclaimed by style circles around the world.
SUPPORTIVE OTTOMAN: A scooped ottoman cradles your legs, giving you full-body relief and adaptable support that glides as your chair does, giving you versatile positioning that adapts to your ideal body posture.
LUXURY CUSHIONING: Molded over the steel base is a layer of perforated foam, featuring air pockets that ensure proper ventilation and cushion longevity. Two additional sheets of foam follow for ultimate protection and encompassing comfort.
Try it out for yourself. You can find the perfect piece by shopping on Homemakers.com or by browsing our wide showroom collection today.