Quiz: What's the Best Chair for You?
Wishing for a chair that you can fall in love with? We know the feeling. Which is why we created this fun quiz to help you discover the ideal seat for your seat. Maybe you're best suited for bold home theater seating. Or a spacious chair and a half could strike your fancy like none other.Take our perfect chair quiz to find out which is your perfect match. Simply answer the question at the top of the graphic and follow the path for each sequential answer until you land on your perfect chair. Then, scroll down to read more about your quiz result and explore the relaxing chairs that Homemakers carries in that category.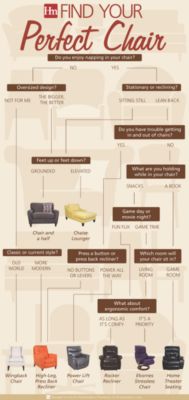 So, your best chair is a...
CHAIR AND A HALFYou embrace oversized design and don't need extra features. That's why a chair and a half is perfect for you. Larger than your average chair but smaller than a loveseat, this piece will provide spacious, stable relaxation that you can enjoy solo or use to snuggle up with someone special.
CHAISE CHAIRThis roomy seat gives plenty of space to sprawl out while maintaining your personal bubble. You'll relax in elegant comfort while reading a book, sipping coffee or just relaxing. With solid leg support and generous comfort, you have a go-to spot to enjoy the space of a sofa all to yourself.
WING CHAIRWhat a classic! You are looking for a chair to cozy up in while enjoying good company or drinking your afternoon tea. A fireside wing chair is perfect for you. With timeless design and a supportive back, this seat will give you the combination of style and comfort that you're looking for.
MODERN HIGH-LEG RECLINERContemporary style, button-free recline, elevated seating...what more could you want in a chair? You'll have a comfortable seat that doesn't skimp on style and creates the illusion of space with the tall, exposed feet.
POWER LIFT CHAIRNeed a helping hand while getting in and out of your chair? We introduce you to our incredible power lift chairs. You'll enjoy effortless assistance while taking a seat and standing up. The only work for you is pressing a button.
ROCKER RECLINERIf you're looking for simple comfort in a multifunctional chair, you just found your perfect chair. A rocker recliner fits in any living room or can make a statement as a bedroom accent chair. For next-level relaxation, opt for a fluid swivel or gliding rocker recliner.
EKORNES STRESSLESS CHAIRWelcome to the epitome of luxurious relief. Your Ekornes chair will provide innovative ergonomic relaxation and sleek Scandinavian style for years to come. It's so incredibly comfortable that you'll wonder why you let yourself miss out until now.
HOME THEATER SEATINGOrdinary chairs have no place in your magnificent game room, home theater or den. This is a place for deep, plush comfort with the convenience of built-in cup holders and consoles. You're creating a fortress of bold relaxation where you can escape for hours. Thus, we give you unparalleled home theater seating.