Furniture Design & Décor Glossary
A
Acrylic
A man-made fiber with a soft, woolly feeling; fair resistance to sunlight. It has good cleanability characteristics and takes vivid color well. Acrylic is normally used to create velvet, plush looks.
All-weather
Furniture that is constructed of materials suitable for all weather types, for example resin wicker.
Aluminum (and cast aluminum)
Light, durable, functional metal that is rust-proof and often used in outdoor furniture.
Apron
Decorative panel that connects the surface or legs of a table or chairs.
Armchair
Chair with side structures to support arms or elbows.
Armoire
Large movable cupboard with doors and shelves that is typically used to store clothing or used as an entertainment center.
Attached Pillow Back
Back cushions made to resemble loose pillows but which may not be removed.
B
Back Rail
The wood frame section which supports the back springs and/or cushioning material.
Backing
A coating material used on the reverse side of the upholstery fabric or cover to give it more strength.
Baker's Rack
Tiered open, slatted back shelving unit used for storing utensils or other kitchen amenities.
Barrel Chair
Chair type that is named after chairs that were originally made from half a wine barrel.
Base Rail
The part of the wood frame lowest to the floor.
Baseball Stitching
A double row of sewing which runs along both sides of a seam. It is used for a decorative effect but also strengthens the seam.
Basket-Weave
A simple plain flat fabric which gives the appearance of a woven basket.
Blue Steel Springs
Flexsteel's life-time-guaranteed seat spring, which serves as the foundation for almost all of their sofas.
Bonded leather
Pieces of leather combined with non-leather material to create a cost-efficient upholstery option.
Boxspring
Foundation for a mattress.
Buffet
The base of a China Cabinet that supports the hutch and is often used as a place for storing dishes.
Bun Feet
Bottom of leg with rounded feet.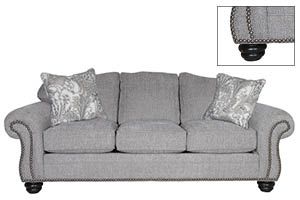 Burl
Knot in wood grain surface. Sometimes creates a decorative pattern or swirl.
Burnishing
Wood that has been singed or burned in certain areas and then stained over the burned part.
Butterfly leaf
The leaf of a table with a center section folds and stacks to slide under the table. It's named for appearing to have wings like a butterfly when it opens.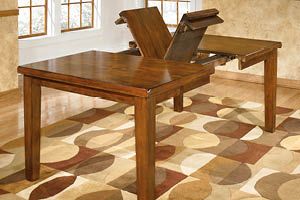 Button-Tufting
The use of buttons to decorate or accentuate tufting.
C
Cabriole Legs
An "S" curved leg on a chair or table with an outcurved knee and an incurved ankle.
California King
A slightly longer mattress than a standard king, measuring 72" wide and 84" long.
Cantilever umbrella
An umbrella supported by a freestanding pole on the side, instead of the middle.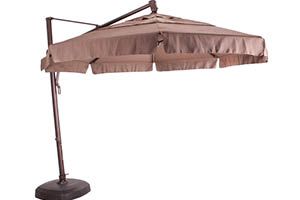 Caster
Rolling wheel that helps facilitate the mobility of furniture.
Chaise
A chaise lounge is an extra long chair that is long enough to support the legs. A chaise sofa is a sofa that includes at least one chaise seat, often seen in L-shaped sofas.
Chenille
Fuzzy plush yarn used to create upholstery fabric.
Chesser
A combination of a dresser and a chest.
Chevron
A repeating line or stripe in the shape of a V or an inverted V. Often called zig zag.
Club Chair
An upholstered chair with a low back.
Cocktail ottoman
A multipurpose furniture piece that can be used as a footrest or extra table space. Often referred to as coffee table ottoman.
Coffee Table
Long table most often used in front of a sofa.
Coil Springs
When resilient spring wire is coiled into a cone shape. Such springs are used in multiple rows for good seating comfort.
Console
Table that is intended to be placed against a wall.
Contour (mattresses)
When a mattress conforms to the shape of the body, typically a memory foam mattress.
Couch
Term used for daybed in the 17th & 18th century.
Counter Height
Refers to the height of a stool that is lower than a bar stool and usually between 24" - 27" range.
Coverlet
A light bedding layer that is placed on top of a thicker bedspread for extra warmth or a decorative layer. Typically made of cotton, linen, velvet or silk.
Credenza
A buffet, sideboard, or bookcase, especially one without legs.
D
Damask
Silk with an elaborate floral design that is reversible.
Daybed
A dual purpose piece of furniture that can serve as a seating piece or can be used as a bed.
Dentil Molding
Ornamental cornice molding consisting of rectangular blocks spaced at regular intervals resembling teeth.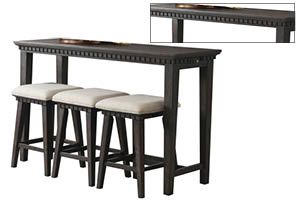 Distressing
Wood finish that gives furniture the appearance that it has aged and looks like an antique. Also applies to leather, see antiqued.
Divided Back
The back of a sofa is given the look of detachable pillows or cushions.
Down
Soft feathers (duck or geese) used to fill upholstery or pillows.
Dovetail
Interlocking joint on a piece of furniture.
Drop Leaf Table
Extension leaves that are built with hinges which can be lowered when not in use.
Duvet
A soft bed cover with down, feathers or synthetic fiber protected with a removable cover.
E
Edge Wire
A special heavy gauge wire, which acts as a support framing for coils.
Eight-way hand tied
A series of twine strings tied, by hand, 8 ways to support the seat. Modern production provides for the use of machine applied metal clips and wire stabilizers to keep coil springs permanently in position, instead of hand tying.
Embossing
Creating a 3-dimensional design or pattern on paper or on a surface of wood.
Engineered Wood
A man-made substitute for hardwoods. Also known as medium density fiberboard (MDF).
Etagere
A decorative piece of storage furniture with open shelves.
F
Finish
Any enhancing effect applied to leather after it has been tanned. Examples are dyeing, embossing, buffing, antiquing, waxing, waterproofing, and so on.
Flare
The outward curving or slant on a furniture leg or arm.
Fleur De Lis
A design that consists of three leaves or pedals and the middle pedal stands taller then the other two.
Fluted
Grooves in a post or leg of furniture that typically is carved to the foot.
Footrest
The lower bracket on a bar stool that acts as a resting spot for feet and is often times covered with metal or brass for extra reinforcement.
Frame
Basic structure or skeleton of an upholstered sofa or chair. Kiln-dried hard wood is best for durability in wooden frames.
Full Grain Leather
Leather which has not been altered beyond hair removal. Full grain leather is the most genuine type of leather, as it retains all of the original texture and markings of the original hide.
Futon
A piece of furniture that has dual purpose; can be a couch or transform into a bed.
G
Game Table
One side of the table is used for dining while the other side is used as a surface for playing games.
Glides
Buttons of plastic or metal applied to bottom of legs to make furniture easier to move around.
Grain
The natural pattern or design of the wood. All woods have unique grains that can be artistic. Also, a word used to describe the natural characteristics of an unprocessed hide, such as its pores, wrinkles, markings, and texture.
H
Hand Distressing
A technique that is hand applied to make furniture appear as though it is worn or aged.
Hardwoods
Wood that comes from deciduous trees. Furniture created with hardwoods are higher in density and therefore are usually more durable.
Hounds Tooth
A broken checkered pattern with notched corners that resembles a canine tooth.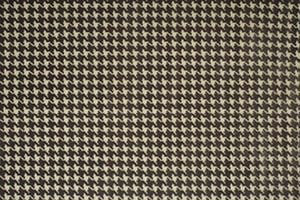 Hutch
The upper enclosed part of a multiple tiered structure. Typically this area has glass doors and is used for displaying china.
I
Ikat Pattern
An Indonesian dyeing technique where the threads are tie-dyed before weaving. The patterns are formed by binding individual yarns or bundles of yarn with a tight wrapping applied in the desired pattern.
Inlay
When two different types of wood are laid to form a two-dimensional effect.
J
Jacquard
A pattern fabric that has been woven on a Jacquard loom.
K
Klik Klak
Similar to a futon, a klik klak converts from a sofa to a bed - perfect for small spaces.
L
Lacquer
A protective, clear top coat of finish applied to furniture.
Ladder-Back
Back of chair that has horizontal cross bars that connect the two vertical posts thus forming a ladder effect.
Laminated
Process of taking two or more sheets of wood and gluing them together with the grains going in the opposite direction. This produces a material that is lighter and thinner than solid wood.
Lattice
A design using materials in a crisscross, diagonal or square pattern that form visual intrigue.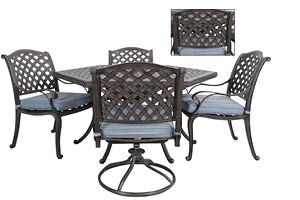 Left-Arm Facing
If you are standing in front of a sectional and the chaise is on the left hand side, with the rest of the sofa going to the right, then it is left-arm facing.
Loose Pillow Back
When cushions can be easily removed and are not sewn into the piece of furniture.
Loveseat
Smaller version of a sofa typically with two cushions.
M
MDF
Medium Density Fiberboard. A type of hardboard that is comprised of wood fibers that have been glued under heat and pressure.
Marble
Marble is a very durable stone derived from Limestone and is often times used as an accent on bars and tables.
Microfiber
Microfiber refers to the tiniest man-made fiber (less than one denier) that today's technology can produce. It has great appeal aesthetically and is lightweight and requires minimal care.
Modular Seating
Upholstered seating units that can be rearranged to form different types of seating configurations.
N
Nail Head Trim
Decorative head nails or a simulated nail head strip used to accentuate a style, usually used on arms and rails.
Nap
Describes the soft, "fuzzy" effect achieved in leather by buffing or brushing.
Natural Grain
A leather that displays its original grain.
Nesting Tables
A set of occasional tables that can slide one under the other to "nest" into one spot.
Nylon
Generic name for an important man-made synthetic fiber. Among the most durable synthetic fibers used for furniture fabrics.
O
Occasional Tables
Tables that are considered accent pieces like coffee table or sofa table.
Olefin
Man-made synthetic fiber, good properties of strength, and resistance to abrasion, excellent cleanability.
Ottoman
Footstool or the footrest attached to a reclining chair.
P
Paisley
An ornamental textile design using a teardrop-shaped motif that curls up at the end.
Parsons Chair
Usually refers to a chair or stool that is skirted.
Particle Board
Wood type that is comprised of chips of wood coated with glue and pressed together under heat.
Patina
The aura or luster that develops in a quality piece of leather with age.
Pedestal Table
A type of table that is supported by a single, central pedestal with legs that extend to support its weight.
Pillow Top
Refers to a mattress, chair or bar stool that has an extra layer of cushion for added comfort.
Plaid
A pattern of crossed horizontal and vertical lines that form squares.
Poly material/lumber
A material made from recycled plastic that won't warp, fade or deteriorate.
Polyester
A man-made fiber. Most like cotton in its appearance and physical properties.
Polypropylene
A type of plastic used for furniture because of its light weight, durability and sustainability.
Polyurethane
Man-made synthetic foam used for filling and for cushions. Rigid polyurethane can also reproduce wood trim or make entire frame. Often used in furniture cushions.
Pub Table
Table top that typically measures higher than 36" and is taller than a dining table.
Q
Quatrefoil
An ornamental design with four lobes that resembles a four-leaf clover.
Quilt
A bed covering, blanket or decorative piece with a top layer made up of different fabrics stitched or woven together.
R
Rail
Horizontal slats in the back of chairs or bar stools.
Rattan
A type of furniture that is constructed with natural climbing palms that come from tropical Asia.
Rayon
A man-made cellulose fiber. Dyes well with high luster. Works well in dense pile or closely woven fabrics. Usually used in a blend with other fibers.
Right Arm-Facing
If you are standing in front of a sectional and the chaise is on the right hand side, with the rest of the sofa going to the left, then it is right-arm facing.
Rolled Arms
Arms that flair out and then curve down to meet the sides of a chair or sofa.
RTA
Ready to Assemble.
S
Saddle Seat
A style of seat that is carved and contoured.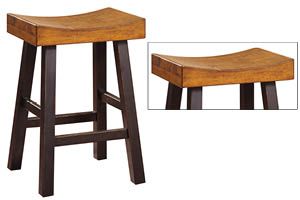 Satin
A tightly woven, high luster flat-weave fabric.
Scalloped
This refers to a decorative edge on a dining or pub table.
Sectional
A sofa with several segments that may be "u" shaped.
Settee
A large bench or seat with back and arms that seats two or more people.
Side Chair
A chair without arms.
Skirt
A strip of fabric which carries the sofa or chair design down to the floor and hides legs or casters. A skirt is sometimes also called a flounce. It can be gathered or pleated.
Slat Back Chair
A type of chair back that resembles a ladder with two or more horizontal slats.
Sleeper Sofa
A sofa which can be converted into a bed.
Sleigh Bed
A style of bed that resembles the old sleigh front with large scroll-like footboard and headboard.
Spindle Back Chair
Refers to a style of chair that has spindles placed vertically in the back to form both an artist design and provide support for the chair.
Splat Back
A single slat of wood, often ornamental, in the middle of the back of a straight chair.
Springs
Metal springs used to give interior support and resiliency to seat and back construction. Rarely used inside seat cushions today. Springs consists of two general types: Coil or cone and convoluted flat springs.
Suede
Split leather that has been buffed and brushed to create a fuzzy surface feel.
Swatch
A sample of upholstery fabric, often shown with other pieces, in what is called a Swatch Book.
Swivel Chair
A chair that is able to turn back and forth on its base in a 360° motion.
T
Tapered Leg
A type of leg that decreases in diameter towards the bottom.
Tempered Glass
Very durable glass that shatters into small squares when broken.
Top Grain
Leather whose top (outermost) layers have been left intact, in contrast to split leather.
Trim
A decorative design applied to the outside of furniture. It could appear on arms, back or base. It can be made of wood, metal or plastic.
Tufting
The process of drawing a cord through a deep cushion giving high puffs of padding and small low valleys where the cord is drawn. Names are given to tufting describing the shape of the tuft such as "diamond," "biscuit," or "square." Buttons are often attached to cords to highlight the tufting design.
Tuxedo
A style in which the arms are the same height as the back.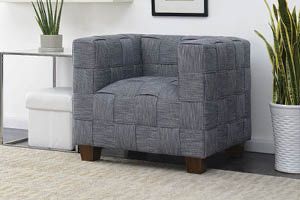 Two-tone
An effect created by applying layers of similar or contrasting dyes to a piece of leather in order to create a mottled or aged appearance. Antiqued and Sauvaged leathers are examples of two-tone leathers.
U
Upholstery
Furniture that is covered with fabric, leather, vinyl or other such material.
V
Veneer
A thin layer of wood applied to the surface of underlying wood solids or particleboard. It adds warmth, balance and visual appeal while also increasing strength and allowing for repair and renovation.
Viscose
A semi-synthetic fiber, also known as rayon, made from trees to manufacture upholstery, bedding and carpets.
W
Wall recliner
A recliner that can sit closer to the wall because as it reclines, the chair moves forward away from the wall.
Wardrobe
Cupboard or large cabinet used for hanging clothes.
Weave
The manner in which cloth is woven both in terms of tightness and in terms of texture.
Webbing
Straps that are woven together and attached to a seat base and form the foundation & support for bottom of a chair.
Welt Cording
A fabric covered cord that is used as a decorative trim piece.
Wicker
Durable matting (willow, reed or rattan) that is woven to construct furniture.
Wing Back Chair
Wing-like projections from the side of the back, often found in Early American furniture, where wings were used during early pioneer days as protection against drafts.
Wrought Iron
Solid metal that is formed into multiple and unique designs.
Wing Chair
An upholstered chair that has wings at the sides.
X
X-Stretcher
Used to connect four legs of a chair or table and provide additional reinforcement to the piece of furniture.
Y
Z
Zig-Zag
Trade name for convoluted or S-shaped springs. These are commonly used in upholstery furniture instead of coil springs.