New Furniture Arrivals at Homemakers
Upgrade your outdoor space with these new arrivals!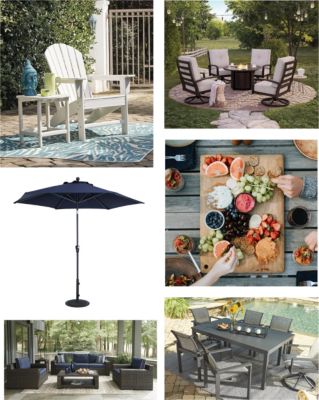 Here in Iowa, we endure some pretty harsh winter weather. This year alone, we've had an average of 11 inches of snow across the state of Iowa. That's why, by the time the summer sun comes around, we are more than ready to soak it all up. Here at Homemakers, we are all counting down the days till warmer weather. Get yourself in the summer state of mind with our new line-up of patio furniture!
Head outside to throw some dinner on the grill and enjoy time with your family. We have sets for both small and large spaces! So, anyone with a patio big or small can take advantage of our great prices.
Heads up: don't forget about umbrellas! Even though they're not new to Homemakers, we still think our customers will want to beat the heat with a hot deal. Save yourself from a sunburn while also saving yourself some money!
When you've finished dinner and you're ready for the drinking-and-chatting portion of the evening, impress your guests with a conversation set. Everyone can have a cozy spot to sit, sip, and relax while the sun goes down and the evening is finally cool. Good food, good company and good times is what summer is all about. New patio furniture from Homemakers is just what you need to make your summer the best one yet.
Start your summer countdown and shop these new pieces in-store or online and see what the fuss is about. For even more great patio furniture - browse our Outdoor Lookbook!