Discover the Best Materials for Outdoor Furniture
Find out which outdoor furniture material fits your needs. Whether you're looking for patio chairs for your balcony or an outdoor dining set, it's easy to focus on patterns and colors. As important as style is, outdoor furniture materials are just as important. Learn more about the materials used and how to maintain them to ensure that you will find the best fit for your balcony, patio or backyard.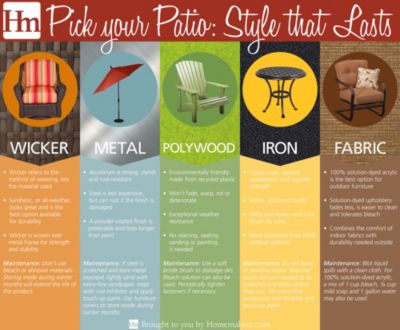 Wicker patio furniture
Wicker refers to the method of weaving, not the material used
Synthetic wicker, or all-weather wicker, looks great and is the best option available for durability
Wicker is woven over a metal frame for strength and stability
Maintenance: Don't use bleach or abrasive materials. Wash with solution of mild soap and warm water, rinsing thoroughly. Storing inside during winter months will extend the life of the product.
Metal patio furniture
Aluminum outdoor furniture is strong, stylish and naturally rust-resistant
Steel is less expensive, but can rust if the finish is damaged
A powder-coated finish is preferable and lasts longer than paint
Maintenance: If steel is scratched and bare metal exposed, lightly sand with extra-fine sandpaper, treat with rust inhibitor and apply touch-up paint. Use furniture covers or store inside during winter months.
Polywood and plastic patio furniture
Made from recycled plastic, also known as HDPE, that is recovered from milk jugs and detergent bottles
Won't fade, warp, rot or deteriorate
Exceptional weather resistance
No staining, sealing, sanding or painting is needed
Maintenance: Use a soft bristle brush to dislodge dirt. Periodically tighten fasteners, if necessary. Wash with solution of mild soap and warm water, rinising thoroughly. Bleach solution can also be used.
Iron patio furniture
Classic style, upscale appearance and superior strength
Stable, solid and strudy
Hefty and heavy, it won't be blown by wind, but it is more difficult to relocate
More expensive than other outdoor items
Maintenance: Do not leave in standing water. Iron furniture is particularly susceptible to rust, so seasonal touch-ups are needed to fix scratches and chips before they rust. Use extra-fine sandpaper, rust inhibitor and touch-up paint. Wash with solution of mild soap and warm water, rinsing and drying thoroughly.
Outdoor fabric
100% solution-dyed acrylic is the best option for outdoor furniture: Look for A-grade Sunbrella or Outdoor fabrics
This type of solution-dyed upholstery fades less, is easier to clean and even tolerates bleach
Combines the comfort of indoor fabrics with the durability needed for outside applications
Maintenance: Blot liquid spills with a clean cloth. Wash as needed with solution of mild soap and warm water, rinsing thoroughly and allowing it to dry fully in the sun. For 100% solution-dyed acrylic, a mix of 1 cup bleach, 1/4 cup mild soap and 1 gallon water may also be used.