Sales Positions at Homemakers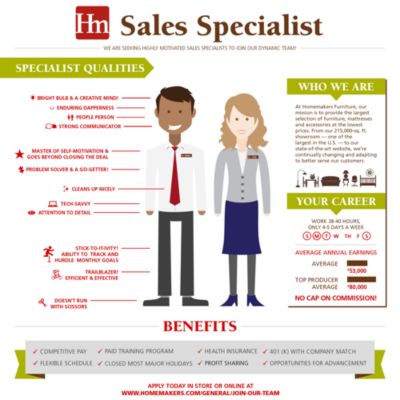 We are seeking highly motivated sales specialists to join our dynamic team!
Sales positions don't get better than this! A sales job at Homemakers comes with great benefits and uncapped commissions. Learn more about our immediate openings!
Key qualities we're looking for:
Bright bulb and a creative mind
Enduring dapperness
People person
Strong communicator
Master of self-motivation who goes beyond closing the deal
Problem solver and a go-getter
Cleans up nicely
Tech-savvy
Attention to detail
Stick-to-it-ivity
Ability to track and hurdle monthly goals
Trailblazer — efficient and effective
Doesn't run with scissors
Who we are
At Homemakers Furniture, our mission is to provide the largest selection of furniture, mattresses and accessories at thelowest prices. From our 215,000-sq. ft. showroom — one of the largest in the U.S. — to our state-of-the-art website,we're continually changing and adapting to better serve our customers.
Your sales career
You'll work 38-40 hours each week, spread over four or five days
Sales positions earn an average of $53,000 each year. Top producers average $80,000.
There is no cap on commissions
Employee benefits
Competitive pay
Paid training program
Health insurance
401(k) with company match
Flexible schedule
Closed most major holidays
Profit sharing
Opportunities for advancement
Get started today! Visit our careers page for more information or to apply for a position.