Furniture & Home Design Trends of 2020
What's currently trending in furniture and home design? We know! Keep up with the latest styles and décor to maintain a fresh look and feel in your home. Throughout Homemakers' showroom floor, we have style vignettes that sit on a circle of wood flooring. These areas feature the latest trends in furniture and home design. Hence the name "style circles!" Our designers update our style circles frequently to follow the latest home design trends and keep you up to date on what's hot. Shop the current style circles below or experience them in-store!
Dining Room Furniture Trends
BRANDON
"I was influenced by a clean, modern and timeless style. Mid-mod and small space living are still very hot right now. Clean lines and elevated elements are taking over. The person who would most enjoy this look is someone who likes a modern look but also appreciates a nod to the past. They're someone who wants something different, but also appreciates timeless and sophisticated design."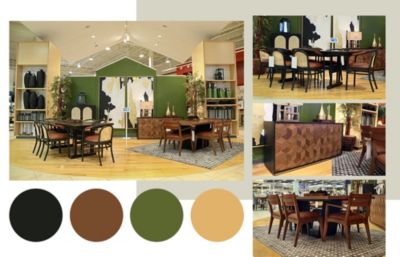 If you like to fancy yourself a trend-setter, then this is the style circle for you. Mid-mod is going to be all over this year, and you won't want to miss it! The elegance of this style will add the allure to your home that you desire, while the timeless design of mid-mod adds extra flair.
Bedroom Furniture Trends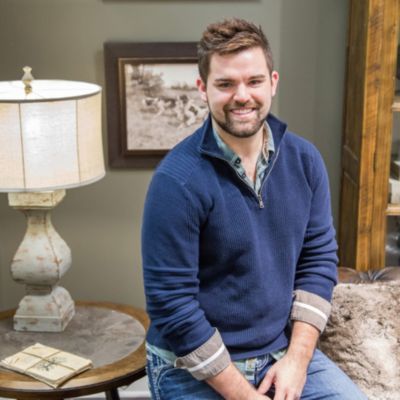 SKYLER
"One thing I love about the Bobby Berk collection is the way he makes Mid-century modern so timeless and refined. For this style, I kept the theme minimalistic but added textural elements for visual interest. I wanted to highlight the simplicity and eye-catching look of the upholstered platform beds that don't need a box-spring. This is definitely a style that best suits someone who appreciates simplicity with subtle flair. I think upholstered beds will be huge going forward because they suit all spaces, included small-space living."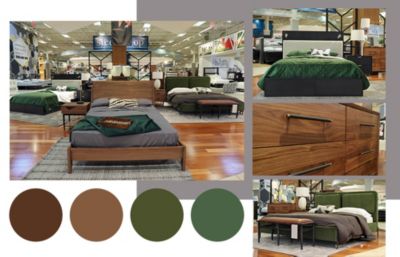 If you love simplicity, but don't want a boring space, this look is perfect for you. With the Bobby Berk collection, it's possible to be both minimalist and remarkable. Simplify your space by getting rid of your chunky box spring and opting for an upholstered bed frame. Add a subtle splash of color with the jewel-toned bedframe or comforter. The clean lines featured in the style circle will certainly add the sleek.
Family Room Furniture Trends
MIKE
"I was inspired to go with a more industrial and rustic approach to this style circle. In my mind, I was designing this space for a rural family that loves hunting. They'd like something simple and casual but still cozy. This couch is stylish, but still functional and big enough for the whole family to curl up on! I chose neutrals like browns, light tan, and greys. Contemporary motion is the next big thing in family room furniture trends."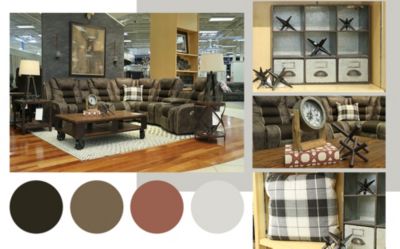 If you're someone who values relaxation and comfort more than what's trendy/ flashy, you'll feel right at home with this style. Your best bet is a sectional that you know your whole family will love for ages. Neutral-colored, subtle furniture makes your living room look extra inviting.
Explore More Home Trends & Ideas
Gather more inspiration and ideas, explore seasonal trends and see what's new at our store. Stay informed and up to date on all the latest happenings below!