Create Your Outdoor Oasis
It's officially spring! With warmer weather comes the opportunity to relax in your outdoor space, and there's no better way to do that than with a beautiful new set of patio furniture. Unlike regular indoor furniture, patio furniture is made with materials that can withstand the outdoor elements. Learn all about the different materials to choose from and which is right for you.

Leave a review about your product or experience, or post your space on social media for the chance to win a Homemakers gift card.

Whether you're shopping for new furniture or just rearranging, our room planner makes designing your home breeze

Come visit our showroom! We're located east of I-80-35 and west of Urbandale's Walker Johnston Park on Douglas Ave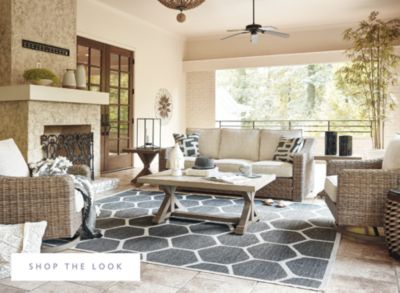 All-Weather Wicker
Wicker is an iconic look for patio furniture. While it's often classified as a type of material, wicker actually refers to the weaving style used. All-weather wicker is made of synthetic material, often called resin wicker. As its name implies, it is specifically made for outdoor spaces and has built-in weather resistance.
Pro Tip: While most outdoor furniture is weather-resistant, extra help never hurts. Use an outdoor cover to extend the life of your outdoor furniture!
Metal
Patio furniture can also come in a variety of metals, including aluminum, iron, and steel. Each has a different set of benefits, so the best choice will depend on your own needs. Aluminum is low-maintenance and doesn't rust, while steel is incredibly sturdy. Wrought iron is extremely weather-resistant, durable, and has an elegant appearance that lends itself to high-end furniture.

Mid-Century Modern Inspired
Our new mid-century modern inspired showcase will leave you dazzled. Bring warmth into your home when you shop this new section of our showroom.
Hardwoods
Wooden patio furniture is great for those seeking to add timeless and natural beauty to their outdoor space. There are many wood types to choose from, each with their own pros and cons. Be sure to research the specific type of wood used in a piece you're interested in, since they all respond differently to the elements and bring a different look to your space.
Get Inspiration from @greendoorhomestaging
We invited mom and daughter home staging duo Luise and Emily of @greendoorhomestaging to help us create a dream patio oasis. Their incredible coastal-inspired space is heavily influenced by their original home state of Rhode Island. You'll see some California modernism mixed with New England cape style and a little bit of Midwest farmhouse style to complete the design.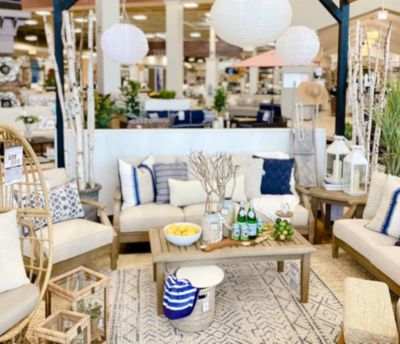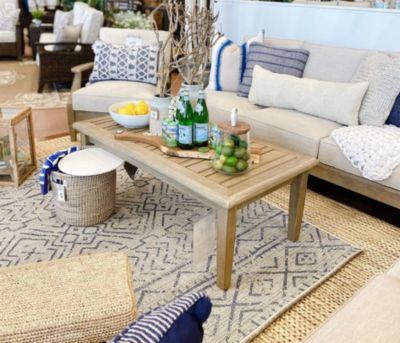 Recycled Plastic
Make no mistake, patio furniture made from recycled plastic is anything but flimsy and low-quality. Plus, it has the benefit of being eco-friendly! This type of outdoor furniture requires very little maintenance, is easy to clean, and comes in a wide variety of colors. Our Adirondack chairs show off the variety of beauty this material provides. The color is intrinsic to the plastic, so you also don't need to worry about it washing off in the rain!
Our patio marketplace features a huge variety of outdoor furniture that fits every style and comes in all these materials. Take a peek at what's in-stock and visit our Urbandale showroom for the full experience.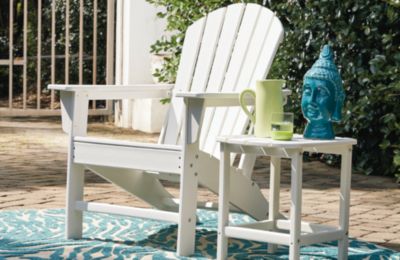 Sustainability @ Hm
When you're relaxing on the patio, it's hard not to appreciate our amazing Earth. We strive to incorporate sustainable initiatives into everything we do by reducing, recycling, and conserving resources to carve the path to a safe and accessible livelihood for future generations.