New Furniture Arrivals at Homemakers
Upgrade your living room with these new arrivals!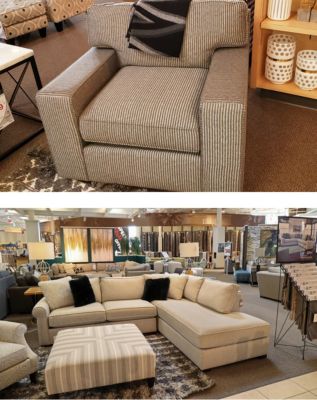 Homemakers is excited to bring you some impressive new living room furniture that's both stylish and comfortable! Gone are the days of choosing one or the other because now you can have both.
Our new featured furniture includes gel cushioning that conforms to your body to give you ideal comfort and pressure point relief. This gel cushioning takes its normal shape when you get up. The bounce back feature keeps your fabric looking nicer, longer. The wavy, worn in look you're used to seeing over time won't happen with this furniture!
We're starting with our new Max Home 21G7 Wellesley 3-Piece Sectional. This must-have sectional has everything you need for style and comfort. Sleek track arms and clean lines give visual appeal while the gel cushioning will have you sold as soon as you feel it.
Tie the look together with an upscale, modern swivel chair. Track arms, a plush pillow back and smooth swivel motion give you everything you're looking for!
Next up, we have our new Max Home 29GU East Hampton 2-Piece Sectional. If you're looking for something a little more traditional with some modern updates, this is the one! Offering classic rolled arms and block feet, you'll love the look and feel of this sectional.
This impressive sectional can be completed with a beautiful accent chair and ottoman to take your living room to the next level. The accent chair features a stunning but subtle paisley design while the ottoman has a charming stripe pattern.
Both sectionals are versatile pieces that can be transformed into a chaise seating set up or sectional look, making them easy fits for any home. The base cloth of all of these pieces can be changed at no additional cost, so you can customize your furniture exactly how you want! Shop these new furniture items in-store or online and see what all the hype is about!