New Furniture Arrivals at Homemakers
Upgrade your living room with these new arrivals!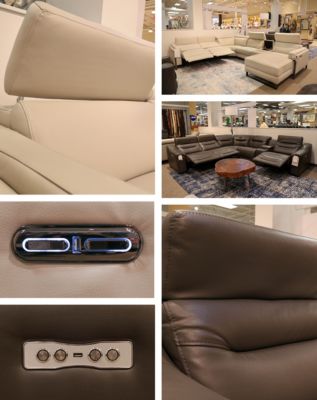 Homemakers is always excited to bring our customers the best quality furniture in the newest styles. That's why we're absolutely thrilled to bring you this new, innovative furniture! Contemporary reclining furniture is the next big thing. Think "functional", "refined", but also "remarkable." These new contemporary motion pieces create a stunning statement with their clean lines, modern look, and elegant design. Better yet? They have power reclining and power headrest mechanisms.
First, check out this stunning, Ivory 6-Piece Leather Sectional from Southern Motion. This versatile piece combines utility and sophistication with its power headrests, power reclining mechanisms, track arms, console, and chaise. Ideal for those who appreciate a more contemporary look but want functional furniture, too.
Next, take a look at this striking Southern Motion Grand Finale 6-Piece Leather Sectional. With power headrests, power reclining, padded arms, cupholders, and storage console, this sleek sectional has everything you need- and want! The smooth leather and supple cushioning make it feel inviting, while the power reclining mechanisms help you fully relax. The storage console with cupholders assures that you won't need to get up!
Homemakers has a large volume of contemporary motion chairs featured in our store. If you like what you see here, shop this new style in-store or online and see what all the excitement is about! You're guaranteed to find something you love! Look for the area parallel to the lamps and accessories, or, ask an associate for help.
Check Out Our New Contemporary Motion Section
Clean lines, chic style and contemporary design take motion furniture to a whole new level. Enjoy the comfort of a reclining sectional with modern good looks. Check out all the newness at Homemakers!