December 09, 2015
Holiday Cocktail Recipes From Around the World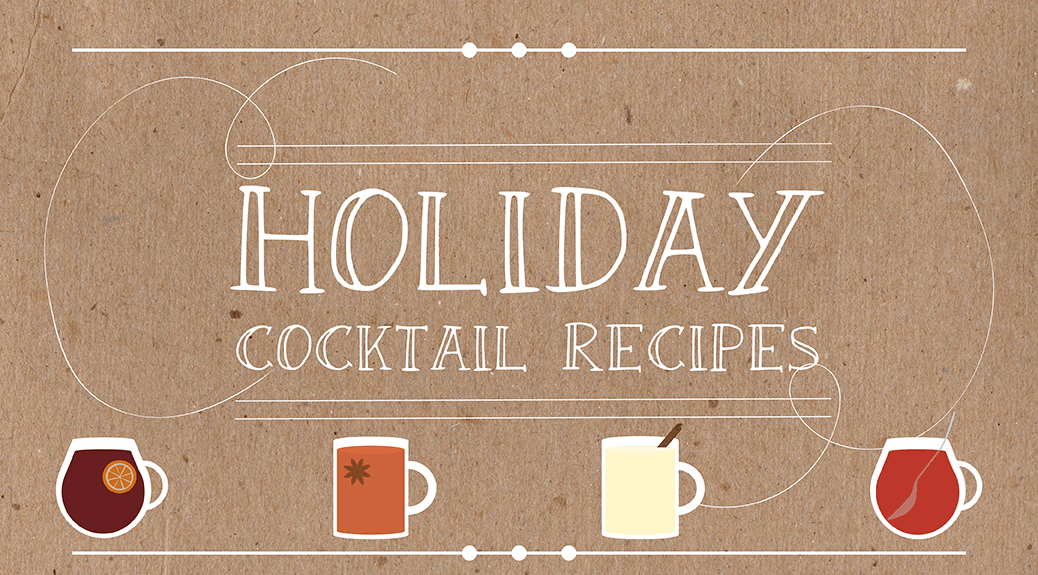 Post updated for 2018
Celebrate Christmas with these holiday cocktail recipes. We've collected some of our favorites from around the world to add a little global flair to your festivities. After all, the holiday season is all about traditions–and if those traditions involve food or beverages, even better!
Cheers!
Holiday Cocktail Recipe: Ponche Navideño (Christmas Punch)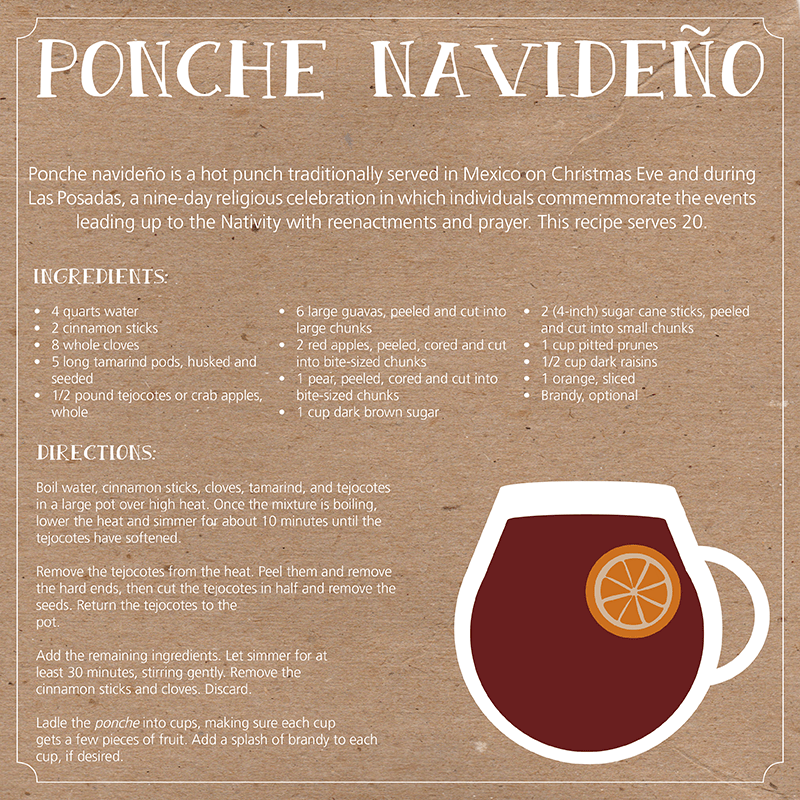 Ingredients

4 quarts water
2 cinnamon sticks
8 whole cloves
5 long tamarind pods, husked and seeded
1/2 pound tejocotes or crab apples, whole
6 large guavas, peeled and cut into large chunks
2 red apples, peeled, cored and cut into bite-sized chunks
1 pear, peeled, cored and cut into bite-sized chunks
1 cup dark brown sugar
2 (4-inch) sugar cane sticks, peeled and cut into small chunks
1 cup pitted prunes
1/2 cup dark raisins
1 orange, sliced
Brandy, optional
Directions

First, boil water, cinnamon sticks, cloves, tamarind, and tejocotes in a large pot over high heat. Once the mixture is boiling, lower the heat and simmer for about 10 minutes until the tejocotes have softened.
Next, remove the tejocotes from the heat. Peel them and remove the hard ends, then cut the tejocotes in half and remove the seeds. Return the tejocotes to the pot.
Then, add the remaining ingredients. Let simmer for at least 30 minutes, stirring gently. Remove the cinnamon sticks and cloves. Discard.
Finally, ladle the ponche into cups, making sure each cup gets a few pieces of fruit. Add a splash of brandy to each cup, if desired.
Holiday Cocktail Recipe: English Wassail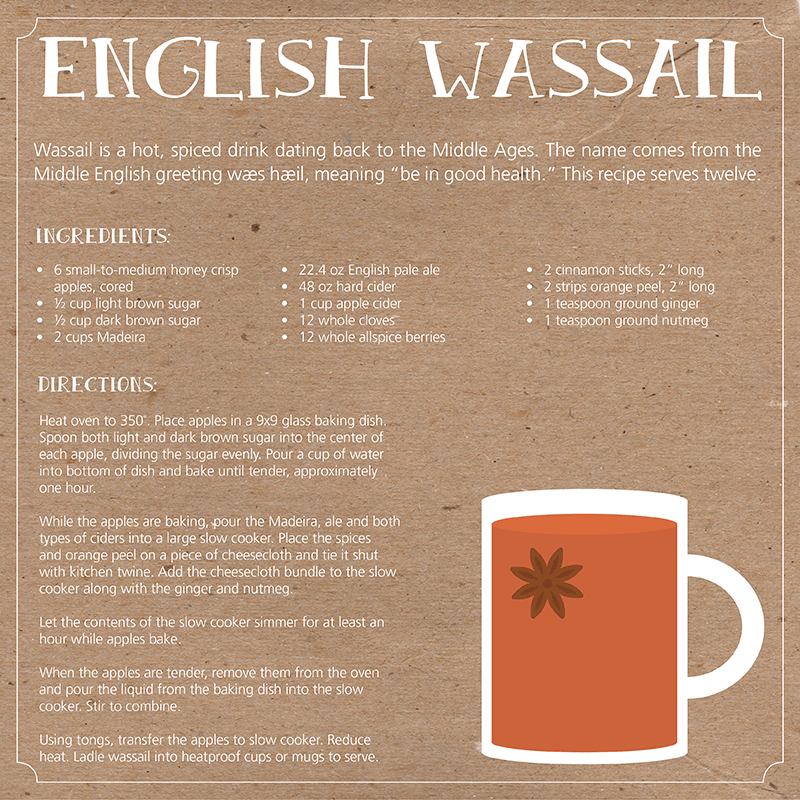 Ingredients

6 small-to-medium honey crisp apples, cored
½ cup light brown sugar
½ cup dark brown sugar
2 cups Madeira
4 oz English pale ale
48 oz hard cider
1 cup apple cider
12 whole cloves
12 whole allspice berries
2 cinnamon sticks, 2" long
2 strips orange peel, 2" long
1 teaspoon ground ginger
1 teaspoon ground nutmeg
Directions

First, heat oven to 350˚. Place apples in a 9×9 glass baking dish. Spoon both light and dark brown sugar into the center of each apple, dividing the sugar evenly. Pour a cup of water into bottom of dish and bake until tender, approximately one hour.
Meanwhile, pour the Madeira, ale and both types of ciders into a large slow cooker. Next, place the spices and orange peel on a piece of cheesecloth and tie it shut with kitchen twine. Then, add the cheesecloth bundle to the slow cooker along with the ginger and nutmeg.
Let the contents of the slow cooker simmer for at least an hour while apples bake.
When the apples are tender, remove them from the oven and pour the liquid from the baking dish into the slow cooker. Stir to combine.
Using tongs, transfer the apples to slow cooker. Reduce heat. Ladle wassail into heatproof cups or mugs to serve.
Holiday Cocktail Recipe: German Eierlikör (Egg Liqueur)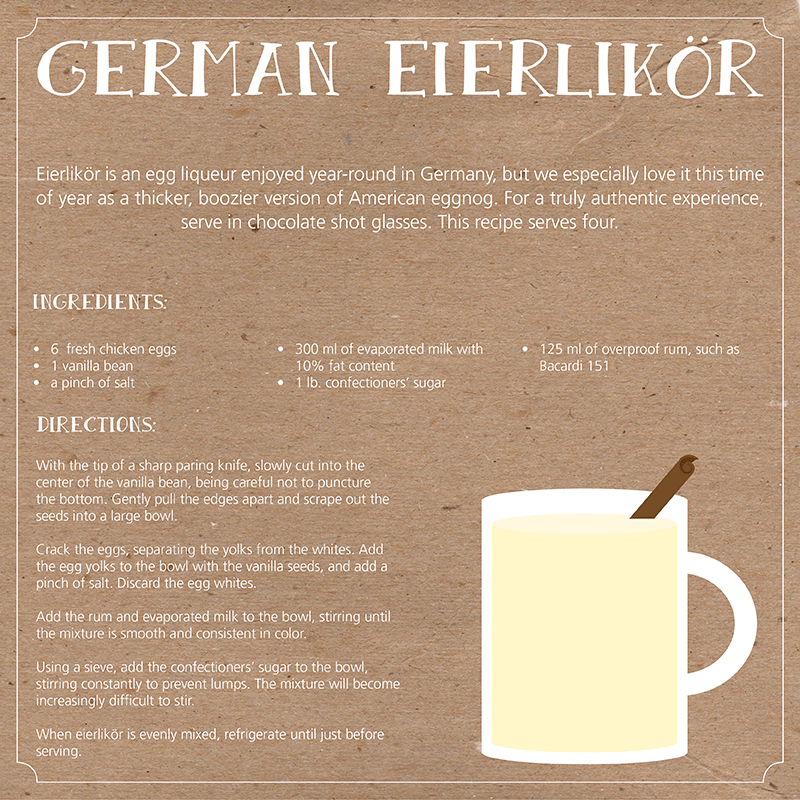 Ingredients

6 fresh chicken eggs
1 vanilla bean
a pinch of salt
300 ml of evaporated milk with 10% fat content
1 lb. confectioners' sugar
125 ml of overproof rum, such as Bacardi 151
Directions

With the tip of a sharp paring knife, slowly cut into the center of the vanilla bean, being careful not to puncture the bottom. Gently pull the edges apart and scrape out the seeds into a large bowl.
Next, crack the eggs, separating the yolks from the whites. Add the egg yolks to the bowl with the vanilla seeds, and add a pinch of salt. Discard the egg whites.
Then, add the rum and evaporated milk to the bowl, stirring until the mixture is smooth and consistent in color.
Using a sieve, add the confectioners' sugar to the bowl, stirring constantly to prevent lumps. The mixture will become increasingly difficult to stir.
Finally, when eierlikör is evenly mixed, refrigerate until just before serving.
Holiday Cocktail Recipe: Swedish Glögg (Mulled Wine)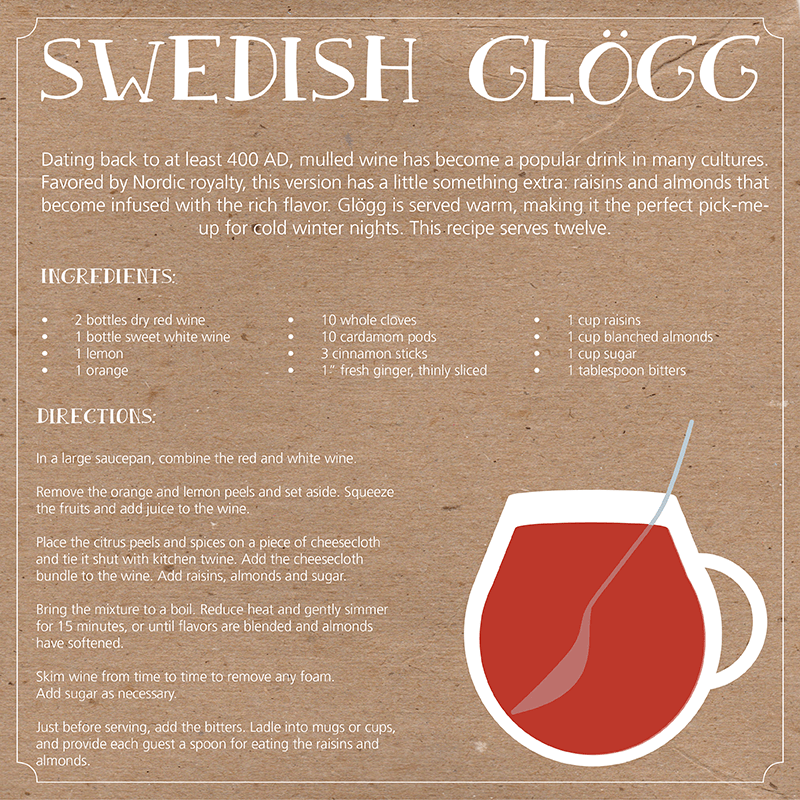 Ingredients

2 bottles dry red wine
1 bottle sweet white wine
1 lemon
1 orange
10 whole cloves
10 cardamom pods
3 cinnamon sticks
1" fresh ginger, thinly sliced
1 cup raisins
1 cup blanched almonds
1 cup sugar
1 tablespoon bitters
Directions

In a large saucepan, combine the red and white wine.
Remove the orange and lemon peels and set aside. Squeeze the fruits and add juice to the wine.
Place the citrus peels and spices on a piece of cheesecloth and tie it shut with kitchen twine. Add the cheesecloth bundle to the wine. Add raisins, almonds and sugar.
Bring the mixture to a boil. Reduce heat and gently simmer for 15 minutes, or until flavors are blended and almonds have softened.
Skim wine from time to time to remove any foam. Add sugar as necessary.
Just before serving, add the bitters. Ladle into mugs or cups, and provide each guest a spoon for eating the raisins and almonds.
How do you and your family celebrate the holidays? What are your favorite traditions?