Discover the Best Recliner Brands
When it comes to the best in full-body relaxation, the people have spoken. They've sat down, curled up and laid back to determine the best recliners. After pulling the data, we've compiled a list of the five most popular recliner brands at Homemakers Furniture. Keep reading to discover which brands made the cut, or start shopping all recliners!
Keep these top brands on-hand when shopping for your new recliner! We've created a handy infographic below. You can save it to your Pinteret board, bookmark it in your browser, or save to your phone and refrence when shopping our wide selection of recliners online or in our Urbandale showroom.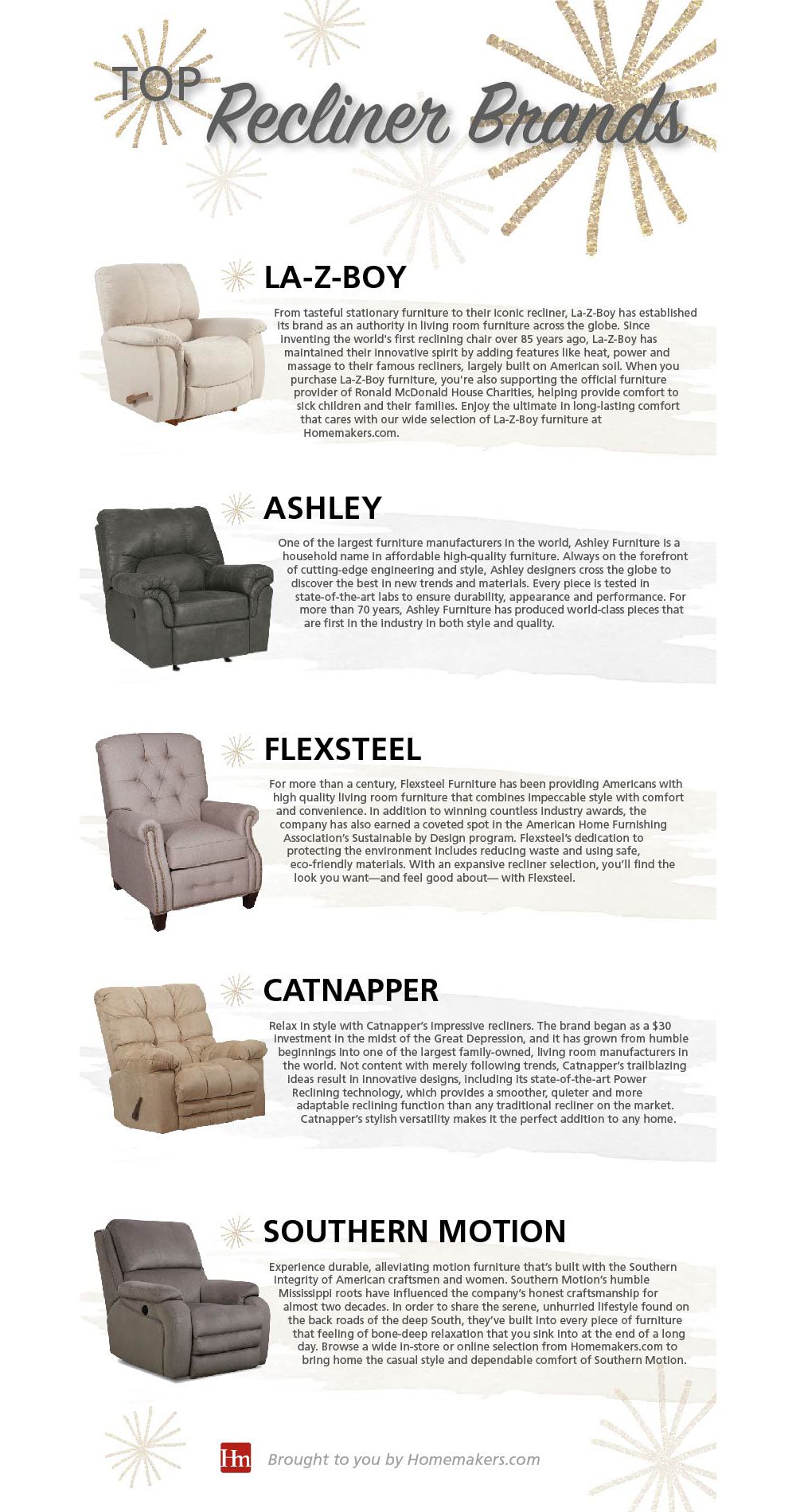 Leading the pack for most popular brand is the original creator of the recliner: La-Z-Boy. La-Z-Boy has a rich history of innovation. The brand has established itself as an authority in reclining furniture across the globe. When you purchase La-Z-Boy furniture, you're also supporting the official furniture provider of Ronald McDonald House Charities. This means, you're helping provide comfort to sick children and their families. Enjoy the ultimate in long-lasting comfort with our wide selection of La-Z-Boy recliners at the best price around with our low price match guarantee.
Coming in at a close second is one of the largest furniture manufacturers in the world: Ashley Furniture. You can purchase with confidence at an exceptional price tag with Ashley's affordable and stylish recliners. They offer a wide selection to match any design style. Shop our collection of Ashley recliners in store or online.
In third place for most popular recliner brands is Flexsteel. In addition to winning countless industry awards, the company has also earned a spot in the American Home Furnishing Association's Sustainable by Design program. Flexsteel reduces waste and uses safe, Eco-friendly materials to protect the environment. With an expansive Flexsteel recliner selection, you'll find the look you want and feel good about at Homemakers.
Since its humble, family-owned beginnings, Catnapper's innovative designs have set a new standard for power recliners. Its state-of-the-art power recline technology provides smoother, quieter and more adaptable motion than traditional recliners. Experience full-body relief at the touch of a button with our collection of Catnapper recliners.
Experience bone-deep comfort with the last—but certainly not least—of our top recliner brands: Southern Motion. They channel the serene, unhurried lifestyle found on the back roads of the deep South in every piece of furniture. Browse our wide selection of Southern Motion recliners to bring home casual style and dependable comfort.
Explore More Top Brands