February 21, 2018
Comfortable Chic Style: A Guide to La-Z-Boy Furniture
[Updated 12/13/2018]
La-Z-Boy is one of the most famous names in furniture, most notably for the recliner that bears the company's name. But La-Z-Boy style and quality is not just limited to recliners. Step into any La-Z-Boy living room and you'll find endless options for sofas, loveseats, accent chairs and ottomans, just to name a few.
The company was founded in 1928 by two cousins who invented the first chair with a built-in reclining mechanism. Hence their famous recliner! La-Z-Boy furniture is assembled in North America.
When you think La-Z-Boy, you may be picturing the big, plush recliners found in every man cave across the country. But La-Z-Boy furniture isn't limited to ultra-casual style. You'll find pieces in just about every major design style, from classic traditional to modern transitional to clean contemporary. La-Z-Boy furniture doesn't just come in leather either! You'll find a wide variety of fabric upholsteries in different colors and prints so that you can find something that perfectly suits your space.
La-Z-Boy is a global name in comfortable furniture that will last a lifetime. We're taking you through some of our favorite collections that showcase the style and quality you can expect from La-Z-Boy.
New from La-Z-Boy!
Homemakers is proud to carry the new Duo collection from La-Z-Boy. The Duo collection is changing the way reclining furniture looks. Duo furniture is elegant and sophisticated and still has all the premium features of power reclining furniture.
Shop La-Z-Boy Duo at Homemakers:
Explore La-Z-Boy Living Rooms
Transitional & Timeless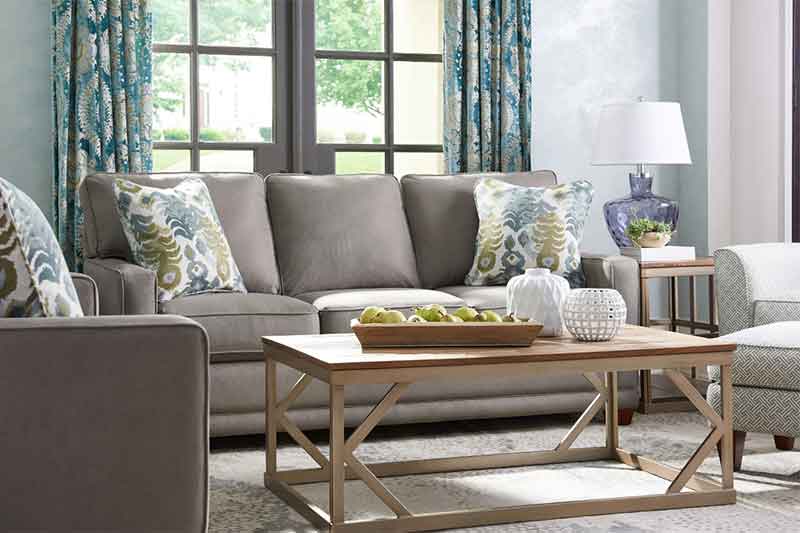 Transitional style is still popular for a reason. It's easy to incorporate into your home! Transitional is the best blend of traditional form and modern updates. La-Z-Boy has mastered transitional style like no other brand and the Kennedy living room best exemplifies that.
A gray sofa is one of the best ways to anchor your space. It will never go out of style and you can easily change accompanying furniture and décor as your tastes evolve. The Kennedy sofa is versatile: plush cushions ensure comfort while clean lines and welt details ensure its timelessness. For those with smaller living rooms, the apartment sofa has the same crisp details but is eight inches shorter. You can even pair the two like La-Z-Boy did!
Light and medium wood tones are key transitional details. The Hammary Modern Theory occasional tables include an end table and coffee table. Both add pops of urban appeal with open box frames and distressed wood details. A table lamp with a glass base in a soft hue adds color to the living room without being too bold.
Shop the Look:
Modern & Eclectic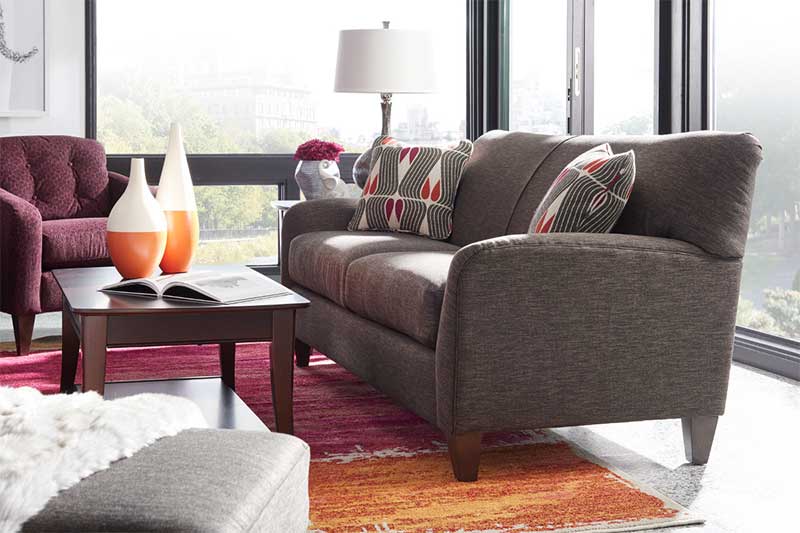 Looking to refresh your space with modern style without going complete mid-century? The Dolce living room is for you! The Dolce sofa is again a neutral anchor, but the dark smoky hue is edgier than a softer gray. Modern style comes through in the flared arms, tapered feet and minimal form. Round out the collection with the oversized chair and a half (perfect for lounging) and an ottoman.
Keep with the modern vibe by adding a coffee table in a dark finish. The Enclave coffee table is sleek and polished and complements the dark gray of the upholstered furniture. You even have storage space with a pullout tray and floating shelf. A silver lamp with a structured base adds cool-toned color and contrasting material. If you're feeling extra bold, we say add a colorful rug like La-Z-Boy did!
Shop the Look:
Rustic & Refined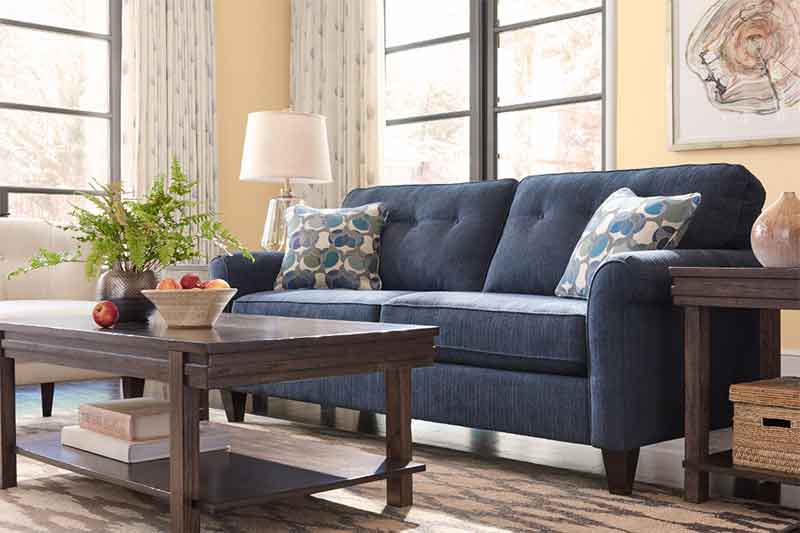 Yes, you can even do rustic style with La-Z-Boy! The Laurel sofa is the perfect place to start. The soft blue color is akin to the homey look of well-worn denim- thankfully without actually being worn denim. This sofa will serve as both the focal point of your living room and as the splash of color. We like the two floral accent pillows too!
To add rustic style to the space, add occasional tables in distress wood tones with simple designs. The Modus Caster tables, an end table and coffee table, are perfect additions. Both showcase the wood grain and planked details of reclaimed pine. To lighten up the room, but stay in a neutral palette, add a rug. Alternating shades of soft brown move across a tan field, making this super versatile. As a final rustic touch, add a table lamp with a simple clear glass base. The organic simplicity will complement without clashing.
Shop the Look:
Casual & Chic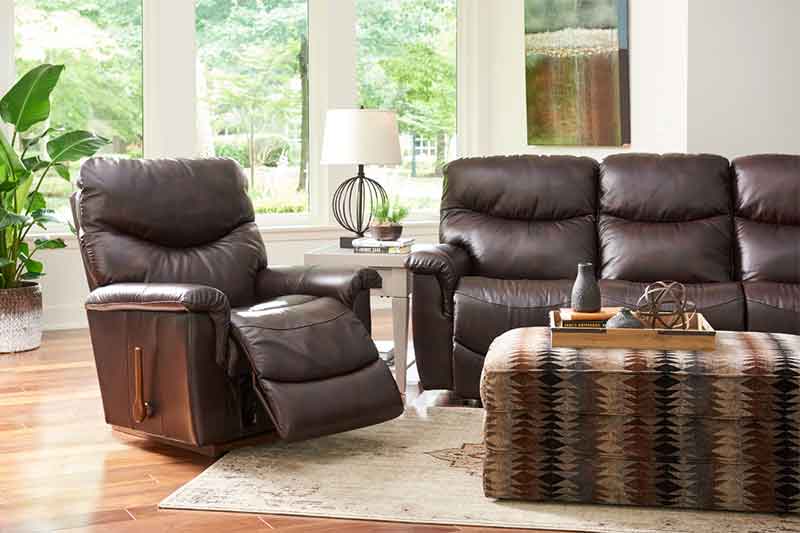 Ahh, we've come to the La-Z-Boy classic: a casual leather recliner. The James collection is far from the outdated loungers you may picture when you hear 'casual recliner.' Go casual chic if comfort is everything to you, but you still want a living room you can show off to visitors.
The James reclining sofa and recliner are perfect for entertaining guests and camping out with the family for an all-day binge session. To make your room a multifunctional entertainment space, use a cocktail ottoman in place of a coffee table.
Keep the rest of your furniture neutral to keep your space casual. A metal table lamp with a fun base adds depth while a soft cream rug with a subtle geometric pattern keeps the space anchored without being boring. For occasional furniture, a white end table will add casual cottage style while keeping the color palette bright.
Shop the Look:
Ideas + Advice
November 16, 2023
At its core, Organic Modern interior design celebrates the marriage between the contemporary and the organic. It integrates natural elements such as wood, stone, and plant life into modern spaces, creating an environment that feels fresh, natural, and inviting. Characterized by soft curves, raw natural materials and open spaces.
Read more

about "Organic Modern Style for Every Budget"