June 08, 2023
Hosting Memorable Outdoor Gatherings Around the Fire Pit
When it comes to designing your outdoor space, there are countless styles to consider, each with its own unique charm and character. There's no better way to enhance your outdoor oasis than incorporating a fire pit that complements your chosen design style? We'll explore different design aesthetics and showcase our top fire pits. Let's dive in and ignite your imagination!
Rustic Charm
The rustic style embraces the beauty of natural materials and a warm, cozy atmosphere. For a rustic-inspired outdoor space, choose a fire pit with a circular design and natural hues. The Ashley Paradise Round Fire pit is the perfect rustic charm for any homestead. Surround the fire pit with wooden Adirondack chairs (Linon Outdoor Adirondack Brown Chair), cozy blankets, and lanterns to complete the rustic ambiance. Take a seat in the Ashley Emmeline Loveseat and enjoy some s'mores served on the Ashley Kailani serving cart. Imagine gathering around the fire, feeling the warmth, and being transported to a serene mountain retreat.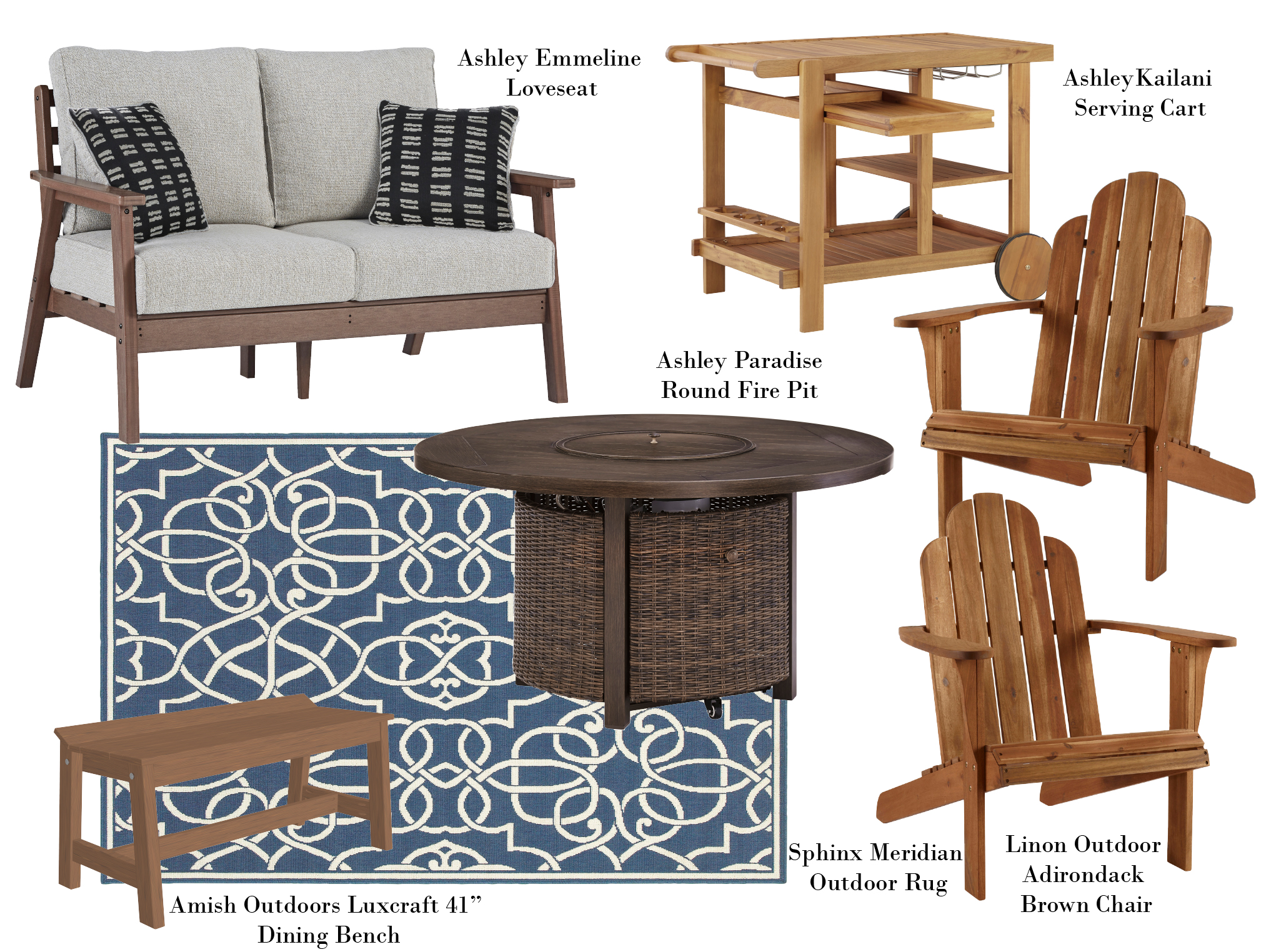 Modern Elegance
If you lean towards sleek lines and minimalist aesthetics, a modern fire pit is the perfect addition. Consider a smooth, polished finish like, concrete or stainless steel. The Plank and Hide Rectangular Concrete Fire Pit is a great pick to achieve this look. Pair the fire pit with modern outdoor furniture in neutral tones, like the Ashley Fynnegan Gray Loveseat. Enjoy some extra light with the Alpine solar lantern, and serve some food on the Amish Outdoors Island Buffet Table.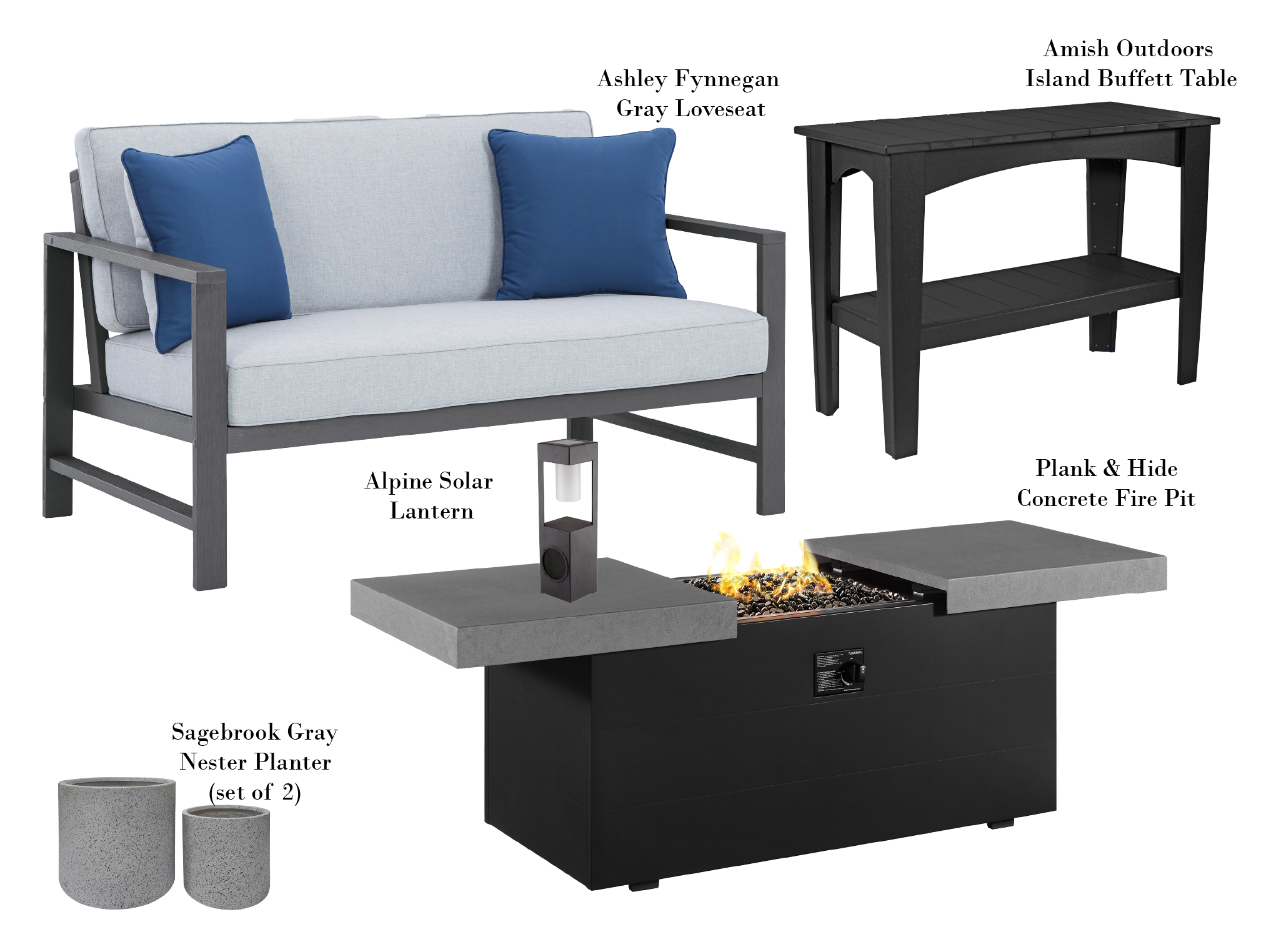 Coastal Oasis
If you prefer a coastal or beach-inspired design, a fire pit can add a touch of warmth and comfort to your outdoor oasis. Choose a fire pit made of light-colors, reminiscent of sandy beaches such as the Ashley Beachcroft 791 Rectangle Fire Pit. Complete the coastal look with beach grasses, lanterns, and seashell accents, like the Ashley Marcin Vase set. Seat all your friends in the Ashley Clare View Sofa with pillows and the Ashley Beach Front Dining Chairs. Add a splash of the ocean with the Sphinx Marina rug. Enjoy the cool ocean breeze as you gather around the fire pit, creating memories under the starry night sky.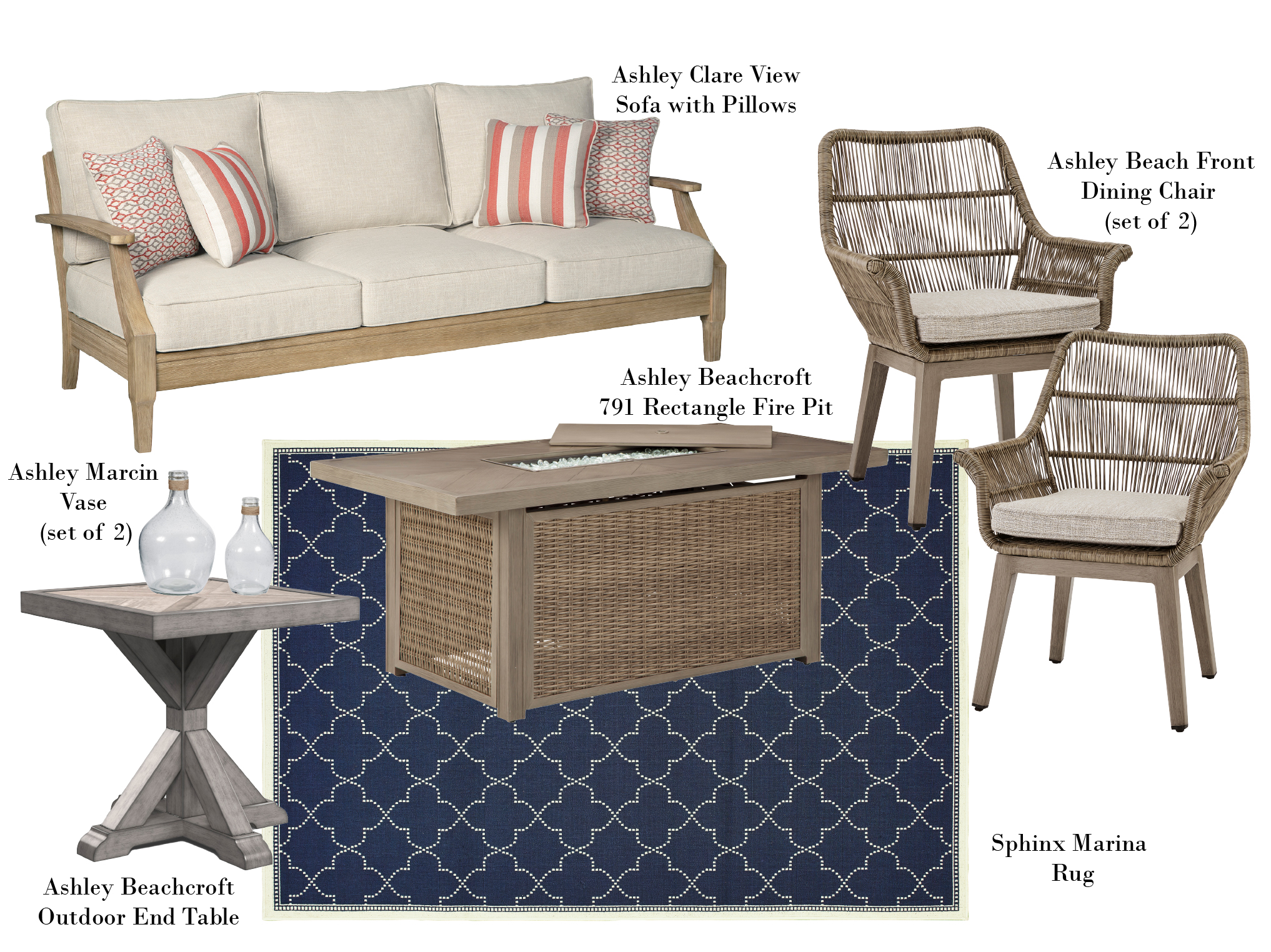 Contemporary Fusion
For those who enjoy a fusion of different design styles, a contemporary outdoor space can provide the perfect canvas for creativity. A fire pit with a unique design, such as the Plank & Hide 42-in. square side top fire pit, can be the centerpiece of this style. Pair this fire pit with sleek outdoor furniture in bold colors, interesting textures, and modern patterns. The Ashley Mount Valley Armchairs add a great seating element as well as the Uma Garden Stool. Incorporate abstract art pieces and architectural elements to create a harmonious blend of styles. The fire pit becomes a conversation starter, reflecting your eclectic taste and individuality. Make this space your own with the texture of the Sphinx Georgia rug mixed with the zen mode of the Alpine 14-in cascading tabletop water fountain.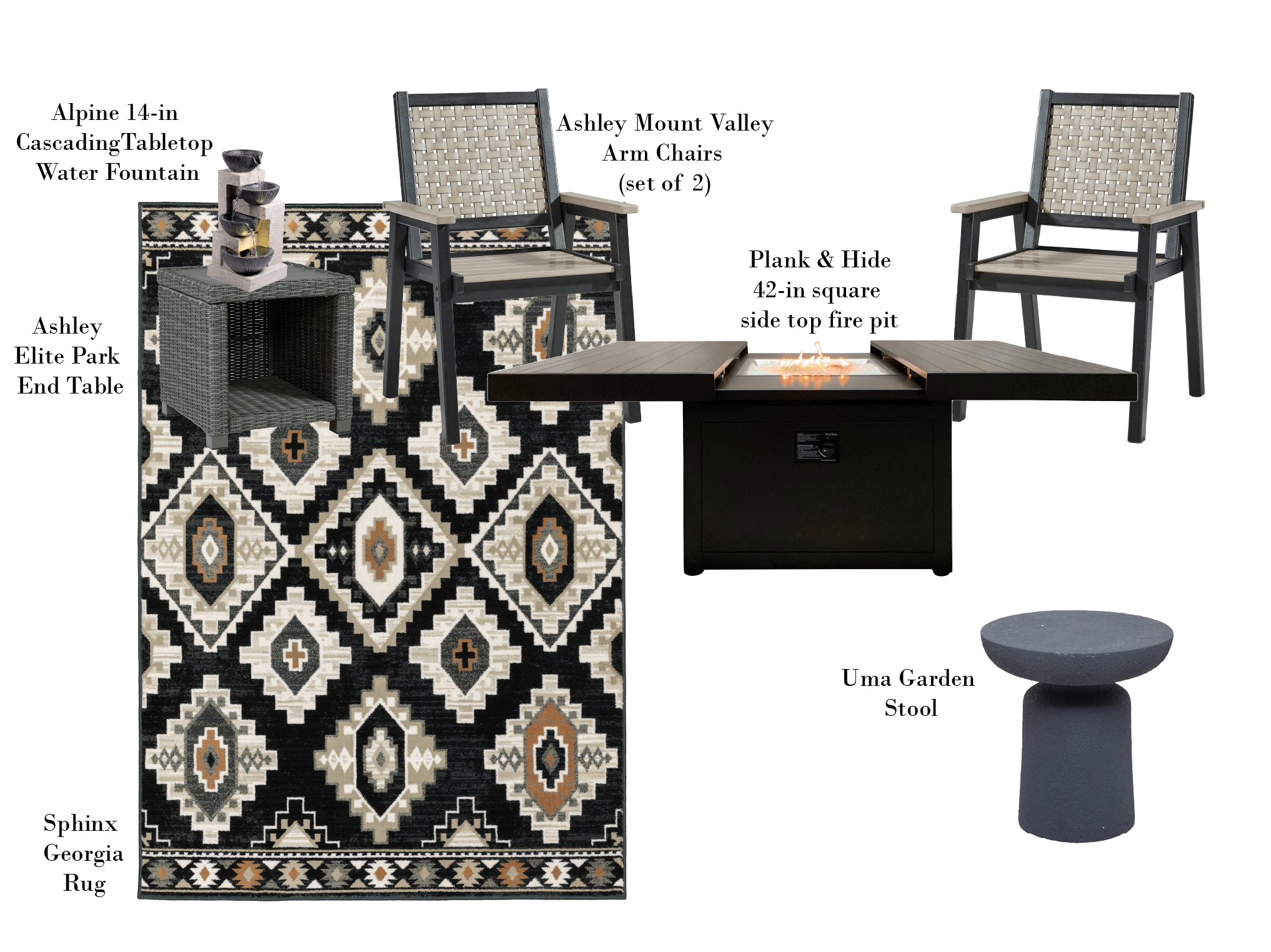 Regardless of your preferred style, a fire pit can seamlessly integrate your design aesthetic into your outdoor space, adding warmth, ambiance, and a touch of magic. From rustic charm to modern elegance, coastal oasis or even a fusion of styles, there is a fire pit to suit every taste. Ignite your outdoor design and create an inviting sanctuary where friends and family can gather, relax and enjoy the enchantment of dancing flames. Let your imagination take flight and elevate your outdoor space with a fire pit from Homemakers that truly embodies your personal style.
Ideas + Advice
September 20, 2023
For new and expecting parents, the wait before the arrival of your baby can be an overwhelming and anxiety filled time. Between car seats, diapers and baby bottles, the nursery might take the cake for most intimidating. What are the most important things to remember when shopping for newborn furniture? Where should the baby sleep? The answers are different for every family and will depend on your personal needs. Here's where to start.
Read more

about "Baby's First Bed"