March 23, 2020
Sofa Table vs Console Table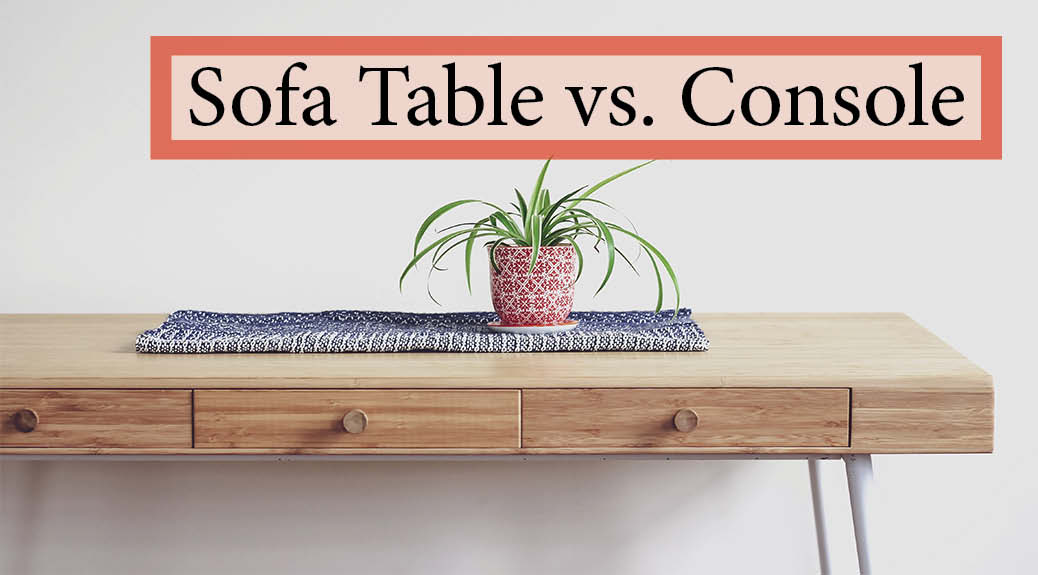 Want to enhance your living space with stylish and functional furniture? Utilize empty space in your home and highlight décor with a sofa table or console! Now, wondering what the difference is between the two? These two pieces of furniture often have a similar design, so when we look at them, we often can't tell the difference. They both, however, have very different functions and are placed in completely different places in your home. Although they share a similar look, sofa tables and consoles have many different attributes when it comes to placements, function, and even design. Check out the differences between a sofa table and console and take a look at some featured designs to see what would fit perfectly in your home.
Sofa Table
Placement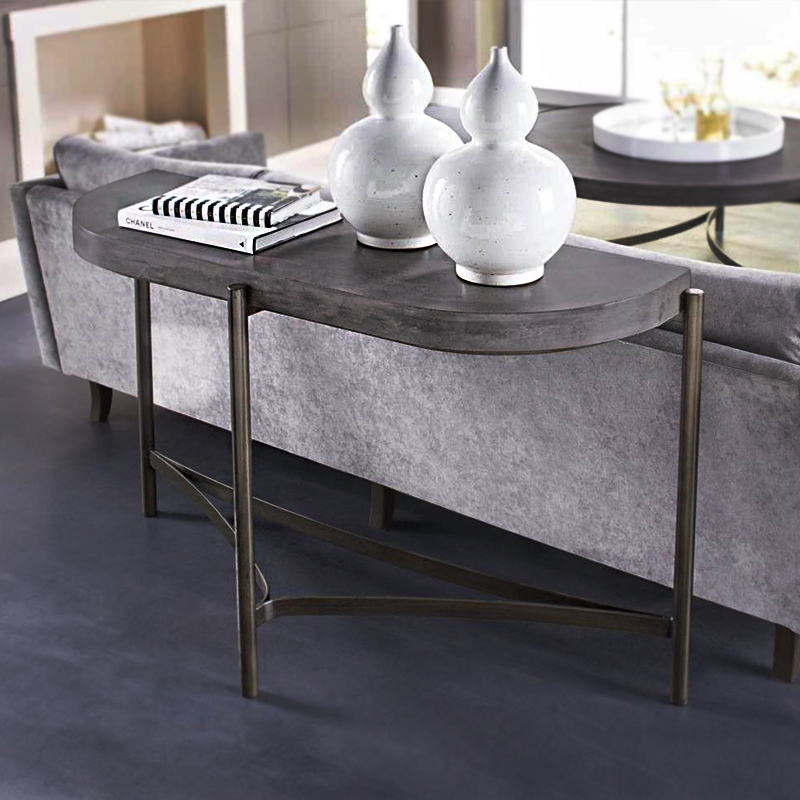 The placement of a sofa table is clearly explained in the name. Sofa table: a table that goes near or behind a sofa. Simple. When choosing the right design, it can nicely accent your sofa. The placement can be important since one of its main functions is storage. When wanting something from a particular storage space, you want it close by, right? The placement of your sofa table directly behind or close to your sofa, means you can easily grab items that are at arm's length. It is a decorative and functional piece that will highlight any living space.
Function
The function of a sofa table is to be place behind or near a sofa for either extra storage or to enhance décor. It is designed to be a practical addition to your living space either for storage, extra seating, or to highlight your other furniture. They are commonly used in open floor plans where the backs of sofas are visable. With its counter space, you can place things like lamps for extra lighting, décor for style, or store additional items like blankets and magazines. Another function that's trending is sofa tables with seating, add a few stools to your sofa table and you've got yourself extra seats for entertaining! It is a chic piece of furniture that can easily complete a room.
Design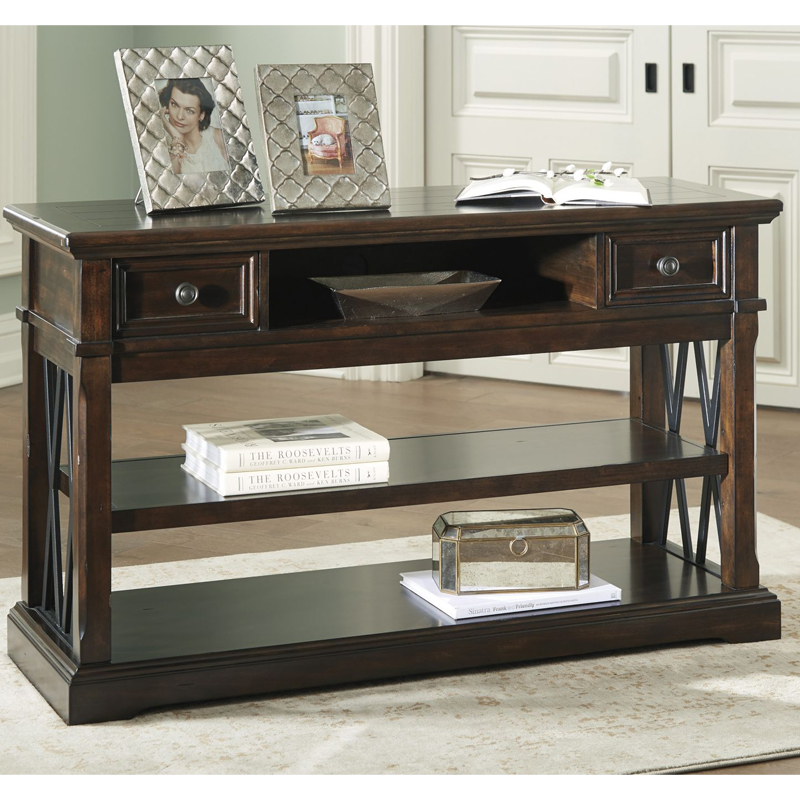 The main idea and design of the sofa table is to go near or by a sofa, and that means finding a table that'll suit the length and style of your sofa. The ideal design is just below, or the same height as your sofa. It also should be long and slender, so it seems and looks like an accent piece for you living space. Since the sofa is the anchor and focal point of your living room, you simply want a table that will elegantly complement your sofa, not outshines it. A lot of sofa tables can be designed with extra storage such as drawers or shelves in which to put blankets, extra pillows, or magazines. Although there are many different designs, the ultimate concern should depend highly on how it'll look by a sofa.
Console
Placement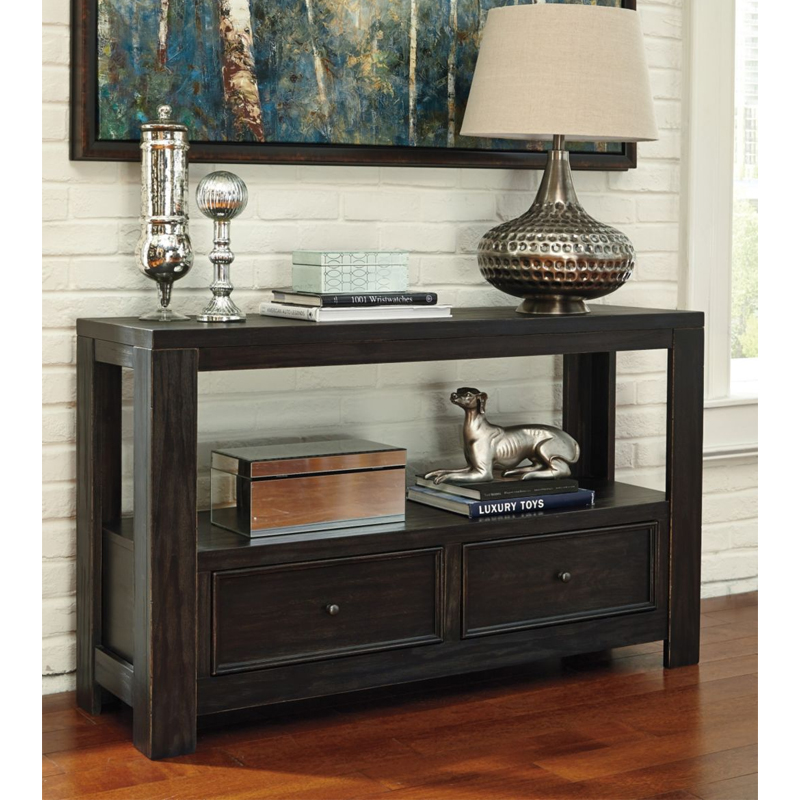 Pictured Above: Ashley Gavelston Sofa Table
A console is generally placed against a wall, away from any living space. They are placed in an entrance or foyer and often the first thing you see when walking through the door. They are used to showcase décor or store small items. The placement of the console can be determined by how much extra wasted space you have by your entrance. They can complement any wall or wasted space, especially with the right décor!
Function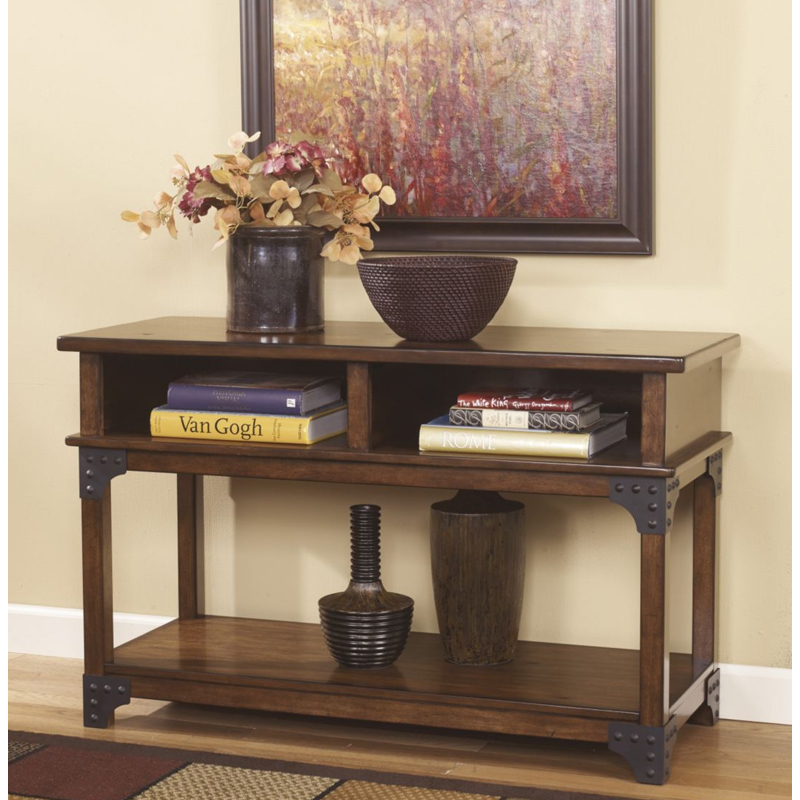 What is a console table used for? Honestly…. to look pretty. They are some that are built to store items, but their main purpose is to complement your hallway. Since a console is the first thing you see when you walk into the door, you can decorate it to your interior style and add décor that is convenient for a "drop zone", such as a bowl to hold your keys or a letter holder to hold mail. For people who are visiting, it sets the tone for what the rest of your house will look like, style wise. Although pretty and stylish, it is not always very functional when used in your entryway.
Design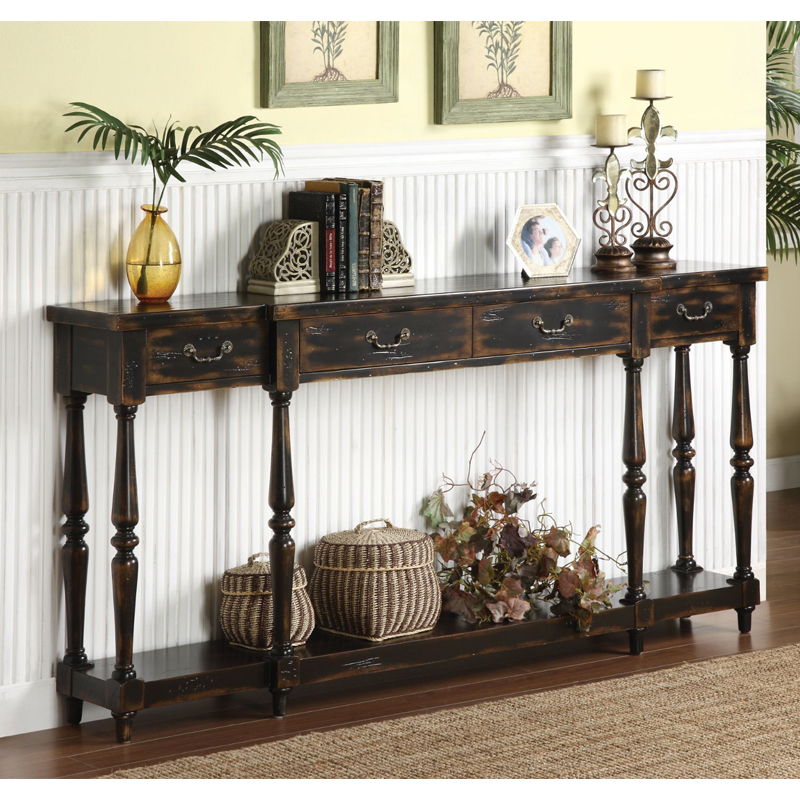 Pictured Above: Coast To Coast Storage Console Table
The design of the console is similar to the sofa table, yet the console isn't intended to be practical. It can have some storage, like drawers and shelves, but it isn't specifically made to hold an immense number of things. It usually has a spacious countertop for décor and maybe includes a bottom shelf or slim draws that are made to hold small items, like mail. Its slender and sleek appeal can transform empty space into something completely new!
Other Functions
Although these two pieces are different in some attributes, it's hard to distinguish differences in design since each sofa table or console are designed uniquely. And since they share a similar look, who's to say your can't utilize them for something completely different. There's no law saying that you must put a console by an entryway or a sofa table behind a sofa. Meaning regardless of what they look like or where they're supposed to go, you can put these two pieces wherever you like! Need extra dining space? Use a sofa table! Want a makeup vanity in your bedroom? Use a console and add a chair and mirror! By making your own rules and using these two pieces however you want, you can transform any room!
---
Whether you use a sofa table or console behind the sofa, in the hallway, or for some other function, you can keep your home stylish and functional. Don't hesitate and shop sofa tables and consoles now and refresh your style, and be sure to check out our selection of in-store accessories to complement these pieces!
Ideas + Advice
November 16, 2023
At its core, Organic Modern interior design celebrates the marriage between the contemporary and the organic. It integrates natural elements such as wood, stone, and plant life into modern spaces, creating an environment that feels fresh, natural, and inviting. Characterized by soft curves, raw natural materials and open spaces.
Read more

about "Organic Modern Style for Every Budget"