July 28, 2022
The Perks of La-Z-Boy
The perks that come with buying a La-Z-Boy product are endless. While they have a large variety of styles, La-Z-Boy products, especially their recliners, are known for being ultra-comfortable. They make the perfect place to sit back, kick your feet up, and relax after a long day.
La-Z-Boy Turner Pebble Leather Rocker Recliner
Homemakers has been carrying La-Z-Boy products for many years! We carry any seating you could possibly want for an all La-Z-Boy living room. From their sectionals, to power sofas, ottomans, and of course, recliners, we have it all. This includes any styles from large cushion filled recliners and sofas that lean into maximum comfort, and sleek sectionals and push back recliners.
is
$548.00
, was
SRP: $729.00
You save: $181.00
is
$697.00
, was
SRP: $1369.00
You save: $672.00
is
$798.00
, was
SRP: $1199.00
You save: $401.00
Why La-Z-Boy?
If you're looking for a combination of style and innovative comfort, La-Z-Boy is the brand for you. From casual to contemporary styles, there's a wide variety of looks across the brand. One of the best things about La-Z-Boy products is that many of them are customizable, so you can get your perfect piece.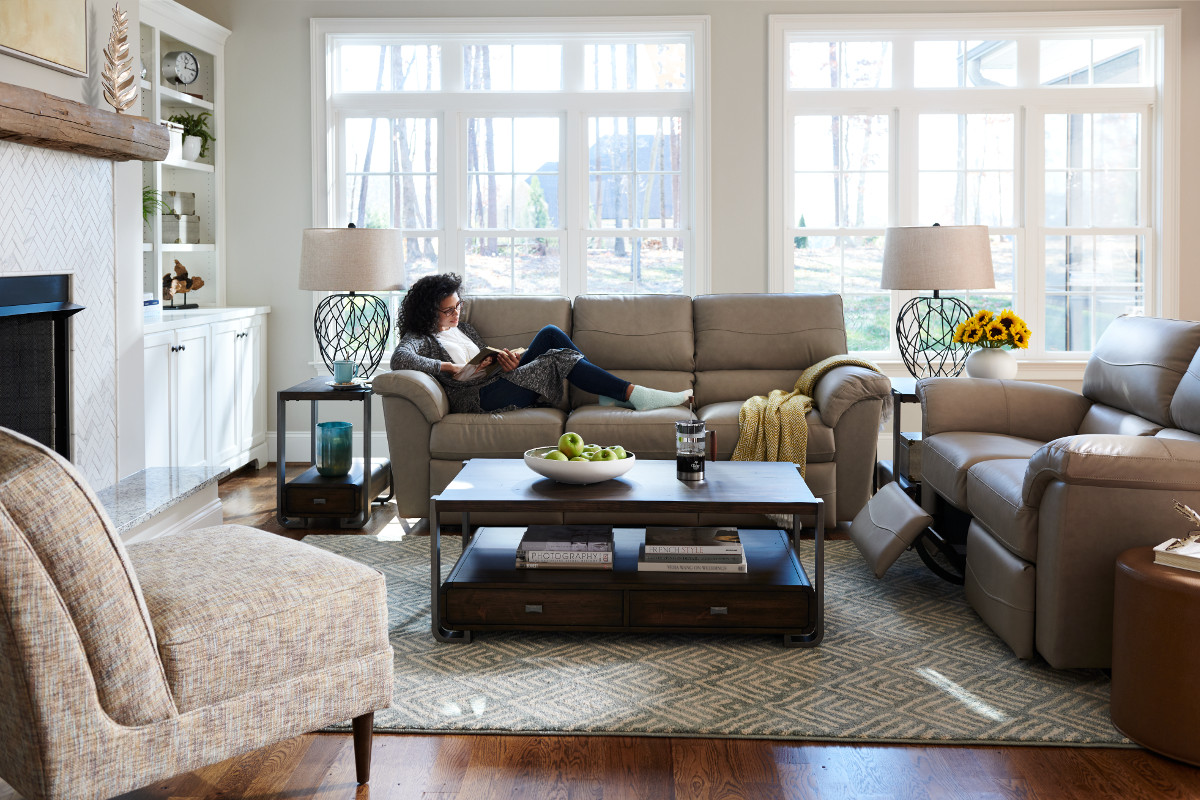 La-Z-Boy Reese Leather Reclining Loveseat
La-Z-Boy has many exclusive product features separating it from other brands. For their manual recliners, they ensure comfort with extra lower back support, three locking footrest positions, sixteen locking rocker positions, contour cut foam, even the ability to independently rock whether the footrest is up or down.
Many power recliners from La-Z-Boy also have their own fantastic list of conveniences, including adjustable headrests and lumbar support, programmable settings for customized comfort, wireless remotes, and battery backups.
Anybody can find something they'll love from La-Z-Boy. Most of their products are higher end and meant to last for years. Many of their pieces have neutral colors and styles to ensure it will blend with your home years after purchase.
"I like La-Z-Boy for many reasons. The longevity of the company speaks to the quality of their products, as they've been around for over 90 years. They also offer customization to make furniture uniquely yours," says Connie Shepherd, one of Homemakers' Buyers. "They have such a wide variety of products, from stationary to reclining and fabric to leather. Their products have today's families in mind and even have stain resistance."
Best Sellers and Top Picks
La-Z-Boy Manual Rocker Recliners
With rocker recliners, you can lean back and relax in peak comfort, and rock at the same time. Enjoy contoured foam, the easy leather reclining mechanism, and sixteen locking rocker positions!
La-Z-Boy Sofas
La-Z-Boy sofas offer a large variety from stationary to power motion, these pieces always have what you're looking for. From casual, to transitional, to contemporary, there will be something your favorite style!
La-Z-Boy Swivel Rocker Recliners
With a swivel rocker recliner, the ability to move around in your seat is almost endless. Freely rock and swivel your chair around to always be in the center of the action. Like their other manual recliners, swivel recliners provide comfort and convenience features.