November 15, 2018
How to Organize Small Kids' Rooms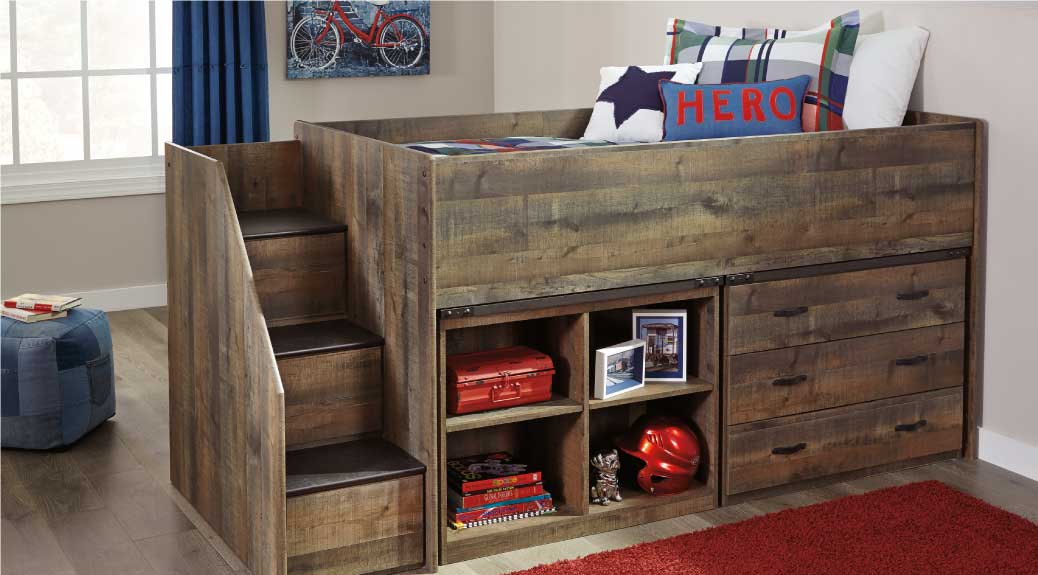 Pictured above: Ashley Trinell Storage Loft Bed
Organizing kids' rooms is a big challenge – and keeping them organized is even trickier! Between mountains of stuffed animals and jumbled piles of outgrown clothes, your child's room can quickly turn into a colossal mess. To keep kids' rooms clean and organized, you'll need to start thinking big in a small space.
From clever organizing ideas to furniture with smart storage, we've got everything you need for the ultimate organization in any child's bedroom. Follow these tips on how to organize small kids' rooms for a tidy, clutter-free space your child will love!
5 Steps for Organizing a Kid's Room
1. Cut the Clutter
The simplest way to stay organized? Downsize your stuff. Having fewer things to deal with in the first place makes organization that much easier. With kids' rooms, this means getting rid of old toys, books, clothes and other items your child has outgrown.
This can be a grueling process (for parents and kids alike!). Especially with young children, saying goodbye to well-loved items is never easy. Try to remain objective and take a practical approach. If it's something your child no longer plays with or wears on a daily basis, chances are it's taking up space that could be better used by something else.
Separate everything into piles of items to keep, toss, donate and store elsewhere. With each item, consider: Could another child benefit more from this? Could we store this in a more logical place?
Decluttering can be a lesson in sharing — which hopefully makes the process a bit less painful!
If your family is still growing, you may want to save some items for your next little one to use. Stash these future hand-me-downs somewhere else, such as a hall closet or basement, to leave room for the stuff your child is playing with or wearing right now.
If cutting down your child's toy collection sounds like a recipe for temper tantrums, try reframing the task in a more positive light. As you get rid of an item, refer to the process as "giving it a new home." Explain to your child that the things he or she no longer uses will be donated to help another child who doesn't have as much.
2. Map Out the Space
Kids' rooms pack a lot of punch into a small space. They're often several rooms rolled into one, including sleeping quarters, a playroom, a homework station and a craft area. With all these activities happening in one small space, organization is key to keeping it all straight.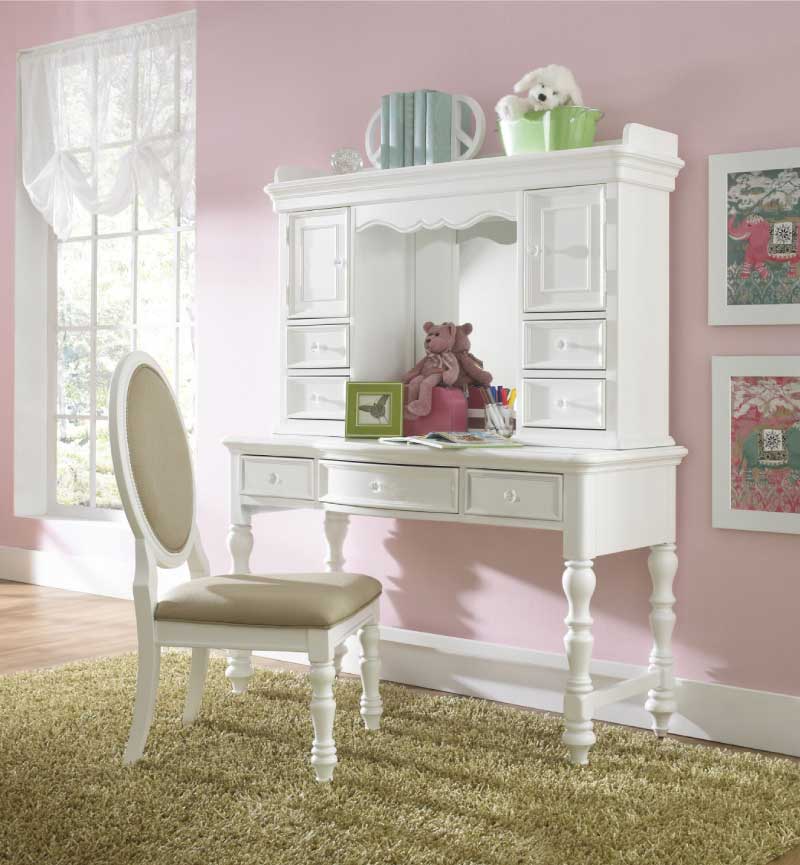 Pictured above: Samuel Lawrence SweetHeart Desk Hutch
Think realistically about how your child uses the space. Then use furniture and accessories to divide the room into zones according to each activity. Add a small desk along one wall to form a compact homework station. Set up a kids' table and chair set to allow for arts and crafts, adding a fun rug underneath to define the space visually (and protect the floor from spilled glitter or paint!). Consolidate stuffed animal and toy storage to one area to prevent playthings from taking over the whole room.
Designating parts of the room for specific purposes helps turn a chaotic hodge-podge into an orderly arrangement. You'd be surprised how much you can pack into a small room when you break it into sections.
3. Start On Their Level
Organizing kids' rooms is a waste of time if the space reverts back to a mess the next day. Kids need to be involved in the process of getting organized if the room is going to stay that way. How do you make sure of that? Meet kids where they are and start organizing from the ground up.
Children are small creatures, which means they spend most of their time on or near the floor. To encourage young kids to keep their rooms clean and put things away themselves, you'll need to add accessible storage where they can reach it.
Opt for storage options that are low to the ground, like baskets or bins, under-bed cubbies, trundle storage units and low bookshelves. When toys, books and other frequently used items are stored near the ground, kids can easily reach them (and put them away!).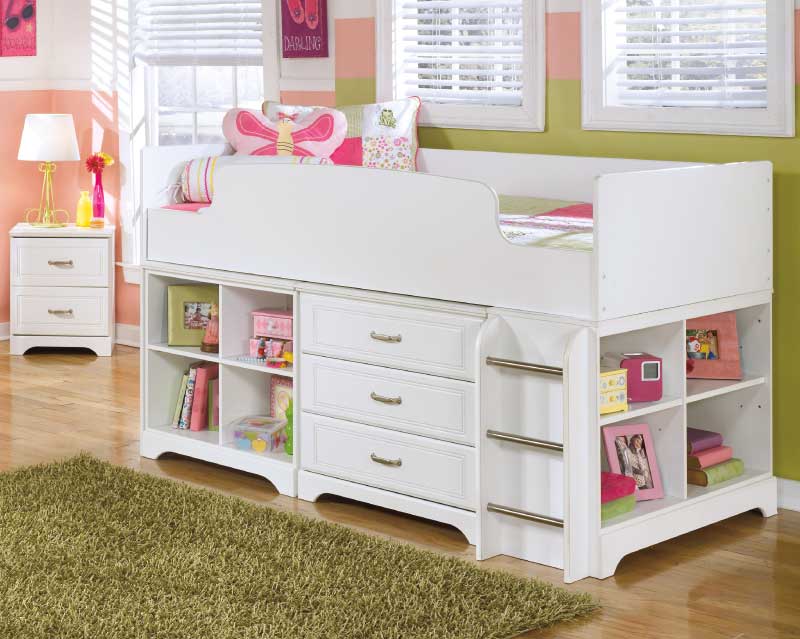 Pictured above: Ashley Lulu Twin Bed with Dresser and Bookcase
Make organization even simpler for kids by storing like items together and labeling every container or drawer with what belong inside. Specify which basket houses stuffed animals and which drawer contains T-shirts and tops. For children who can't read yet, images or illustrations work just as well.
With storage clearly labeled and within reach, kids can get into a routine of putting things back where they belong by themselves. This helps them establish good habits — and makes your life a whole lot easier!
4. Go Vertical
In small kids' rooms, every inch of storage space counts. Take advantage of vertical space to add more storage without taking over the whole floor. Hang shelves on the walls for storing books, and stash toys in baskets on a bookcase. Tall wardrobes or lockers work well for another upright storage option. (Be sure to anchor large pieces of furniture with anti-tip brackets to prevent tip-overs!)
Pictured above: Samuel Lawrence Graphite Kids' Wardrobe
The closet is another area where thinking vertically can be hugely beneficial. Instead of folding and storing kids' clothes in drawers, hang as many clothing items as you can. You may even consider adding a second clothes rod under the top one to double the hanging capacity. Kids' clothes are fairly small, so hanging them leaves plenty of space below for other storage options. Make use of the whole closet by fitting a cube bookcase below the clothes rack or storing seldom-used games or keepsakes on upper closet shelves.
An added benefit of vertical storage: It gives you power over which toys or games your child has access to. Carefully select which things are stored out of reach for little hands. This can help you control items that frequently end up strewn across the floor!
5. Enlist Double-Duty Furniture
Solve small-space problems by choosing kids' bedroom furniture that also acts as storage. Because the bed usually takes up the most space in kids' rooms, choosing one that serves a dual purpose is an excellent way to maximize space.
From bookcase beds to lofts and bunk beds, kids' storage beds come in all shapes, styles and finishes. These beds provide a stylish place for your little one to sleep while doubling as clever storage. Some include convenient, under-bed drawers; others feature shelved headboards to provide built-in storage for books or decor. Choose between tons of different options for versatile style that grows with your child.