January 22, 2018
January Customer Favorites: Top-Rated La-Z-Boy Recliners
There is nothing like being at home, enjoying the comfort and peacefulness of your living room. It's where you can enjoy a movie, read a book, watch your favorite football team play and spend time with family and friends. However, buying the perfect furniture to create your cozy living room can be pretty difficult. That's where Homemakers can help. We're making it easier to find furniture for your home by giving you the inside scoop – straight from customers like you!
Every month, we share furniture reviews from our customers—letting you shop with utmost confidence and convenience. Scroll down to find out what furniture shoppers are loving lately and discover how you could win a $100 Homemakers gift card for your furniture review.
HM Customers' Favorite Top-Rated La-Z-Boy Recliners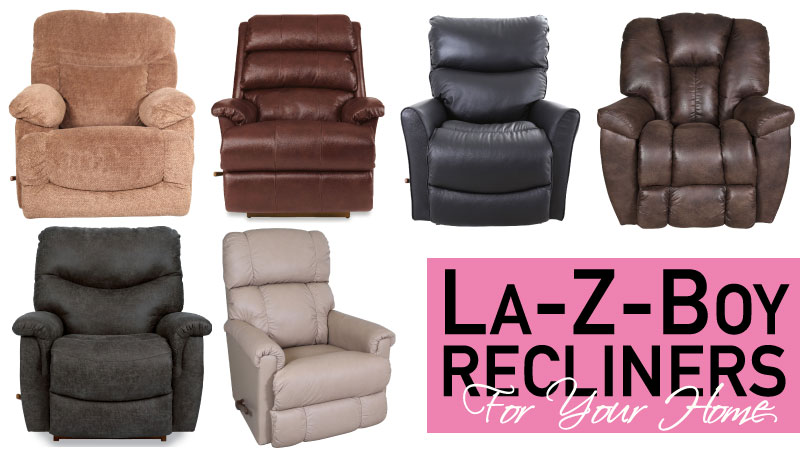 La-Z-Boy is one of our top five recliner brands, and it's easy to see why. Leading the pack in living room furniture and the original creator of the recliner, La-Z-Boy is known for their innovation. With features like heat, power and massage included in their iconic recliners – which are largely built on American soil – their furniture is the perfect addition to your home.
At Homemakers, we offer a wide selection of La-Z-Boy furniture, perfect for leaning back and enjoying a lazy day. From leather recliners to fabric rockers, you'll find everything you need when you shop online or visit our Des Moines furniture store!
If you're ready to buy your ticket to luxurious comfort, check out our customer's favorite La-Z-Boy recliners below.
Top-Rated Recliners: La-Z-Boy Astor Burgundy Leather Rocker Recliner
La-Z-Boy Astor Burgundy Leather Rocker Recliner | FAVORITE CHAIR – Peas
Unwind and recline in deluxe relaxation with this classic leather rocker recliner. It has everything you need after a long workday – padded arms, foam cushioning, a fluid rocking motion and smooth chaise recline mechanisms. You'll adore the full-body comfort and the burgundy leather upholstery looks warm and stylish in any living space. If you're looking to upgrade or replace your current chair, this is the one.
Replacing your tried and true favorite is never easy, but user Peas loves La-Z-Boy recliners and is happy with his newest addition. He said, "Bought this replacement [La-Z-Boy] rocker-recliner in December. My previous Astor lasted me MANY years. Was pleased to know that there was one left in stock, so after placing my order I immediately drove the 35 miles to pick it up. LOVE the chair & hope to own it MANY more years… I LOVE MY CHAIR!"
If you can already picture relaxing in this lavish recliner but are looking for something with power, check out our Astor Leather Power Rocker Recliner. It features everything you love about the Astor recliner, plus a power-tilt headrest, adjustable lumbar support and an independently adjustable back and footrest. Does it get any better?
Top-Rated Recliners: La-Z-Boy Rowan Black Leather Rocker Recliner
La-Z-Boy Rowan Black Leather Rocker Recliner | Comfortable yet sturdy – Sando
Black hues and supple leather go together like peanut butter and jelly. It looks chic, sophisticated and it's always in style. Case in point: our Rowan black leather rocker recliner. It features plush cushioning, flared arms and smooth motion mechanisms that make it an irresistible place to kick back. The buttery black leather showcases the fresh design and complements any contemporary space.
Plus, if there is one thing all our customers agree on, it's that this recliner is comfy! That's just one of the reason's user Sando gave this recliner a 5-star review. He said, "I LOVE this recliner. It is perfectly comfortable yet sturdy. The leather is great quality. I like it better then [sic] the day I purchased it!"
While we love the beautiful black upholstery, this recliner also comes in a variety of leather colors and fabric patterns. That way you can enjoy next-level comfort, no matter your design style or color preference!
Shop Rowan Rocker Recliners:
is
$468.00
, was
SRP: $899.00
You save: $431.00
is
$468.00
, was
SRP: $899.00
You save: $431.00
Top-Rated Recliners: La-Z-Boy Maverick Rocker Recliner
La-Z-Boy Asher Rocker Recliner | Very comfortable chair – Nellie Belle & Passed my plop test! –Casper72
Whether you are looking for a quiet night in or hosting a gathering of friends, having a comfortable place to rest makes all the difference. Enter our La-Z-Boy Asher Rocker Recliner, which combines comfort and casual style. With soft, neutral upholstery that complements any space and ample cushioning, you'll feel like you're floating. The rocking base and smooth recline offer timeless appeal.
For user Nellie Belle, these cozy features made this rocker the perfect addition to her home. She said, "Spacious comfortable and love that the leg goes completely across the width of the chair. My cat loves laying [sic] next to my legs and plenty of room for him."
If you're looking forward to watching the big game , then this chair is also the perfect place to plop at halftime – just ask Casper 72. He said, "I bought the recliner two weeks ago – just in time for football season. The fabric was soft yet looked like it would take a lot of wear and tear. Most importantly, it passed my plop test! I didn't hit bottom when I plopped on the recliner!"
La-Z-Boy Maverick Rocker Recliner | A very comfortable recliner – Anonymous
When it comes to full-body relaxation, La-Z-Boy's handsome Maverick Rocker Recliner has it down. Surround yourself in plush cushioning and pillow top arms for a classy yet inviting look and feel. Plus, the rich brown hue makes it the perfect addition for any room in your home.
The comfortable design and smooth rocking and recline mechanisms made it the ideal choice for user Anonymous. Here's what they had to say: "A very comfortable recliner. I suffer from chronic back pain and needed a comfortable chair that didn't cause me more pain. This recliner is very supportive and has ample padding in the back and the seat. I even sleep in it sometimes because it's more comfortable than my bed."
Top-Rated Recliners: La-Z-Boy Pinnacle Leather Cream Rocker Recliner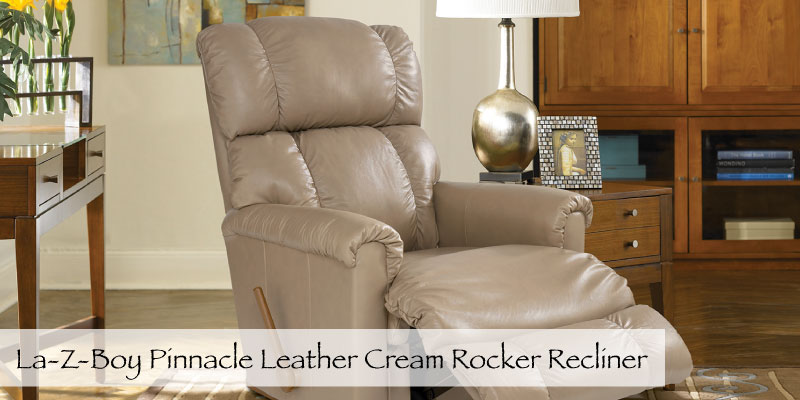 La-Z-Boy Pinnacle Leather Cream Rocker Recliner | Exactly what we wanted – Hescat (male)
If feeling cozy and snug-as-a-bug is priority number one, then look no further. This Pinnacle cream leather rocker recliner is the chair you're looking for. The fresh design and neutral, creamy hue make it a versatile addition to any room in your home (who says you can't have a recliner in the bedroom too?). The ample cushioning, soft leather and supportive chaise seat lets your tension melt away, making it a surefire way to create a cozy living room.
Don't just take our word for it. User Hescat couldn't be happier with his rocker recliner. Here's what he had to say: "Very pleased with our new recliners. They are like sitting in a big marshmallow! We will definitely order from Homemakers again!"
Once you've invested in your dream recliner and fallen in love with it, it's important to take good care of the leather. When properly cared for, leather furniture can become an heirloom that lasts longer than fabric alternatives.
Top-Rated Recliners La-Z-Boy James Rocker Recliner
La-Z-Boy James Rocker Recliner | Great purchase – Gmaof12 & Honestly the most comfortable recliner I ever had! – Akaugust
Whether you're looking for a perfect addition to your ultimate man cave or adding comfortable charm to your living space, this rocker recliner is a must-have. The welcoming design features pillow top arms and a pillow back that is soothing and spacious. The deep gray hue complements any transitional palette.
Seasoned La-Z-Boy customer Gmaof12 loves her James recliner. She said, "We purchased two of these recliners for our family room. One has the heat and massage which was a feature we had not had on previous La-Z-Boy chairs (we have had five other La-Z-Boys). We absolutely love both chairs! The James rocker recliner is by far the most comfortable La-z-Boy we have owned! We would not own any other brand! Thanks for a great product!"
User Akaugust is also loyal to La-Z-Boy products and says the James recliner is the most comfortable recliner he's ever owned. Here's what he had to say: "I had previously bought the La-Z-Boy James sectional from Homemakers and enjoyed it so much that I decided to replace an older La-Z-Boy recliner I had with this La-Z-Boy James Slate colored Rocker recliner to match the sectional. It is honestly one of the most comfortable recliners I have ever sat in and that says a lot as I have had 2 different La-Z-Boy recliners both were still very comfortable. The padding is generous yet soft as you easily melt into the recliner. The color is great and I like the feel of the leather material. Trust me when I say you will not be disappointed in this recliner."
Rate your favorites!
What have you purchased from Homemakers lately? We want to know how it works with your home and lifestyle, so post a furniture review! You're not only helping us—you're helping customers just like you make their houses feel more like home. Whether you love it or hate it, go rate it! Your review could even be featured here next month.
To enter our monthly product review giveaway, simply search for your product by name or SKU (you can find this on your receipt) and write a qualifying review on the product's page. By sharing your two cents, you'll be entered to win a $100 Homemakers gift card! The more reviews you write, the more chances you have to win.
Ideas + Advice
November 16, 2023
At its core, Organic Modern interior design celebrates the marriage between the contemporary and the organic. It integrates natural elements such as wood, stone, and plant life into modern spaces, creating an environment that feels fresh, natural, and inviting. Characterized by soft curves, raw natural materials and open spaces.
Read more

about "Organic Modern Style for Every Budget"