December 16, 2019
How to Decorate the Wall Around a TV: 9 Best Ways
So, you've just purchased your dream TV. As you center your TV on your living room wall and step back to admire it, you note that the wall décor around your TV is lacking. You want your living room décor to be as impressive as your TV, but hiring an interior designer is expensive and you have no idea how to decorate a wall around a TV. Don't fret! We've come up with nine stylish ways to decorate around a TV.
Symmetry
As a general rule, symmetry is visually pleasing. If your TV is centered on your wall, mantle, or entertainment center, consider adding wall art to make your living room feel balanced. There are several charming ways to add symmetry around your TV. Mirrors, wall art, sconces, cabinets, and lamps are just a few options that make your space feel homier.
Mirrors
To brighten up your living room and add the illusion of more space, try a mirror! We have a large selection of mirrors at Homemakers, but we are loving these Ashley Oengus Accent mirrors. A set of these mirrors would liven up your TV decorations!
Wall Décor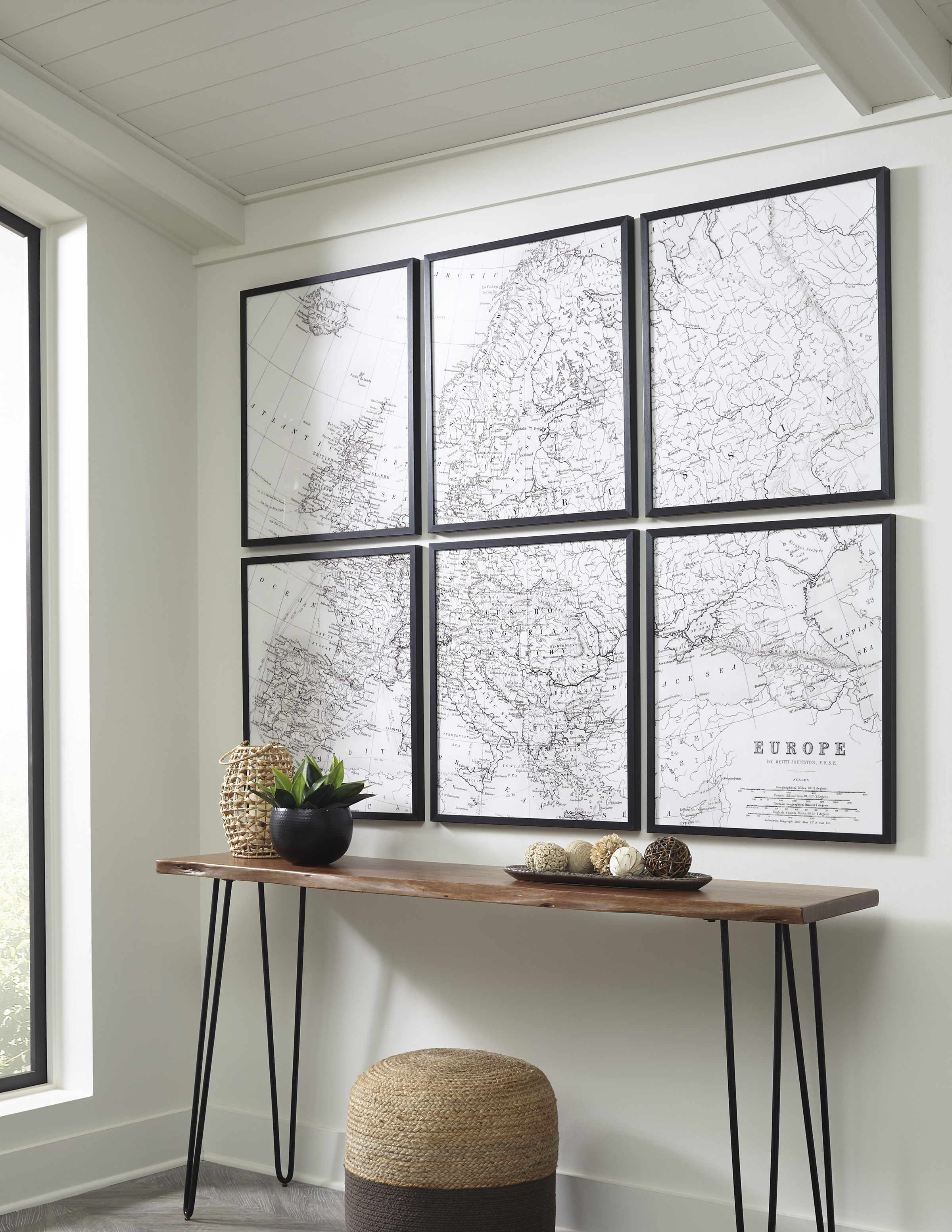 Ashley Typography 6-piece Avanworth Wall Art 28 x 24
If you're stumped on how to decorate around a TV, wall décor is a great option. Really showcase your personality with your choice of wall décor! The selections are constantly changing at Homemakers, but we recommend this simple, yet stylish Ashley Typography 6-piece Avanworth Wall Art set to perk up the wall décor around your TV.
"If you have a lot of wall space showing behind a TV, think about using either a couple of larger prints or maybe a small series of art work-either horizontally or in a cluster."
Cabinets & Shelves
Ashley Wynnlow 4-piece Entertainment Center
How to decorate a wall around a TV 101: Add shelving. Shelves are both functional and stylish. That's what we call win-win! There are several options for cabinets here at Homemakers, but this Ashley Wynnlow 4-piece entertainment center is just what you need.
Lamps
Ashley Steuben Table Lamps Set of 2
If you prefer the décor around your TV to be functional as well as stylish, try table lamps. Homemakers has a sizeable amount of table lamps in stock, but we think that this Ashley Steuben lamp set will light up your TV decorations.
Asymmetry
Pacific Coast Lighting Tripod Floor Lamp
While symmetry is visually pleasing, don't let that stop you from trying something funky, such as asymmetry! Not all TV Decorations need to be hung on the wall. Add some asymmetrical charm to your living room décor with a faux tree or floor lamp beside your TV to add some visual height. This Pacific Coast tripod floor lamp would be an excellent piece to add asymmetry to your living room set-up.
Gallery Wall
Can't narrow down your wall décor to just one or two pieces? No problem! Pick several of your favorite pieces to create a gallery wall to compliment your living room TV. A gallery wall can add personality to your room and flow well with your TV. Homemakers has countless wall décor options to fit your style, but our favorites are wall clocks, mirrors and wall art. Add some botanical notes with these stylish fern prints! If that's not your style, consider this chic, marble wall clock.
Artificial Plants
Get a boho vibe with some artificial plants. We have lots of plants in various heights that would be great to set next to a TV stand. It's aslo great for someone who might not have a green thumb or not enough time to take care of a plant.
Accessories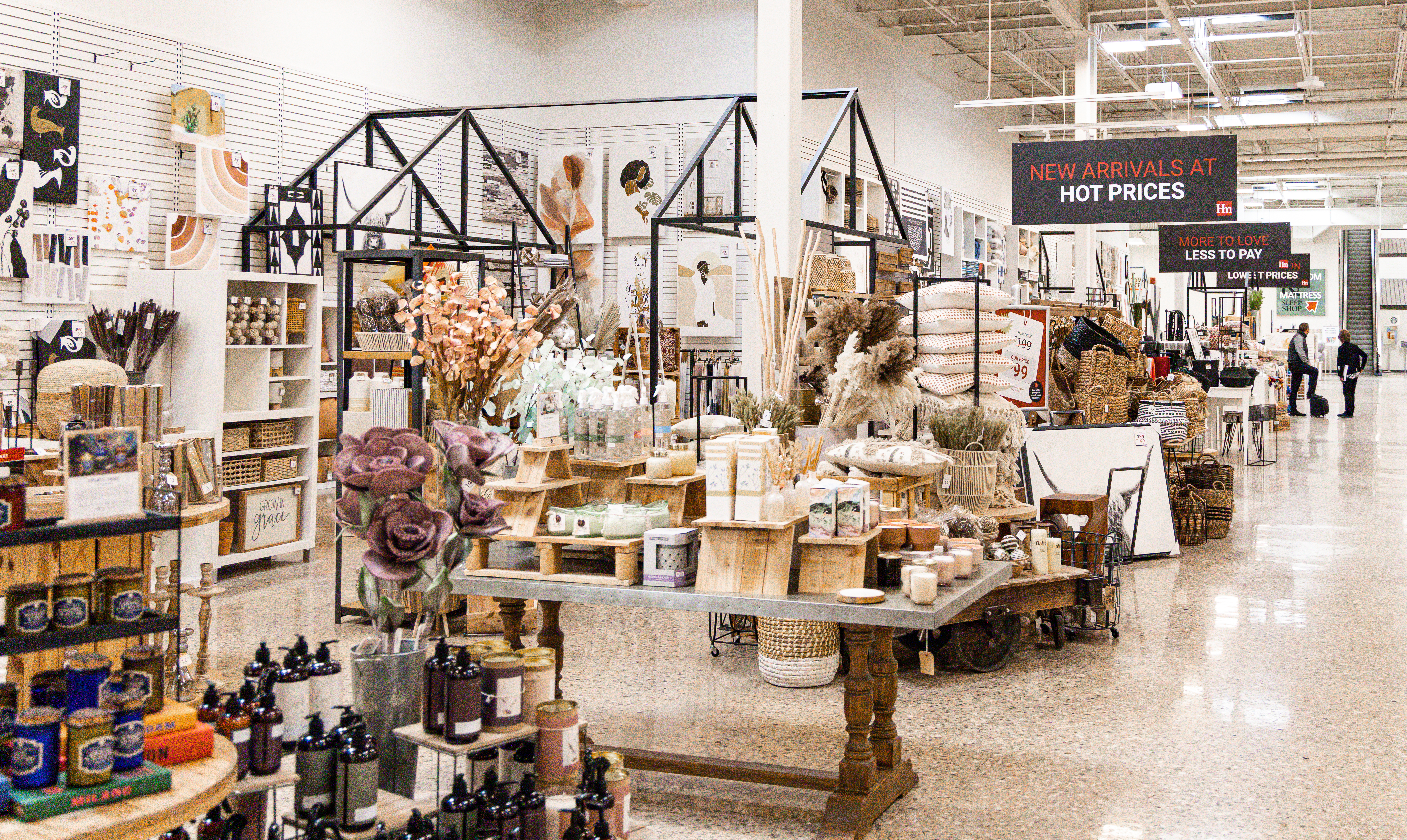 Come visit us in-store to browse our great selection of accessories on the floor! If you're looking for an option that's less permanent or more versatile, you've got options. If your TV is resting on an entertainment center or mantle, just add accessories! Monograms, candles, globes, books, etc. The choice is yours! Accessories also give you a chance to showcase your personal style. Do you like contemporary décor, rustic décor, or Hollywood glam décor? The choice is yours!
It can feel hard to make your TV look as asthetically pleasing as the rest of your living room, but with these tips and tricks, you're on your way to a beautiful layout, even with a TV!