February 14, 2019
Interior Design Style Guide: Art Deco Style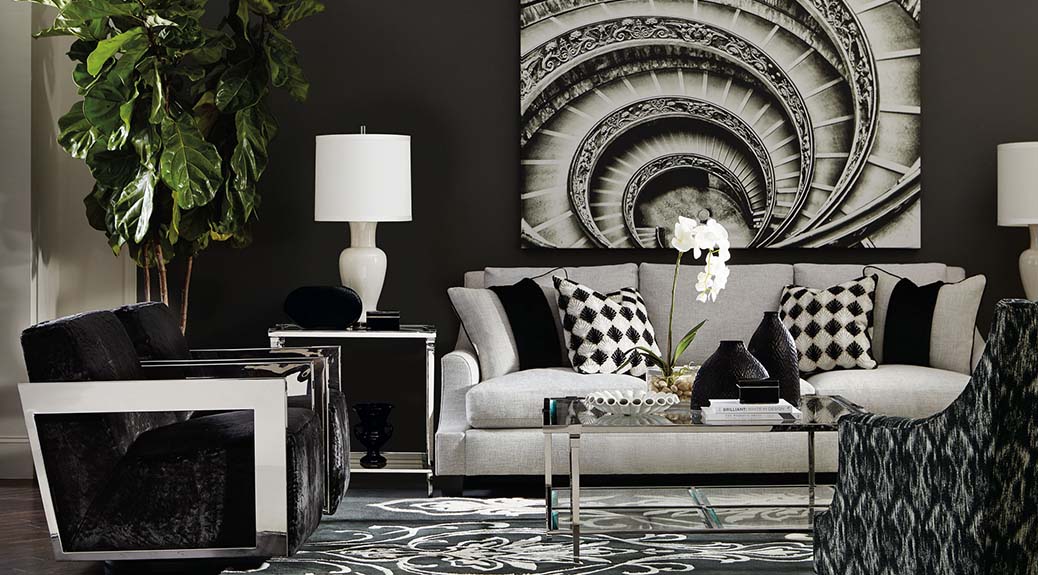 Do you daydream of Gatsby-esque parties, geometric patterns, animal furs, sleek lines and reflective modern art? If you answered yes, Art Deco is the interior design style for you! Art Deco, short for Arts Décoratifs, will transform your living space into the glamourous Roaring '20s.
Art Deco saw its height of popularity during the 1920s and 1930s. The style is known for bold geometric shapes, reflective surfaces, symmetry, luxury and framed black and white photos. The design has similar notes to the popular mid-century modern and minimalism interior designs, making it current with today's trends.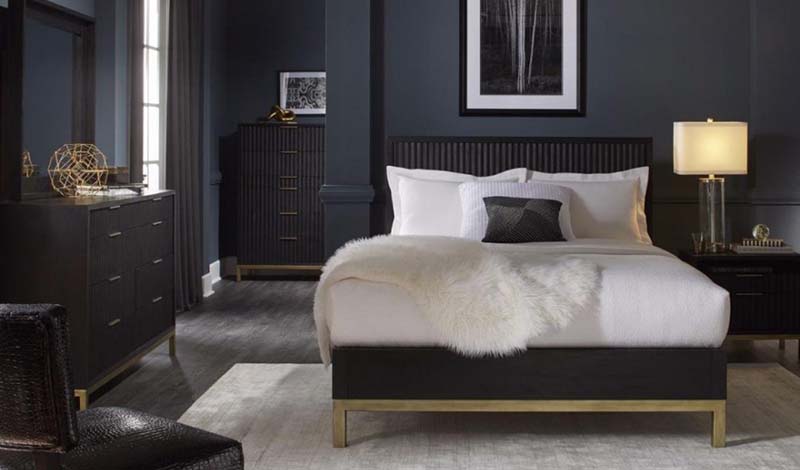 Pictured above: Modus Furniture Kentfield 4-Piece Queen Bedroom Set
Elements of 1920s Art Deco Style
Opulent materials
Geometric design
Sculptures
Artwork
Regal
Jewel tones
Prints
Animal furs
Chrome and gold
Upholstered accent chairs
Stylized animals
Sunbursts

How to Create Art Deco Style in Your Home
Colors
Like any interior design, color is the base of Art Deco style. Black, white, chrome, silver and gold are all must-haves for Art Deco. These colors enhance the reflective nature of the 1920s Art Deco design.
Other colors to implement are deep yellows, pinks and reds and intense jewel tones like purples, blues and greens. These colors add to the luxurious vibe of Art Deco, without overwhelming the eye.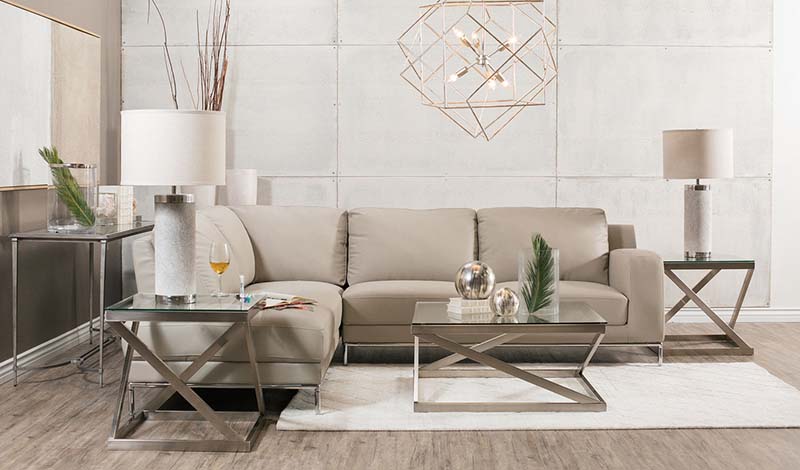 Pictured above: Ashley Coylin Square Coffee Table
Furniture
Art Deco works well with furniture that is streamlined. Clean lines and tailored upholstery are key for this design. Chrome and mirrored pieces are perfect additions. Upholstered headboards, leather accent chairs, mirrored nightstands and velvet-lined armoires are all ideal for Art Deco-style bedrooms.
Pictured above (left to right): Ashley Composer Power Recliner and Ashley Cimarosse Ivory Armless Accent Chair
Accessories
Accessories complete an Art Deco designed space. Small statues, vases, clocks and other little accents will make a bigger difference in the room that you may think. But carefully choose a place for each accessory, as to not overwhelm one area of the room.
Hang large frames on the walls to make a bold statement and make the room feel larger. Unique lamps are another important aspect of Art Deco. Use every opportunity you have to implement your artistic flair into the space. Art Deco is a very precise design and your accessories should reflect that.