September 20, 2018
How to Create a Shared Home Office
Post updated: 04/24/2020
Does working from home sound like a dream come true? Do you love the idea of working side-by-side with your spouse, friend or family member? Would you love to create the perfect home office for two people? Well, it's not all matching coffee mugs, Instagram-worthy workstations and mid-day selfies. Sharing a home office can actually be a major challenge!
Homemakers is here to help you create a shared home office that inspires creativity and productivity. By shopping for ergonomic furniture and choosing the best office layout, you'll both be hard at work in no time!
Should You Share an Office?
Before creating your shared home office, there are a few things you should consider. The first step? Determining whether you really should share an office with your partner or if it would be better to find separate work areas.
Everybody has different preferences when it comes to their work environments. From noise levels to temperatures, finding middle ground can be a challenge. The key to making it work? Choosing the right layout, shopping for the best office furniture and finding ways you can compromise. Before you commit, ask yourself these questions:
How often will you each use the phone?
Do you have the same

design styles

?
How quiet does the office need to be?
Can you agree to the same level of neatness?
Will you remain productive when working together?
What kind of storage does each person need?
If you love to crank the heat but your partner functions best in a chilly room, decide whether you can compromise on temperature and use blankets. If you can't focus without music but your partner needs complete silence, use headphones. Not all differences can be worked out. If you both need to use the phones constantly, you might require a space of your own. Figuring out the logistics beforehand is a must for a shared office space!
Shared Home Office Layout Ideas
If you're confident that a shared home office is right for you and your workmate, it's time to choose the perfect layout and ergonomic furniture! Here are four of our favorite shared office layout ideas you can try:
1. Home Office Layout: Collaborative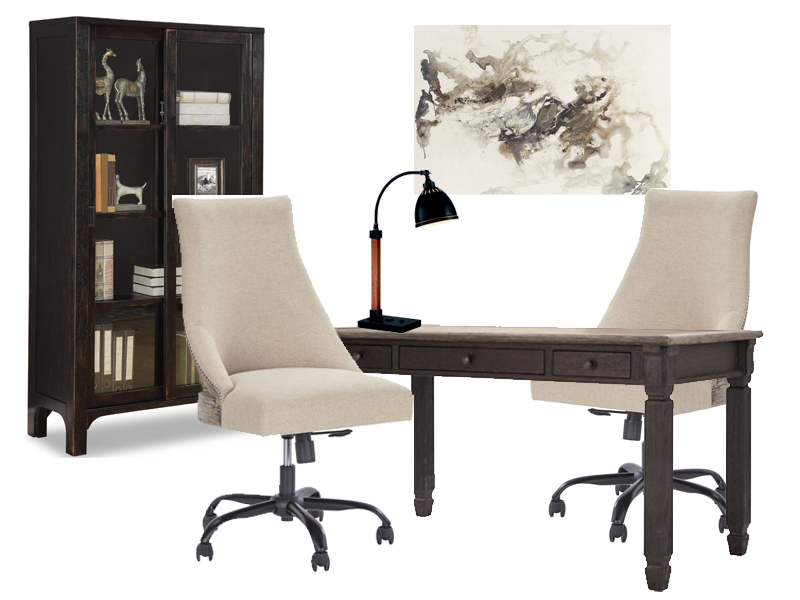 Do you own your own business or work from home with a coworker? Then you need a collaborative work space where you can each spread work out and comb through everything together! This layout features a large desk, like our Ashley Tyler Creek Desk. It allows room for clients and coworkers, and it has drawers where you can store books and supplies. You can also get this look by placing two small desks back-to-back. The large Flexsteel Homestead Tall Bookcase adds even more storage space ensuring your office contains everything you need without taking up too much room.
Have different lighting preferences? Try our Lite Source Maurizio Desk Lamp! This lamp lets you focus light on your workspace without disrupting your partner. And you can't forget your adjustable office chairs. This Ashley H200 Collection Desk Chair looks great and feels even better. Once you've got these must-haves, choose wall décor that suits both of your tastes. Our Ashley Annora Wall Art looks amazing in this shared office space!
2. Home Office Layout: Side-by-Side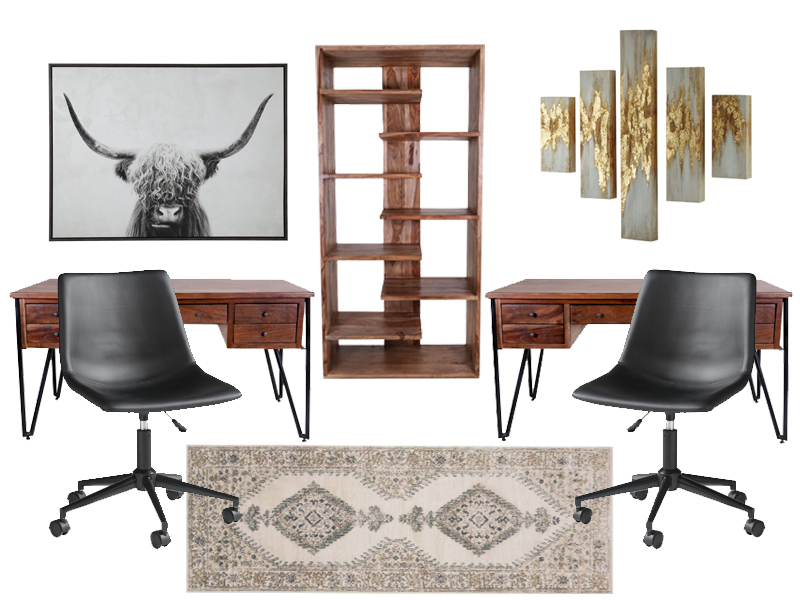 Do you live in a smaller home without a designated office? If you do, a side-by-side layout is ideal for your space! Start by choosing two small desks, like our Int'l Furniture Taos desk and cozy office chairs. Our Ashley H200 Desk Chair is sleek and comfortable, making it a great choice for an office space! Then choose a space – this layout can work along a wide hallway, in a narrow room or it can even be integrated with the living room or a guest room.
Placing an Coast To Coast Brownstone Tall Bookcase between the desks allows each person equal access to storage and display space. Plus, it creates a barrier that allows you to decorate your desk without clashing with your partner's desk decor. With Ashley Pancho Wall Art on one side and Ashley Devlan Wall Art, Set Of 5 on the other, each person can show off his or her unique personality! Add the finishing touch with a Loloi Teagan Oatmeal and Ivory 2′ X 8′ Rug that pulls the space together.
3. Home Office Layout: L-Shaped Workspace

Whether you need to share a desk or want to share a room but work across the room from each other, an L-shaped desk meets your every need! Our Martin Furniture Hartford White L-Shaped Desk is great for collaboration. Just pull up a Presidential Seating Modern Slate Gray Task Chair to each part of the L and get busy! Or, create a more independent work station when you each buy a desk and place it in separate corners of the room. Ensure you have plenty of storage available with an Ashley Starmore Etagere Bookcase and an Flexsteel Homestead Lateral File Cabinet.
Need a pop of color to complete the space? Our Uttermost Glass Tiles Wall Art looks amazing with any palette with its rich blue hues.
4. Home Office Layout: Small Spaces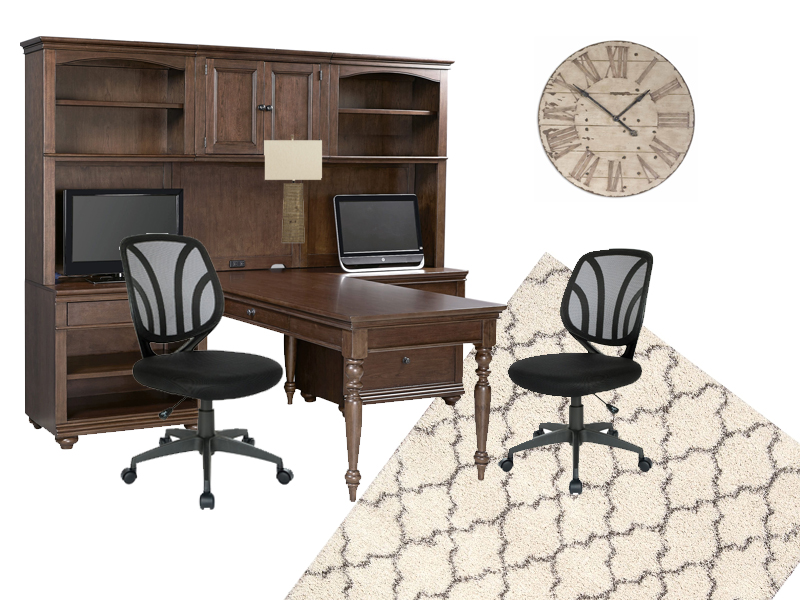 When you live in a small home or apartment, finding an office space for one person is difficult. If you need workspace for two people, the task can seem impossible. However, this layout is perfect for integrating into small spaces! Our Aspen Oxford Peppercorn Modular Desk combines two essential furniture pieces to create a multi-functional space. Combined with Office Star Screen Back Armless Desk Chairon each side, this space is sure to inspire your work day.
All you need to complete the space is a Ashley Accents Table Lamp and Uttermost Harrington Wooden Wall Clock! These stylish pieces really tie the space together, guaranteeing your office looks great whether it's in the living room or in its own designated room. Tie it all together with a soft and inviting Nourison Amore 8′ X 11′ Rug. Voila!
If you have a shared office at home, we want to see your space! Share a photo using the icons below. Then, check out our modern home office solutions for even more ideas on creating the best office space!