April 30, 2018
How to Make a Mudroom: Decor Ideas and Mudroom Furniture
[Post updated: 04/22/2020]
---
Your home is designed to help you unwind. From the bedroom to the living room, you strive to create spaces that do more than impress. Your home should also make guests feel at home and relaxed. That's why you work hard to keep it looking fresh, comfortable, on-trend and – most importantly – organized!
There are certain areas of your home, however, that may not always be up to par. If you're constantly battling with sloppy shoe prints, dirt and clutter, creating a mudroom may be the solution you've been looking for!
Homemakers is here to help with mudroom furniture tips and four mudroom decorating ideas. With our décor tips and organization ideas, your home will transform into that clean and calming space you've dreamed of!
What is a Mudroom?
A mudroom is the hardest working room in your home, and it has different uses for everyone. The mudroom is usually a second entrance. You can still create a mudroom in your primary entrance but having a second space helps keep the mess hidden away and allows a better first impression for your guests.
As the name suggests, the mudroom is where your family will track in all the mud, keeping it out of the rest of your home. It will also typically be used for storage. Some families use a mudroom to store their shoes, coats, car keys, briefcases and backpacks. Other homes will create a multi-purpose mudroom and laundry room combination.
5 Steps to Designing a Mudroom with Furniture and Décor
When designing your mudroom, you'll want to decide what you want this space to be and how you want it to function. From drying seasonal gear, washing dirty sports attire, or simply hanging bags and jackets, the possibilities are endless.
When shopping for and arranging your furniture pieces, keep other rooms of your home in mind. As a transitional space, your mudroom's design style and color palette should flow well with other areas of your space.
1. Finding Space for a Mudroom
If your home has a second entrance that opens to a mudroom, then you're in luck! However, not every home has this highly-desired space. With many people living in smaller homes, finding room for a mudroom is no easy feat.
If you currently live in an apartment or home with limited space, you can still have the mudroom of your dreams. You'll just need a little more creativity. Here are some ideas for finding space for a mudroom in small homes:
Adapt your entryway. Not everyone has a secondary entrance, and if they do it might not be in a space that allows for a dedicated mudroom. Add hooks and a bench to your entryway for a stylish solution.
Merge your mudroom with another space.You might not have room for a stand-alone mudroom. However, you could try combining it with another space! Add a mudroom to your laundry room or gardening nook.
Create a functional hallway.Give the most neglected area of your home a chic update by

decorating your hallway

, turning it into a makeshift mudroom.
Transform awkward closet space. If your home doesn't have a mudroom but does have a coat closet, you can transform the space into a beautiful miniature mudroom.
2. Choosing Mudroom Furniture for Storage and Style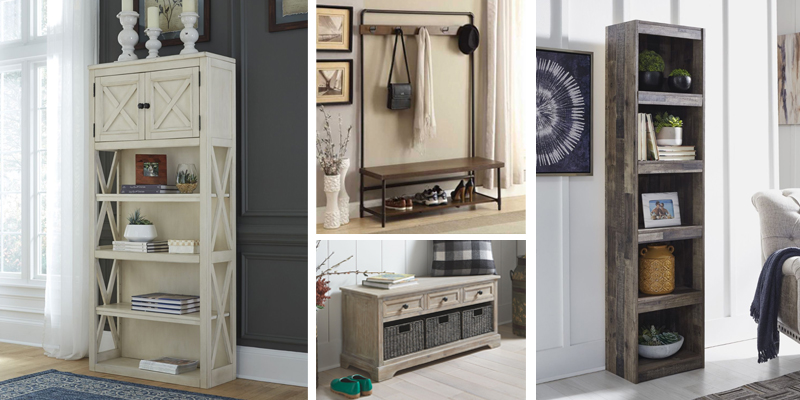 Featured Above: Ashley Bolanburg Tall Bookcase, Ashley Oslember Storage Bench, Coaster Green Friday 2018 Hall Tree, Ashley Wynnlow Pier
A mudroom is only as good as the furniture you put in it. From seating to storage, the mudroom furniture you add should be multifunctional, easy to clean and cohesive. The amount of furniture pieces you can fit will depend on your space, but here are a few mudroom must-haves that will make organizing your mudroom a breeze!
Cubbies, Cabinets and Chests
Incorporating cubbies, cabinets and chests is a great way to create ample storage space in your mudroom. From hiding away winter gear like gloves and scarves to storing gardening tools or shoes, storage cabinets are multifunctional and versatile.
Cubbies are especially great for keeping larger families organized. Assign cubbies to each member of your household, that way every person can store their own clutter in designated spaces.
Benches With Storage
Having somewhere to sit is especially important in a mudroom. This is where you and your guests will put on and take off your shoes, and it's a super convenient place to wait for those who run a little late in the morning. Having a bench with storage is a major bonus, as it will help keep your mudroom tidy.
is
$219.00
, was
SRP: $299.00
You save: $80.00
is
$139.00
, was
SRP: $179.00
You save: $40.00
Hall Trees and Wardrobes
If your mudroom doesn't have any built-in closets, a hall tree or wardrobe is for you. Featuring hooks, hanging space, drawers and mirrors, these convenient storage furniture options are extremely versatile and perfect for keeping your clutter out of the way.
3. Creating a Multipurpose Mudroom
Let's be honest: most of us do not live in a home large enough to dedicate an entire room to coats and shoe racks. If you do, you might need that space for other purposes. That's where creating multifunctional mudrooms becomes especially helpful.
By combining your mudroom with other types of spaces, you not only give your mudroom more value and purpose, you also save space in other areas of the house.
We just love the idea of combining a mudroom and laundry room. It just makes sense! When your kids come in after a long day of outdoor play, you can place their dirty clothes straight into the washer without dragging the mess through the rest of the house. Add a utility sink, laundry basket storage and space to hang the clean clothes and you'll have the mudroom laundry room combination you never knew you needed.
You can also combine your mudroom with a gardening nook or pet grooming station. No matter what you combine your mudroom with, it is sure to look fantastic!
4. Mudroom Décor and Decorating Ideas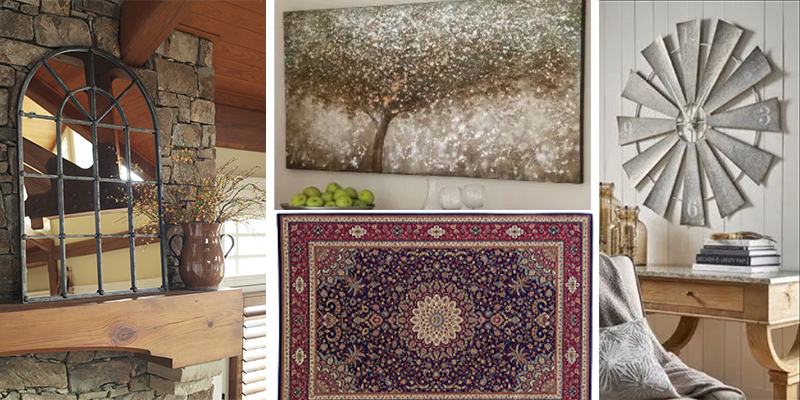 Featured Above: Ashley Oengus Accent Mirror, Ashley O'Keria Wall Art, Imax Windmill Wall Clock, Sphinx Ariana 8′ X 11′ Rug
Once you have your key furniture pieces, it's time to decorate! Whether you're hanging clocks, mirrors, wall art or creating a gallery wall with all of the above, décor adds personality and character to your mudroom.
Wall Art, Mirrors and Wall Clocks
There are so many options when it comes to decorating your mudroom – from signs and paintings to mirrors and clocks. Where do you even start? Well, before you start shopping you need to decide on your mudroom's paint colors and style. Once you know your room's style, start looking for pieces that tie in with the space. At Homemakers, we carry a range of looks, so you're sure to find décor that suits your tastes!
You can also make the most of your mudroom's wall art by framing a cleaning schedule. Use Expo markers on the mirror to keep track of chores, adding both a pop of color and function.
Outdoor Rugs
If possible, it is best to have a hardwood or tile floor in your mudroom. That way, large messes can be easily cleaned. If you want to add a splash of color that anchors the space, however, try placing an outdoor rug over your hard floor. They are durable and made to withstand dirt and grime while keeping it out of the rest of your home.
Greenery
Add the finishing touch to your mudroom with the one décor tip that never goes out of style: decorating with houseplants!
Whether you're mounting plants on the wall, adding a tall potted floor plant or decorating with beautiful flowers in bloom, plants breathe life into every room in your home. Plus, if you don't have a green thumb, Homemakers carries a range of artificial plants in our showroom. Check out our seasonal marketplace for faux fiddle leaf figs, succulents and more.
---
Show Off Your Mudroom
Have you decorated your mudroom? Want to share a few more tips and tricks? We want to see and hear them! Show us your mudroom and tell us how you mastered the look using the icons below. Then, be the first to know about the latest furniture trends and home solutions when you subscribe to Hm Etc. today!