September 03, 2019
How to Mix and Match Dining Chairs for the Best Look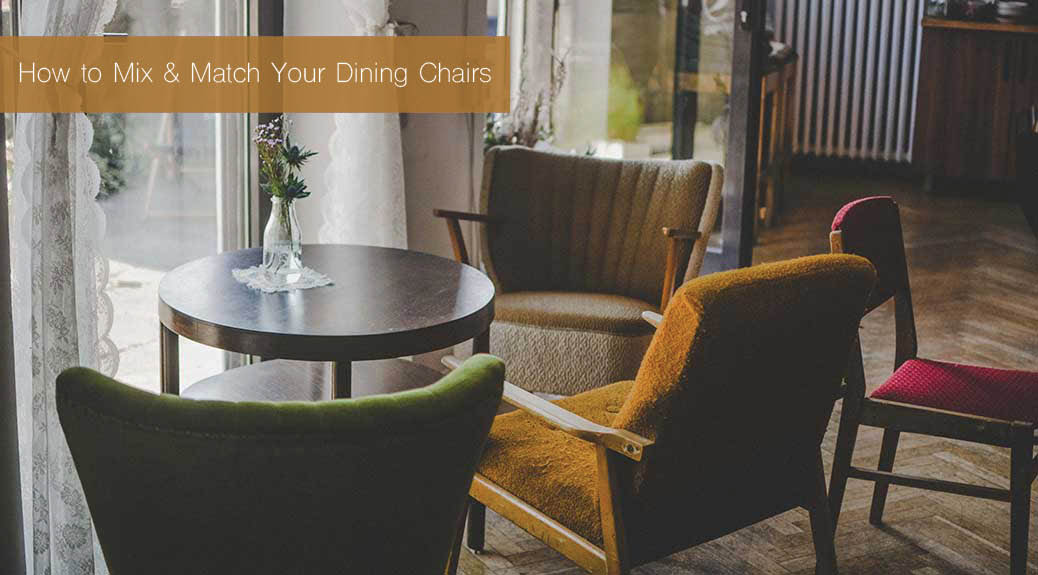 A common question people ask is "How do I mix and match my dining chairs?" It can be difficult to find chairs that match and work together, but also feel a little eclectic or mismatched. Sometimes you'll find multiple chairs you really like, and you can't decide on just one set (we don't blame you). We have a few tips on how to take mismatched dining chairs and give them harmonious balance.
Change Out the End Table Chairs
In a traditional style dining set, oftentimes the head and foot of the table had different chairs than the rest of the table. Typically, these chairs were armchairs and sometimes were larger and more ornate. These chairs reflected the importance of that position at the table. You can take this same approach, or you can put a modern spin on this classic look.
One option to update this look is to use the same color palette but have different end chairs. You should choose a unified concept so there's a common thread that connects your mismatched dining chairs. Vary your chairs in just a few categories (height, width, material, color, arms or armless, upholstered vs. hard seat, etc.) and keep the others consistent. The same color palette would be your common thread with this look.
Another option would be to have the same side chairs in one color, such as black, and armchairs in a different color, such as white. This gives a pop of color to your dining area and creates some visual interest without looking too hodge-podge.
Choose One Shape, Vary Colors
Mix and matching dining chairs by choosing the same chair shape but picking a handful of colors that work well together. They can be shades in the same color family, colors that complement each other or colors that work well with your space. The common thread is the chair shape, so you're still getting that mixed and matched feel.
Choose a Color, Vary Shapes
If you keep a prominent characteristic like color the same, you have room to play around with the shapes. Choose chairs in different shapes and sizes but make sure their colors all match.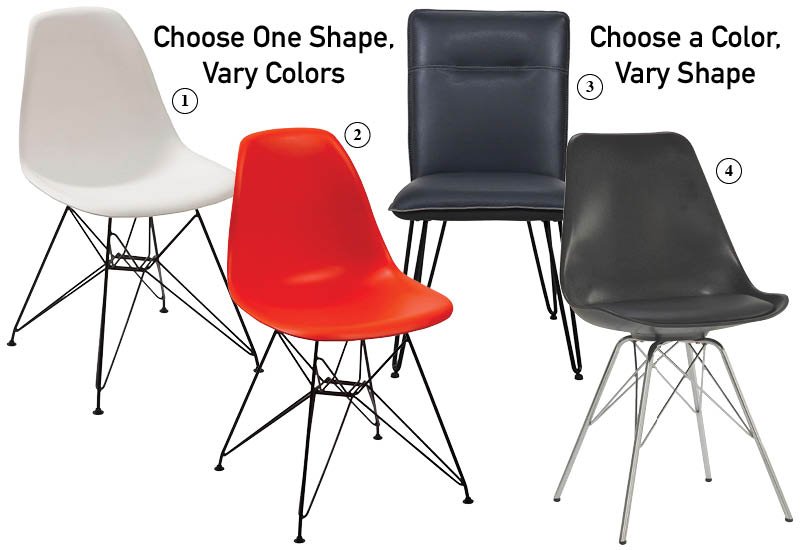 Modus Furniture Rostock White Side Chair
Modus Furniture Rostock Red Side Chair
Modus Furniture Demi Cobalt Side Chair
Coaster Lowry Black Side Chair
Use a Bench
A bench is an easy way to add some variation to your dining space without going crazy. It looks intentional when you mix and matching dining chairs with a bench but still feels less matching.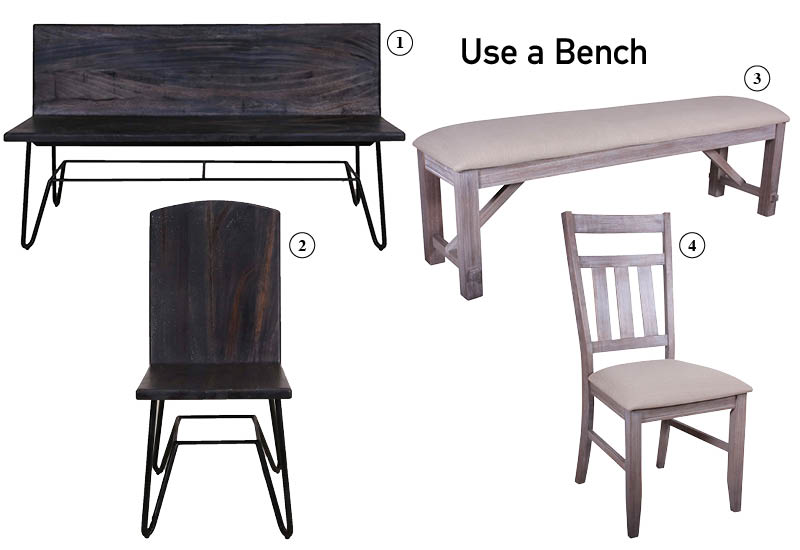 Int'l Furniture Moro Side Chair
Powell Turino Bench
Powell Turino Side Chair
Be Consistent with Era
If you're going for an antique look, choose an age range or geographic area so the chairs have some common style traits. If you're going with vintage instead of antique, go with the wear-level of the chairs so they're all consistent in looks.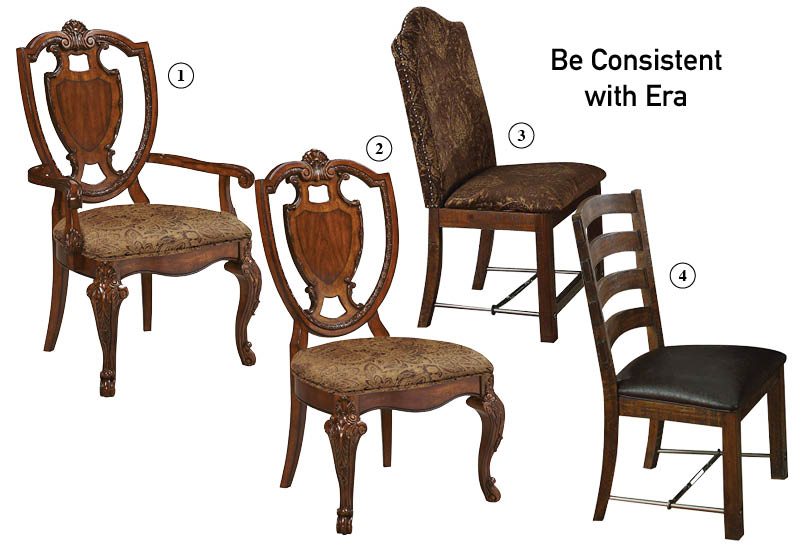 Choose Complementary Shapes
Choose shapes that complement each other so they balance each other out around the dining table. You can go with different shapes as long as you're intentional about it and choose ones that fit well together. If you're choosing a traditional style chair with curviness and ornate details, pick simple, square back chairs to complement them and not overwhelm your dining space.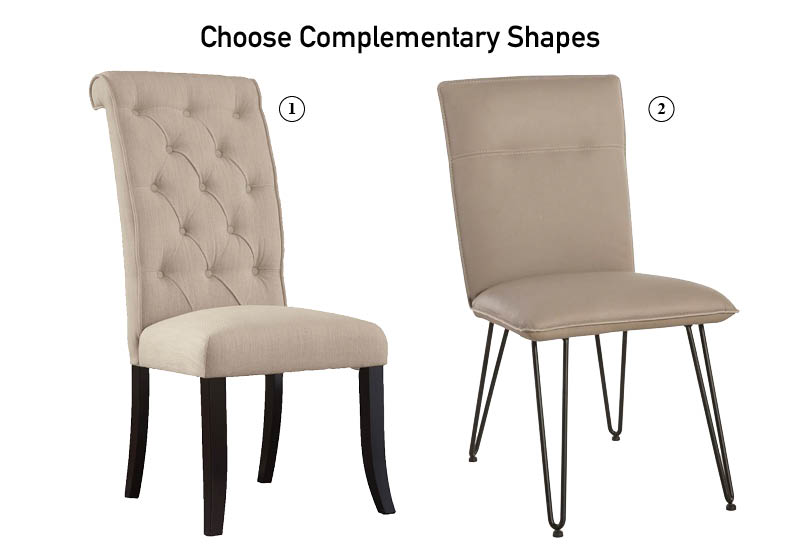 Ashley Tripton Upholstered Side Chair
Modus Furniture Demi Taupe Side Chair
Same Chair, Different Colors
If you want to mix and matching dining chairs easily without worrying about styles and height and all the characteristics, choose the same chair in different colors. You'll give some variation to your dining space, but the chairs will still hold a common thread.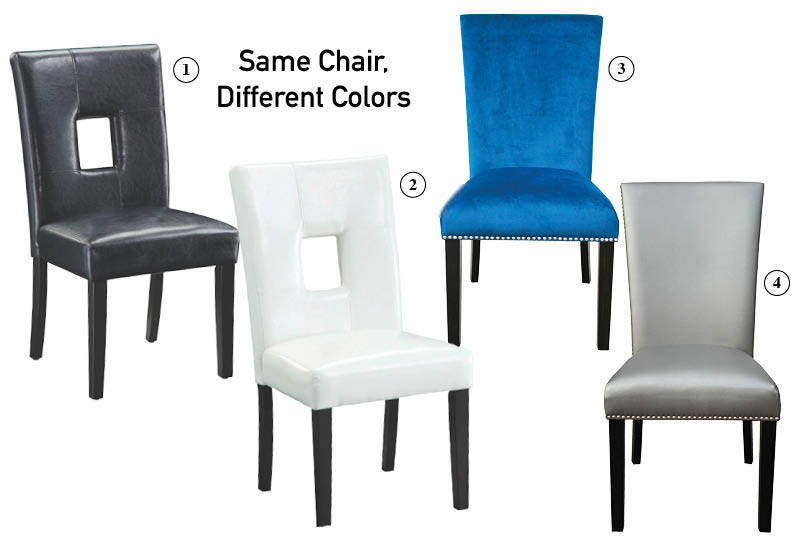 Coaster Newbridge Black Side Chair
Coaster Newbridge White Side Chair
Steve Silver Camila Blue Side Chair
Steve Silver Camila Silver Side Chair
Same Style or Same Material
Choose chairs that are in the same style family, like Mid-Century Modern but don't all match. Or choose the same material in different chair styles, such as all wicker. The overall look is the same with both of these concepts but allows for some mismatching to take place.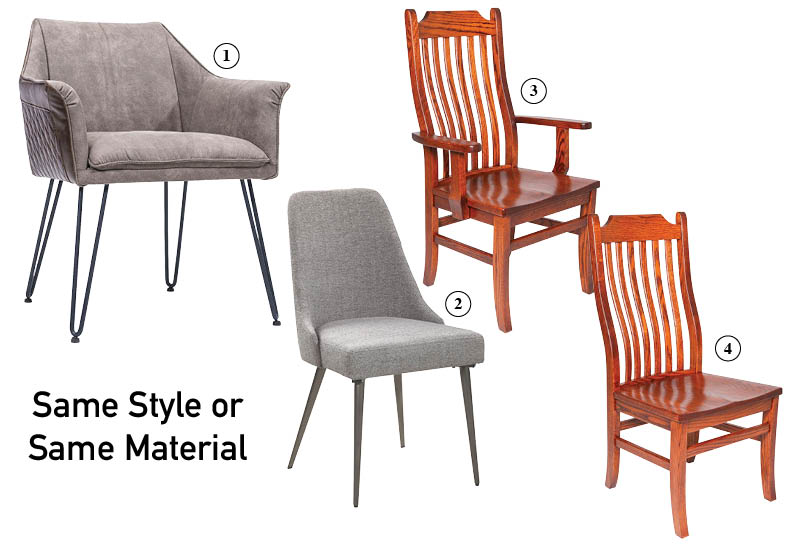 No matter how you want to mix and match your dining chairs, there are a few things you should remember before choosing your dining chairs. Make sure with all the chairs you're choosing; the seat bottoms are a consistent height. You don't want them to be different heights, so people are sitting at different levels at the table. You also want to make sure that they're the proper height for your table, so your chin isn't coming up to your plate. Before you choose chairs, you should also measure your dining table and space around it to make sure that the chairs will fit properly around your table. You don't want to buy your chairs, only to come home and discover that they don't all fit.