New Furniture Arrivals at Homemakers
Take your home rec room to the next level with these new arrivals!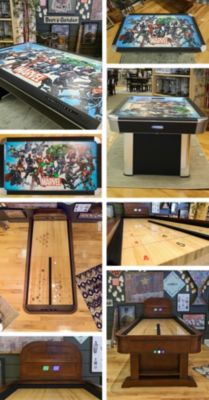 Get your game on in the rec room of your dreams with our newest furniture arrivals at Homemakers. These two game tables are sure to entertain you and your guests. You can never have too much fun, and we're excited to bring you two game room options that will have the whole family smiling!
Our newly arrived Marvel Air Hockey table uniquely combines your love for Marvel superheroes and air hockey. This impressive air hockey table is built with a single, powerful fan that gives you a smooth, even gaming experience. The design includes two, manual inset scoring systems and comes with four pucks and four goalies.
Enjoy the game of shuffleboard while only taking up half the space with our new Rebound Shuffleboard. This handsome rebound shuffleboard stands on a double-pedestal foundation and features a sleek woodgrain playing surface that adds a luxurious appeal to any room. Once you're finished with a game of shuffleboard, you can rack up the included bowling pins and play a second game that's great for kids and adults alike!
Make every night game night! Shop below to learn more about new furniture at Homemakers.