September 15, 2022
Adding Style and Color with Accent Chairs
Styling a space in your home can be fun, but sometimes all the details can make it stressful. Deciding how to best use the color palette of your choice can be difficult. Choosing neutral colors for staple pieces can often help ease the process, but sometimes it's easy to choose too many neutral tones. Don't worry though, because a great way to liven up almost any space is by adding colorful accent chairs! They help pull the room together while also serving a functional purpose in your space.
The style and type of accent chair you are looking for can change depending on the room you are designing and the function you want it to serve. Chairs with arms usually add comfort and an extra spark of style. Swivel or rocking chairs can make it easy to be a part of the action in the room that might be part of an open layout space. Rockers can look stylish while giving you a space to rock your little one to sleep.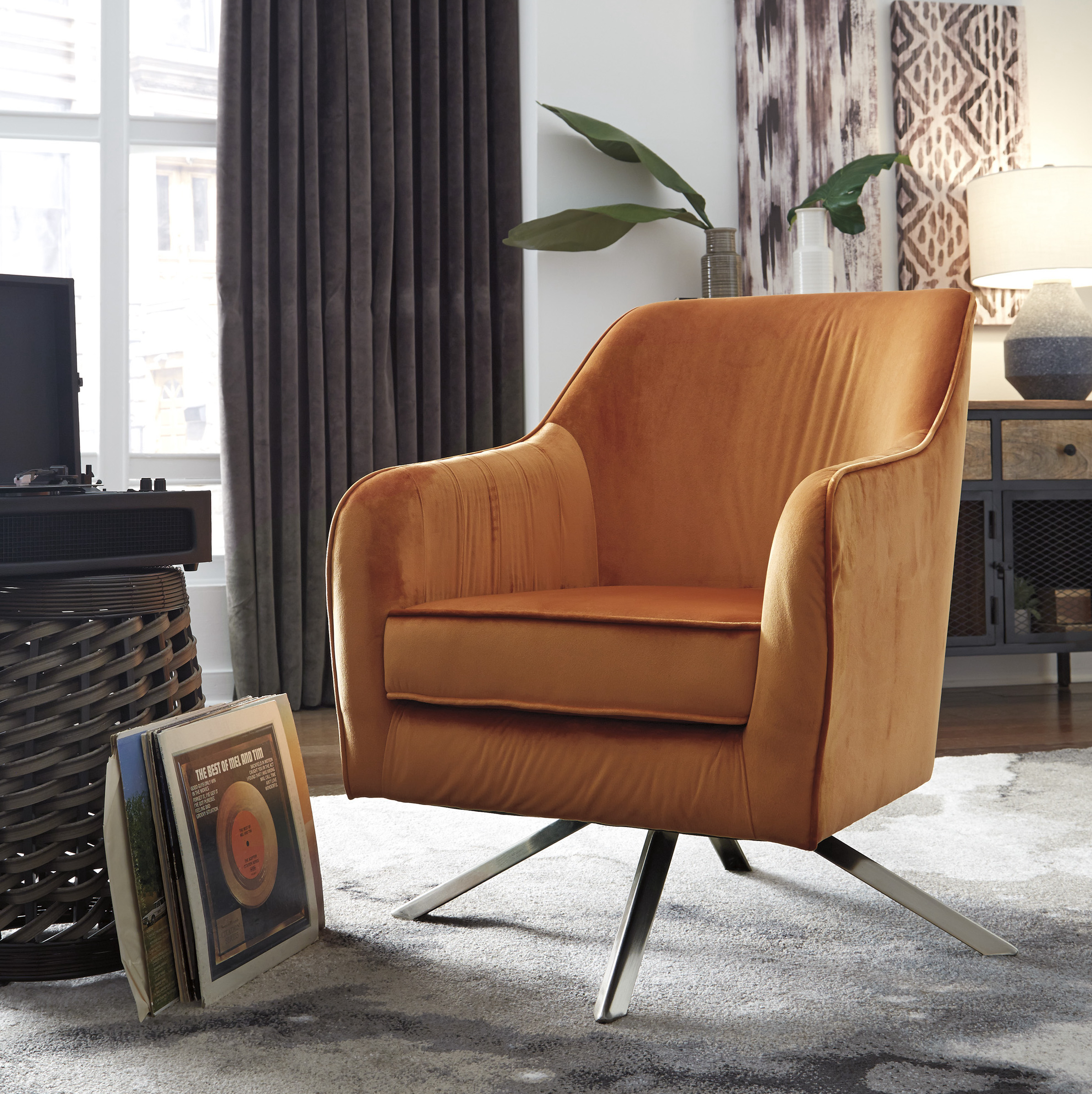 Living room
Stylish and colorful accent chairs are great for living rooms. They create a comfortable place to sit back and relax during family movie night. Patterns bring movement and visual depth to your space, while solid colors give a lively look without making the room too busy.
Jonathan Louis Mike Accent Chair, Ashley Dericka Moss Green Accent Chair
Kids Room
Whether you have a newborn who loves to be rocked or a little one that likes to cuddle up for story time, having a rocking chair in your child's room can make bedtime a little easier. When looking for the perfect piece, it's important to think about how long you want to keep it in their space. Some chairs might match your kid's room perfectly, but when they get older, they'll clash with their new style. Sometimes going with a chair with a more mature look can lead to more years of use.
Patio Seating
The great thing about patio furniture is that it's seasonal in nature. This makes it easy to match it with your warm weather outdoor accessories without worrying about what it will look like with your winter or holiday ones. Patio furniture also tends to have neutral colored frames with colored seat cushions, making them versatile and easy to blend into your space.
Ashley Grasson Lane Lounge Chair
Reading Nook
If you have a reading nook in your home, it can be a cozy and relaxing place for you to unwind after a long day. It's also a great place to integrate colored accent chairs. You may have your designated reading space near a bookshelf, which often has neutral wood tones, giving you an easy place to design as colorful as you want. Adding a chair with a colorful frame and neutral cushions can also be a simple way to integrate subtle color.
Ashley Ryandale Sterling Accent Chair
Seasonal Fall Colors
With fall right around the corner, it' time to bring out the fall décor. Fall colors are stunning and bring a warm and cozy vibe to any space. Adding a fall-colored accent chair to your space is a great way to elevate your décor and bring it to new heights. Taking advantage of seasonal styles through your décor and into your furniture is a great way to show your love for the season.
There's nothing better than a piece that can bring all-in-one style, color, function, and comfort. With colorful accent chairs, it's easy to bring that into nearly any space because of their versatility and the variety of styles.