February 13, 2020
Top 9 Bedroom Layout Ideas for Your Space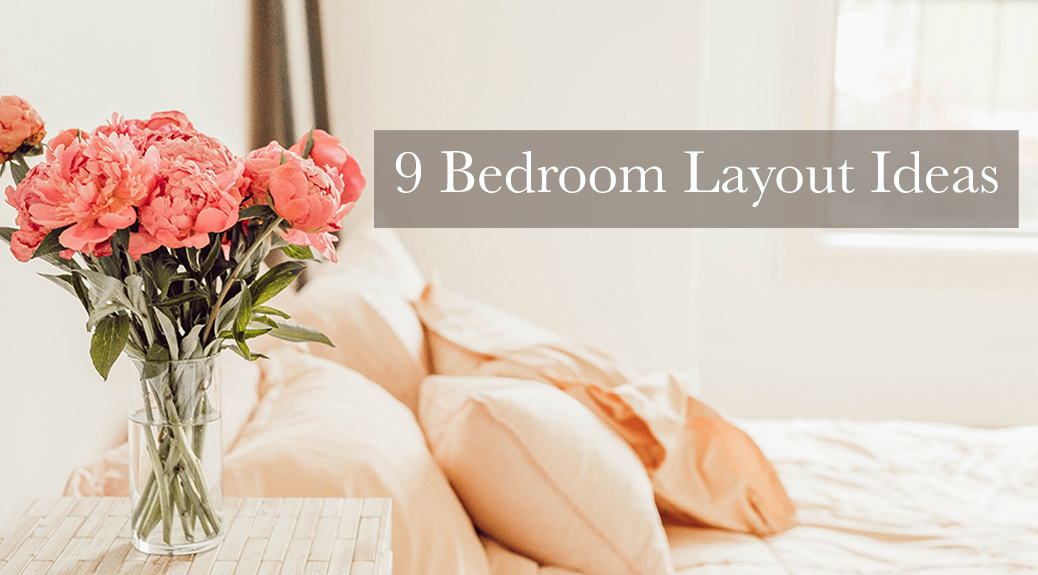 Having trouble designing the layout of your bedroom? Trying to find the best hidden tips and tricks to making it stylish and functional? Don't worry, we know placing furniture and creating color palettes are an ongoing internal debate. No matter the shape or size, your bedroom should be a place you can escape from the rest of the world and recharge, but designing it doesn't always come easy. That's why we've put together the best nine layout ideas to make your bedroom a place you can call your own.
Room Size
The Small and Quant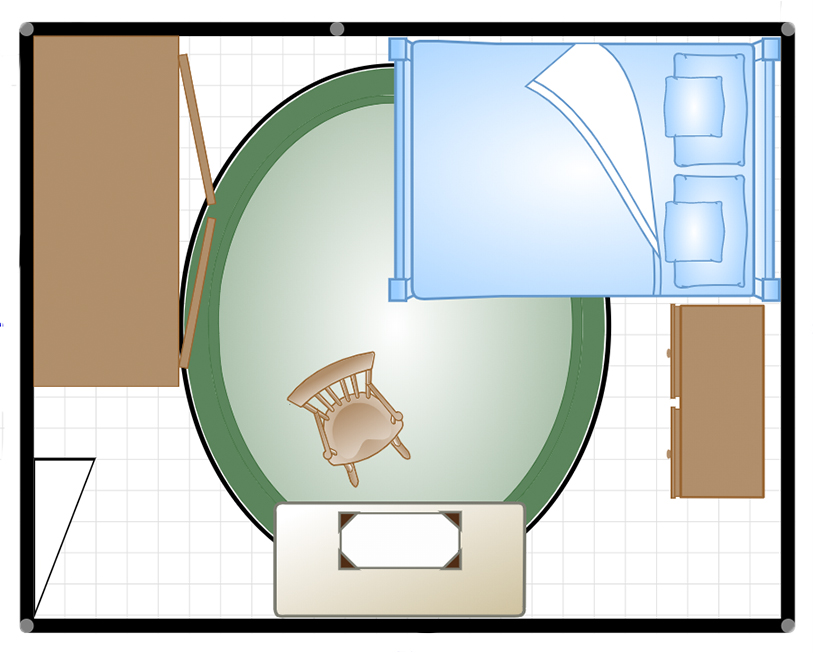 A small room can be difficult in terms of layout ideas because you have little space to work with. Your bedroom should be functional yet stylish. How can you achieve that? Coordination of furniture is key when designing the layout for a small space. Try pushing your bed up to one side of the room rather than in the middle; it'll provide more space for other important pieces of furniture like a desk or dresser. Some furniture isn't necessary for a small bedroom. For example, instead of a nightstand consider a chest. Push it up against one side of your bed and cut out the nightstand all together. Less furniture makes for less clutter!
The Big and Grand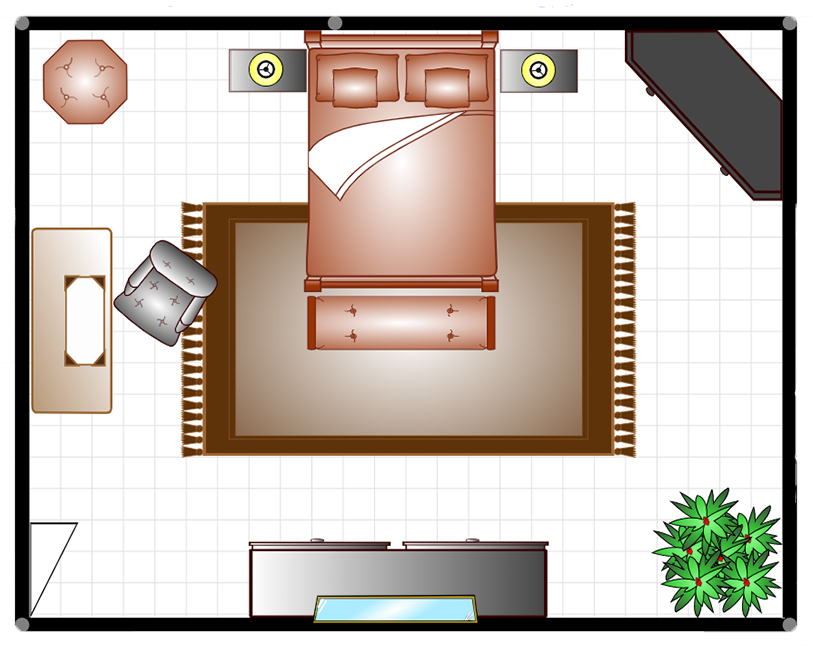 The master bedroom provides an unlimited amount of layout options. You can have a lot more furniture than someone with a smaller room. However, the use of space is still important. Since you're dealing with a lot more open area it can sometimes be difficult to fill that space appropriately with furniture that makes sense. Some of the best bedroom layout ideas use accent furniture such as ottomans, side tables, and accessories to avoid emptiness. Utilize a rug to increase layering within your bedroom to give it a cozy and fuller look!
Room Shape
Square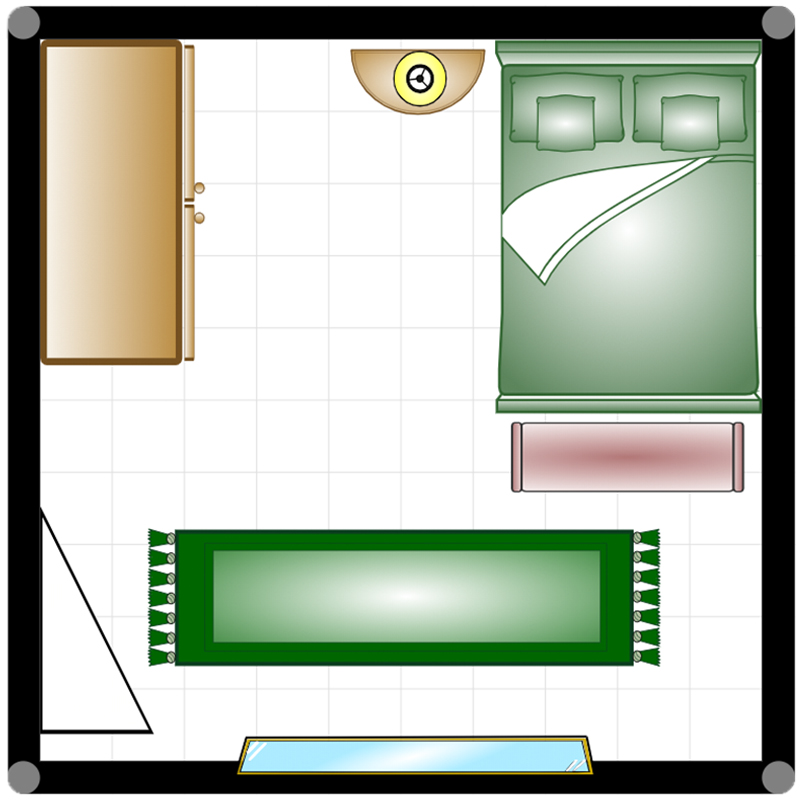 When it comes to designing a square bedroom there are a few things to consider. One great lifestyle to embrace is minimalism, the fewer bulky furniture items you have the better and more functional your layout will seem. Add a storage bed and half-circle tables to enhance space. With any empty space, consider hanging pictures or accessories on the walls to increase the sense of layering in your room. One of the best kept secrets are mirrors! Add a mirror to magnify your room.
Rectangle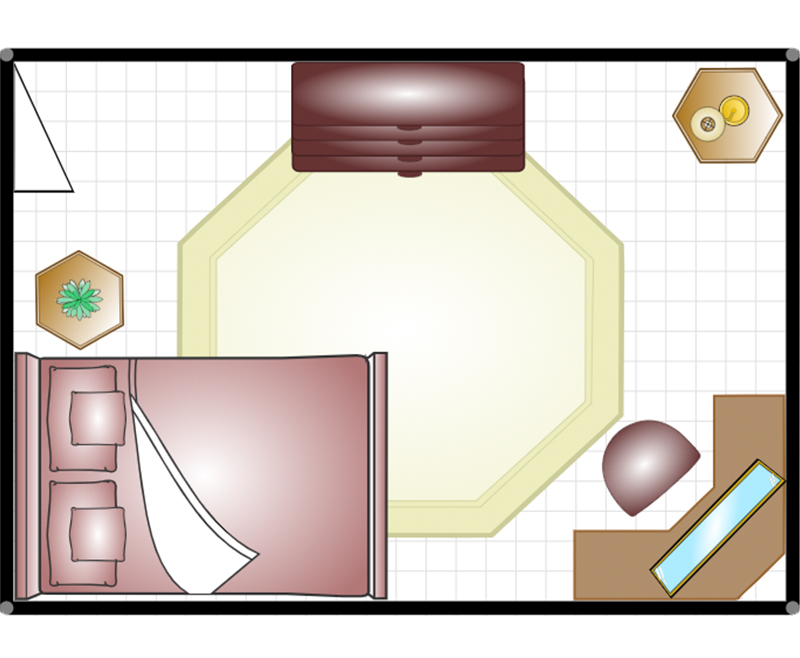 The most common room shape is the rectangle, and it has an abundance of layout ideas that you can play around with. With a rectangle room, start to dabble with different sizes of furniture; a large piece like a dresser and something smaller like a nightstand or floor mirror. Give your room a sense of dimension with angled furniture such as curved desks, lights, and rugs. It increases the flow of the room and keeps your room stylish and exciting. Place your bed perpendicular to the length of the room for extra space!
L-Shaped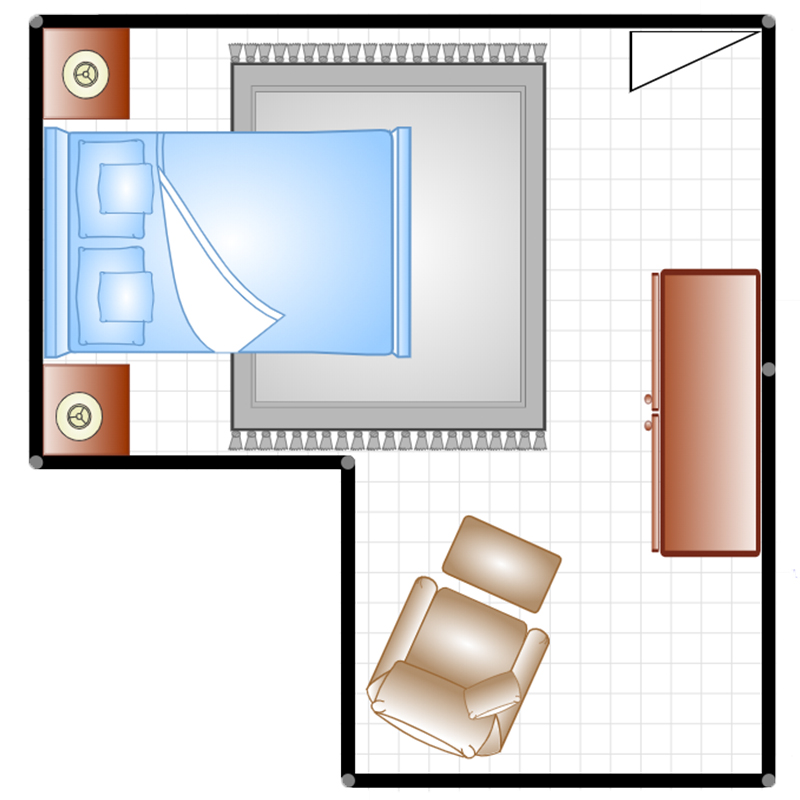 Unusual shaped rooms can cause difficulties when organizing. However, there are a few things you can take advantage of in an L-shaped bedroom. One great idea is to section off the different areas of your room with specific furniture so you can create two separate spaces for separate purposes. One area could be used as a sleeping, while the other could be a reading nook. The design allows for a separation of space, without actually separating your space. It keeps the flow of style consistent and prevents areas from becoming "too loud" with furniture and decor.
Curved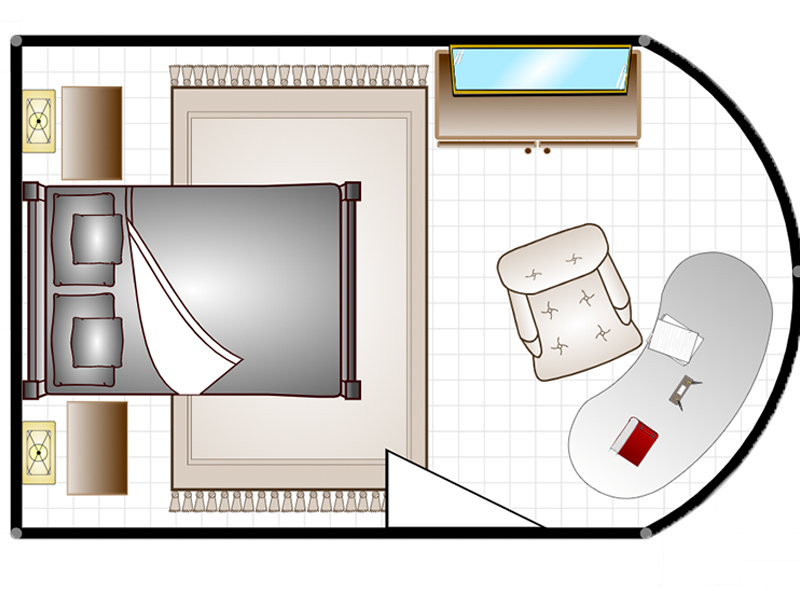 The curved bedroom is by far the most difficult if you don't know the right tricks! For curved walls, incorporate curved furniture, this will help keep the flow of your room consistent. The scale and proportion of your furniture is very important for rooms with curved walls. Scale refers to the sizing and how it compares to other pieces in your room. For example, placing a big mirror to complement your dresser. However, proportion is important to keep everything weighted evenly in your room. An example of this would be placing wall attached lights above your nightstand to avoid bulky table lamps next to a big bed.
Traits
Studio Apartment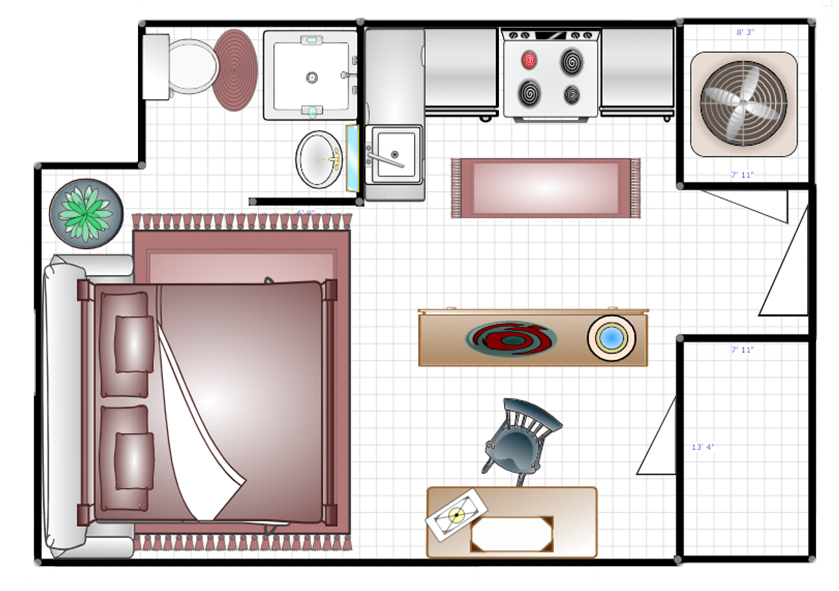 What if your bedroom shares the same space as your kitchen, living room, dining room, and bathroom? Well we've gathered the best studio apartment layout ideas to show you how to organize your bedroom when your bedroom is one big living space. A studio is unique from all the other design layouts since you're adding more furniture into a smaller space. It is one compact room that has everything you need. A day bed or sofa bed is a two in one design that combines a sofa and a bed together. This would be preferable in a studio since they're versatile design allows them to be used as a sofa and a bed! Consider using a dresser as a divider to separate different parts of your room. Take advantage of wall décor since your space for regular bulky décor is restricted.
Relaxation Room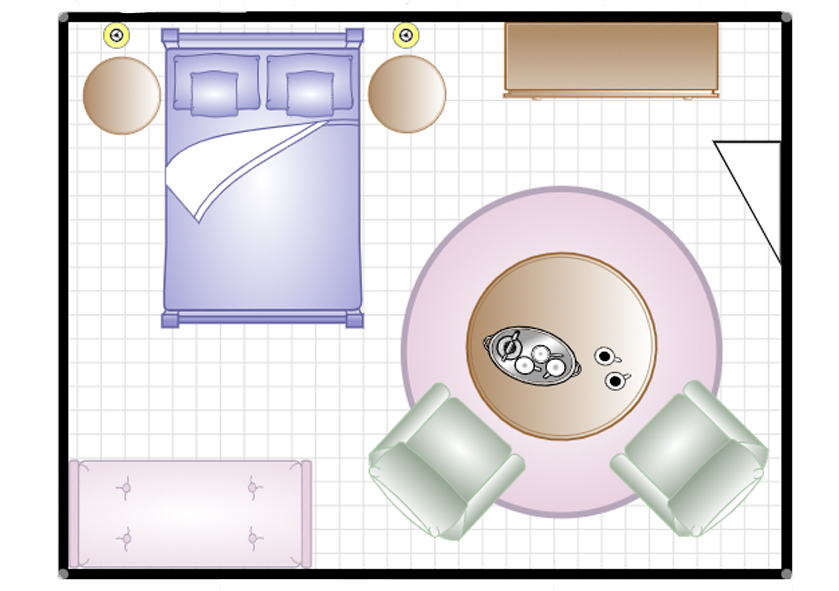 Are you someone who uses their bedroom as a place to unwind, relax, sip on a glass of wine, or read a good book? You can optimize your space by adding chairs or loveseats to your room so you can have more places to sit and chill. Use a rug under your table as added layering. Ottomans are also great for bedroom décor and as another place to sit and relax.
Storage Room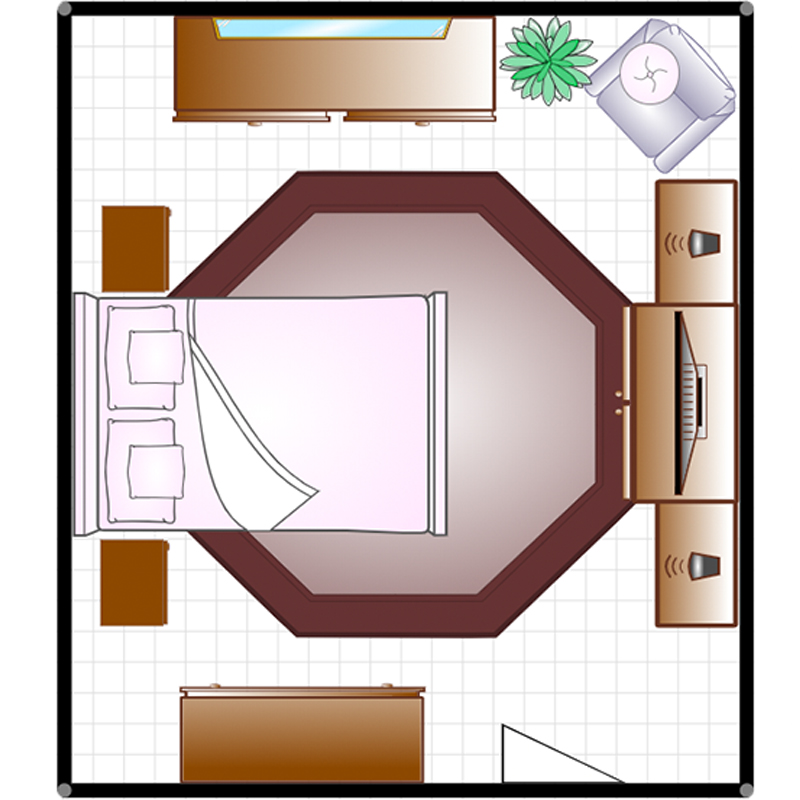 We are lucky enough to live in an age where almost every piece of furniture has storage; storage beds, storage mirrors, storage chairs. These are some of the best furniture pieces for those who need the extra space! If you don't have a closet and are struggling with space, consider utilizing your bedroom as a place for extra storage. Shop our storage furniture so you can stay organized while also looking stylish.
---
Designing your room shouldn't be complicated. These nine bedroom layout ideas provide simple tips on how to organize your room no matter the shape, size, or style you have. Say goodbye to awkward corners, dead space, and too much or too little furniture. With this road map, you'll see just how easy and fun designing your own layout really is! Check out our Room Planner so you can design your own layout!
Ideas + Advice
November 16, 2023
At its core, Organic Modern interior design celebrates the marriage between the contemporary and the organic. It integrates natural elements such as wood, stone, and plant life into modern spaces, creating an environment that feels fresh, natural, and inviting. Characterized by soft curves, raw natural materials and open spaces.
Read more

about "Organic Modern Style for Every Budget"