April 13, 2020
Top 10 Storage Pieces
Having trouble fitting all your things into that one closet in your bedroom? Or struggling to find the perfect piece to hold your TV AND store electronics in? Storage pieces come in all shapes and sizes and each built with their own purpose. From shelving units in your home office to a shoe rack by your back door, there are an abundance of options when it comes to finding the best space saver while also looking stylish. These top storage pieces are the best of the best, the pieces that will turn your house into your dream home, without the hassle.
1. Bar Cart
Let's start off this list with one of 2020's top signature pieces, the bar cart. The bar cart has taken over homes with its functional and versatile design. The best part? They're super easy to style! Whether you place it in your kitchen or living space, the bar cart adds a stylish touch to your interior. Bar carts are a great way to accent your existing furniture, simply add your choice of beverage, place it up against a wall with some wall décor, and watch as it transforms your home into a chic, home bar.
2. Hutches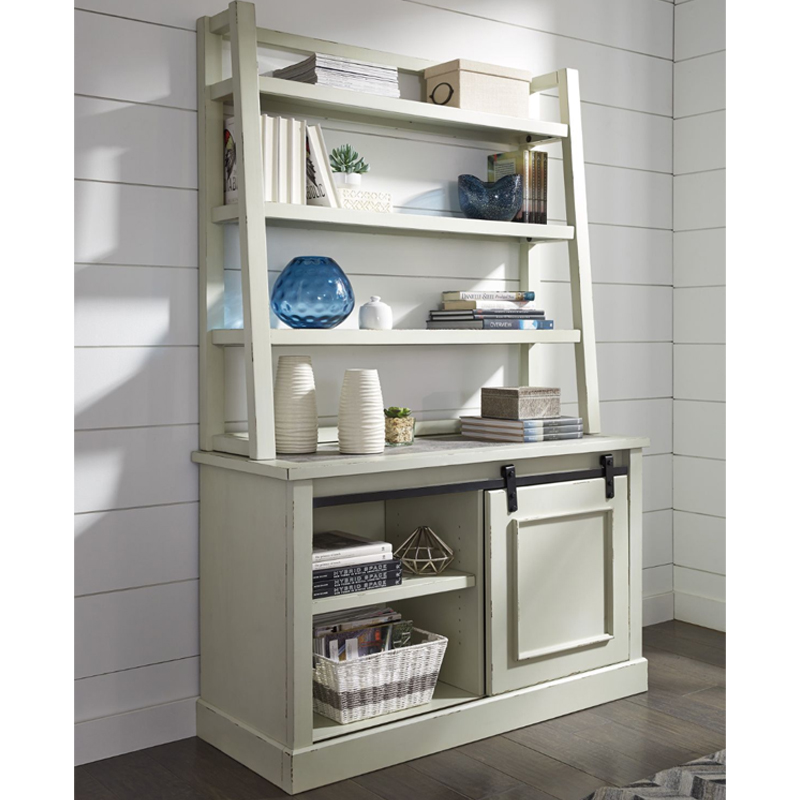 Ashley Jonileene Cabinet & Hutch
A hutch is a storage piece that can be paired with existing furniture like a dresser, desk, or cabinet. The design of a hutch usually has a shelving unit or cabinets and can be attached or removed without hassle for coinvent storage. Place this piece in your kitchen to store dinnerware, or in your office to store books, or in your living room with décor! No matter the place, no matter the style, a hutch can truly transform any room.
3. Sofa Tables
Int'l Furniture Pueblo Black Sofa Table
Looking for more surface space with storage? A sofa table is a common furniture piece placed behind the open back of a sofa or sectional. Simply utilize its drawers and shelves to stow away blankets, board games, mail, and more. A common trend hitting the internet are sofa table bars and desks. Add some stools or dining chair to your sofa and you've got yourself an additional place to eat or study. These are great for small spaces like apartments if you don't have room for a dining table or desk.
4. Etagere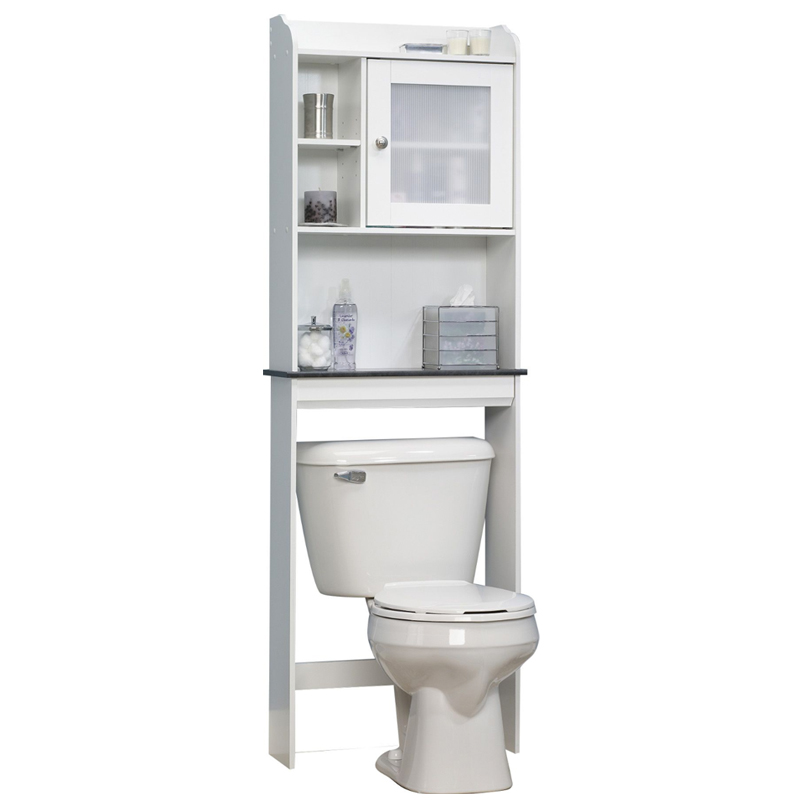 Sauder Caraway Bathroom Etagere
An etagere is an open shelving unit that displays décor, however, how about using one in your bathroom? A bathroom can be the most cluttered room in your house: drawers filled with toothpaste, cabinets filled with bathroom cleaners, and makeup spread across countertops. An etagere can store all these items without taking up any space! Place it behind your toilet and fill it with bathroom essentials so you can save the drawers and cabinets for bigger, more important things: extra toilet paper.
5. Storage Beds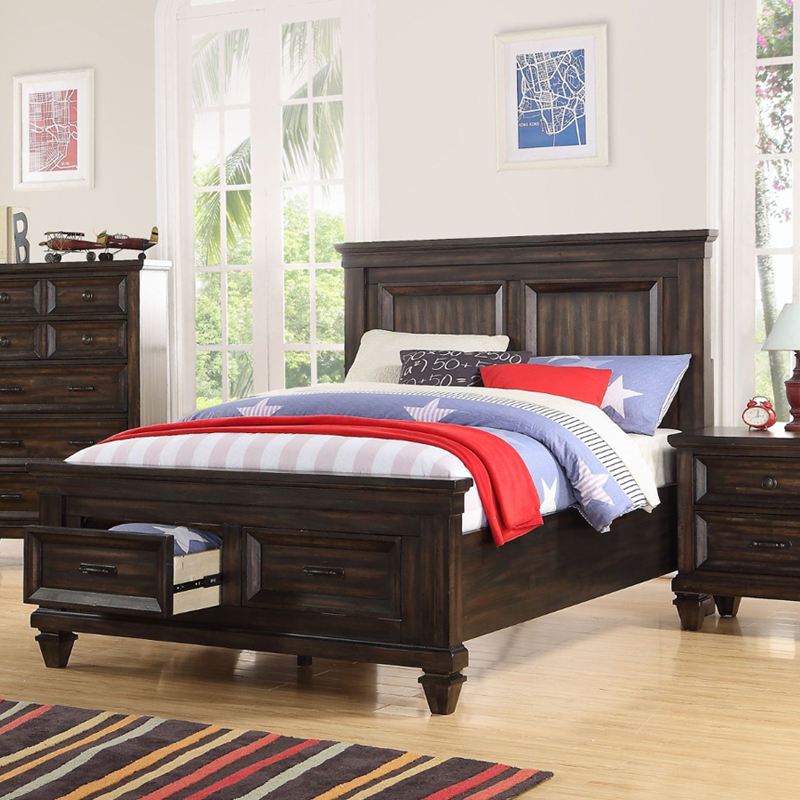 New Classic Sevilla Full Storage Bed
Storage beds are all the rage right now, especially in kids' room. What better place to store toys or extra blankets than in a deep, smooth-gliding drawer under your kids' bed. Not only does this save space in your child's bedroom but also saves storage in other furniture that need it most. No more stuffing batman in dressers or tucking blankets in closets, save those pieces for the many, many clothes you buy your child. Besides, with all the space under your child's bed taken up by drawers, it leaves no room for monsters to hide under. Check out storage beds for both adults and kids!
6. Benches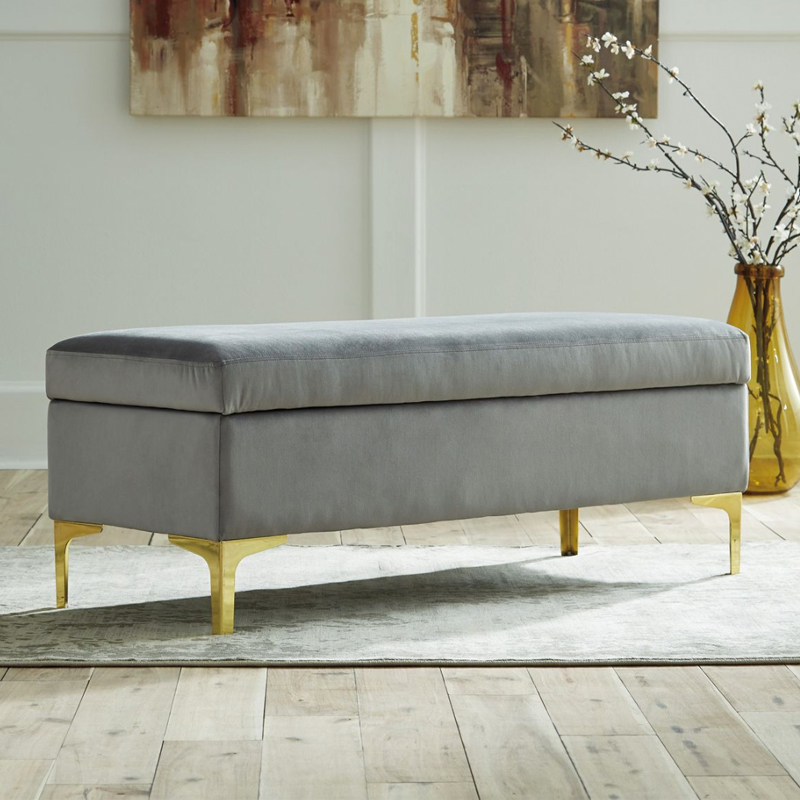 Ashley Bachwich Storage Bench
The storage bench is a multi-purpose solution to your storage needs. It is a flexible storage piece that can literally go anywhere and look good. Try it in the living room as a coffee table, or in an entryway as an ottoman. Whatever you chose, you can't go wrong. A personal favorite is to place it at the end of a bed as a place to store throw pillows. Plus, most benches have an upholstered seat which makes them great as additional seating pieces.
7. Hall Tree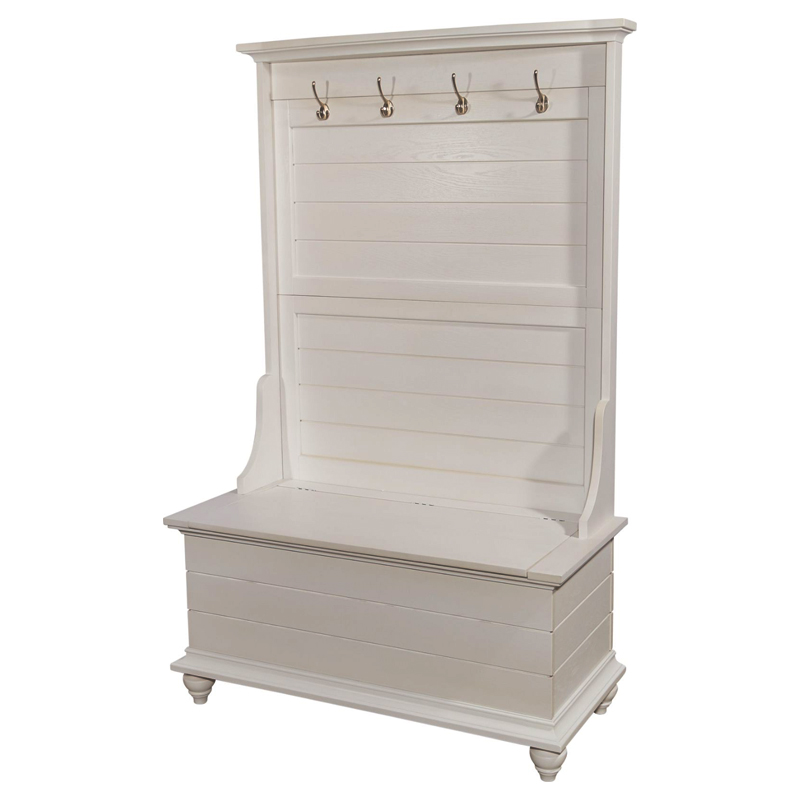 Get creative with your entryway or backdoor space by utilizing it as a makeshift mudroom! Hallway furniture can instantly transform your empty space and set a new style to your home. Multifunctional furniture pieces like this hall tree can be used to store coats, shoes, umbrellas, dog leashes, and more! No more walking through the house with muddy shoes or leaving a wet umbrella on the floor. Any by keeping your outdoor gear in one place, you'll never lose any of it again. Simple add a floor mat underneath your hall tree to create the perfect mudroom area.
8. Lift-Top Table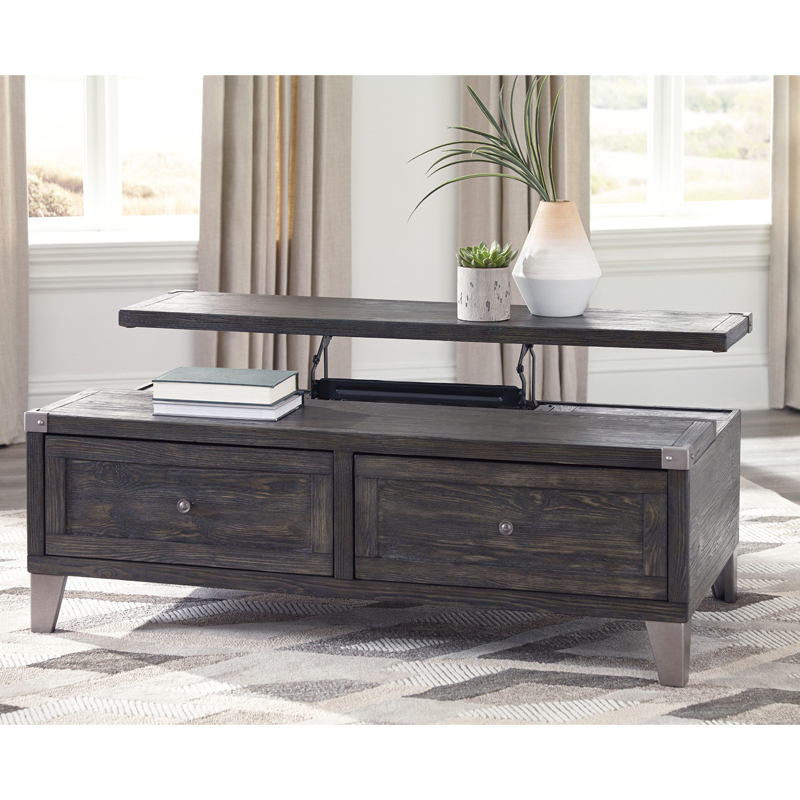 Ashley Todoe Lift-Top Coffee Table
A most recent craze of living room furniture is the lift-top table. Who would have thought that adding an extended surface that lifts up would give so much dimension to your living space? Depending on the design you chose, the lift-top table features a built-in lift-top to work as extra workspace, and you can utilize the storage area underneath to put coasters, magazines and more! Check out lift-top tables in all shapes and sizes!
9. Sofa with Console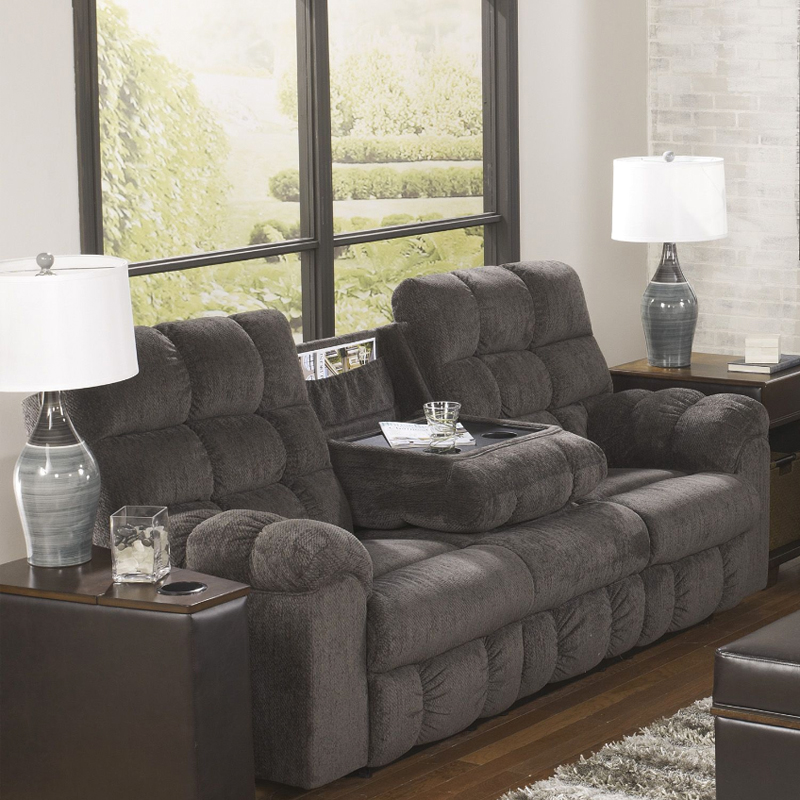 Ashley Acieona Reclining Sofa With Drop Down Table
Having a sofa with storage is life changing, the one piece of furniture you thought could never have storage finally does! The middle center of the sofa drops down to reveal a table with cup holders so you can enjoy snacks and drinks while watching TV without having to reach over to the coffee table. Simple drop down the middle console for the perfect movie spot or keep the console up and have a quick nap!
10. Baskets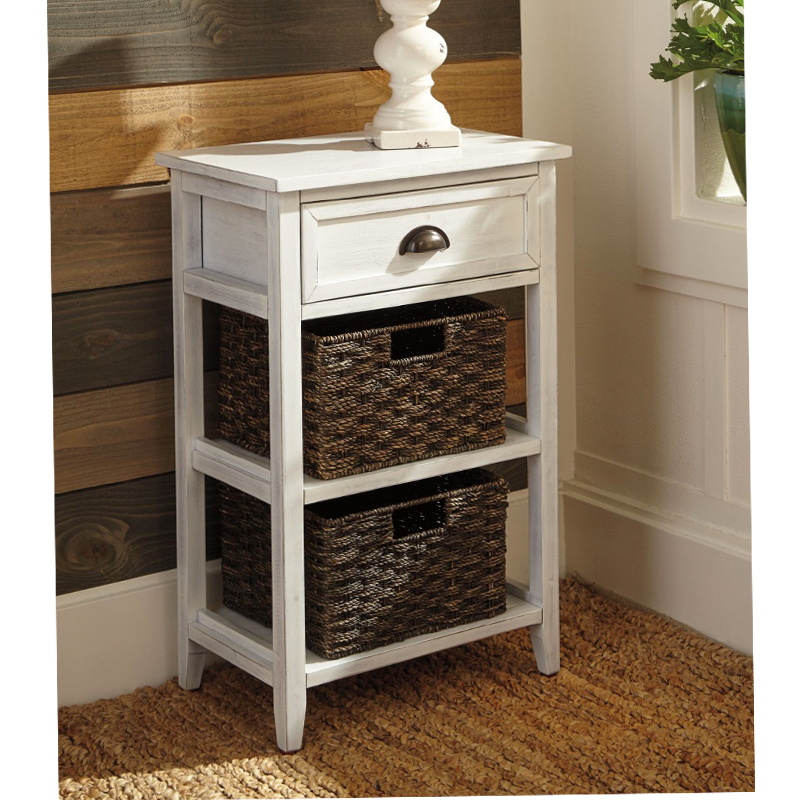 Ashley Oslember White Storage Accent Table With Baskets
It's hard to not think of baskets when storage comes to mind, their flexible, come in all shapes and sizes, and add some organization to your home. However, when paired with a table, baskets then become even more organized than you could ever imagine. Forget about leaving baskets on the floor, find an accent table with shelves so you can easily slide them in. Plus, accent tables come with extra surface space so you can style it with stunning décor!
Let us know your favorite storage piece!
Ideas + Advice
November 16, 2023
At its core, Organic Modern interior design celebrates the marriage between the contemporary and the organic. It integrates natural elements such as wood, stone, and plant life into modern spaces, creating an environment that feels fresh, natural, and inviting. Characterized by soft curves, raw natural materials and open spaces.
Read more

about "Organic Modern Style for Every Budget"