September 27, 2021
Affordable Dining Sets Under $500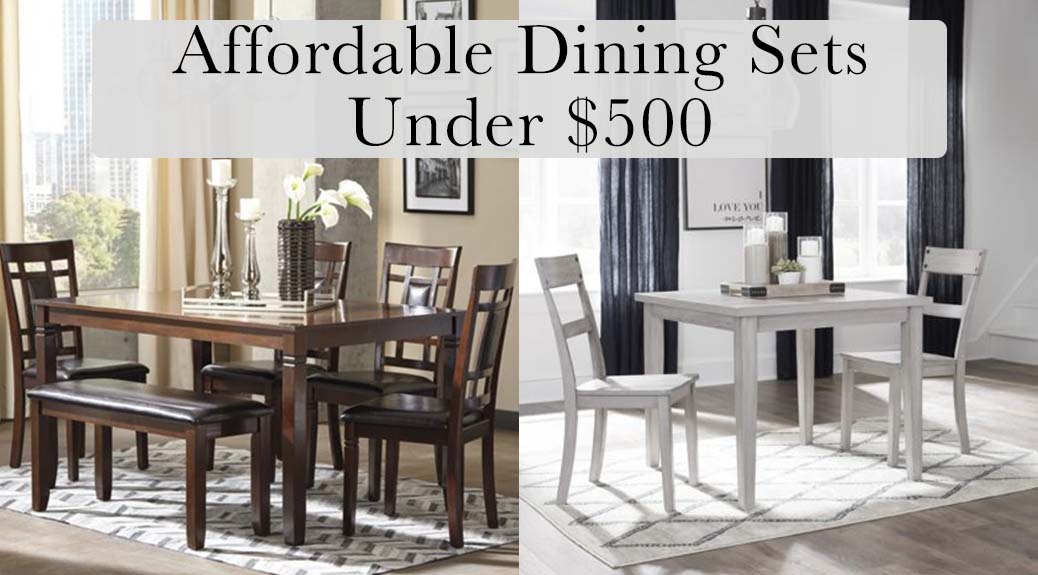 The dining set you choose for your home has a huge impact on your day-to-day living. This is the place you gather around to share mealtime with friends and family and create memories for years to come. Whether you're sharing meals with your family, working on homework or crafts with your kids, or hosting a game night with friends, your kitchen table is a go-to gathering spot in your home. Dining sets can be one of the more expensive furniture pieces in your home – but they don't have to be! These affordable dining sets under $500 will give everyone in your home a place to connect without breaking the bank.
Three-Piece Dining Sets
A three-piece dining set is a great option for someone that lives alone or with one other person. If you live in a small space or don't plan on having groups of people over for dinner often, these dining sets are worth a look. Because they only include two chairs and a smaller table, these sets are significantly cheaper, giving you many affordable options.
Five-Piece Dining Sets
Five-piece dining sets are great for almost any setting. They don't take over most smaller spaces, but they are still large enough to fill up most dining rooms and eat-in kitchens. While they all come with a table and four chairs, their layout can vary. Tables in five-piece dining sets are commonly round, square, or rectangular, so you can choose which shape best fits your space.
Seven-Piece Dining Sets
Choose a seven-piece dining set if you need a large space for your family or plan on hosting dinner gatherings frequently. Since these sets come with six chairs, the table is also larger than that of a three- or five-piece dining set. This makes them perfect for a large home, but may not be a great choice for smaller spaces. Despite the larger table and increased seating, there are still plenty of affordable seven-piece dining sets to choose from!
Dining Sets with Benches
Some kitchen dining sets include a bench or two in place of chairs. These give your space a more relaxed and casual look, along with the ability to hide the bench under the table in many cases. A bench will be able to fit more people than chairs taking up the same amount of space will, especially for children. Benches can be included with dining sets of all sizes.
Drop-Leaf Dining Sets
If you live in a small space or want to be able to condense the space your dining set takes up when not in use, a drop-leaf dining set is for you. Because these are made for those with smaller spaces in mind, they tend to be very affordable dining sets. They typically come in either a three- or five- piece set, with two or four chairs.
Counter-Height Dining Sets
Counter-height dining sets have grown in popularity over the past few years, thanks to the more casual atmosphere they provide for your kitchen or dining room. Compared to a regular dining set, counter sets are six inches taller. While this may not seem like much, it makes a huge difference when you're sitting down at the table. It's much easier for a group to gather around counter tables, even while standing, but a traditional dining set may make more sense for formal occasions.
Build Your Own Set
While buying a dining set ensure you get a table and chairs with a matching aesthetic, you always have the option of buying a table and seating separately to create your own set. This gives you near-infinite customization and the ability to pick and choose specific features that matter to you. It can also be an affordable option since mixing-and-matching tables and chairs lets you pick out individual affordable pieces.
Choosing the right dining set is an important part of furnishing your home, and there are plenty of options that are stylish, affordable, and able to fit your needs, no matter what they are. Whether you need a small three-piece dining set for your studio apartment or an expansive seven-piece dining set to fit the whole family, there's an affordable dining set out there for you.