First Apartment Furniture Essentials List
So, you're ready to buy grown-up furniture for your very first apartment. It's time to ditch the shower caddy and bunk beds. Get ready to upgrade your living space! To help you transition to your very own apartment, we've made a first apartment furniture essentials, collected tips and put together some design ideas for you to check out.
What Furniture Do I Need for My First Apartment?
Furnishing your first apartment takes more than just some nice decorations. You're creating a new home that's entirely you. That means a new area rug that reflects your favorite colors, a mattress that fits your sleep style, and accessories that showcase your unique style. We've put together a list of 10 first apartment furniture essentials to help you get started.
Say goodbye to your futon and hello to a new grown up sofa. If you want to save some space, get an apartment sofa. It's typically a little larger than a loveseat but smaller than a full-size sofa and won't take up as much room if you're working with less space. If you want a sofa that's multipurpose, a sleeper sofa also works great for an apartment because it doubles as a sofa and an extra bed for guests when they stay over. Now that you have an apartment, you'll be hosting more friends and family. A sofa is a great seating option to allow you and your guests to hang out and feel comfortable.
Now that you have an apartment, you might have guests who want to stay the night. A great first apartment furniture essential is a sleeper or sofa bed. These pieces give the look and feel of a sofa but pull out into a bed. They're a great multipurpose piece for those who want to save on the number of items they have in their apartment while still being able to have everything they need.
Add a chair or recliner to complete your living room. Extra seating is a first apartment furniture essential for hosting any get-together. Whether you're hanging out with friends or kicking back to relax for a movie night, you'll have all the seating you need.
A coffee table is a good center piece for your living room to hold remotes, drinks, magazines and décor. Depending on your space, you can choose a size and style to suit your needs. Go with something small that holds only the essentials to maximize your space or choose something larger that you can add a decorative center piece to for added personality in your apartment.
A new mattress is one of the most important first apartment furniture essentials. Thankfully, it's time to get rid of the twin size mattress from college and upgrade to a comfortable full or queen (or king if you want to go all out). Get a mattress that supports your body so you can sleep better at night. Pro tip: make hauling your mattress up apartment stairs easier by bringing home a mattress in a box!
A headboard and footboard are not only a great focal point of your bedroom, but they serve a purpose. No more laying your head up against the wall anymore! We even carry storage headboards and platform beds with built-in drawers to maximize apartment bedroom space.
Your dorm probably provided you with some sort of closet or dresser space to put your clothing. You'll want to get your own dresser now to store folded clothes. You can get dressers that compliment your bed and style, or entire bedroom sets that match. You'll also want nightstands. Whether you're just doing one side of the bed or both, you'll want a nightstand that can hold a lamp, drinks, your phone and whatever else you like to have beside your bed. Choose one that complements your room or one that matches your bed and dresser.
We're counting this as one, because you can't have one without the other. Add a desk and chair to your apartment for a nice workspace area. It can be hard to spread out and work on your couch or at your counter, so a desk is a great option to have a removed and focused space. If you want a desk that doesn't take up a lot of room, we have great writing desks that are perfect for an apartment.
Now that you have an apartment, you'll want a TV stand or console to organize your media space. This makes it a lot easier to store DVDs, remotes, gaming stations, controllers, cables and wires all in one place and keep it looking nice. You'll want a neat area to entertain guests, so a TV stand is definitely a first apartment furniture essential.
You're probably used to eating on your bed or futon, but those days are definitely over! Adulting means you get to upgrade to a dining room set. Go with a 5-piece set to host friends or a smaller 3-piece set to save space. But you'll definitely appreciate having a table to sit at. Plan to use your countertop or an island? Grab 2-4 bar stools instead!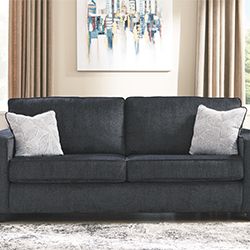 SOFAS UNDER $500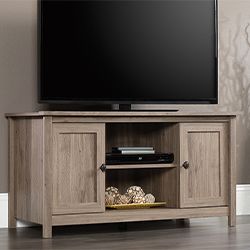 TV STANDS UNDER $200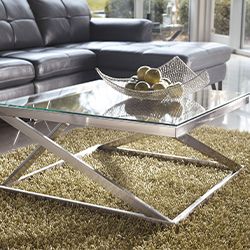 CHIC COFFEE TABLES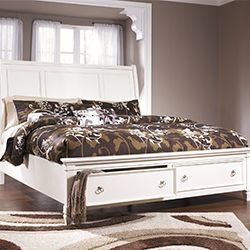 STORAGE BEDS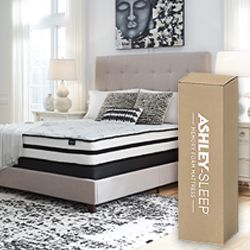 MATTRESS IN A BOX
3-PIECE DINING SETS
How Do I Furnish My First Apartment on a Budget?
Furnishing your first apartment can be really overwhelming. Where do you start? Where do you spend more money and where should you save? We're here to give you tips on how to furnish your apartment and save money at the same time.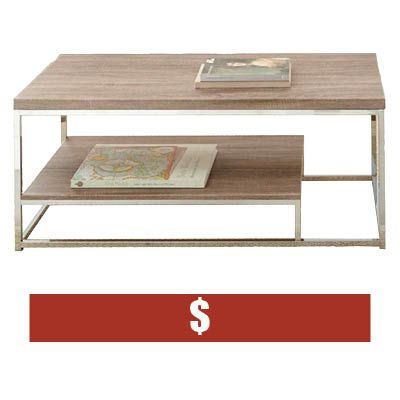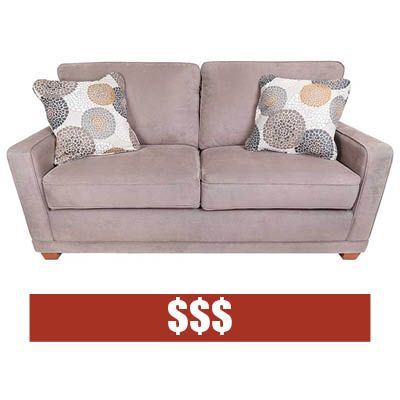 Save: Coffee Table
Splurge: Sofa
Sofas are often utilized a lot; watching TV or hanging out with friends. While it's nice to have a coffee table, it doesn't have to be top of the line to be just as functional and stylish. Save some money on the coffee table so you can splurge on a sofa. It's one of the main focal points in your living room and since it's a highly used furniture piece, you'll want something nice that lasts.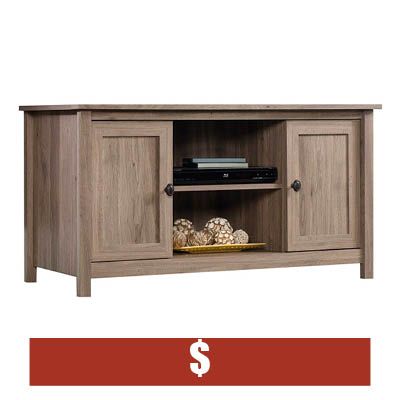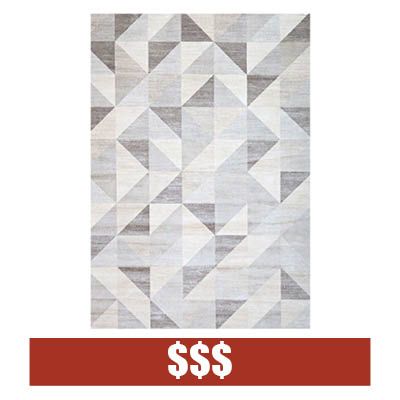 Save: TV Stand
Splurge: Area Rug
Your apartment doesn't have to have a huge entertainment center or TV stand to look nice. Something small and simple that organizes your media space works just as well. Save a little there and splurge on a nicer area rug for the living room. Since it tends to be a high traffic area, you'll want a rug that can hold up. A cheaper area rug won't last as long, and the colors will fade as well.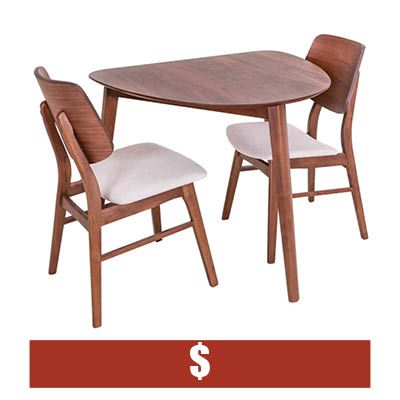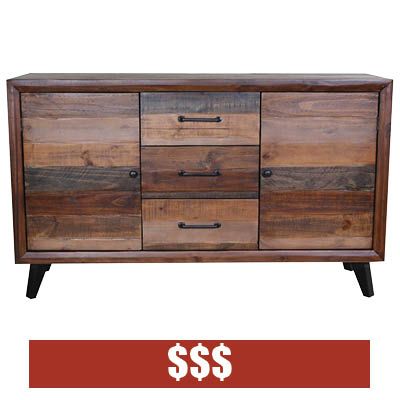 Save: Dining Set
Splurge: Buffet
Apartments are not famous for having a ton of space. So, save a little money on your dining set and go with a smaller 3-piece option that suits your apartment better. Spend more money on a buffet to organize your kitchen and give you a little more counter space along with storage.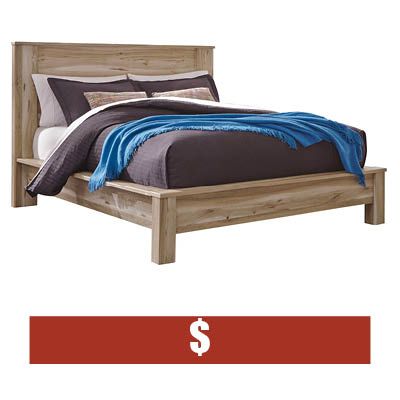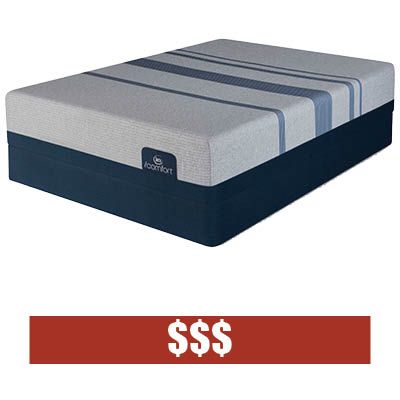 Save: Bed
Splurge: Mattress
While you should love your bed as much as the rest of your furniture, you should love your mattress even more. A mattress is a big investment and they typically last around eight years, so splurge on a nice mattress that feels comfortable to you. You're investing in quality sleep, so choose a mattress that gives you the right support and fits your firmness liking. A mattress that doesn't suit your needs can cause back pain, neck pain and hinder the quality of your sleep. We spend a lot of time sleeping, so choose a mattress you love.

Who says you can't make your first apartment stylish on a budget? Hm Outlet is a store-within-a-store at Homemakers that's stocked with stylish and trendy furniture from brands you know and love. It's budget friendly so you can furnish your entire apartment with all the pieces you want and need. Hm Outlet makes it easy to shop and save!
How Can I Decorate My New Apartment?
Your first apartment is a blank slate. It gives you a canvas where you can discover your personal style and decorate your living space however you want. Whether you love a clean, contemporary look or you're more of a mix-and-match eclectic person, we have apartment furniture and décor for every style and taste.
Watch our designer, Zach, accessorize one sofa in three different styles. You might find some inspiration from one of these looks and learn how to update an entire room design, piece by piece.
Beyond just finding your style, you have to know what kind of décor to choose, how to lay out the room to maximize the space and how to pair furniture, décor and accessories so they go together. We've compiled some tips for you to make decorating your first apartment easier.
Arrange furniture to maximize space

Apartments aren't famous for having a lot of room, so make sure that you map out exactly where you want your furniture to go and make sure you have space for everything. Not only should it all fit, but it's also important that the furniture is arranged to provide the most amount of space and bring a nice flow to the area. Conversation flows better, it's easier to move about the room and your space looks bigger.
Take advantage of lighting

Use any natural light you have to make your living space feel larger. Don't cover windows or keep curtains open. Add lighting such as table lamps, floor lamps, and candles to open up your space and create an airy feel.
Invest in an area rug

An area rug can really pull a space together and make it feel more like home. Invest in one that goes with your style and compliments the space.
Style your surfaces

Add some visual interest to your living space with a TV stand, bar cart, coffee table or bookshelf. Mix different heights, patterns, shapes and textures to create a statement. Add décor and accessories such as a tray with succulents on the coffee table to personalize the surfaces.
Decorate your walls

Add wall art to your apartment to show your style and pull the room together. Whether you like a larger, contemporary piece or rustic galvanized metal, we have plenty of wall art to choose from. Mirrors are also great pieces to hang on a wall as they make your space look bigger than it really is.
Hm Now is a curated collection of modern and stylish furniture that is designer-inspired but suited for every budget. Simply filter by price to suit your budget and start shopping everything from sleek contemporary designs to chic mid-century modern styles. Hm Now makes it easy to shop for on-trend affordable furniture and will make your first apartment look like your favorite design catalog.
What Else Should I Know?
Want even more inspiration or design help? Hm etc. has everything you need to know for apartment living: style news, home hacks, DIY projects, seasonal décor and more! We've pulled some of the best blog posts for decorating an apartment below:
Moving into your first apartment takes a lot of planning. We've linked some great resources to help you prepare for your move and plan your apartment stress-free!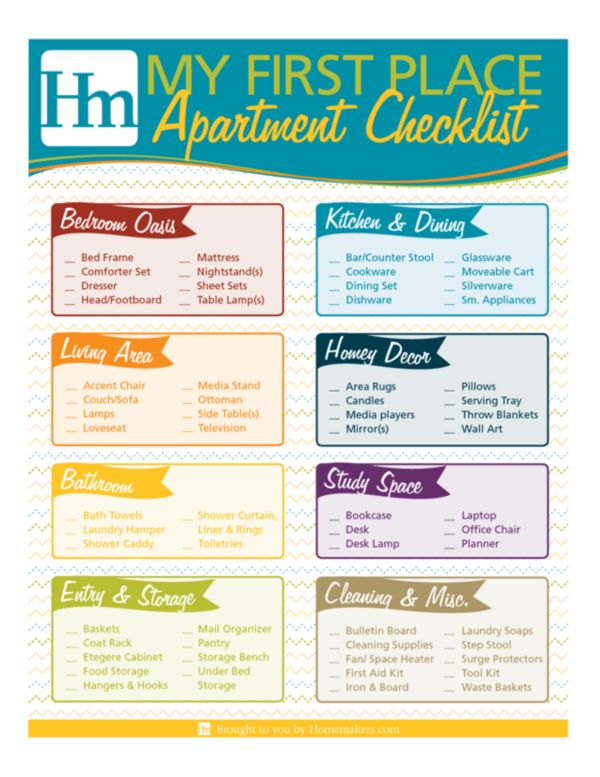 Measuring for Furniture Delivery | Good, Better, Best | Hm Room Planner