First Apartment Design Ideas
Looking for apartment living tips? Check out our first apartment series, covering everything you'll need from color schemes to furniture essentials.
So, you're leaving the dorm for your very first apartment. Say goodbye to the futon and shower caddy! It's time to step up your game. Get ready to upgrade your furniture along with your living space. To help with the transition from dorm to apartment living, we've collected practical tips on room design, furniture essentials and apartment decorating ideas. Scroll down to explore!
Getting Started: Furniture Essentials for Your First Apartment
A grown-up apartment takes more than framed wall art. It involves creating an entire home, including rugs, a new mattress, adult furniture and accessories. No more flimsy, fold out moon chairs. Start with an affordable sofa and complement it with an area rug for texture, chic end tables for functional style and home décor touches to make the room your own. Try shopping some of the categories below for curated inspiration!
Sofas Under $500 | Small Area Rugs | Chic End Tables | Storage Ottomans | Stylish Home Décor Mattresses | Modern Beds | Bar Stools Under $75 | Round Dining Tables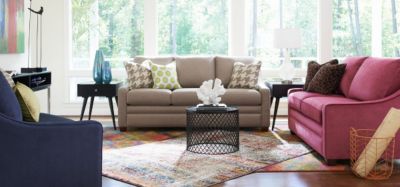 Where do I start?
Find Style and Versatility: One Sofa, Three Ways
Your first apartment is a blank slate. It gives you a canvas where you can discover your personal style. Whether you love sleek, contemporary design or mix-and-match eclectic, we have apartment furniture and decor for every taste.
Watch as our designer, Zach, accessorizes one sofa in three different styles. You'll find apartment style inspiration and learn how to update an entire room design, piece by piece. A few products used in this video are featured below, so you can shop the look for your own space! Explore all of our "How To" Videos for more tips and tricks.
How do I tie it all together?
Tie it Together with the Perfect Pantone Color Scheme
A good color palette is the foundation of a stylish first apartment. Start with one or two anchor pieces, like your Art 102 masterpiece. Then, add complementing apartment furniture and decor to balance out your color focal points.
Our visual designer, Zach, says that he recommends buying a neutral sofa and changing up pillows and other accessories frequently. That way, your higher price furniture is always in style, but you can do an affordable room refresh anytime. Browse a few of our Pantone-inspired styleboards below to get started. You can find color inspiration anytime with our Pantone color blog series. This will keep your investment furniture in style but allow for an affordable room refresh anytime. Homemakers has an entire blog series dedicated to exploring Pantone color schemes. Check out the three colors featured below or browse our blog for more inspiration. If you are searching for a lush look, try the Greenery color scheme below. For a more coastal feel, incorporate Island Paradise in your apartment design. Or, embrace Primrose Yellow and create an instant cheery look in your home.
Show me more!
Explore More Apartment Design and Decorating Ideas
Find more apartment living inspiration below. You'll discover style secrets from our designers, tricks for small space decorating and much more!