Find the Perfect Adjustable Base!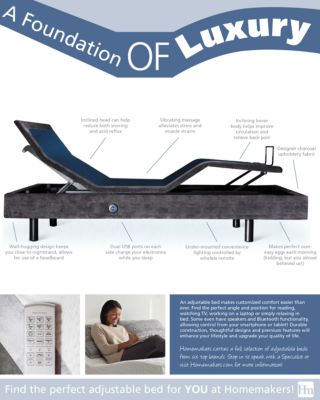 Looking for a night of better sleep? We have your guide!
If you have a hard time sleeping because of acid reflux, back problems, muscle strains or other problems then it may be time to search for an adjustable base. Discover what custom adjustments you can make to ensure you have a good night's sleep!
An adjustable base allows you to customize the comfort of your bed.
A wall-hugging design keeps you close to your nightstand, allowing for use of a headboard. Incline the head to help reduce both snoring and acid reflux or incline the lower body to help improve circulation and relieve back pain. A vibrating massage feature alleviates stress and muscle strains.
An adjustable base may also offer extra features such as dual USB ports on each side of the base so you can charge electronics while under-mounted convenience lighting is controlled by a wireless remote allowing you to adjust it whenever you need.
Choose a base upholstered in a fabric that complements the style of your room. An adjustable bed makes watching TV, working on a laptop or reading in bed much more comfortable for you. Homemakers carries a full selection of adjustable beds from top brands. Shop online or stop by to work with a Specialist!