May 01, 2017
How to Get the Modern Farmhouse Look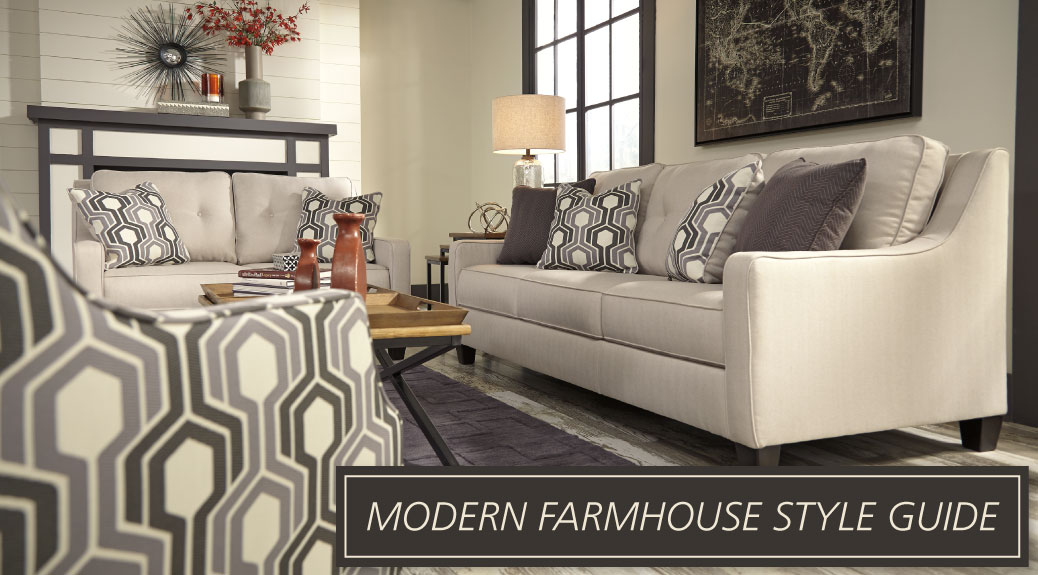 [Updated 12/19/2018]
Maybe it was the push for natural beauty. Maybe it was the sudden rise of countryside queen Joanna Gaines. Either way, farmhouse style has made a name for itself in home design and it's here to stay. We're smitten with the fresh look and welcoming feel. But, how do you incorporate this country-born style in an urban space? Keep reading and we'll show you how to create modern farmhouse style no matter where you live!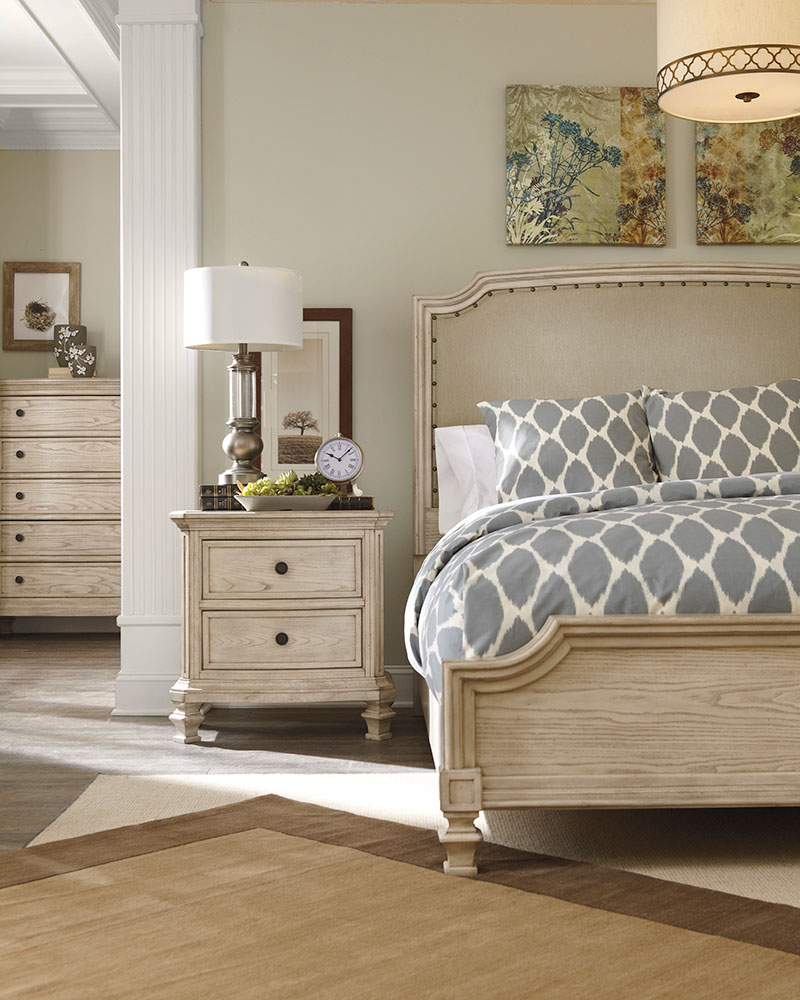 What is Modern Farmhouse Style?
Let's start with a farmhouse style overview. Guests might describe these spaces as "charming" or "homey." Think unpretentious, natural and earthy. You'll often see whitewashed woods and pastel accents in farmhouse homes, reflecting the hues of a spring meadow. In fact, we wouldn't be surprised to find some swatches from Pantone's Spring palette in one of these living spaces. In a nutshell, farmhouse style is a light and airy spin-off of country interior design.
Modern farmhouse style is an updated take on farmhouse design. It fuses laid-back charm with clean aesthetics to bring the rustic appeal of country homes into today's modern condos, houses and lofts.
How to Get the Modern Farmhouse Look
Looking to add this aesthetic to your home? Here are a few furniture and décor essentials that will instantly create modern farmhouse style in any living space.
Modern farmhouse dining table: There's no better way to gather for dinner than around a farmhouse table. Their simple design fits in any home, plus we offer

farmhouse dining tables for every budget

! Freshen your table up by pairing contemporary chairs and sleek benches. You can even add an abstract rug to modernize your farmhouse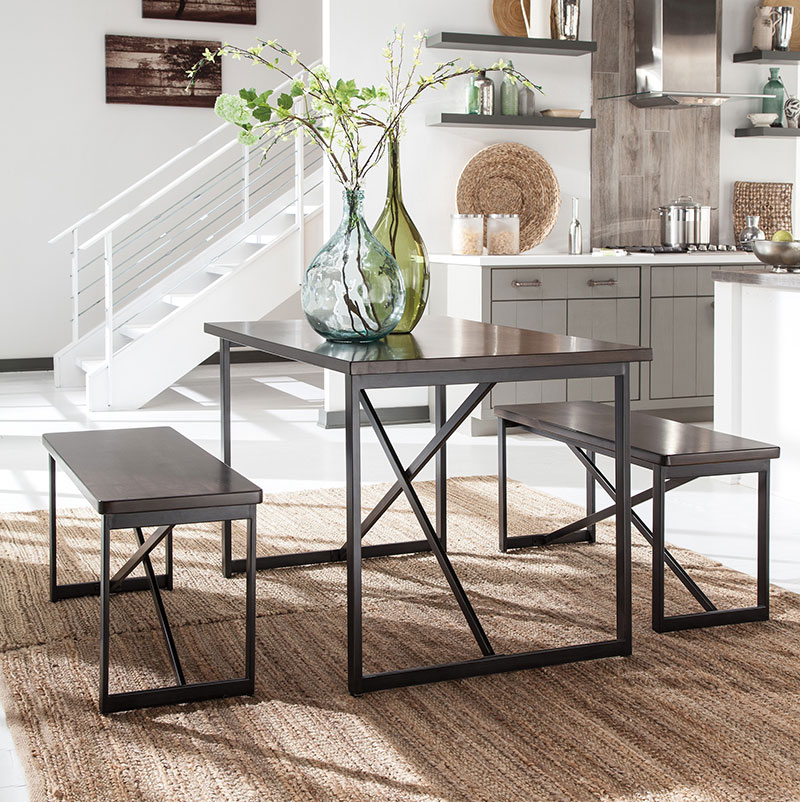 Wire mesh accents: Any farmhouse space is incomplete without one or two wire mesh accents. This modern chairside table features a wire mesh magazine slot, making it the perfect combo of rustic style and modern function.
Fresh flowers and greenery: You can make almost any type of greenery work with modern farmhouse style. A magnolia wreath will look just as fitting as a succulent bar cart. Just make sure to incorporate a generous amount of plants for a natural look.
Reimagined farmhouse wall art: Showcase your personality with a trendy twist on rural wall art. This flashy cow adds a fun pop of color to any modern farmhouse space!
Metal accessories: Metal accessories make a great addition to any modern or farmhouse space. From burnished chair legs to zinc-top tables, you can incorporate any finishes.
Sliding barn doors: You've officially entered the farmhouse club when you own furniture with barn doors. This TV stand gives you those beautiful sliding doors for a stylishly organized look.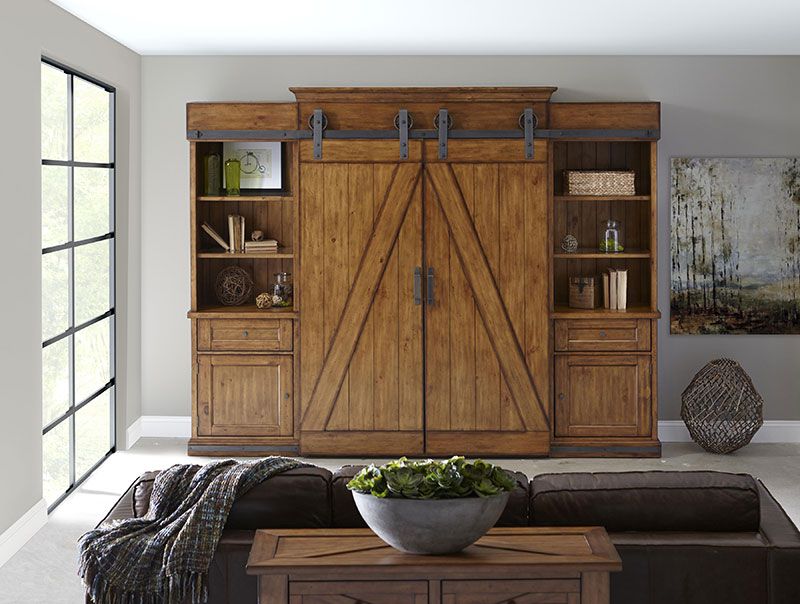 Magnussen Harper Farm Entertainment Center
Explore More Interior Design Ideas
Now that you're an expert on modern farmhouse style, explore all of our Interior Design Style Guides. From the oceanic appeal of coastal style to the relaxed tranquility of zen style, we'll show you how to create the perfect look and feel for your home.