To get a behind-the-scenes look at La-Z-Boy, watch the video below.
La-Z-Boy Furniture at Homemakers
La-Z-Boy Furniture
Shop stylish and comfortable furniture from La-Z-Boy that will last a lifetime.
La-Z-Boy is one of the most well-known names in furniture, most notably for the recliner for which the company is named. But La-Z-Boy style and quality is not just limited to recliners. You'll find endless options for sofas, loveseats, accent chairs and ottomans, just to name a few. .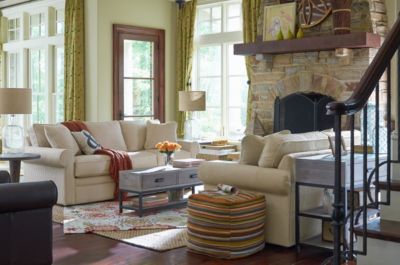 An American Success Story
The company was founded in Michigan in 1928 by two cousins who invented the first chair with a built-in reclining mechanism. They used orange crates to build the prototype that would become the famous La-Z-Boy recliner!
In 1969, La-Z-Boy began to design and sell other upholstered furniture like sofas, sleeper sofas and modular sectionals. Stationary and accent furniture were introduced in 1983 to round out the offerings you shop today.
Over the years, the La-Z-Boy portfolio grew to include other quality furniture brands, including Hammary Furniture and England Furniture.
Today, corporate headquarters are still based in Monroe, Michigan. La-Z-Boy furniture is assembled right here in the U.S.A. and most parts and materials are manufactured here as well. The company has grown to include five U.S.-based plants, six distribution centers and more than 300 stores nationwide.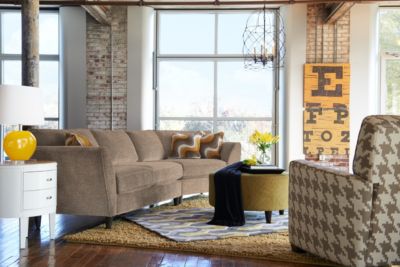 Social Responsibility
Mindful of its environmental impact, La-Z-Boy has taken steps to reduce its carbon footprint. This includes waste reduction through recycling and improved management of materials. Reduced energy use and water consumption have also been effective in conservation efforts. More than 120 stores have also committed to reducing their carbon footprints.
La-Z-Boy is the official furniture provider of Ronald McDonald House Charities, a nonprofit that provides housing and care for families with children in the hospital. La-Z-Boy furniture makes these homes comfortable places for families going through difficult times.
What began as an innovation in the world of home furnishings has since become a global brand. For more than 90 years, La-Z-Boy has crafted high-quality, comfortable furniture that will last a lifetime.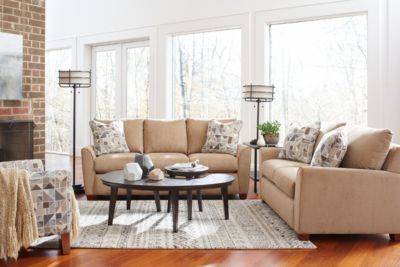 –––––––––––––––––––––––––––––––––––––––––––––––––––– SHOP LA-Z-BOY FURNITURE BY CATEGORY ––––––––––––––––––––––––––––––––––––––––––––––––––––