Building the Ultimate Man Cave at Homemakers
CLICK BELOW TO START EXPLORING!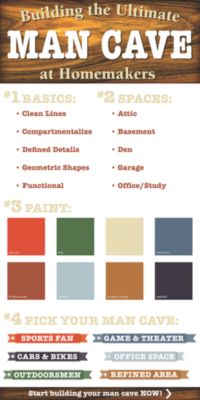 Ready to start building the perfect man cave? Use our step-by-step guide!
There so many style and furniture options when it comes to creating the ultimate man cave, who knows where to start? Homemakers! We put together an easy-to-follow plan for a stylish man cave.
There are four basic components for styling the ultimate man cave: style, space, color and theme. A man cave is space set aside solely for relaxation and hobbies. It's a retreat and private space that should reflect you and your style. We made it easy to start building your own with this step-by-step plan.
STEP 1: What will your basic style be? Are you a clean lines minimalist or a defined details maximalist? Maybe function is most important to you and everything should be multipurpose.
STEP 2: What space will you be in? A dark basement or a drafty garage? Perhaps a cramped attic? Measure your space and plan what will fit and what décor will brighten up a dark space or warm up a cold one.
STEP 3: What colors will you paint the room? A bright eye-catching red-orange with accents of rich brown or a stormy blue with accents of soft stone? You can set the tone with one central hue and then add in accents of contrasting color that can also tie in to wall décor and accent pieces.
STEP 4: What will your décor theme be? Is your man cave a dedicated gaming and theater space? Or will it be a place to watch every game and display sports memorabilia? Choose an overarching theme (or blend a couple!) and work within that idea to choose décor, accessories and accent furniture.
Stop by the store to work with a specialist or shop online to start building your own man cave!