March 29, 2018
Home Hacks: How to Arrange Furniture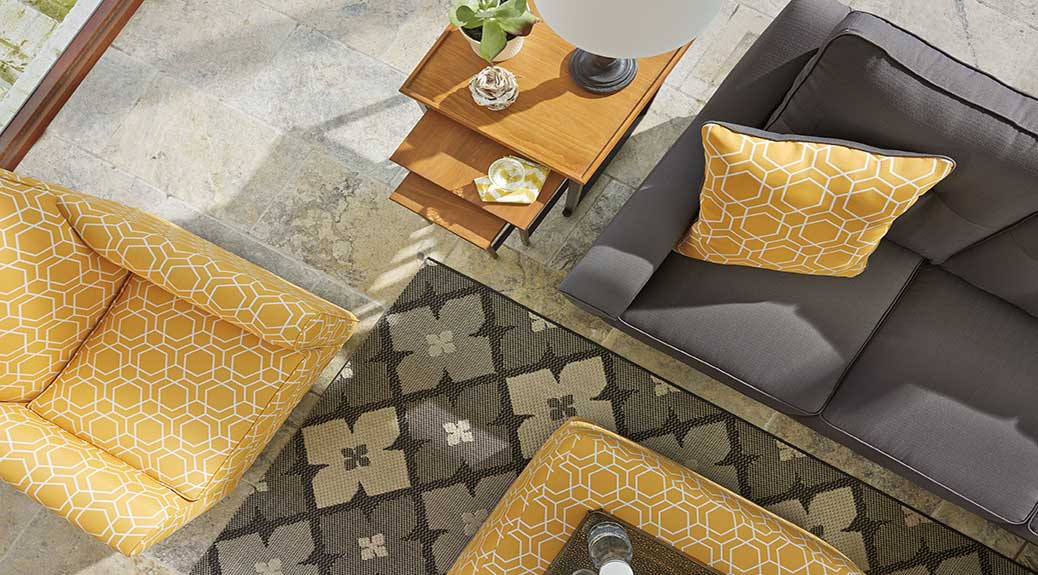 If there is anything HGTV has taught us (beyond the wonders of shiplap and open concept floorplans), it's the importance of the way a room is arranged.
It doesn't seem that difficult on paper but arranging the furniture in a room makes a huge difference in the way you use it. Conversation with family and friends flows better, it's easier to move around the room with clear paths, an unusual construction feature can be minimized or maximized, just to name a few examples.
We're going to dive into some of the basics when it comes to planning and arranging the furniture in your home. Then we'll be ready for an HGTV show!
How to Arrange Your Dining Room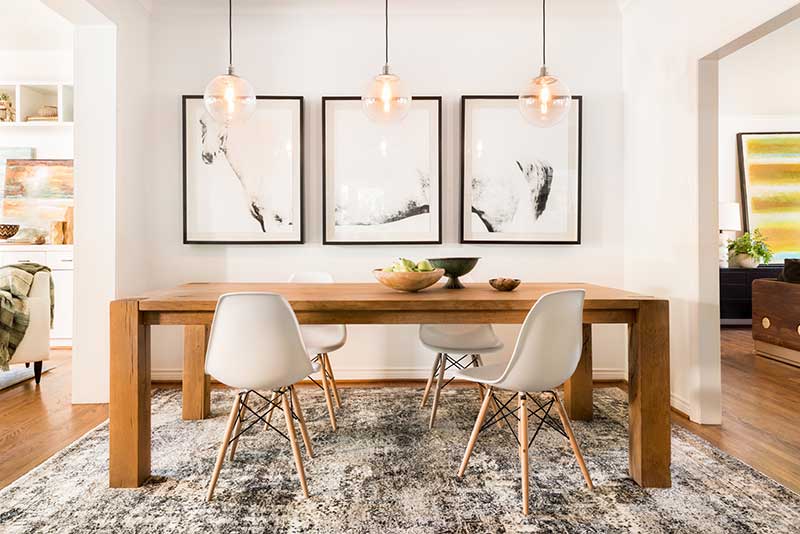 Dining rooms are pretty straightforward, right? You just add a table and some chairs and call it a day, right? Not everyone has an easy dining room to arrange.
1. Table Shape
Keep the shape of your dining room in mind when you're shopping for a new table.
Small dining rooms = round or square table
Long dining rooms = rectangular or oval table
If your dining room is small, a round table will open up your line of vision and make conversing with others easy. A big room can easily accommodate a long table with extra leaves for seating space.
2. Seating
A good rule of thumb is to leave at least 36 inches of open space between the dining room table and wall.
Center your dining room furniture to allow room to walk around the table.
Use a banquette to shake up the style of your seating. A banquette is also a good choice if you do have to place seating against the wall.
3. Room Orientation
If you have a large dining room, simply placing a table and chairs in the center can make the space feel stark and empty. Enter accent furniture for your dining room! Buffets, hutches, servers and other accent pieces are great for storing flatware, dinnerware and linens. They also serve as extra surfaces for family-style dinners and parties.
An area rug will delineate your space and add color and design. Add fun lighting to add a splash of style. An eye-catching chandelier or modern light fixture is an easy way to make a space look chic without taking up precious square footage.
How to Arrange Your Living Room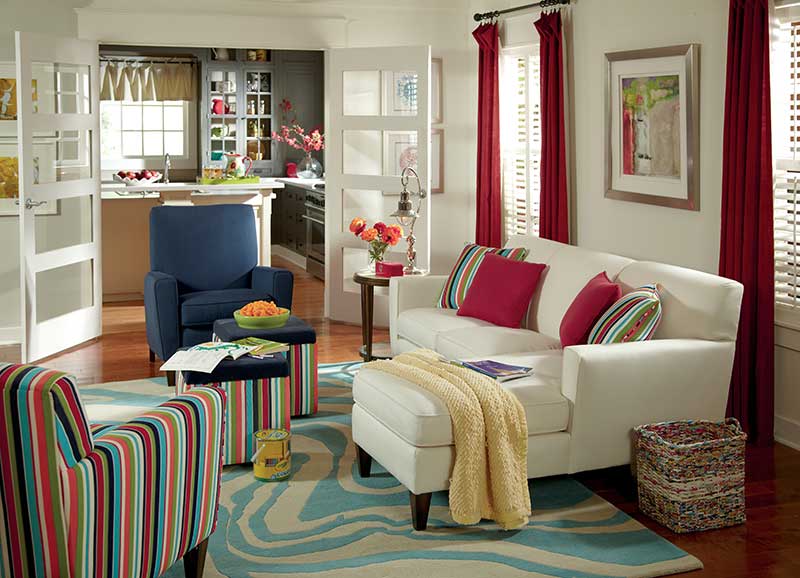 There are four main aspects of a living room to keep in mind:
A focal point
Traffic
Entertaining
Room size
Focal Point
Does your living room have a fireplace? Windows looking out on a great view? Maybe just the television? Find the view or design element that will anchor your living room. This serves as a good starting point for arranging the rest of the room. If you have a fireplace, structure your seating around it. If your living room is also the entertainment area, then the TV is your anchor.
If you have all of these potential focal points and can't choose one, just center your seating in the middle of the room.
Traffic
The layout of the room needs to handle the flow of traffic. If you have a shotgun-style home and you have to walk through the living room to get to the kitchen, it makes sense to leave the natural walkway free. If you have an open concept floorplan and a little too much open space, creating walkways with your furniture would help structure the space.
Entertaining
What do most of us do in a living room? Socialize! So, it makes sense to arrange your seating together if you spend a lot of time with friends and family in your living room. That's not to say you can't place an accent chair strategically by itself under a window. Just don't expect to have any meaningful conversations with anyone sitting in it when you're across the room on the sofa.
Always have a hard surface accessible from every seat- ever been to someone's house and not had a place to set down your drink? It's awkward and saves you from possible spills if people decide to just set their drinks down on the floor (don't invite them back if they do this).
Room Size
Considering the size of your living room may seem like a no-brainer…and it is. But using the size and shape of your room wisely can make all the difference in arranging a living room.
Small living room
Avoid oversized furniture that will take up too much of your valuable square footage. Long, lean pieces will keep the room from feeling cramped. Preserve floor space by putting as much up against the walls as possible- remember your traffic flow!
Large living room
If you have a large room, don't cluster your furniture together! Take advantage of the space to create multiple arrangements around more than focal point. Put your sofa and comfiest furniture in front of the TV and the nicer accent pieces in front of the windows.
How to Arrange Your Bedroom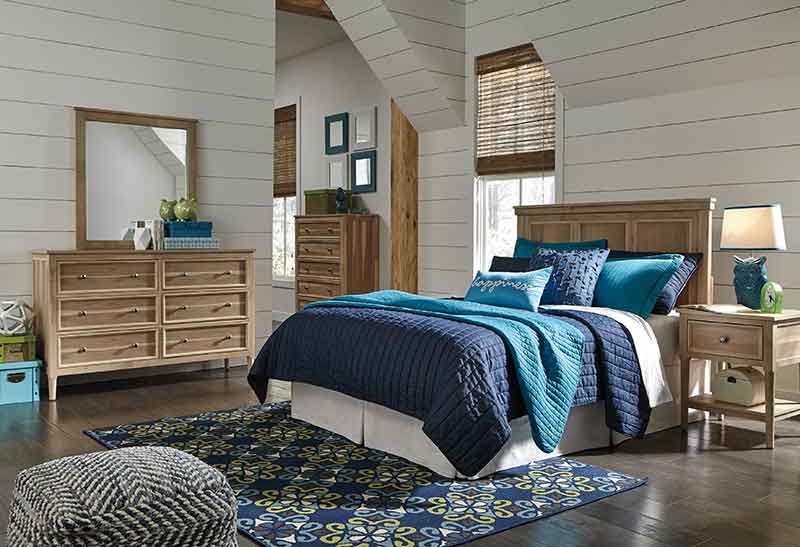 Your bedroom should be a reflection of your personality and space. This can be difficult if you're having trouble figuring out the perfect layout to fit all of your furniture.
Keep these elements in mind for arranging a bedroom:
Natural light
Furniture placement
Multipurpose furniture
Natural Light
Why have natural light in your bedroom?
Studies show that exposure to more natural light than artificial light makes you more productive, boosts your Vitamin D levels, staves off depression and even makes you sleep better. Natural light regulates your circadian rhythm which regulates your sleep patterns- more natural lights means better sleep!
Take advantage of any natural light your bedroom may get. Even if you like to use blackout curtains to prevent waking up with the sunrise, put your bed near the window. If you have a work desk in your bedroom, place it by the window and eliminate the need to use a lamp during the day. Do not block the windows with tall furniture like dressers.
Furniture Placement
Once you fill your bedroom with the furniture essentials- bed, dresser, nightstand- you may find you've already filled up most of the room. The secret to putting it all together without making your bedroom feel cramped or cluttered? Play with proportions!
Even though the bed is the most important part of the bedroom, it does not have to be the largest piece. Unless your heart is dead set on that California king, choose a bed that actually fits your space without dominating it.
Steps for ideal furniture placement:
Place your bed first since it is the focal point- preferably on a wall with access to both sides.
Arrange your furniture from largest to smallest. For big pieces like dressers and armoires, go up instead of out if you need to save space. A tall chest will take up less square footage than a dresser. If your closet is big enough, you can always put your dresser there and save the floor space.
If you need extra seating, be wise about where it goes. A bench always looks good at the foot of a bed, but will it block your walkway?
Add all the accent furniture you want, just make sure you're not cramming too much into one space.
Multipurpose Furniture
Wondering how you can keep your bedroom clear of extraneous furniture? Use as much multipurpose furniture as you can. Find a low dresser that can double as a nightstand. Storage ottomans can hold blankets and serve as an extra seat. Still looking for extra storage space in a small bedroom? Get a storage bed! If you don't have a lot of clothing, that can also serve as your dresser. Instead of a bookcase, get a headboard with built-in shelving.
There is a lot of creative furniture that serves more than one purpose. Fill your bedroom with them to save space and optimize your layout!
---
A good tool to use when planning the layout of a room is a virtual room planner. The Homemakers room planner is free and easy to use and gives you access to just about everything we carry! It should be easy to build your dream layout now that we've shown how to arrange furniture!