March 02, 2020
How to Organize Your Kitchen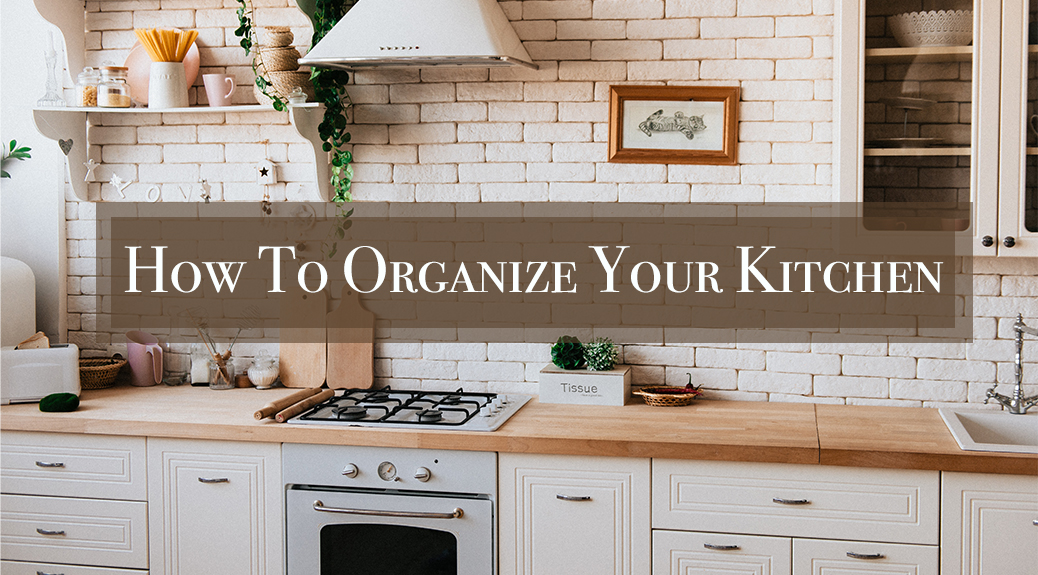 [Post updated 10/27/16]
---
It can be overwhelming trying to organize your kitchen. Searching endlessly in cupboards, trying to find the right lid to fit the right container; trust me we've all been there. With this guide, you'll find the best ways to organize your kitchen cabinets and optimize your space with kitchen storage furniture. With a little elbow grease and dedication, your kitchen will be looking brand spanking new! Follow this guide so you can learn how to organize your kitchen and turn it into a space where you enjoy cooking.
Prepare Your Pantry and Cabinets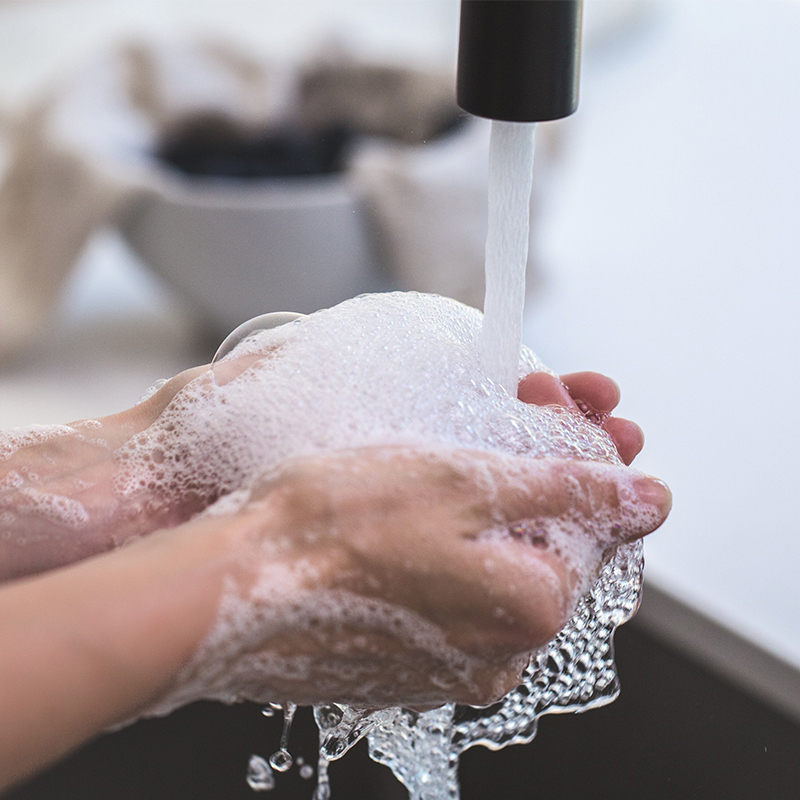 We can't get organized without making a little mess, right? Before you start organizing, pull out all your items: food, bowls, mugs, etc, onto the countertop. Then break them into categories: keep, donate, recycle, and trash. Anything you deem unnecessary to your kitchen space, consider tossing it into the donate, recycle, or trash pile. Remember, we love being green, so consider recycling or donating before throwing anything into the trash pile.
After you've organized your items into piles, go ahead and wipe down the insides of all your cabinets, pantry, and fridge. If you haven't intensely cleaned your kitchen in a while, go ahead and scrub them down and give them a really good deep cleaning.
Organize Your Cabinets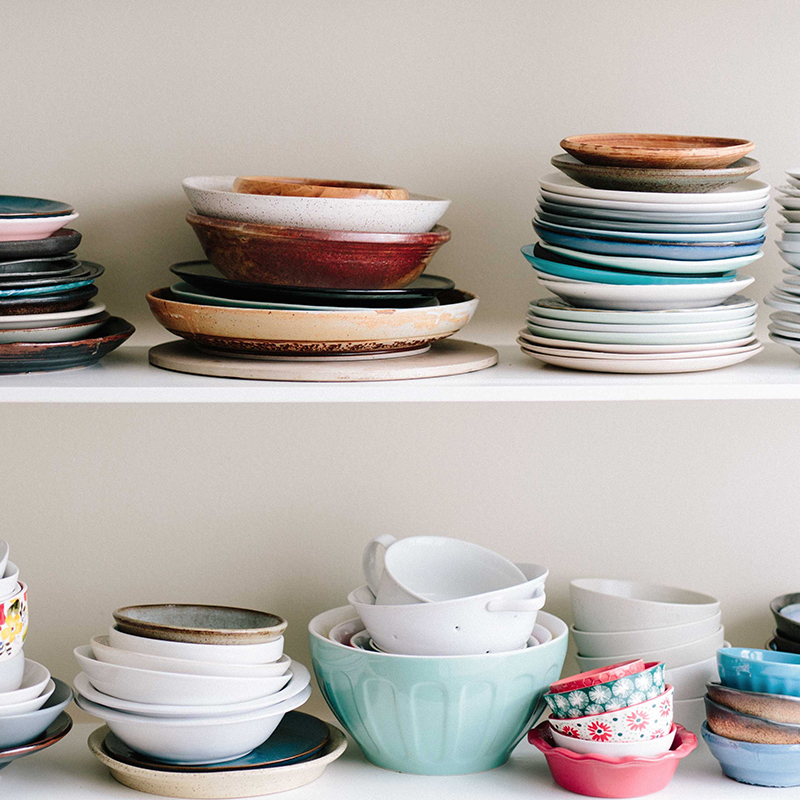 It can be tricky trying to find the best ways to organize your kitchen cabinets. Finding the perfect place to store your dinnerware and kitchen items depends highly on your preference, your style, and what items you use frequently.
To start, make sure all the plastic tupperware containers you own have a lid. This is your first priority and is crucial to your sanity. Joking….kinda. Then assign each cabinet a purpose; which cabinet will hold what. For example, place all drinking glasses together in one cabinet, all plates and bowls into another, utilize drawers for smaller items like utensils, and place pots and pans in a separate cabinet. Making sure your dinnerware is organized and at arm's reach will make cooking quick and efficient.
Baskets, Bins and Drawers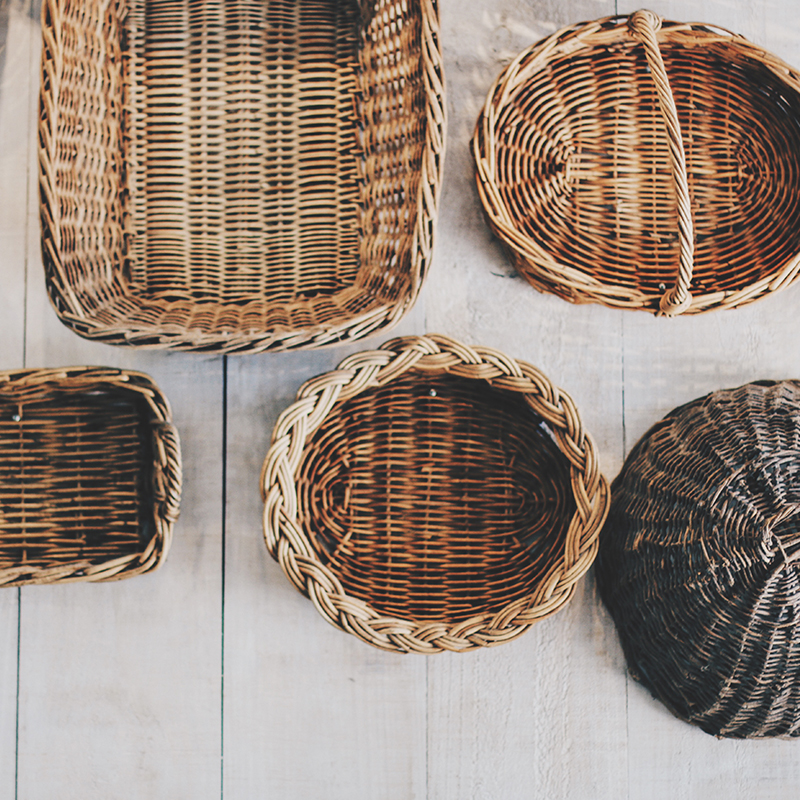 One of the best ways to organize your kitchen cabinets is with baskets, storage bins or pull-out drawers, depending on your style and space. You can use baskets for dish cloths, utensils, bowls, and more! They are a great way to store items and can easily slide in and out of cabinets and/or pantry shelves. This will help keep your items organized so you can eliminate wasted space and optimize storage.
Hanging Items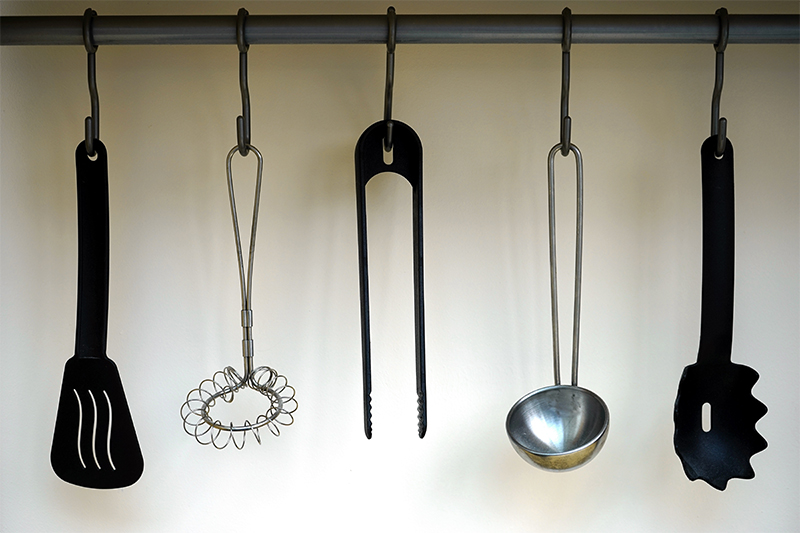 Add dimension to your space by hanging items like spatulas and ladles on the inside of your kitchen cabinets. You can use any type of hook or rack to give your kitchen space an art-inspired look! With this trick, you can keep your kitchen cooking necessities at arm's length. Better yet, you'll no longer spend time stuffing large utensils into drawers!
Organize Your Pantry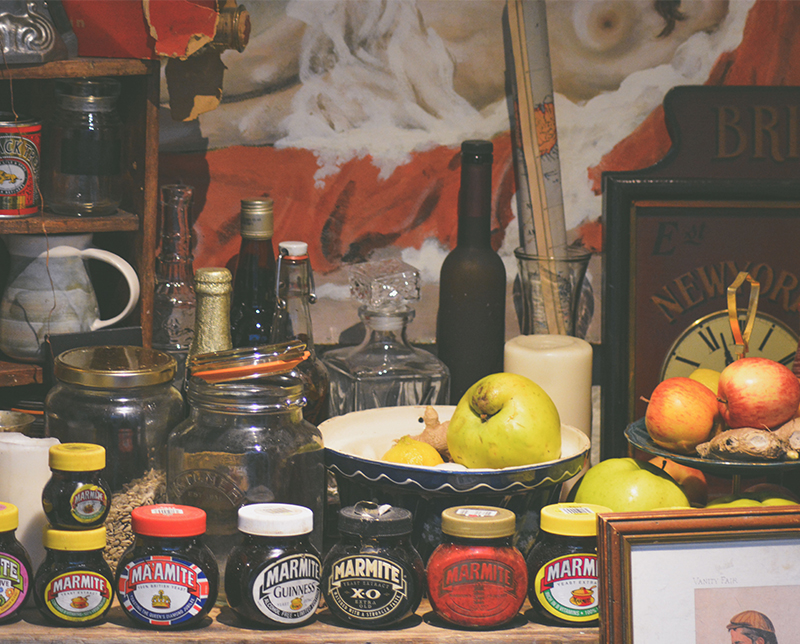 Now this is where it gets more complicated. The pantry is a feature in a kitchen that is used for storing food, small kitchen appliances, and additional items. When organized efficiently, it can come in handy for keeping your kitchen counters and dining space clutter-free. Organizing food is a headache since the factors are constantly changing; checking expiration dates and regular grocery shopping can often put a dent in trying to maintain an organized pantry.
Shelves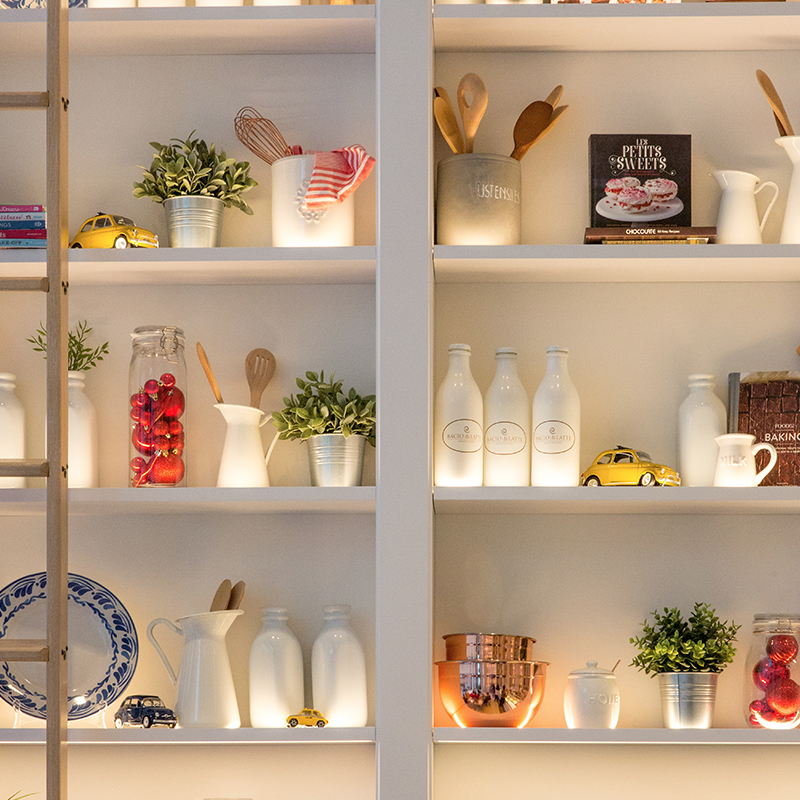 Assign your shelves by grouping items into categories. For example, separate food items like cooking items, spices, cereal, canned food, and fresh food into categories. Use the same process for other items, like appliances, kitchen necessities, cleaning supplies etc. By keeping them grouped, you can place items however you please in the pantry.
For example:
Bottom Shelf: Cleaning Supplies
2nd from bottom: Kitchen Items (ex: sandwich bags)
3rd and 4th from bottom: Food (keeping them in their groups)
Top Shelf: Kitchen Appliances
Glass Containers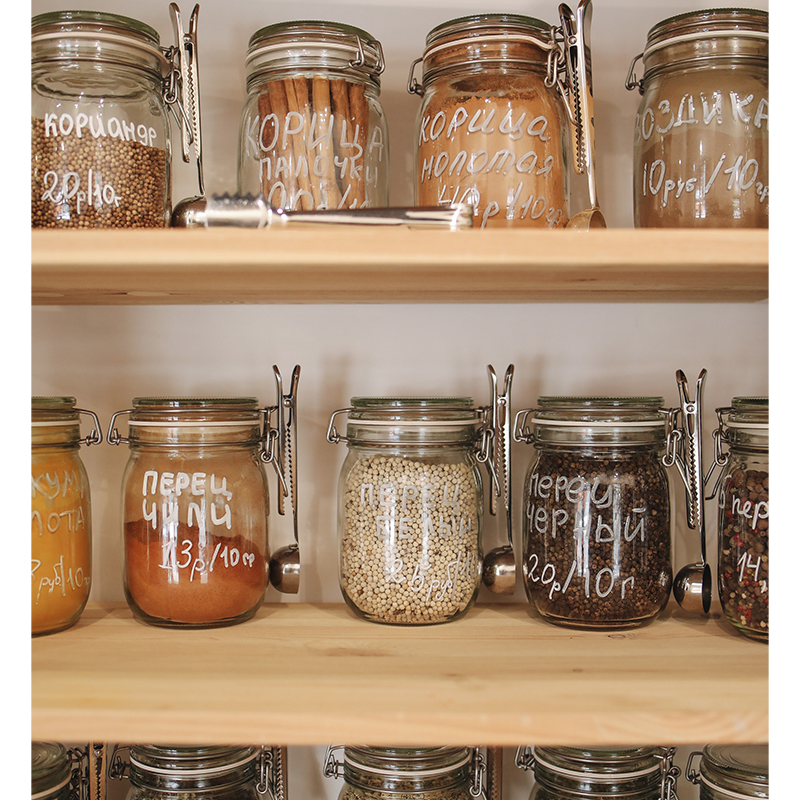 One great tip on how to organize your kitchen in an Eco-friendly way is to use glass containers. You can use glass jars for nuts, spices, fresh food, cereal and more! They're transparent so you can easily find what you're looking for among the abundance of other food. Keep your kitchen fresh with stylish jars!
Utilize Kitchen Storage Furniture
Now that we grouped items together and cleaned everything down, it's time to start filling your space with the necessities. Check out some kitchen storage furniture to neatly organize your things.
Kitchen Islands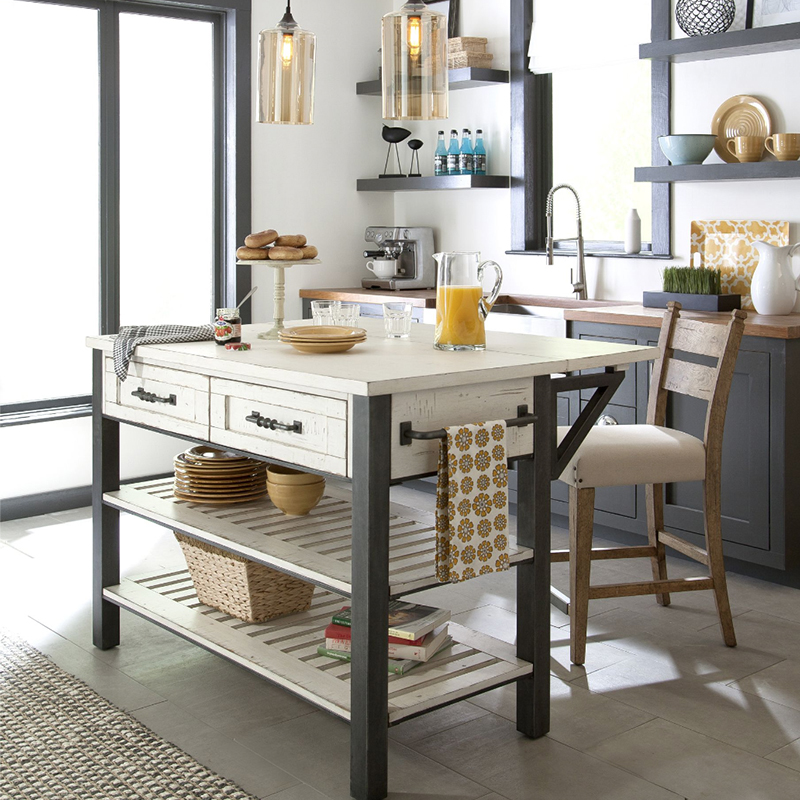 Pictured Above: Klaussner Reunion Kitchen Island
If you have empty space in your kitchen, or you have a shared kitchen and dining space, consider an island. This piece is flexible and easily mobile so you can place it anywhere to create a focal point in your kitchen. Their versatile design allows it to act as storage space for all your kitchen needs and have extra counter space to make cooking and dining simpler. You can use drawers for cutlery or napkins and utilize the under-storage area for dinnerware.
Servers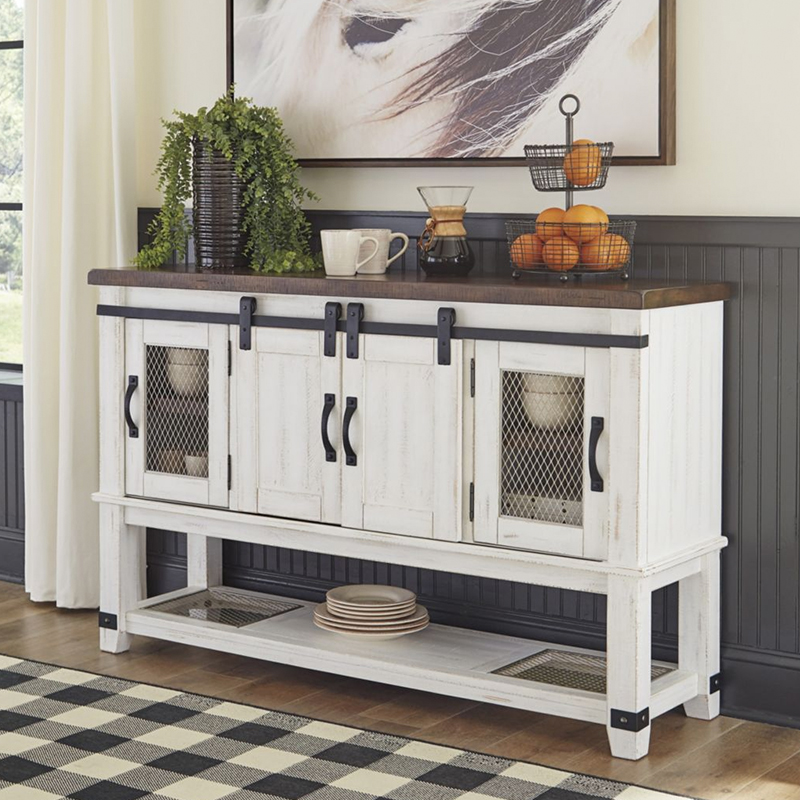 Pictured Above: Ashley Valebeck Server
A server can be used for many things; including extra counter space, storage, and a great place for décor! Imagine you're hosting Thanksgiving dinner and have too much food to fit on your table, utilize a server for extra space. Because servers are usually long and slender, they're made to hold items that are small to medium in size.
Storage Cabinets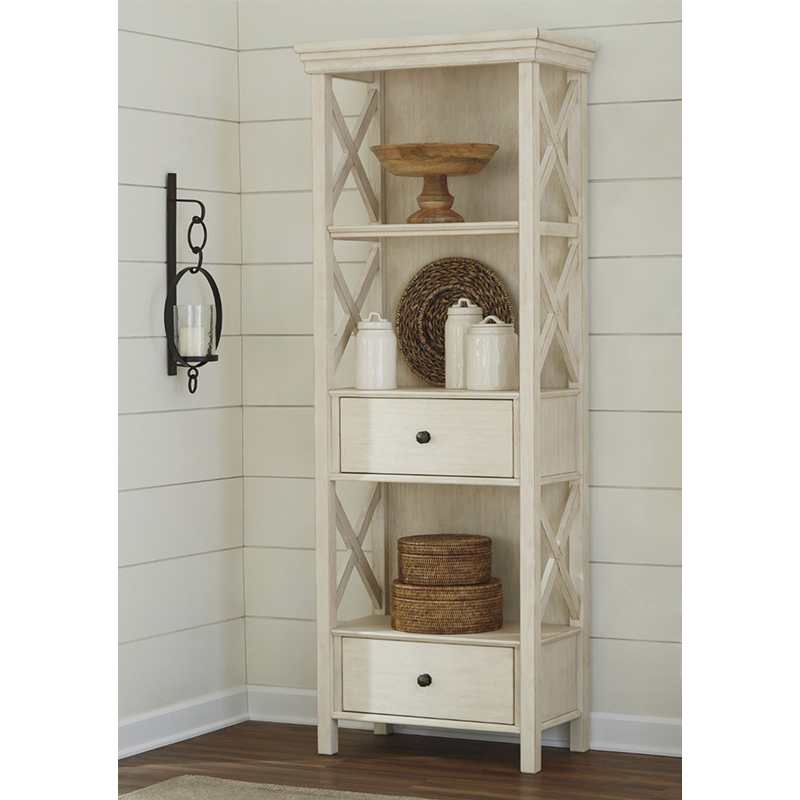 Pictured Above: Ashley Bolanburg Display Cabinet
Whether you have a small kitchen or a spacious one, there are plenty of sizing options for cabinets that would fit in perfectly in your kitchen. They can showcase dinnerware or décor or store dish clothes and sandwich bags for optimal organization. A storage cabinet is a great kitchen storage furniture piece that layers and accessorizes your space. Utilize a storage cabinet to keep your kitchen space organized and take advantage of the counter space on top for a microwave or décor ideas!
Once you've worked to organize your kitchen, add some the last touches to it transform it into the perfect place to wine and dine. Try out decorative pieces and décor ideas to create a stunning and unique aesthetic to your home. Stop by our store to check out the hottest accessories so you can have the perfect kitchen.
Feeling Inspired?
Don't miss another post. Be the first to know about the latest furniture trends, home solutions and new additions to our showroom. Subscribe to Hm etc. today!