December 04, 2018
The 10 Best Electric Fireplaces for 2019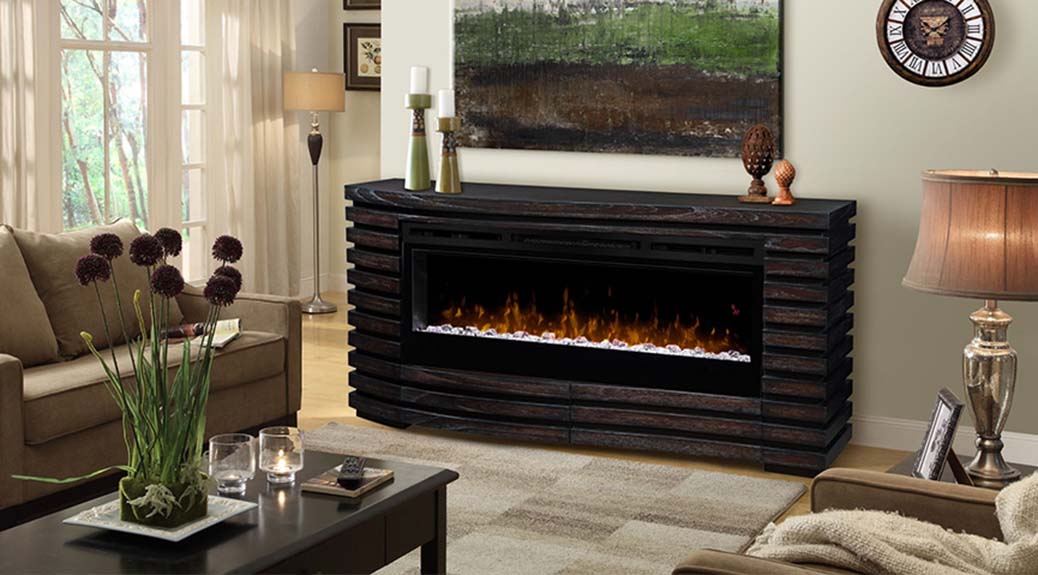 Electric fireplaces are designed to replicate wood, coal or natural gas burning fireplaces. Many electric fireplaces feature 3D flame effects, faux logs and cozy warmth, without any of the hassle that comes with actual flames. Some electric fireplaces offer additional features that traditional fireplaces don't have like color changing faux flames, degree-specific temperature control, remote control, automatic shut-off and additional storage.
These fireplaces are a great way to warm your space, without the permanence and maintenance of a fire-burning fixture.
10 Best Electric Fireplaces for 2019
Best Electric Fireplace Reviews
These top-rated electric fireplaces are designed with not only warmth in mind, but they are functional, unique furniture pieces that add style to your living space.
1. Classic Flame/Tresanti Heathrow Media Fireplace with Speakers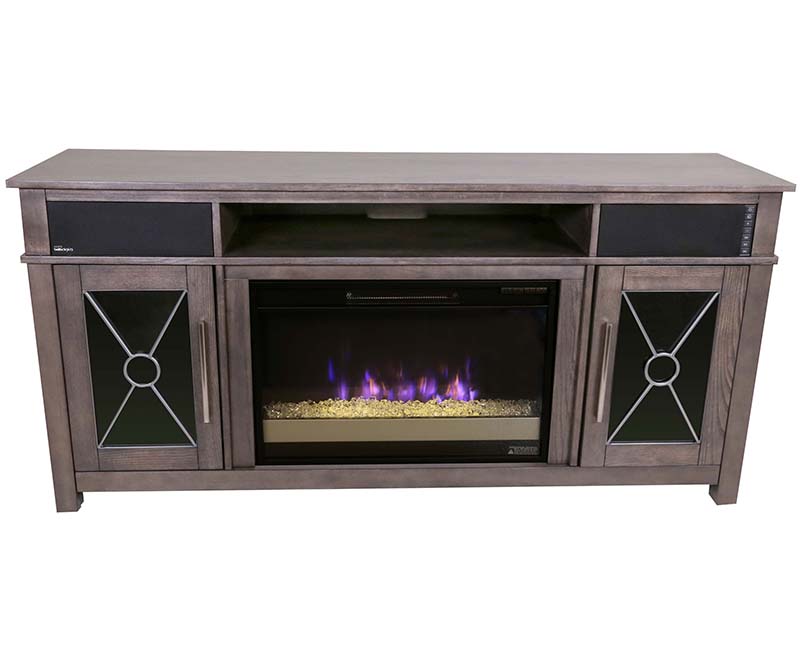 One of the best freestanding electric fireplaces you can buy, this fireplace offers ample room for up to an 80-inch TV, media equipment, books, games and more with an open media shelf and two side cabinets, each with an adjustable shelf behind framed glass doors. Experience rich sound from the integrated Bell'O Digital sound system with two speakers, two tweeters and bass ports and Bluetooth capabilities. The 26-inch glass fireplace insert features five different flame effects, speeds and brightness settings and can warm up a space of up to 1,000 square feet.
When we saw this in the showroom, we were intrigued. The salesman did an excellent job of showcasing the various features and it won us over completely. It's been in our house for about a month now, and we are still loving the speakers and the fireplace function on the entertainment center. –Micah
2. Dimplex Linwood Fireplace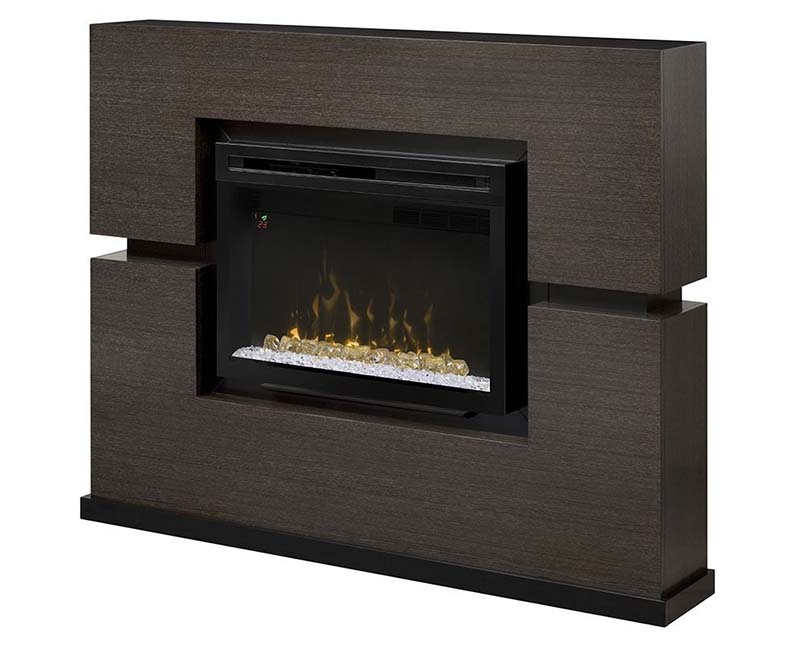 This electric fireplace's clean design features realistic flame technology that includes gesture recognition and LED displays. Its efficient heater system can warm any area up to 1,000 square feet and the clean lines, black plinth base and rift gray veneer mantle add urban chic appeal to any living space.
We are really enjoying our new fireplace. It's very sleek and modern and different from any other fireplaces we have looked at. Have had lots of compliments from friends and relatives. We would definitely recommend this product. –Babs
3. Classic Flame/Tresanti Grand Media Mantel Log Fireplace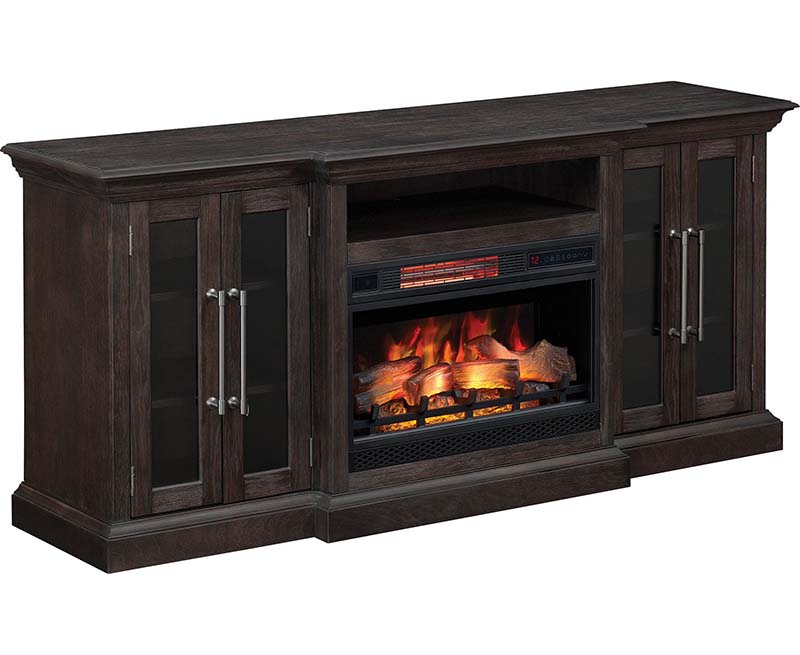 This electric fireplace offers ample space for storing media equipment, books, games and includes a center compartment for a sound bar or cable box. Adjustable shelves sit behind framed glass doors. The 26-inch fireplace insert with 3D flame effects can heat up to 1,000 square feet.
We purchased this fireplace a little over a month ago. My husband wanted one and I didn't. I'm so glad we did!!! It looks so great on our all white ship lap [sic] wall. –Taylor3
4. Aspen Industrial 62-Inch Fireplace Console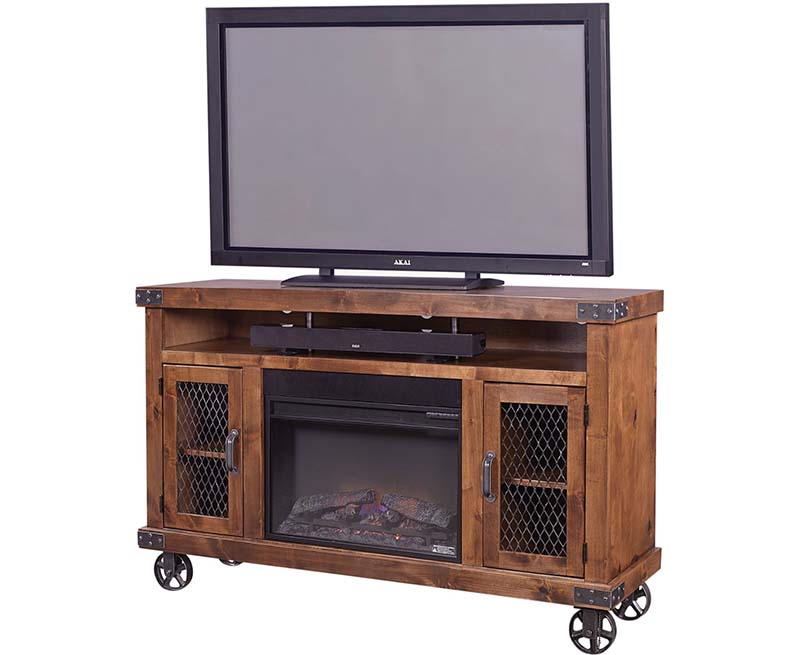 This electric fireplace is constructed of Alder solids and veneers. Its attractive design features distinctive metal corner brackets with nail head accents, plank-style tops, two decorative metal grate doors with shelves inside and an open sound bar area. The oversized casters allow effortless movement during any get-together and the realistic LED fireplace insert heats any area up to 400 square feet.
I bought this over a month ago and I'm very happy with the purchase. It looks fantastic and functions wonderful [sic]. Puts out the perfect amount of heat and love the different colored Flames [sic]. Assembly was average in comparison to other items I have assembled and is good quality. –Law1
5. Dimplex David Fireplace TV Stand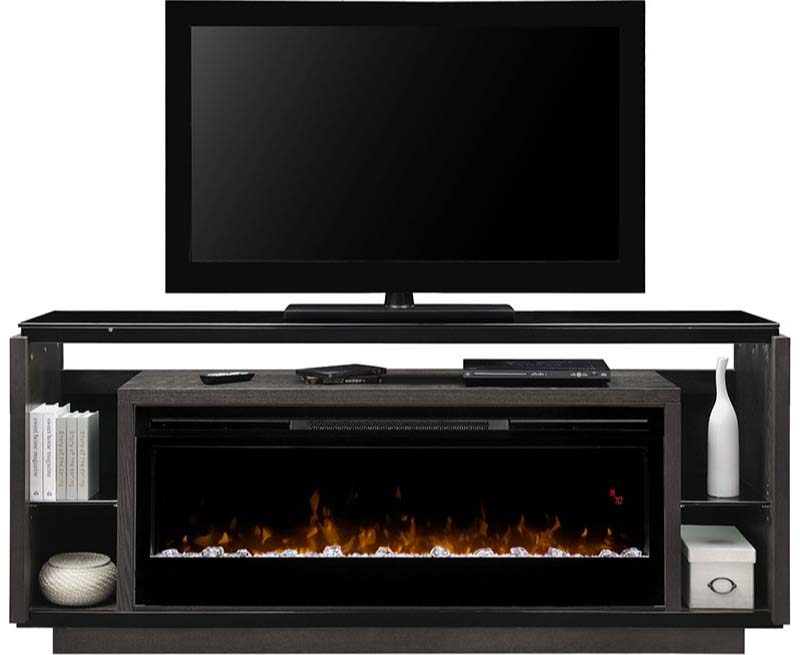 This modern electric fireplace features an eco-friendly, LED fireplace with multiple flame options, all operated by a remote control. A powerful fan heater keeps up to a 1,000-square-foot area warm and cozy. The black glass surface, wide top shelf and two adjustable glass side shelves create ample storage space for electronics and accessories while supporting up to a 150-pound TV.
I brought [sic] my fireplace 10 months ago. It is one of the best entertainment [consoles] that I have brought [sic]. It's very relaxing. –Georgia55
6. Ashley Frantin TV Stand with Fireplace Insert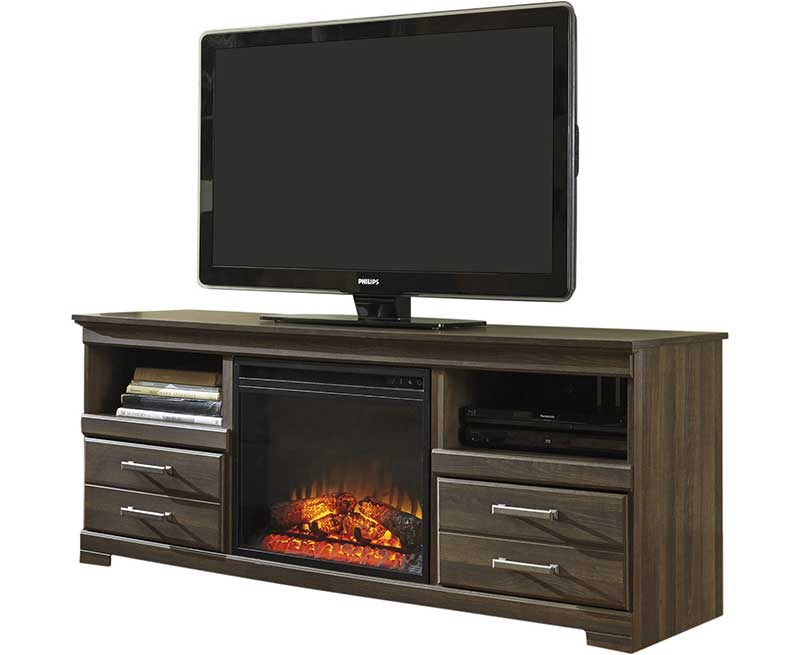 This electric fireplace features two open compartments, two drawers and a fireplace insert with an LED display, a remote control, two flame effects, two temperature settings and a thermostat. The aged brown finish highlights the replicated oak grain and suits any casual space.
So happy I made this purchase on cyber Monday!! looks great!! –Hannusch29
7. Dimplex Elliot Fireplace TV Stand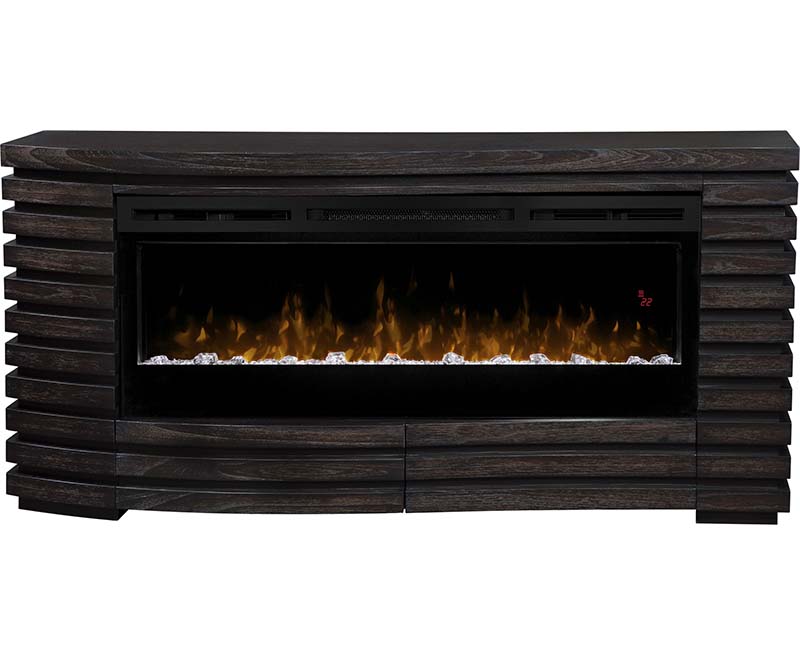 This electric fireplace's impressive design features a 73-inch-wide top, eye-catching panels and a realistic, LED fireplace that can heat any area up to 400 square feet. The fireplace also features an automatic shut-off timer and a variety of colored themes that you can choose from to set the perfect ambiance in your living space.
We needed a heater for our other living room because it was always so cold. The TV stand fireplace heater not only heats the room but it looks great! –JDeason
8. Classic Flame/Tresanti Dwell Infrared Fireplace Console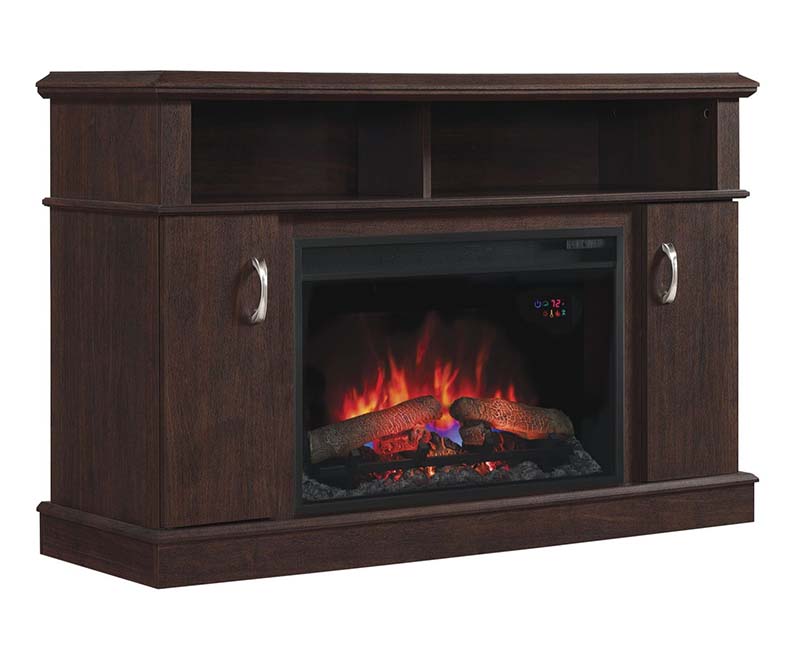 This incredible electric fireplace features two partitioned center shelves, two side cabinets with adjustable shelves and an infrared fireplace insert that boasts SpectraFire Plus flame technology. The fire features include logs and glowing embers, five flame color options, five brightness settings and five flame speed settings, heating up to 1,000 square feet.
I bought this about a month ago and absolutely love it! We have had so many compliments on this piece from visitors! Would definitely buy again!! –EPettyJohn
9. Dimplex Austin Fireplace TV Stand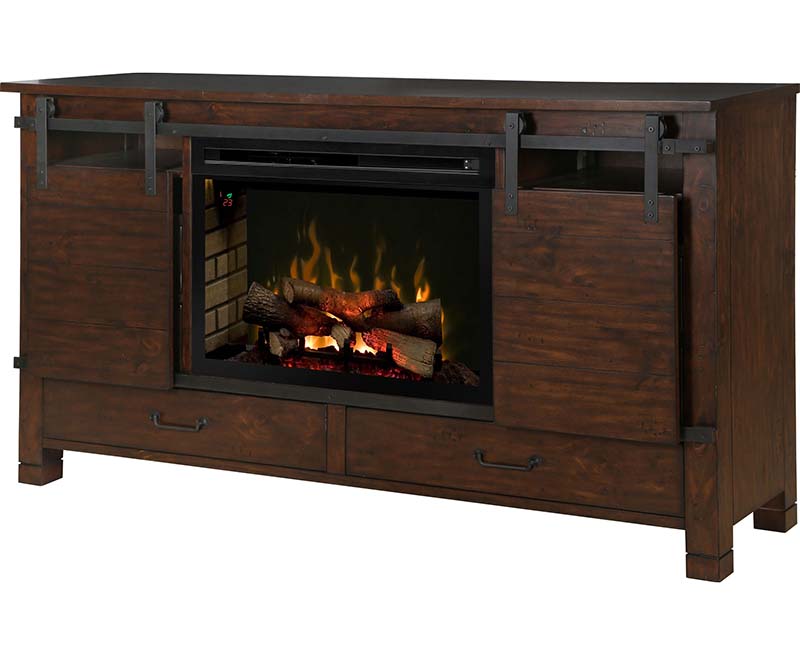 Slide the barn doors of this unique electric fireplace open to reveal a realistic, LED fireplace with multiple ambient flame settings that can be turned on or off with the wave of your hand. The six spacious drawers, 76-inch wide top and four open compartments with cord management openings provide ample space to stow electronics and accessories.
We bought this as a TV stand and have loved it since the first day. It warms up the room nicely and is beautiful. I love that it's mostly cool to touch as we have a toddler. The only part that gets warm is where the vent is and even that doesn't get too hot. –Ashley457
10. Classic Flame/Tresanti Aberdeen Fireplace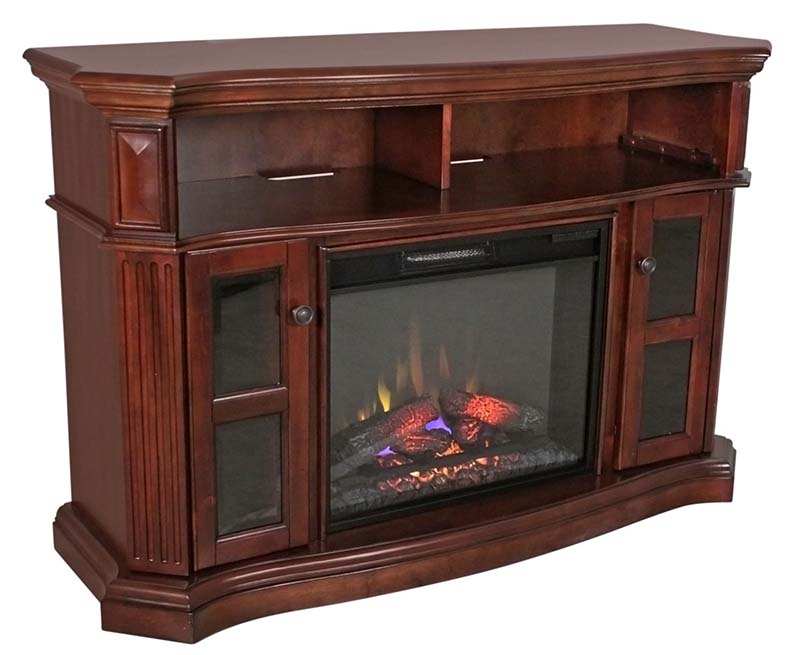 This electric fireplace media console features gorgeous, wooden details, a rich, cherry finish and ample storage for electronic components and more. The remote control-operated fireplace heats up to 400 square feet and features numerous safety features, including a child safety screen and a glass door that stays cool to the touch.
I wanted to replace our media console with a fireplace/media console. The Tresanti Aberdeen Fireplace more than fit the bill! The cherry wood finish and mantel styling make it a tasteful addition to our living room. –Susan1000
Ready to shop for an electric fireplace?
Choosing the right electric fireplace style for you can be challenging. Check out our recent blog post on how to choose the perfect electric fireplace style for more guidance!
Shop The Article
Ideas + Advice
November 16, 2023
At its core, Organic Modern interior design celebrates the marriage between the contemporary and the organic. It integrates natural elements such as wood, stone, and plant life into modern spaces, creating an environment that feels fresh, natural, and inviting. Characterized by soft curves, raw natural materials and open spaces.
Read more

about "Organic Modern Style for Every Budget"