April 05, 2021
Patio Marketplace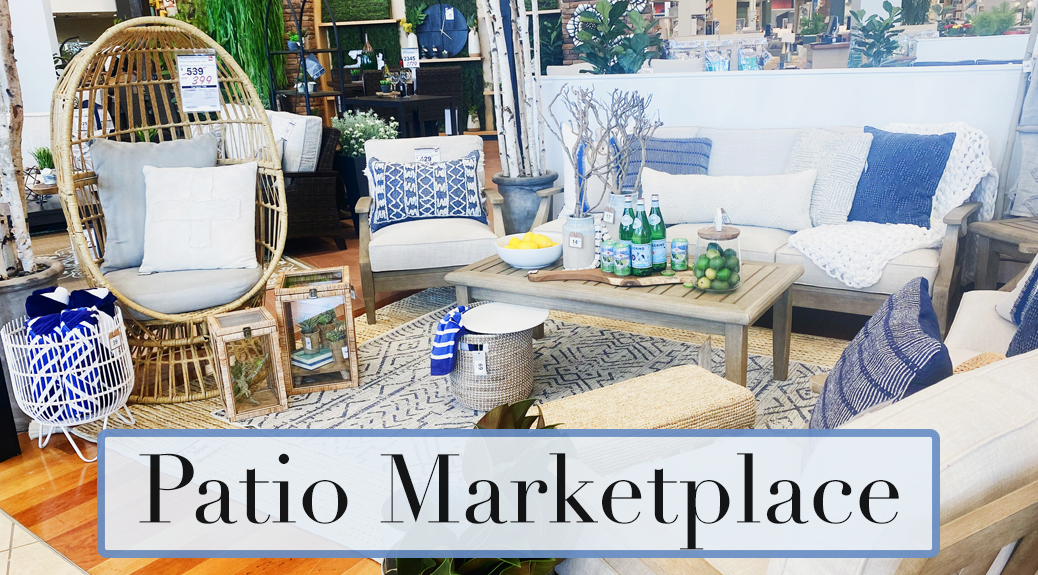 Pictured Above: Ashley Clare View Sofa w/4 Pillows, Emerald Home Furniture Austin Wicker Swivel Basket Chair, Ashley Clare View Lounge Chair, Ashley Gasson Lane Outdoor Chaise Lounge
Warmer weather is just around the corner and you know what that means: sun-soaked tans, backyard BBQ parties, and a decked-out patio to get you and your guests into the summer mood. No matter what you're working with, take advantage of your outdoor space with new and comfortable patio furniture. Our patio marketplace has everything you need to transform your outdoor space into your dream oasis.
Check out our new patio marketplace to get a glimpse of everything we have to offer!
Wine and Dine
Surround yourself with nature's beauty with new outdoor dining sets. Featuring a variety of shapes, sizes, and materials, these outdoor dining sets are the perfect complement to any patio or deck. Crafted with eco-friendly and durable materials such as wicker, aluminum, and hardwood, pick the perfect piece to elevate your patio space.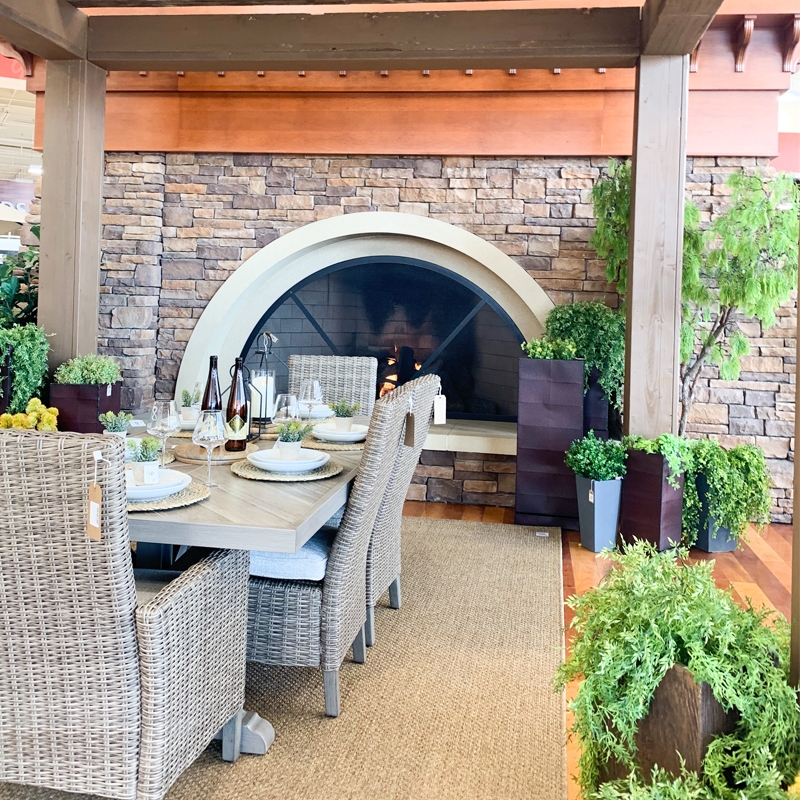 Pictured Above: Ashley Beachcroft 6-Piece Outdoor Dining Set
Whether you want to host a relaxing get-together with your favorite bottle of cabernet or serve up a five-star dining experience with an authentic vineyard look, our patio marketplace's dining sets are set to impress.
Lounge About
We're not sure if there's a better feeling than lounging on your patio on a beautiful summer's day, and we offer a huge variety of ways to do just that! Are you looking for the ultimate cushioned comfort? Or do you prefer being able to rock back and forth as the cool wind brushes against your face? Maybe your tastes are best suited for an Adirondack chair with its tall, slatted back, wide armrests, sloped seat, and eco-friendly poly construction. Whatever you choose, you'll never want to get up.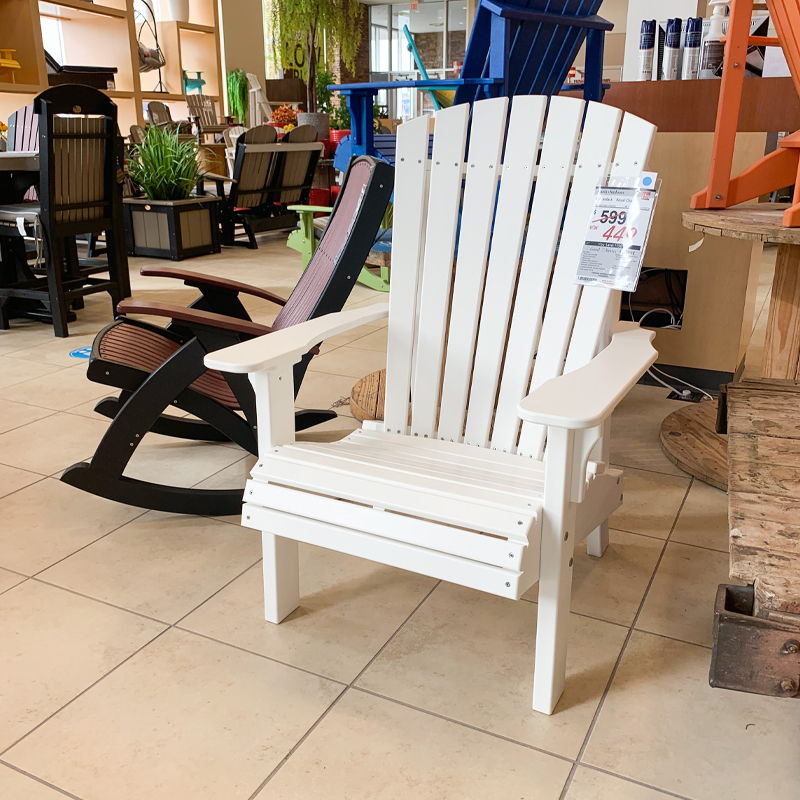 Pictured Above: Amish Outdoors Royal Tall Adirondack Chair
Not sure what outdoor fabric is best for you? Check out our handy guide on How to Choose the Best Material for Outdoor Furniture
Terrific Tables
Choosing the right table helps set the tone for your outdoor patio space. Small side tables are the perfect complement to set food and beverages on, while larger cocktail tables make for a stylish patio centerpiece. They add fantastic utility to your space, come in so many different styles, and are just what you need to complete your outdoor oasis!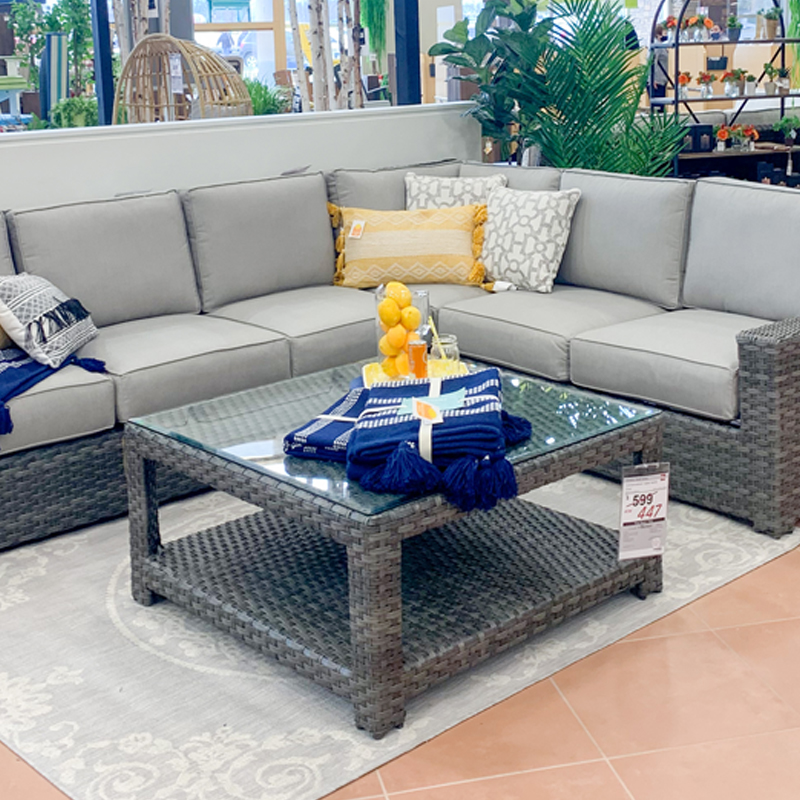 Pictured Above: Erwin and Sons Santa Cruz Outdoor Table
Green Door Home Staging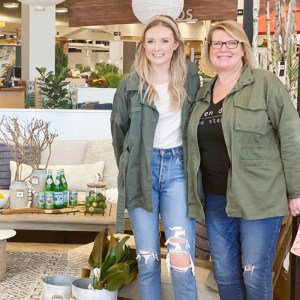 We invited mom and daughter home staging duo, Luise and Emily, to create their own dream patio space in our showroom. The result was this breathtaking coastal-inspired space! It's reflective of their own style, influenced by their original home of Rhode Island. It also features bits of California modernism mixed with New England cape style, as well as Midwest farmhouse style. Thank you to Green Door Home Staging for helping to make our patio marketplace look great!
Fantastic Fire Pits
Stay comfortable on those cool summer nights when you add a fire pit to your outdoor space. Take your pick of round, rectangular, and square fire pits depending on which best fits your needs. Some fire pits come as a standalone piece, while others come in a set with included chairs.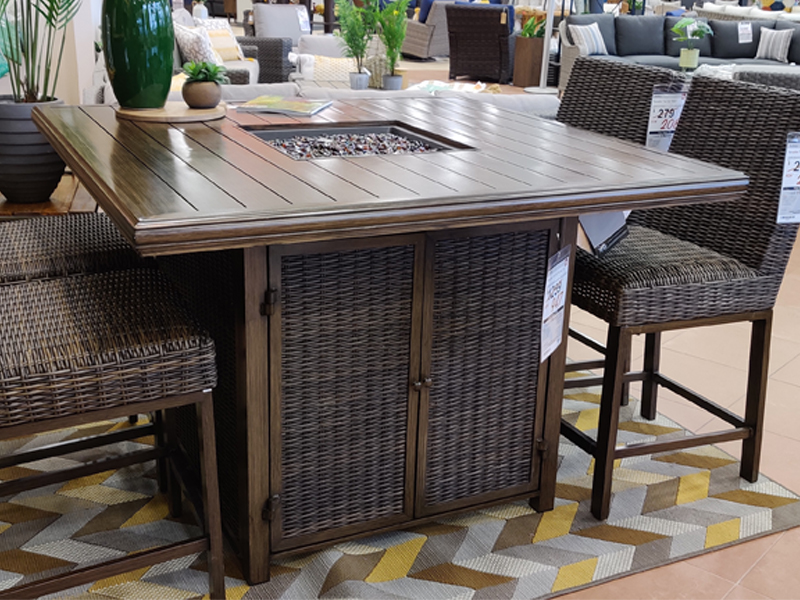 Pictured Above: Ashley Paradise Trail Fire Pit Bar Table and 4 Stools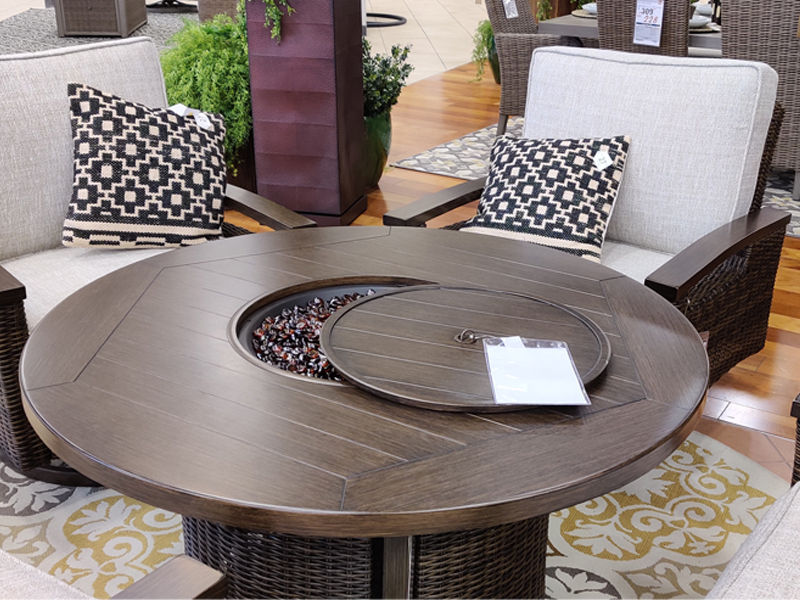 Pictured Above: Ashley Paradise Round Fire Pit
When winter approaches, it's important to protect your patio furniture. Learn how!
Accessorize!
Once you've explored the centerpieces our patio marketplace has to offer, it's time to complete the look with our wide variety of outdoor and patio accessories! Choose from functional accessories that help make the most of your outdoor space to stylish accents that will make your patio pop.
Umbrellas
Not a fan of the sun beating down on you? No problem! These large umbrellas are perfect for blocking out UV rays to give you constant shaded relaxation.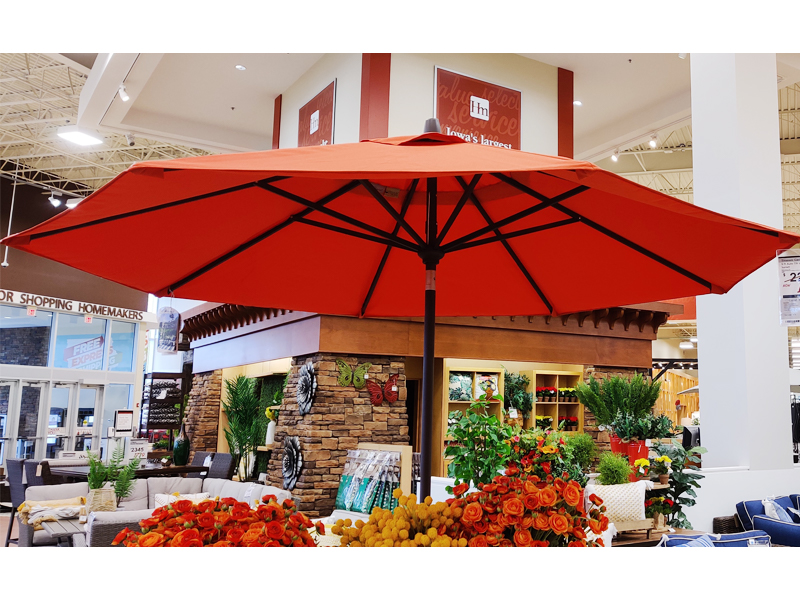 Rugs
Rugs aren't just for your interior; they can be the statement-making addition for your patio too! Our outdoor rugs are made from synthetic fibers that keeps your patio looking great, no matter rain or shine.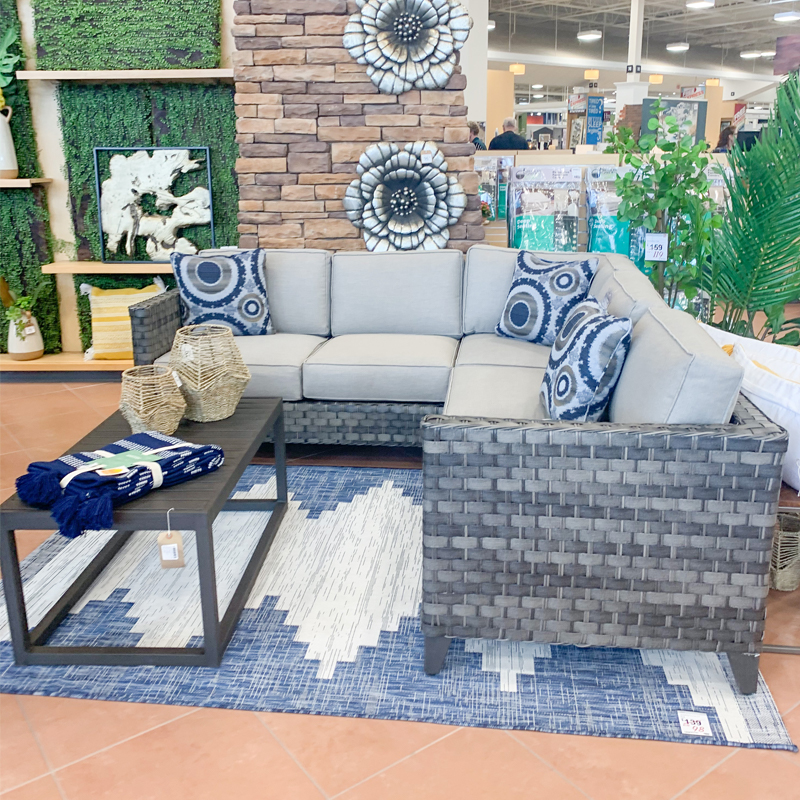 Greenery
What's an outdoor patio space without an expansive array of greenery all around? Pick out your favorite assortment of plants and flowers to make your patio come alive.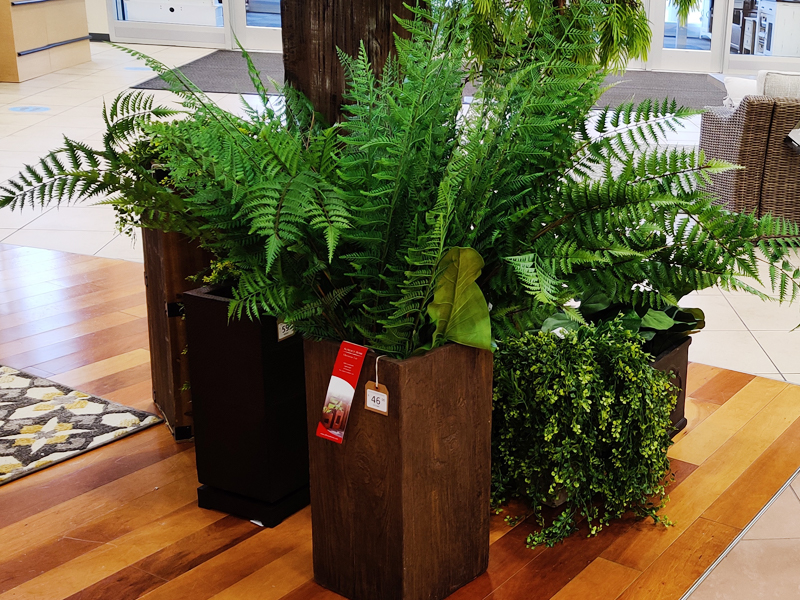 Throw Pillows
Add the finishing touch to your outdoor area with stylish throw pillows. With a variety of different patterns and color schemes, there's bound to be something that matches your patio palette.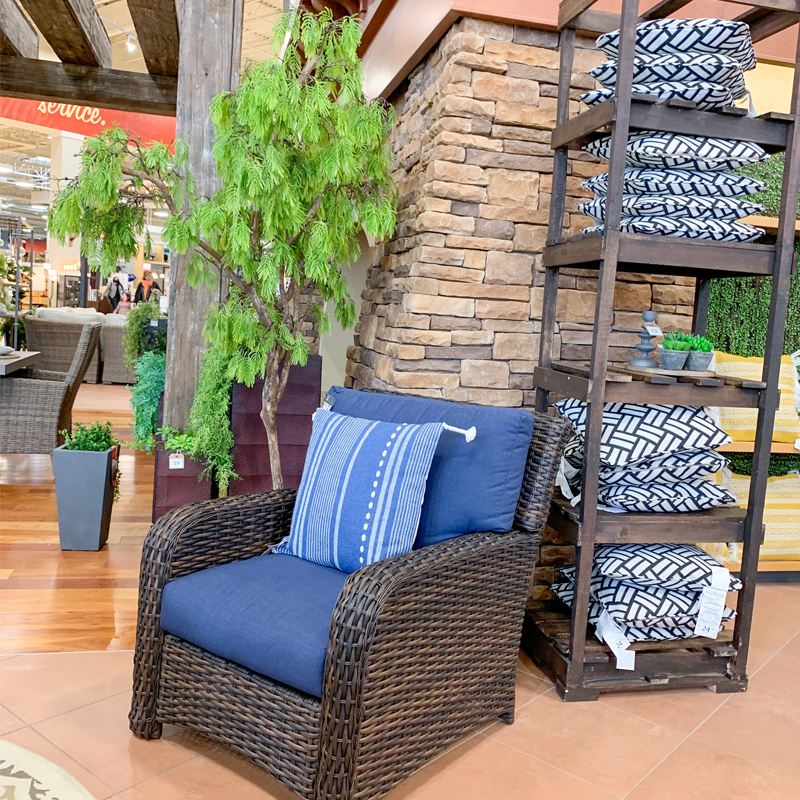 …And more!
Give even more personality to your patio with our wide selection of additional accessories. Maybe it's a woven basket, miniature stools, or lanterns that make your space complete. Whatever it is, you won't be disappointed by our expansive assortment of accessories.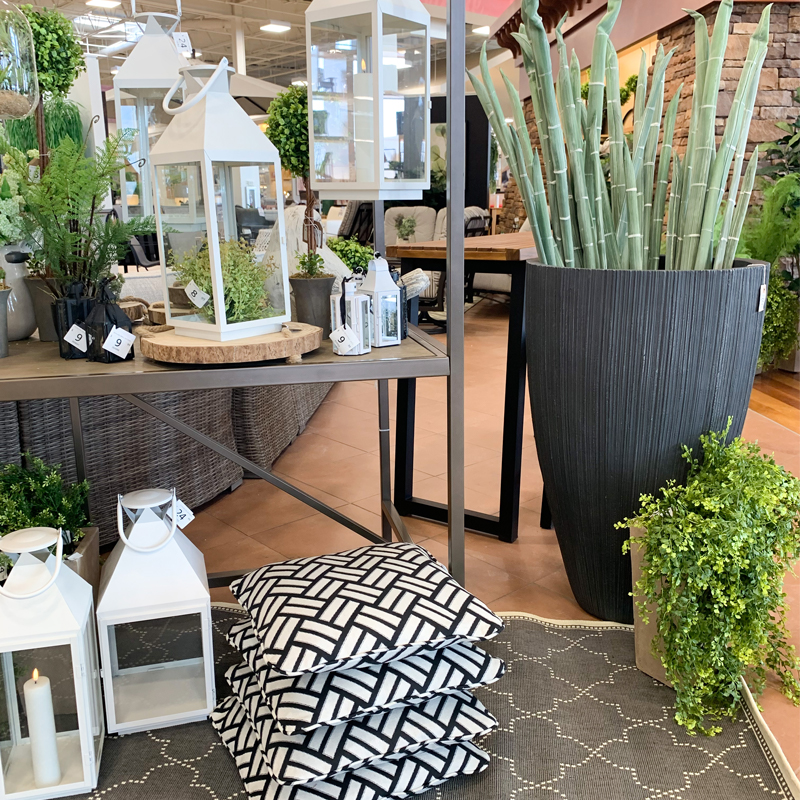 When you shop the Homemakers Patio Marketplace, be prepared for summer to get a whole lot better. Whether you choose an exquisite patio dining set or want to lean back in a durable and eco-friendly Adirondack chair, make your patio a place to enjoy what nature has to offer.
@Homemakers
November 17, 2023
The Holidays are here and it's the season of savings at Homemakers. Our Black Friday store hours will be 8:00 AM- 8:00 PM, so be sure to get here early to get a head start on the festivities. And don't forget to enter our Black Friday Give Away to win one of the following prizes.
Read more

about "Homemakers Guide to Black Friday Shopping"