May 31, 2016
7 Coffee Table Styling Tips for a Chic Tabletop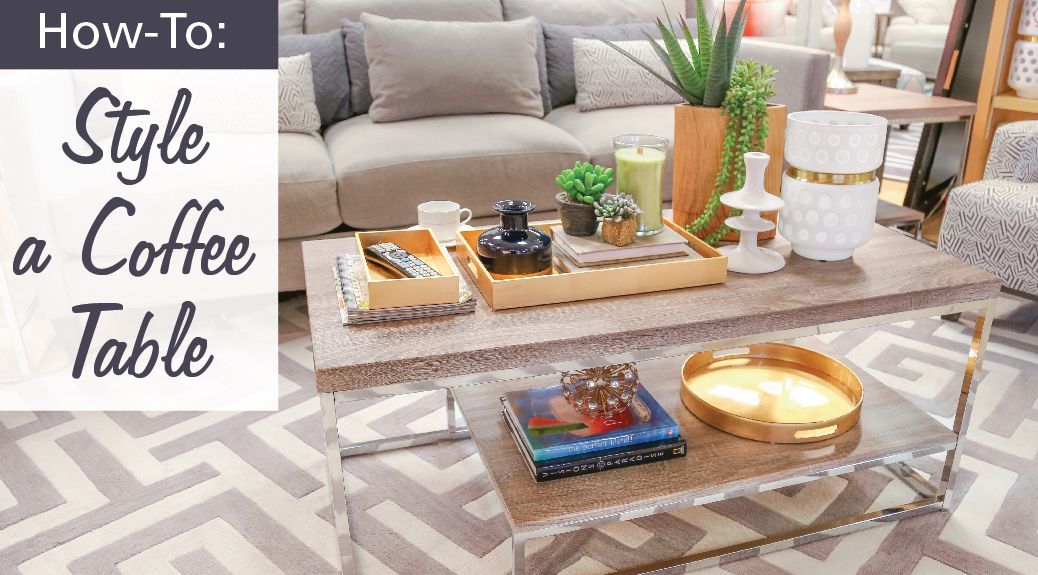 Updated 12/14/2018
Your coffee table is a big deal. It can make a huge statement for—or against—your interior design skills. As the anchor of your living room, your coffee table has endless style possibilities. Take advantage of that potential by following these seven coffee table styling tips. You'll learn how to decorate your tabletop like a pro and wow your guests with a chic, unified look.
How to Style a Modern Coffee Table
Love what you see above? Add the same Steve Silver coffee table to your home, or shop all of our modern coffee tables. We have finishes and shapes for every interior design style.
And make sure you find the perfect complementing rug to go with your coffee table! We used the Dalyn Infinity geometric rug, but if you're not quite sure if it's the right fit for you, we have an entire guide on How to Pick the Perfect Rug for your living space!
In-Store Exclusives: Large Woodwick candle, $19.00 | Decorative vases, $4.99 and up | Coffee table trays, $9.99 and up | Succulent décor, $5.99 and up
7 Coffee Table Styling Tips
1. Separate Space With Coffee Table Trays
Any coffee table is naked without table trays. Our table features with not one, but three table trays. They help separate out space when you first start coffee table styling. We filled the small, rectangular one with remotes while the larger table tray groups together coffee table décor and books. You might be wondering about that bottom, empty tray. We'll get to that in a bit… Looking to style trays all around your home? Check out Five Ways to Style a Table Tray for inspiration!
2. Decorate With Varying Heights
Choose coffee table decorations with varying heights to create visual interest. For example, in the middle of our coffee table, we set short and medium-height succulents accompanied by a taller candle. This creates a layered and balanced look versus keeping everything flat at the same height.
3. Add a Candle
Candles are great coffee table styling accents because they stimulate sight, sound and smell. We have Woodwick candles on our floor for every aromatic preference. They set the perfect Zen ambiance in any living room. If you're looking for more mood lighting ideas, try setting chic table lamps on your end tables.
4. Include Touches of Life
Plants are the perfect addition to any coffee table. You can display your botanical successes, or give the impression that you have a green thumb with our realistic succulent décor.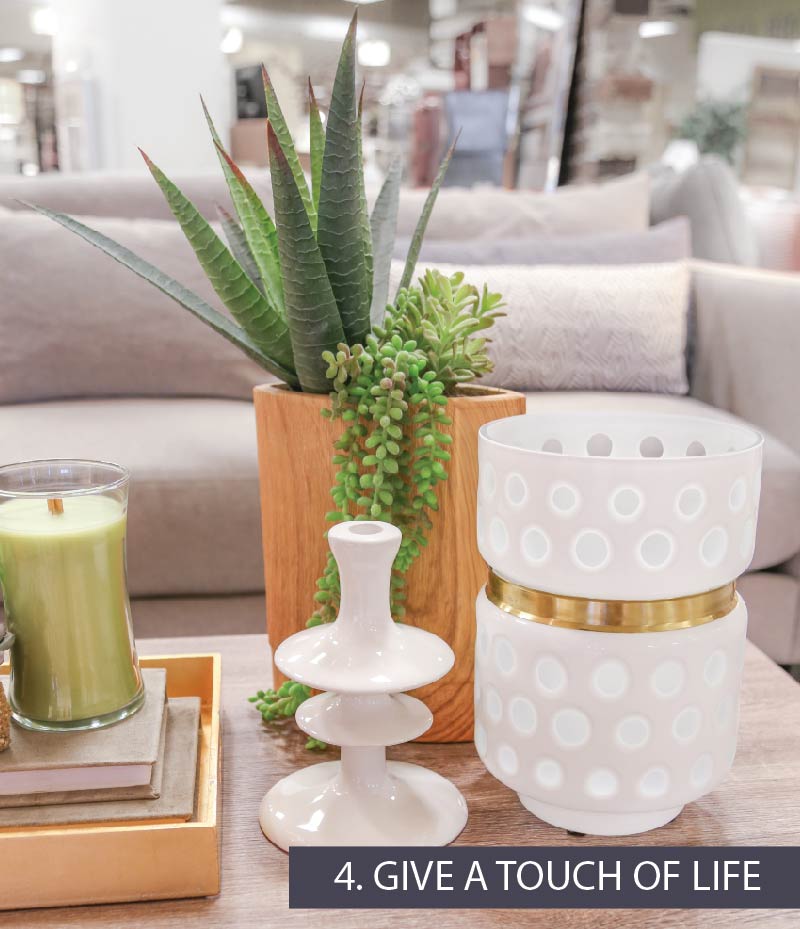 5. Stack Books & Magazines
Prove that you're a well-read adult. Stacking books and magazines adds dimension and creates a great conversation-starter for guests with who share similar tastes in reading material.
6. Keep an Empty Tray on-Hand
With all your chic coffee table décor, you might not have any space left for your actual coffee mug. Fear not! Here is where the empty table tray comes in for the win. Having an empty tray (or two) on coffee table ensures a convenient, movable surface where you can set drinks, food or entertaining accents.
7. Combine Different Shapes
When coffee table styling, blend shapes to add interest. We paired rectangle table trays and circular vases with organic-shaped succulents to create harmony. Just make sure that you have a good balance of straight and rounded edges.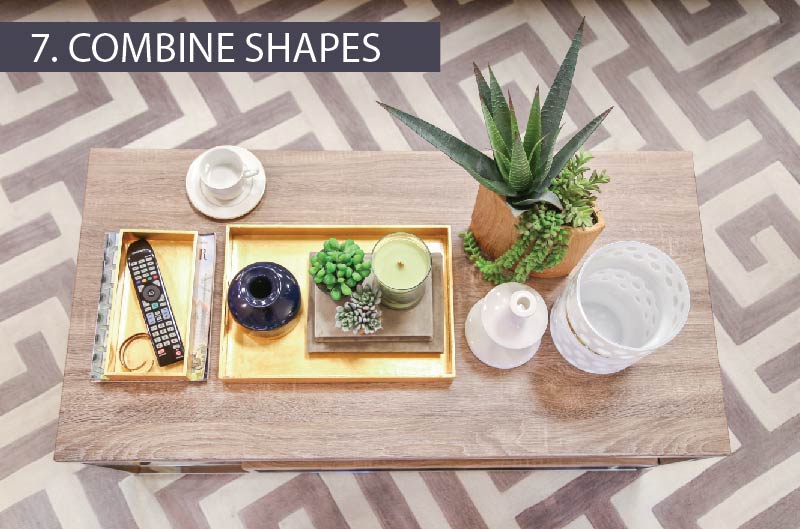 And, last but not least…
Make It You!
Make your coffee table a part of your life story. You can display a wedding photo book, include homegrown flower clippings or show off personal art. The whole point of creating a home is to surround yourself with things that you love. So, make sure your coffee table is full of items that showcase you!
Share Your Coffee Table Styling Tips
How are you styling your coffee table? Share your tips and photos of your coffee table décor with us on Instagram.
Ideas + Advice
November 16, 2023
At its core, Organic Modern interior design celebrates the marriage between the contemporary and the organic. It integrates natural elements such as wood, stone, and plant life into modern spaces, creating an environment that feels fresh, natural, and inviting. Characterized by soft curves, raw natural materials and open spaces.
Read more

about "Organic Modern Style for Every Budget"