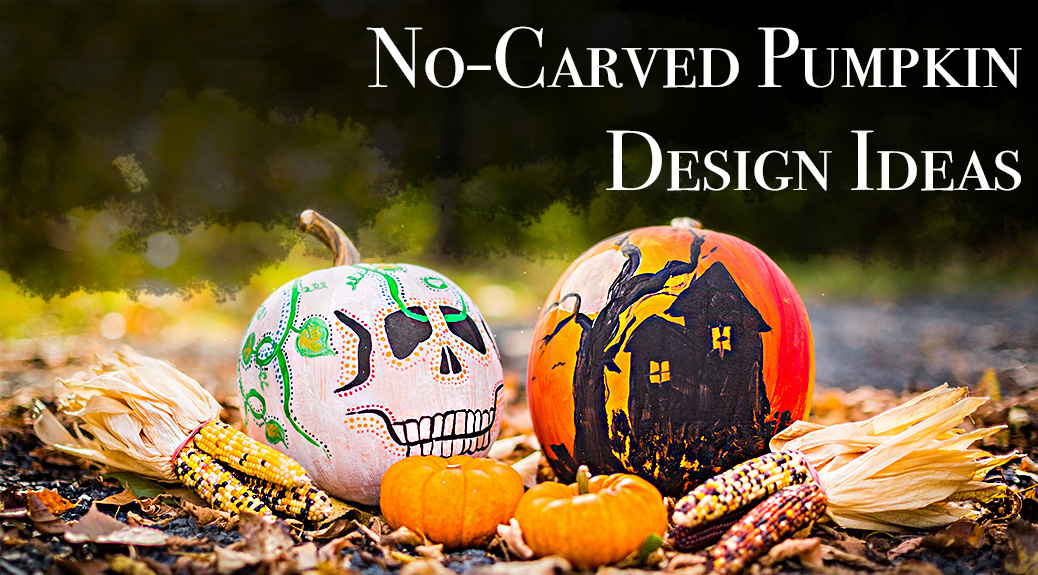 As we move into October, it's time to get our homes prepared for the fall season. And what's seasonal decorating without pumpkins! But with the process of carving pumpkins comes sharp carving materials and sticky hands. So, if you're not one for scooping the guts out of a pumpkin, or just don't have the time (or patience), we've got 10 easy no-carve pumpkin ideas to keep you in the fall spirit! Any one of these ideas are sure to flaunt style both inside and outside your home.
No-Carve Pumpkin Ideas
1. Retro
Go bold this season with retro-inspired painted pumpkins! With an eclectic appearance, this idea adds a wicked highlight to your mid-century modern or contemporary palette. Choose bright, bold colors like green, pink, or blue and pair it with white or black. The contrast between the two will add a textural element to your home and elevate your interior home style.
2. Rustic Farmhouse
Enhance your antique farmhouse interior with quirky green and white colored pumpkins. These pumpkins contribute to the traditional farmhouse color palette with their soft hues and pumpkin silhouette. You'll still have that sense of fall but have taken it one step further by utilizing a variety of different colored pumpkins. Can't find white or green pumpkins anywhere? Grab some paint from the store and make your own farmhouse-inspired painted pumpkins!
3. Seasonal
Now, if you're one for the holidays, why not take full advantage of seasonal décor? Halloween and Thanksgiving both fall during autumn, which means you can create your very own holiday-themed, no-carve pumpkin. Draw some eyes and a mouth to create a spooky ghost pumpkin or grab some stickers and make it a decoration you can be thankful for!
4. Floral
Create a fairy tale garden with this floral no-carved pumpkin idea. Choose your flower of preference and start painting or drawing! Another beautiful idea that involves a little more mess is cutting the top off, scooping out the seeds and pumpkin goop, and using it as a make-shift flower vase. Perfect for any whimsical home style!
5. Chalk
Painting chalk on your pumpkin is a great decorating idea for any styled home. Make sure to apply multiple coats to make the chalk thick enough to draw on, and so that none of the original pumpkin's color can be seen. Then, once dried, use your chalk to create your design!
6. Minimal
Want a toned-down approach to your pumpkin design? Create a minimal look in your home this fall with simple, painted pumpkins. Paint lines or dots on your pumpkin to add a little oomph without being too overwhelming with color.
7. Colorful
Go big and bright with colorful pumpkins. Paint your pumpkin a bold tones and pair it with other bold painted pumpkins to create a colorful assortment in or outside your home. Or create a rainbow design by using multiple colors on one pumpkin!
8. Melted Crayon
This idea steams from the creation of melted artwork. Super easy and fun, this technique involves a pumpkin, choice of colored crayons, and a hairdryer. Strategically place your colorful crayons on top of your pumpkin and then, at a downward angle, turn your hairdryer up high and watch your crayons slowly melt down your pumpkin.
9. Yarn Wrapped
Grab some yarn from your local craft store for a cozy décor addition. Wrap it around your pumpkin in any direction until the outer shell can't be seen! If you're one for DIY, you may not even need to purchase a real pumpkin to flaunt the autumn season.
10. Plain
There's no shame is rocking a plain pumpkin that's neither carved nor decorated. The silhouette in itself is often decoration enough! Big or small, plain pumpkins are still great décor ideas for your home.
Where to Put Your No-Carve Pumpkin Creation
Unlike carved pumpkins, no-carved pumpkins last a lot longer AND don't attract critters. That means you can flaunt your pumpkin style inside or outside your home for the entire fall season! After the decoration period of the pumpkin project is complete, here are some great places to put your no-carve pumpkin ideas.
Front Porch
Add some of our Adirondack chairs to your front porch to get the full fall aesthetic!