January 21, 2016
27 Exciting Things To Do in Des Moines This Winter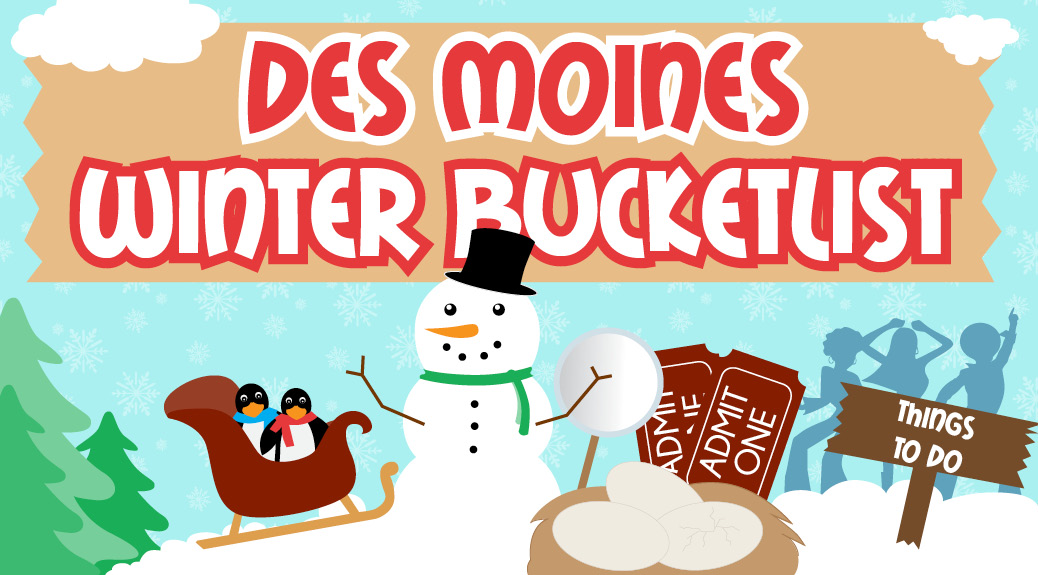 [Updated for 2018]
---
When you hear "snow day!" are you ready to grab the sleds or happy to snuggle up by the fireplace? Whatever your level of winter love, there are fun things to do in Des Moines for both the snow bunnies and those who appreciate winter from a warm, indoor fortress. Hibernating at home is simply not an option in our sparkling city!
Outdoor ice-skating, Broadway performances and eagle watching await. Need more convincing to leave your warm and cozy home? Scroll down to explore our entire winter activities bucket list for ideas on fun things to do in Des Moines all winter!
Des Moines Winter Bucket List
Help yourself to a cup of hot cocoa and start discovering a winter wonderland of things to do in the area this season.

Des Moines Winter Activities: Links and Dates
Active Outdoors
Channel your inner Michelle Kwan during one of Brenton Skating Plaza's public ice-skating nights. If you're more interested an activity that takes place on solid ground, consider signing up for a Snoball Softball tournament. Or, for a longer distance outdoor activity, get bundled up to sweat it out in a 5K or half marathon at any of the races in Des Moines this winter.
Create Something
For all the artists seeking things to do in Des Moines this winter, why not visit Glazed Expressions to craft a hand-made masterpiece? You can even reserve a kid-friendly or adult-themed party in advance. Or, get artsy with a more Van Gogh-style activity. Sign up for one of Pinot's Palette's wine and painting nights. After you're done using your artist's palette, satisfy your food palate by starting a local food bucket list of Des Moines' favorite restaurants. After you Instagram your delicious dishes, consider taking your photography to the next level by participating in an event held by the Professional Photographers of Iowa group.
Hit the Slopes
Grab a group and go sledding at Waveland Golf Course. Just make sure you call the Des Moines Parks office in advance at (515) 237-1386 to confirm that sledding will be open that day. For steeper slopes and gear rentals, make a trip to Sleepy Hollow or Seven Oaks. Or, opt for a slower paced outdoor activity by taking a winter hike at Ledges State Park. Call the park office at (515) 432-1852 to be sure of vehicle accessibility before going.
Natural Beauties
Enjoy winter's beauty up close and personal by going ice fishing, snowshoeing or enjoying any of the other events at Jester Park all winter. You can also enjoy Iowa's winter wildlife by attending one of the DNR's eagle watching events in early 2019. When you're ready to escape the winter chill, stop by the botanical center for a tropical retreat. Better yet, register to attend a few Des Moines Botanical Center special events.
Grab a Group
Stay warm indoors by stopping by any of the events on the Des Moines Social Club calendar. Or, check out the latest exhibitions at the Des Moines Art Center. For art that you can bring home, check out the cold-weather Iowa State Fairground events, including everything from antique shows to flea markets. If you're looking for a more heart-pumping group adventure, book a room, create a team and try to solve the clues to get out of Escape Chambers before your time runs out.
Give Back
Dance for a cause at a local dance marathon. It'll give you a special reason to feel good about showing off your moves. When your done dancing, snuggle up with a furry friend by volunteering at the Animal Rescue League of Iowa. You can also make a positive impact by saving a life during National Blood Donor Month. It's a great way to give back to the community while staying warm indoors.
Watch It Live
Check out the Civic Center performance schedule for stunning, live performances. Or, if you're more interested in live competitions, watch a game at the Iowa Events Center. You can also grab a group of friends an laugh it out at the Des Moines Funny Bone.
Indoor Sports
Stay active and warm by joining a local sports league or taking a day trip to rock climb at Climb Iowa. You can also let your spirits soar while bouncing around at the Sky Zone indoor trampoline park.
---
Did we miss anything? Share your favorite things to do in Des Moines during winter on Twitter or leave a comment below.